Your Weekend: The Best Family Events-March 6, 2019
Our picks for the weekend's best family events.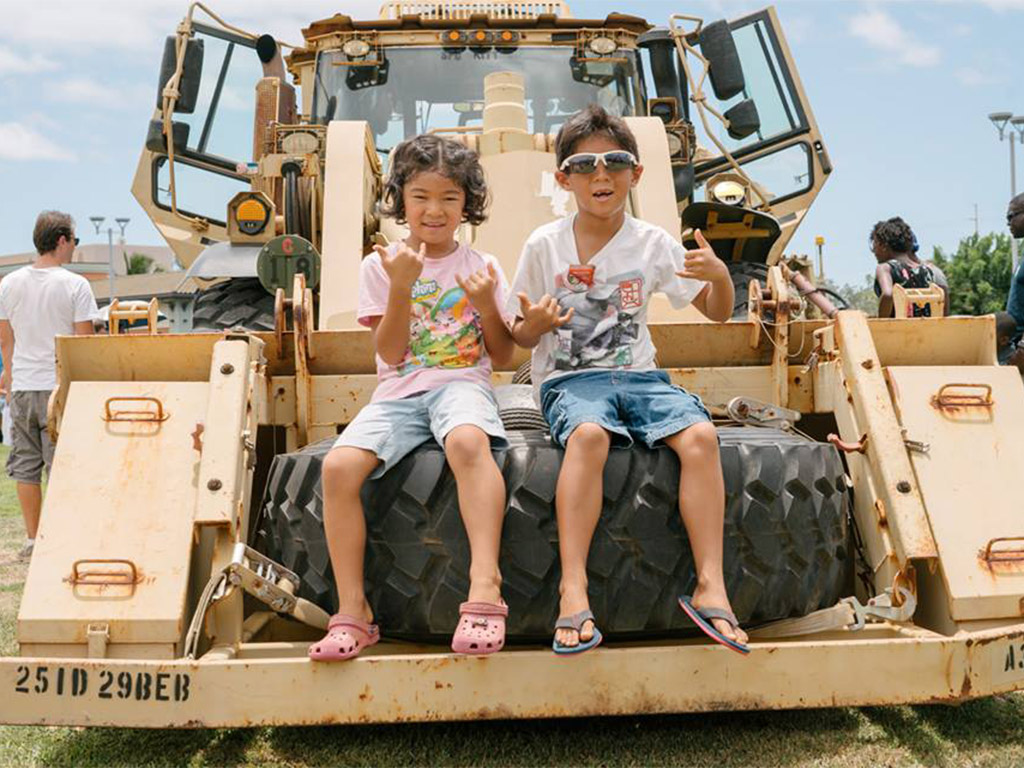 Photo: Courtesy of Kapolei Commons
Usually, construction vehicles are off-limits to kids. Not this Saturday at Kapolei Commons' "Touch A Truck" event.
Mr. Kneel Celebrates Dr. Seuss!
What does a Dr. Seuss children's book sound like when read by a hip-hop artist? This weekend, award-winning entertainer Mr. Kneel uses his signature "beatbox" style of music to sing, dance and celebrate Dr. Seuss' birthday. His performances end with positive messages to keiki about self-respect and strength of character. You can catch Mr. Kneel at one of four public libraries Thursday through Saturday. (Beatboxing, by the way, is when a person mimics the sound of drums and turntables using his/her mouth).
Honolulu Festival
Make friends with visitors from Japan, Hawaiʻi, Australia, Tahiti, the Philippines, South Korea, Taiwan and other Asia-Pacific nations this weekend at the Honolulu Festival. This three-day event—now in its 25th year—features dancing, music, food and the arts. The most family-friendly activities are the: craft fair, dance convention and bon dance from 10 a.m. to 6 p.m., Saturday, March 9, in the Hawaiʻi Convention Center; the Grand Parade from 4:30 to 8 p.m., Sunday, March 10, on Kalākaua Avenue; and the fireworks show at 8:30 p.m., Sunday, March 10, at Waikīkī Beach. Listen to radio station Hawaiian 105KINE to sync music with the fireworks.
Want extra details? Visit "Our Guide: 2019 Honolulu Festival."
Hawai'i State Spelling Bee
On Friday evening, watch 14 finalists compete to become the 2019 Hawaiʻi State Spelling Bee Champion. The winner will represent Hawaiʻi in the Scripps National Spelling Bee in Washington, D.C., in May.
Kroc Movie on the Field
Bring your family to the Kroc Center Hawaiʻi in Kapolei for a free feature movie, Ralph Breaks the Internet, shown on a big screen on the Kroc field. Arrive by 6 p.m. to purchase popcorn, cotton candy and dinner, and have your keiki burn off energy in the bounce houses. Also, don't forget to pack picnic blankets, low-back chairs and hoodies to protect your family from chilly evening temperatures.
Touch a Truck
Do your kids love big, loud trucks? Spend Saturday morning at Kapolei Commons so they can honk, toot and climb into dozens of parked vehicles—military, construction, fire, food trucks and more. While there, stop by vendor booths for giveaways and keiki activities.