Your Weekend: The Best Family Events-March 20, 2019
Go on a scavenger hunt downtown, join a big art experience for free, watch a movie from the wave pool or say "Happy Anniversary" to a favorite family spot.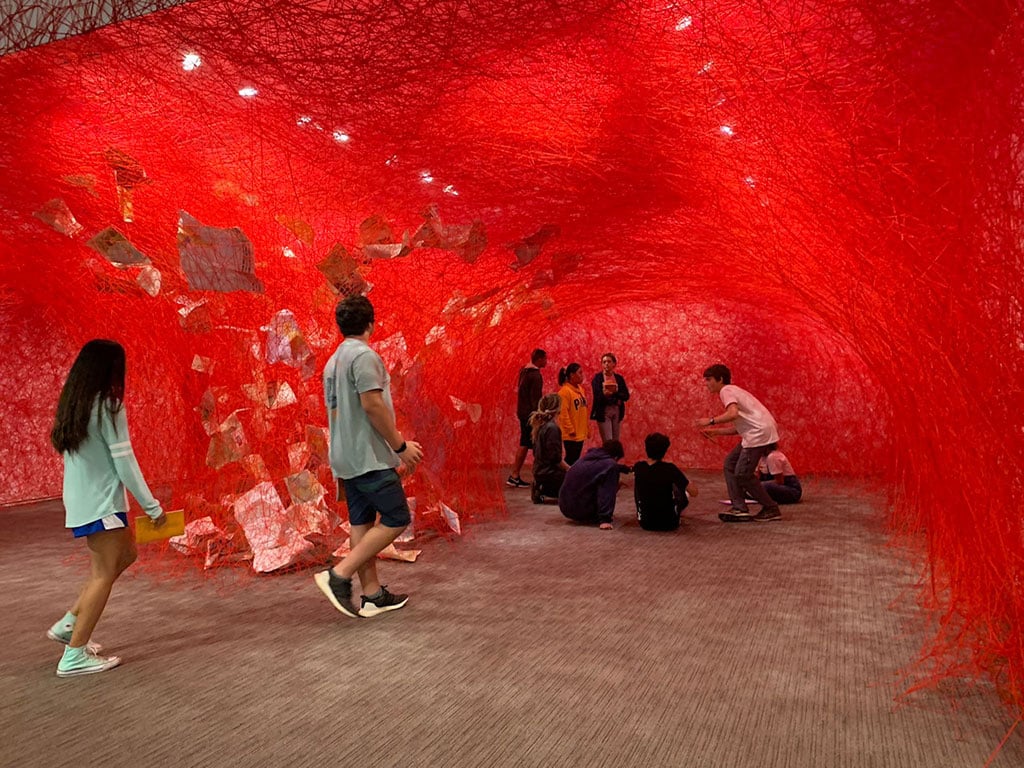 Photo: 2019 Honolulu Biennial
Walk on the Wild Side
Walk around Downtown Honolulu for this annual event by the National Kidney Foundation of Hawai'i. Kids can listen to taiko drums, pick up a balloon animal, get their faces painted or play games or the entire family can go on a scavenger hunt, for a $25 fee, to learn about some of the city and Chinatown's historical landmarks and for the chance to win a prize bag. You can find live entertainment at Fort Street Mall and Sun Yat Sen Park and eight food vendors ranging from Fat Cheeks sandwiches to Bo's Kitchen and Sticky Sweets. Keep in mind, the event is most busy from noon to 2 p.m.
Free Day at the Honolulu Biennial
Next Tuesday is a day off for Prince Kūhio Day, and it's a great day to finally stop by the Honolulu Biennial Hub. That's because admission to the center of the months-long interactive art experience will be free for that day. We asked the Biennial's education coordinator which installations were the biggest hits for students who have toured the hub. Hannah Craft mentioned Chiharu Shiota's work, Crossroads, which connects historical maps through intricate weavings of red yarn, was popular as was Makai'i Tubbs' Toy Stories, sculptures of toys created from shards of bottles and other debris, and Solomon Enos' Polyfantastica, 200 drawings of symbolic book covers, each that tells a century-long story of what might have happened if Polynesian communities had never encountered Western civilization.
Twilight and Dive 'n' Movie
Don your swimsuit for the first movie night of the year at Wet 'n' Wild Hawai'i. The park will stay open until 9 p.m. for kids to slip and slide. At sunset, Ralph Breaks the Internet will play at the wave pool. Arrive in the late afternoon to get in for a discounted admission price. The next Dive 'n' Movie will be in June.
Waikīkī Aquarium 115th Anniversary
Join the celebration with extra entertainment for the kids at the aquarium. The list of activities was still being worked on when we last checked, but we do know the aquarium staff will have make-and-take arts and crafts along with local artists, other groups including the American Cetacean Society will offer educational activities while kids can jump in bouncers, get an ocean animal-themed haircut from Pigtails & Crewcuts, or take photos with characters from Storybook Entertainment. Live hula and 'ukulele performances will be on stage.
Star Party with the Hawaiian Astronomical Society
Make a drive out to the North Shore to stare at the sky with local astronomers. The Hawaiian Astronomical Society's monthly parties bring together experts (along with their telescopes and star-gazing equipment) to help people of all ages view galaxies, nebulae and even globular clusters. Make sure to be there by 6:30 p.m. to get in before the gate to the airfield is locked at 7 p.m. And make sure to remind the kids not to touch the telescopes and leave the bright flashlights at home.