Your Weekend: The Best Family Events-March 13, 2019
Our picks for the weekend's best family events.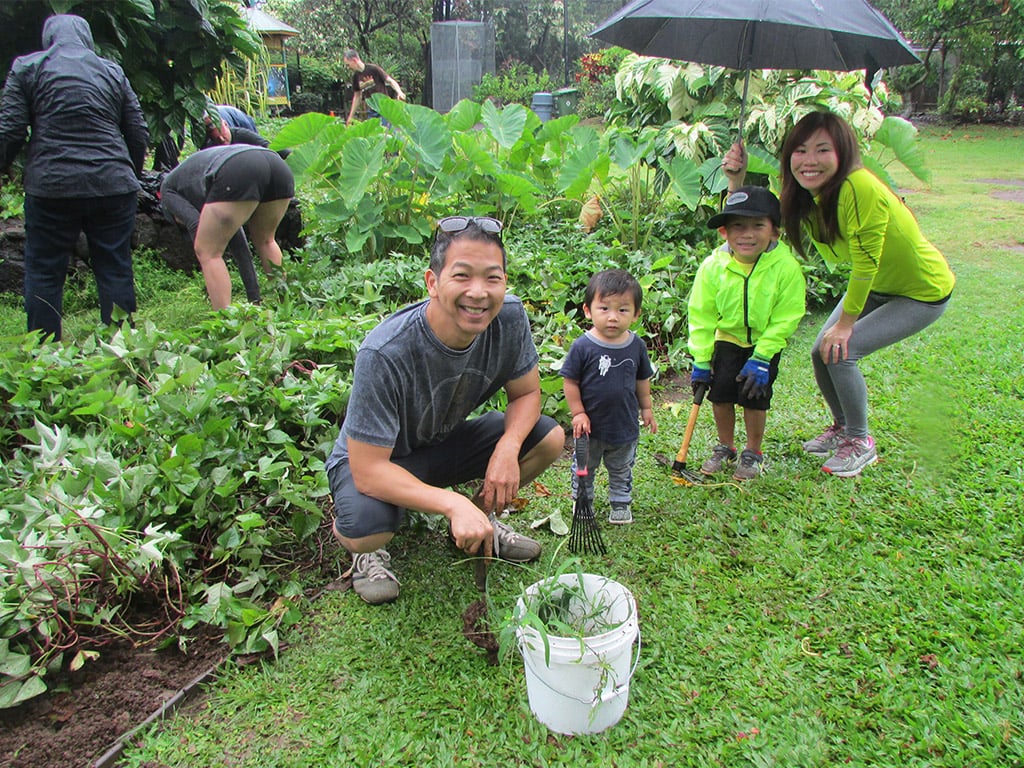 Photo: Courtesy of Hawaii Forest Institute
The Children's Discovery Forest in the Honolulu Zoo invites keiki volunteers every month to pull weeds, maintain the gardens and learn about native Hawaiian plant species.
Children's Discovery Forest Volunteer Day
Volunteer for two hours on Saturday morning to beautify the Children's Discovery Forest—a specialized zone inside the Honolulu Zoo with native plants and species. Keiki pull weeds with other volunteers, spruce up the grounds and gain a better appreciation for nature. An RSVP is not necessary to join the group. Just show up at 9 a.m. at Gate No. 6, located off Monsarrat Avenue across from the Waikīkī Shell parking lot. If you cannot attend this event, the next volunteer day is from 9 to 11 a.m., Saturday, April 20, in the same location.
Bishop Museum Hi-Sci Festival
A week-long celebration of science begins this weekend at Bishop Museum. On Saturday, "Discovery Day" features special children's programs, planetarium shows and a chance to see rarely displayed insects. Then from Monday to Friday next week, the museum hosts "Spring Break Science Engagement Programs," where keiki can go on tours of native gardens, study insects, learn how plants and animals are prepared for museum collections, and more. When visiting the museum, please bring reusable water bottles to cut down on plastic waste.
Hawaiʻi Kai Carnival
E.K. Fernandez offers two weekends of excitement on the field between Hawai'i Kai Drive and Keahole Street. Ride on the Century Wheel, Seven Seas, Wave Swinger and Zipper, and treat yourselves to cotton candy, popcorn, hot dogs and more. The entertainment line-up from March 15-17 includes the Tonga Sisters, Karlie Goya, Kapena and Bryson Moralez. Then from March 22-24, the entertainers are Josh Tatofi, Sean Na'auao and Micah G. Take advantage of discounted rides every Saturday and Sunday from noon to 5 p.m.
Would you like tips on how to use your E.K. Fernandez Fun Passes? Visit "Our Guide: How to Spend Every Credit on Your Carnival Fun Pass."
Four Free Wellness Events
How much do you know about celiac disease, insulin resistance and kids' sports injuries? These topics are part of a health-related program happening this week at Pearlridge Center. On Thursday, Humana Inc. leads a discussion on gluten-free foods and demonstrates how to make gluten-free taro smoothies. Friday's event, also hosted by Humana, is about heart-healthy foods and high-fiber snacks. The Saturday program focuses on diabetes prevention and management, followed by another demo—this time, a low-sugar shamrock smoothie. While that's happening on Saturday, Jennifer King, a pediatric sports medicine physician, is available all morning in the farmer's market to answer questions about keiki's bones and joints. Participants can spin a wheel for prizes and answer trivia questions from Pali Momi Medical Center's team.
"Pop-Up Program" By Humana Inc.
"Ask a Sports Medicine Doctor" by Pali Momi Medical Center
St. Patrick's Day Parties
Get a head start on St. Patrick's Day celebrations this Friday evening at Mililani Shopping Center. While there, pick up a free shamrock necklace, listen to traditional Irish music by Celtic Waves, buy corned beef and cabbage from Foodland, and stop by the keiki craft table where children can make their own shamrocks for free.
Then on Sunday afternoon, it's the official St. Patrick's Day Parade! This 90-minute procession begins at Fort DeRussy Park in Waikīkī and ends at the bandstand at Kapiʻolani Park, featuring nearly 800 participants from the military, local schools, marching bands and community groups. Get to Waikīkī well ahead of noon—which is when the parade starts—to claim a portion of the sidewalk for your family. Bring picnic chairs and mats. Wear sunscreen, sunglasses, hats and, of course, the color green.
Mililani St. Patrick's Day
St. Patrick's Day Parade