Your Weekend: The Best Family Events-June 26, 2019
Make wood block prints, picnic at a concert in a valley, play ocean-inspired games and buy bargain books this weekend.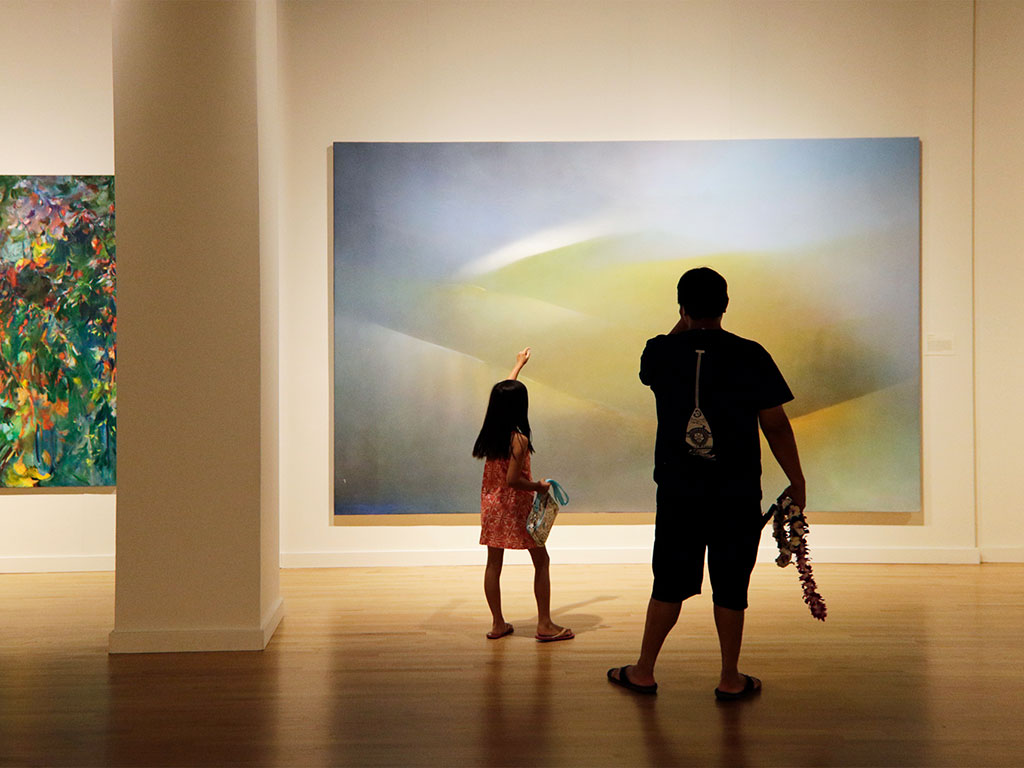 Photo: Courtesy of Hawai'i State Art Museum
Super Saturday at HiSAM
Spend the weekend making art in air conditioning (and out of potential showers) at this special event at the Hawai'i State Art Museum. Kids can print with blocks, create watercolor paintings and collages with a local artist, take pictures at a photobooth and make a cute clothespin creature to display it with. Organizers say each activity takes about half an hour. Live music will be from noon to 2 p.m. downstairs. While you're at HiSAM, make sure to visit the I Love Art room upstairs where keiki can play with a felt wall, build with blocks and find more colorful fun. Lemonade and other beverages and cotton candy will be sold.
---
SEE ALSO: Our Guide: Hawai'i State Art Museum
---
Waimea Valley Summer Concert Series
Listen to live music on the lawn and get home in time for bed at this concert series on the North Shore. The first at Waimea Valley features Sean Na'auao, Maunalua, Robi Kahakalau and Jeff Rasmussen, Sudden Rush and Hālau Nā Mamo O Pu'uanahulu. Bring low-back chairs, snacks, a blanket and insect repellent (with the recent wet weather, mosquitoes could be a bother). The concert begins at 3 p.m. but gates open at 1 p.m. for early picnicking. No outside alcohol is allowed.
---
SEE ALSO: Where to Celebrate the 4th of July
---
OZONE Day at Waikīkī Aquarium
Play ocean-inspired games, make crafts and spend a day doing keiki fun at the aquarium. As part of World Oceans Month, the event is supposed to teach people about protecting reefs and the water. The exact list is not yet available, but Sustainable Coastlines, the National Oceanic and Atmospheric Association, Surfrider Foundation and Kōkua Hawai'i Foundation are just a few of the groups offering hands-on activities. To help with parking,
Friends of the Library of Hawai'i Book Sale
This is the final week for the annual bargain book sale and that means additional discounts on books, music, art and everything. Saturday, all items will be 50% off. You might also want to bring a little extra cash because 'Ewa Seed Co. will be selling shave ice outside. On Sunday, all items will be 50 cents. Organizers say it might be worth a return visit if you stopped by next week, because new books DVDs and more are brought out every day.
---
SEE ALSO: How to Have the Best Summer Ever for Honolulu Families
---
Play in Clay: Making Rain Sticks
In case you will miss the sound of those showers we've dealt with this week, children can make their own rain sticks at the Art Explorium. At the Saturday workshop, kids will make tubes out of clay and fill them with beads which make the sound of rain drops when the tubes are tilted. Kids will also decorate the sticks with stamps. Artists 6 years and older may also be interested in Sunday's class, which will teach them to decorate masks made from various materials.