Your Weekend: The Best Family Events-June 12, 2019
Our picks for the weekend's best family events.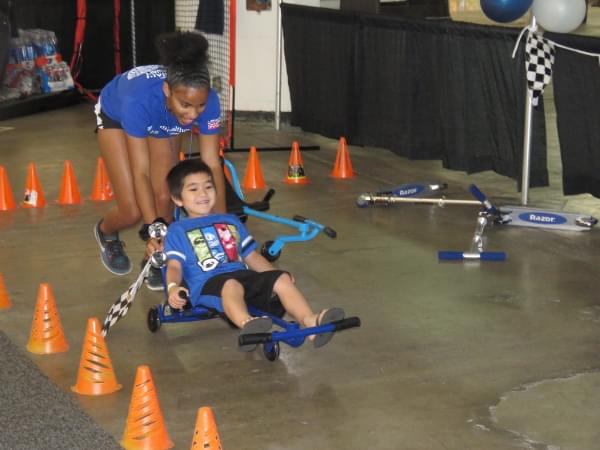 Photo: Lance Tominaga
ESPN Honolulu Sports Festival
Got sports fans and athletes in your family? Stop by the ESPN Honolulu Sports Festival Saturday for kid-friendly activities ranging from Nerf battles and rock climbing to light-saber duels and VEX Robotics competitions. Even young children can participate (mini golf, tennis and more). Don't forget to pick up a Sports Passport at the entrance and stamp it at designated stations to win prizes. The biggest prize—roundtrip tickets to anywhere that Alaska Airlines flies—involves a basketball shootout.
For details on how to win a free vacation at the festival, visit "Inside Look: ESPN Honolulu Sports Festival 2019."
Bubble Fest
Slide into Kapolei this weekend for an evening of bubbly mania! At this free event, kids can create bubbles at 10 different activity stations, get their faces painted in bubble-themed designs, drink sweet bubble tea and take photos in bubble-themed photo booths. Compete in a game of Knockerball—where players stand inside their own giant inflatable ball and knock down other people. And, if you're feeling achy or just need a good stretch session, join an outdoor class taught by Corepower Yoga. The Bubble Fest is free, but please note that some activities and party favors may be for purchase.
Outdoor Movies In Two Locations
Swim with your family in the afternoon, then at sundown, watch one of two movies on giant outdoor screens. There are two locations: The first is Sunset on the Beach on Queen's Beach in Waikīkī. The feature film Spider-Man: Into the Spider-Verse starts at 7:30 p.m. after the live concert and activities at 4:30 p.m. The second location is at Wet'n'Wild Hawaiʻi where the Dive'n'Movie feature film Aquaman also begins at 7:30 p.m. Pre-show activities include karaoke, food and drink specials and more. You can also rent LED light-up inner tubes, so you can see your kids floating inside the pool while they're watching the movie. Note that the Big Kahuna, Shaka, Shaka, Surf Slider and Kapolei Kooler will all stop running at 6 p.m.
Sunset on the Beach
Dive'n'Movie at Wet'n'Wild
Dads Get In Free at Sea Life Park
This week, Dads receive free admission to Sea Life Park Hawaiʻi, and their families also receive discounts. Some things to do at the park? Watch the new Aloha Naiʻa dolphin show, visit baby honu turtles, feed friendly fish and play with birds inside an enclosed habitat. If the Dads in your family like savory snacks, treat them to the park's new ʻOliʻOli dog with unagi sauce and Hawaiian coleslaw. Eel sauce? Yum!
Keiki Yoga on the Lawn
Thursday, kids and their grownups can join a free, one-hour yoga session on a sun-soaked lawn. This weekly program teaches basic yoga poses using kid-friendly lingo. You'll learn to deep breathe, sit still and be in the moment. Please note that this isn't a drop-off activity, so unroll your yoga mats and stretch with your kiddos!
A local mom tried it with her toddler son. Read her tips in "We Tried It: Keiki Yoga on the Lawn."