Your Weekend: The Best Family Events-July 4, 2018
Our picks for the weekend's best family events.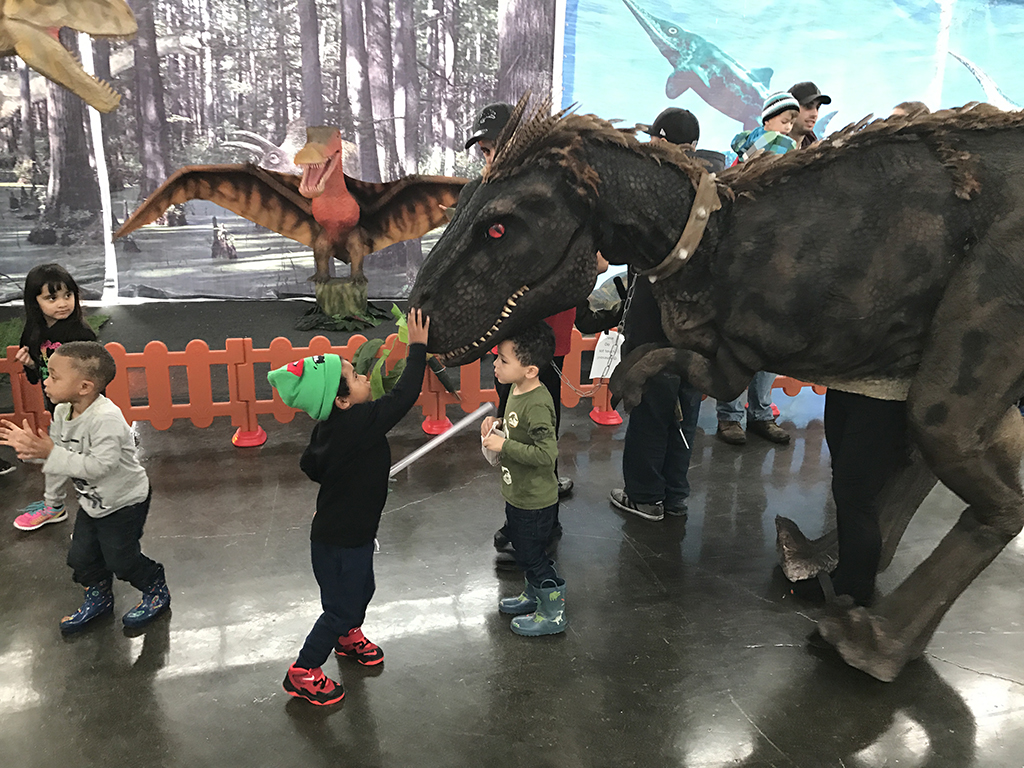 Photo: Courtesy of Jurassic Tour
Jurassic Tour comes to the Hawaiʻi Convention Center this weekend with lifelike dinosaurs that roar and move.
Princess and the Iso Peanut
In this pidgin musical comedy, a Japanese princess named Alexis journeys to a faraway kingdom and encounters outrageous characters before meeting and falling for a local Japanese prince. Mānoa Valley Theatre has teamed up with Kaimukī High School Performing Arts Center for this production, recommended for viewers ages 5 and older. And the theatre means it. No one younger will be admitted.
Ages 5 and up
$22 for kids 5 to 25; $35 for military and seniors with ID; $40 for general admission.
Thursday, July 5 to Sunday, July 22. Wednesday through Saturday, shows are at 7:30 p.m. Sunday shows are at 4 p.m.
Kaimukī High School Performing Arts Center, 2705 Kaimukī Ave.
Jurassic Tour
More than 50 realistic dinosaurs from a traveling exhibit have stomped into the Hawai'i Convention Center. The prehistoric creatures move around the room and make loud noises, while the dino babies prefer a little TLC. General admission tickets are for the "dino band" and movie theater, giant Jenga game, five bounce castles, basketball and darts. The "VIP Child Admission" adds ATV and scooter rides, and a bungee pull. For extra fees, kids can experience a virtual-reality game involving the history of dinosaurs. All tickets are for unlimited access to the exhibits–donʻt forget to stamp your hands if you leave so you can reenter.
All ages
$29 for the exhibit only; $39 for "VIP Child Admission" for kids 2 to 12 years; $3 off any admission with military ID; free admission for keiki younger than 2. Virtual reality rides are extra.
Saturday, July 7, 10 a.m. to 9 p.m. Sunday, July 8, 10 a.m. to 7 p.m.
Hawai'i Convention Center, 1801 Kalākaua Ave.
Movie on the Lawn: Hukilau Marketplace
Here's another free movie night where families can lay out picnic blankets and enjoy a summer evening together under the stars. This Friday, Hukilau Marketplace will show The Greatest Showman, starring Zac Efron, Zendaya and Hugh Jackman, about a circus family that chases fame only to realize everything they need in life is one another. Most of the marketplace's food trucks and restaurants stay open until 8 p.m. Pounders and Aunty Emily's Polynesian Bakery will close at 8:30 p.m. and Tutu's Sweet Shop will close one hour later. Next month, the movie will be Sherlock Gnomes, followed by Avengers: Infinity War (PG-13) on Friday, Sept. 7. For tips to navigating Polynesian Cultural Center, visit "Our Guide: Polynesian Cultural Center."
All ages
Free
Friday, July 6. 7:30 p.m.
The Hukilau Lawn, Polynesian Cultural Center. 55-370 Kamehameha Highway, Lā'ie
Mōiliʻili Summer Fest 2018
What organizers call the biggest bon festival on Oʻahu happens this Saturday in the Old Varsity Theatre parking lot in Mōiliʻili. The summer fest features traditional Japanese games, food trucks and the dance starts at 6:30 p.m. Play a goldfish-scooping game called kingyo sukui, hang a written wish on a tanabata tree, and visit the historic tent to learn more about "Gannenmono," commemorating the 150th anniversary of Japanese immigration to Hawaiʻi. Parking is free at the University of Hawaiʻi. A free shuttle transports passengers between the festival and campus. For helpful tips, visit "Inside Look: Summer Fest 2018."
All ages
Free
Saturday, July 7. 5 to 10 p.m.
Parking lot, Old Varsity Theatre. 1100 University Ave.
Rocks Rock! Rock and Mineral Show with Roger Kwok
A rock collector for over 30 years, Roger Kwok comes to the McCully-Mōiliʻili Public Library this Saturday to share his passion for minerals, fossils and rocks. Kwok, who also is an associate professor at Leeward Community College, will display some of his rocks as part of the lesson. This program is recommended for children in grades kindergarten and up.
Ages 5 and up.
Free
Saturday, July 7. 10:30 to 11:30 a.m.
McCully-Mōiliʻili Public Library, 2211 S. King St.