Your Weekend: The Best Family Fun-July 16, 2020
Climb walls and ride ATVs, walk into the past to play with a water pump and set up for an at-home 'ukulele concert.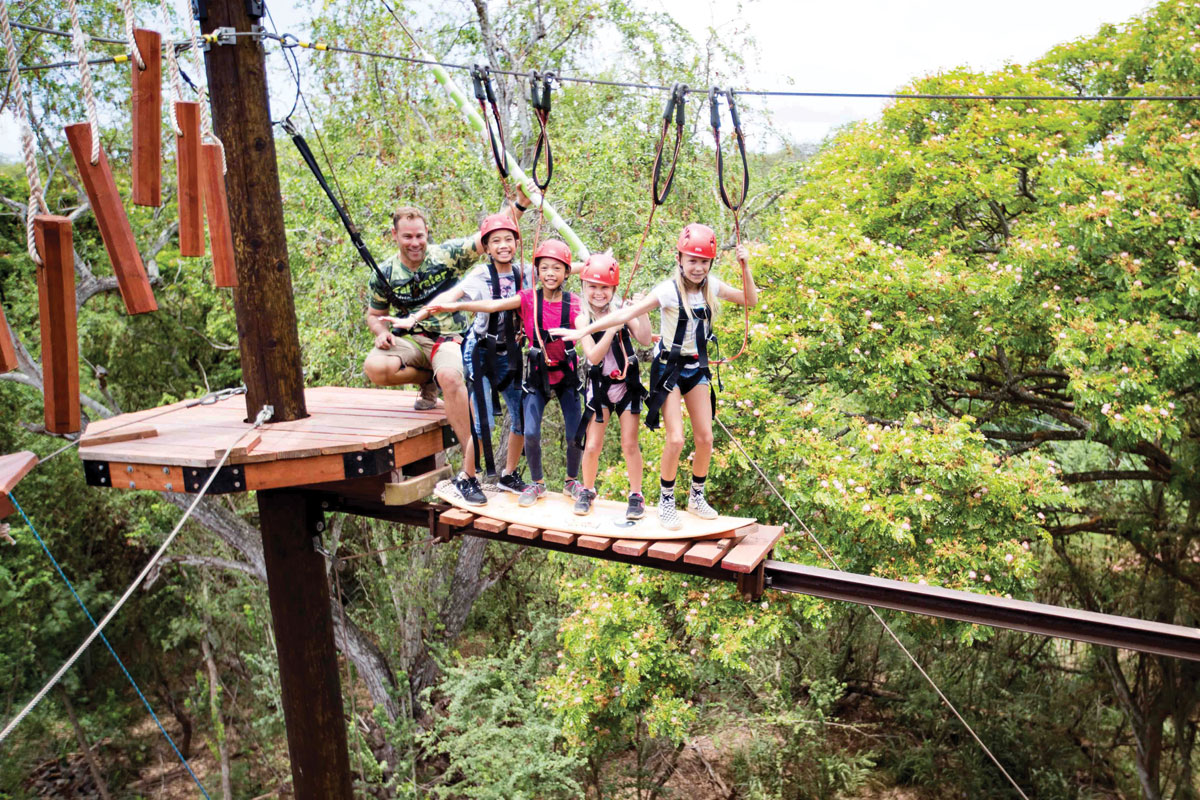 Photo: Karen DB
Coral Crater Adventure Park is one of many places offering big discounts for kama'āina right now.
Go Zip Lining
You have a few more weeks to get out of the house and take advantage of some kama'āina deals. Coral Crater Adventure Park is doing 50% off almost all activities in July. That translates into $150 savings when you race around all six zip lines, navigate the 60-foot-tall Adventure Tower course and climb the wall. You can also just try one of the activities or take off in ATVs. Sign up for a slot on Saturday so you can pick up dinner at food trucks to eat outside or take home. More than 20 vendors will be selling everything from laulau to pasteles, Filipino and Samoan food, mochi and funnel cake.
SEE ALSO: We Tried It: Coral Crater Adventure Park
---
Play in the 1800s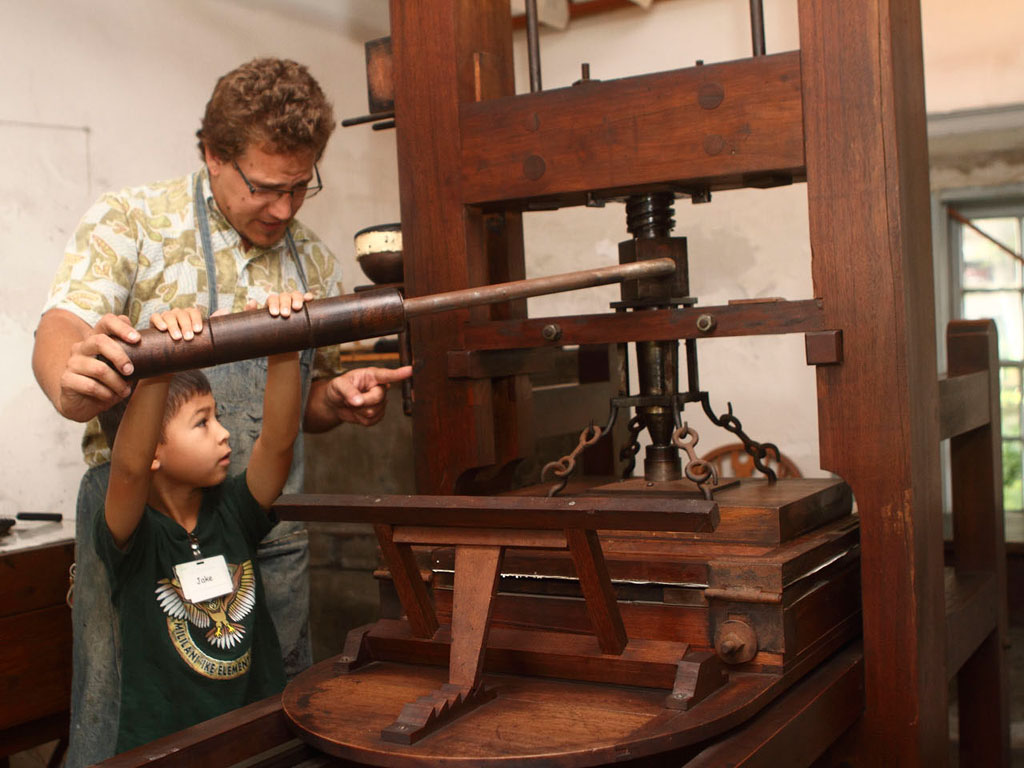 Photo: Courtesy of Hawaiian Mission Houses
A kid favorite at the museum is the printing press. They can watch it operate and take a print home.
Hawaiian Mission Houses reopened this week with free admission for all kama'āina for the first month. If you haven't visited before, now is a good time to spend a day with the kids experiencing life for missionaries in the 1800s. Perpetual keiki favorites are the working water pump (pack an extra T-shirt because they will get wet), the printing press and the tour through the kitchen. Tours will be limited to five people, which means guides can tailor the tour to your family, and reservations need to made at least 24 hours in advance online.
---
Listen to 'Ukulele Music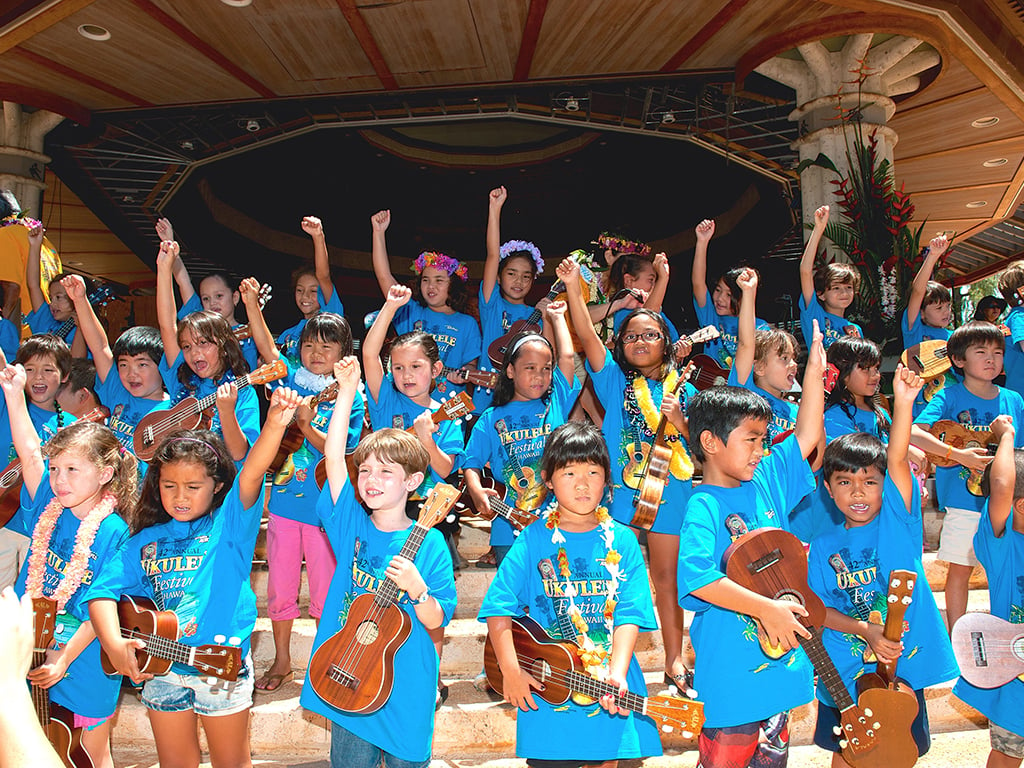 Photo: Courtesy of 'Ukulele Festival Hawaiʻi.
A performance by Roy Sakuma students was always one of the highlights of the 'Ukulele Festival in the past.
When the pandemic canceled the 50th Ukulele Festival, we have to admit we were sad. This weekend, Roy Sakuma will celebrate the milestone with TV special. Former student and consistent festival entertainer Jake Shimabukuro will perform along with Raiatea Helm, Herb Ohta Jr., Jack Johnson, Ho'okena and Bryan Tolentino. Along with the music, we're looking forward to Sakuma's stories from his decades teaching Hawai'i's keiki to play and championing 'ukulele music to the state and the world. Here's to hoping the festival will be back in person at Kapi'olani Park in 2021.
---
'Ohana Volunteer Day at Waimea Valley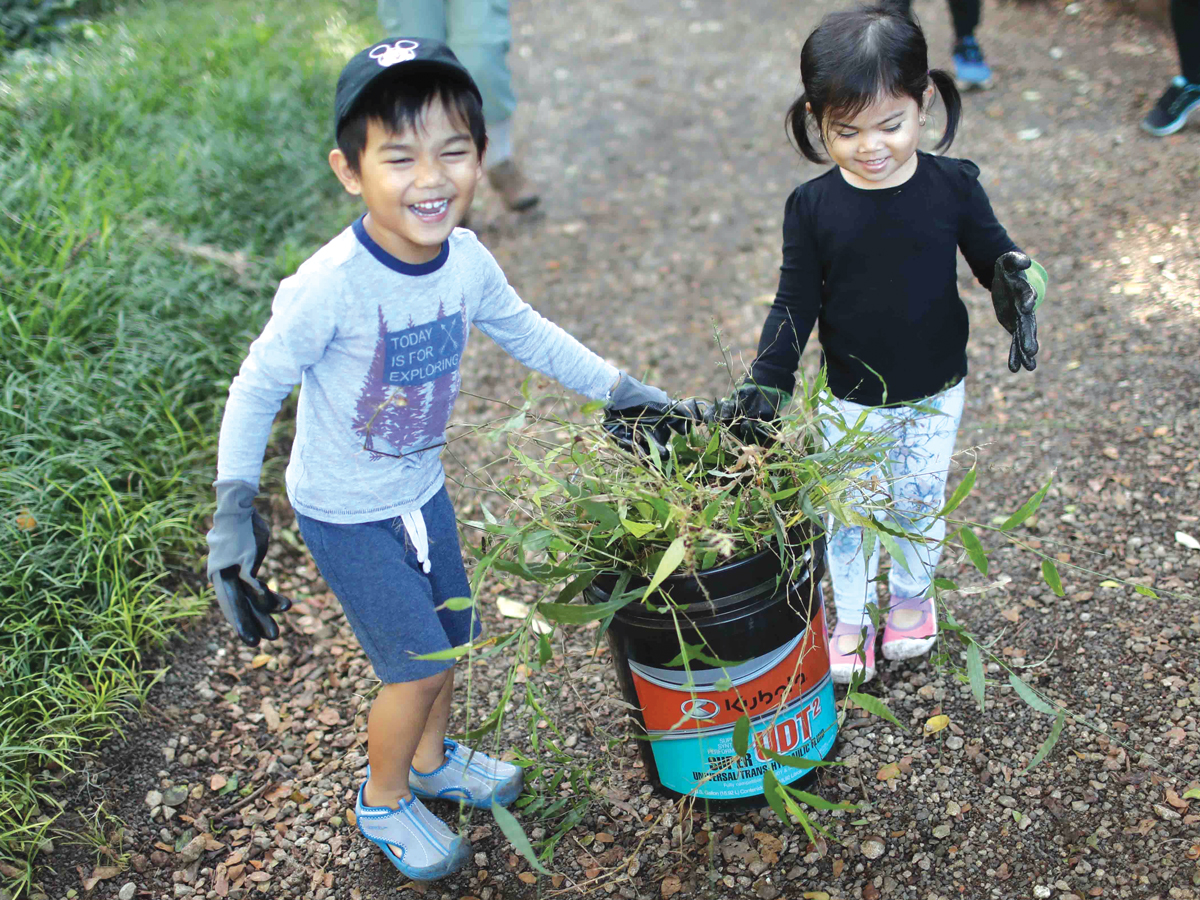 Photo: Karen DB Photography
Here's a good idea for a pick-me-up activity. Get outside, get active and help preserve native plants in Waimea Valley. Saturday is the park's volunteer day for young families. The valley has been a site for our HONOLULU Family Volunteer Day for the past two years and our kids have enjoyed pulling invasive weeds and hauling out branches in the shady areas of the reserve. After we first published this story on Wednesday, July 15, all spaces for this weekend filled up. But you can reserve your space for the next day, set for Aug. 15, by emailing volunteers@waimeavalley.net. Gloves and tools are provided. Bring water, insect repellent, a hat and a picnic lunch. You might also want a change of clothes if you plan to explore the park afterwards, including a swimsuit so you can jump into the swimming hole, if it is open.
Kids 12 years and older and their families can also volunteer at the park's conservation workdays. The next one is Saturday, July 25.
---
Wade into Surf Movies
This year, virtual films festivals give you an opportunity to introduce your kids to independent movies at home without worrying that they'll disrupt others if they get the wiggles. This weekend, the Honolulu Surf Film Festival launches with free online events and live-streaming movies. You can see the full lineup on the Honolulu Museum of Art's website (the museum, by the way, reopens on July 16) and pick a few favorites. On our list: Riss, a profile of Carissa Moore that will be followed by a live question-and-answer period with Moore and junior surfer Pua DeSoto; Freeze Frames, three short films that explore catching waves in frigid waters; and Family Traditions, four short films about how surfing has become a family tradition for parents and kids in Hawai'i and around the world.