Your Weekend: The Best Family Events-Jan. 23, 2020
Our picks for the weekend's best family events.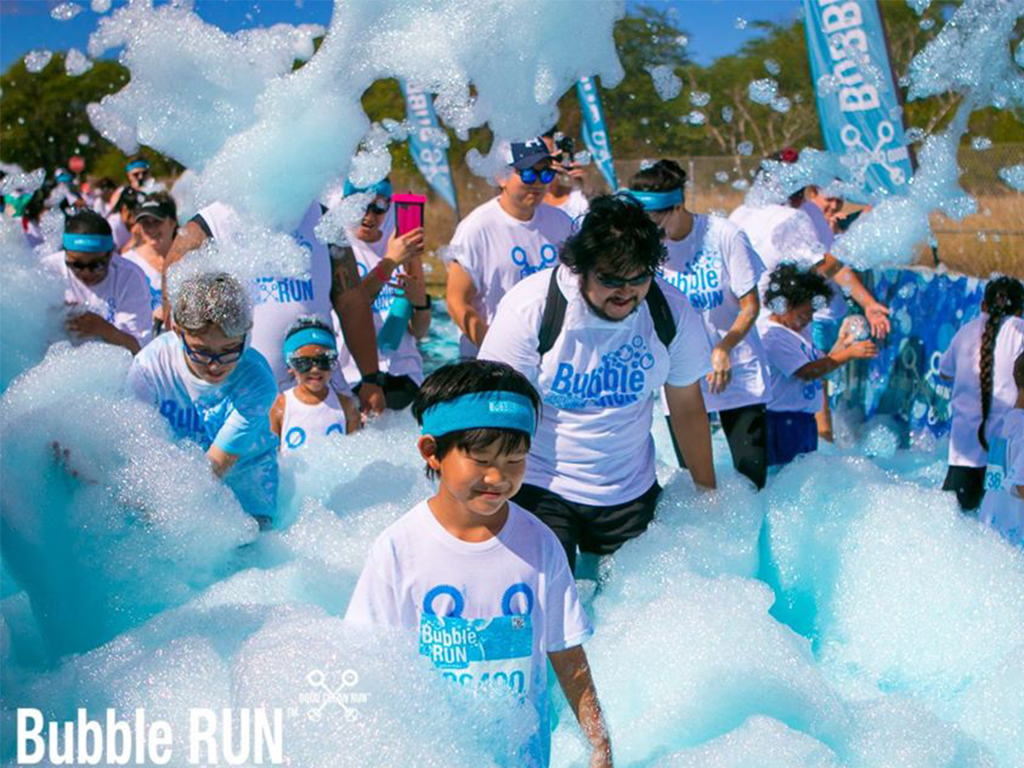 Photo: Courtesy of Bubble RUN
Living History Day
Visit the Battleship Missouri Memorial for free this Saturday when Living History Day offers a glimpse of major historic events. Kids and their families can watch a re-enactment of Gen. Douglas MacArthur, play educational games, take a tour of the Captain's Cabin and Radio Room aboard the Mighty Mo, and listen to live music while vintage planes fly overhead. Complimentary round-trip shuttle service from the Pearl Harbor Visitor Center is available from 8 a.m. to 4 p.m. Click here for driving directions to Pearl Harbor Visitor Center.
---
We tried it! Read Our Guide: Battleship Missouri Memorial
---
Bubble Run
This isn't your typical 5K run. This is the Bubble Run—a family-friendly race that involves giant foam cannons and party music. At the beginning of the race, runners pass through four bogs of green, red, blue and yellow suds. Then when all is done, they play in more suds and receive an augmented reality finisher medal that comes alive on an app. Strollers and little kids are allowed at this event but please keep them within arm's reach at all times, especially inside the thick foam bogs. You might want to bring a change of clothes and extra shoes for the post-party. For details on parking, packet pickup and more, click here.
How to Catch a Dragon at Barnes & Noble
After ringing in Chinese New Year with loud firecrackers, your ears might start ringing, too! Find solace on Saturday morning at Barnes & Noble where the storytime book, How To Catch a Dragon, is about a wily dragon that dodges kids running through paper lanterns, li see envelopes and fireworks. After the story, keiki can make their own paper lantern to take home.
---
Looking for Chinese New Year lions? For a performance schedule and list of locations, read "Where To Find Lion Dances in Honolulu."
---
Free Kids Admission Sunday
Honolulu's biggest waterpark, Wet 'n' Wild Hawaiʻi, offers free admission for keiki on the last Sunday of every month—as long as they're shorter than 42 inches. Little kids can play in the Keiki Kove, where the water is knee-deep and the mini-slides are gently angled. Older children can surf in the Da Flowrider and race down Waimea Whirl and O'Hana Highway. Don't forget to bring towels, sunscreen, extra cash and gear you'd typically pack for a beach day. If you miss this month's free Sunday, the next dates are Feb. 16, March 28 and April 26.
Big Home Building & Remodeling Show
Thinking of remodeling your home? This weekend, the Blaisdell Center is a one-stop shop of licensed contractors, suppliers and designers who can help. Free seminars include topics, such as: "How to Save Money on your Kitchen & Bath Remodeling," "Window & Door Replacement," "Design Trends" and "How to Choose a Remodeling Professional." On Sunday, seniors ages 60 and older with valid I.D. can enter the show for just $2 each, while kids ages 10 and younger get free admission.