Your Weekend: The Best Family Events-Jan. 16, 2020
Watch an all-star football game, rally at a peace parade and see a new play about Rainbows.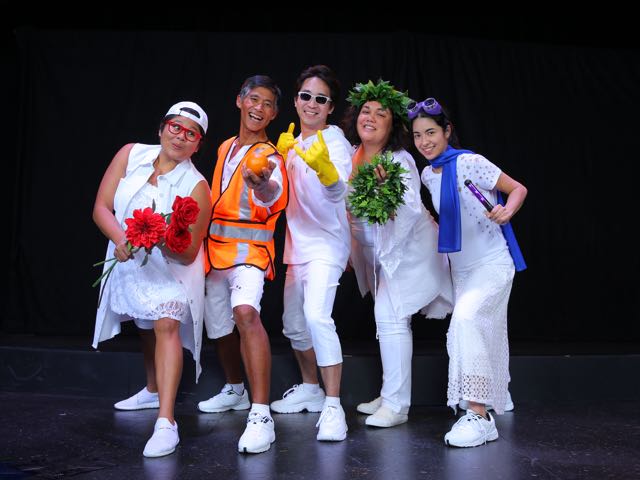 Photo: By Brad Goda
Rainbow
After two consecutive weekends of wind and rain, are you ready to see rainbows? Rainbow—the new play at Honolulu Theatre for Youth, that is. It debuts this Friday, Jan. 17, and runs for three weekends through Feb. 8, including a new Sunday performance on Jan. 19. Keiki in the audience can learn about the science of rainbows, and hear about ancient tales and emotions connected to rainbows. As a bonus, the theater staff also created this downloadable study guide filled with rainbow-themed recipes and crafts, books and conversation starters. If your kids would like to participate in the Rainbow workshop with HTY's actors on Saturday, Feb. 1, click here for tickets.
---
SEE ALSO: We Tried It: Honolulu Theatre for Youth OnStage Workshop
---
New Years Cat Show
Check your cat-titude at the door when you attend this weekend's feline show hosted by the Cat Fanciers' of Hawaiʻi. The group's motto? "Must love cats and never be catty!" At this show, hundreds of Hawaiʻi cats in four rings are judged by a panel of international cat experts. Meantime, you can shop at the Cat Bazaar for handmade items for pets and cat lovers. Tickets are available at the Blaisdell box office next to Ward Avenue, approximately 15 minutes prior to the show. Please note that only cats entering the show or exhibition are allowed.
Polynesian Bowl
Want to watch a game played by the nation's best high school football players? Mark your calendar for this Saturday evening when the Polynesian Bowl takes to Aloha Stadium. The Polynesian Bowl is a yearly tradition where 100 of the best football players—mostly of Polynesian ancestry—come together to compete and honor their cultures. This year, coaches are Steve Spurrier and Frank Beamer, who are both College Football Hall of Fame members. You can buy tickets early via phone or online before the big game, or at the stadium's box office on game day. Tickets are general seating and not assigned. Tailgating is not allowed before or after the game.
Senior Fair
Bring your grandparents and older family members to Windward Mall this Saturday for fun activities, live entertainment, prizes and resource booths just for seniors. Hosted by Generations Magazine, this senior fair has over 30 exhibitors under one roof—eight of them offer free trips to Las Vegas! Prizes and free gifts aside, this event is a safe and convenient way to learn about healthy aging, care homes, investments and other topics related to grandmas and grandpas.
MLK Parade and Unity Rally
Equality. Diversity. Pride. These are themes of the MLK Parade and Unity Rally, happening on Monday morning in Waikīkī. At 9 a.m., more than 2,000 marchers and 100 vehicles and floats take off from Magic Island and travel eastward on Kalākaua Avenue. The procession ends at Queen Kapiʻolani Park for a (peaceful) rally, food booths and a handful of family-friendly activities. If you're driving in the area, expect lane closures and delays on Kalākaua and Monsarrat avenues from 8 a.m. to 12:30 p.m.