Your Weekend: The Best Family Events-Feb. 6, 2020
Ride a Ferris wheel at night, tour an "opera house" for free, and party with your besties.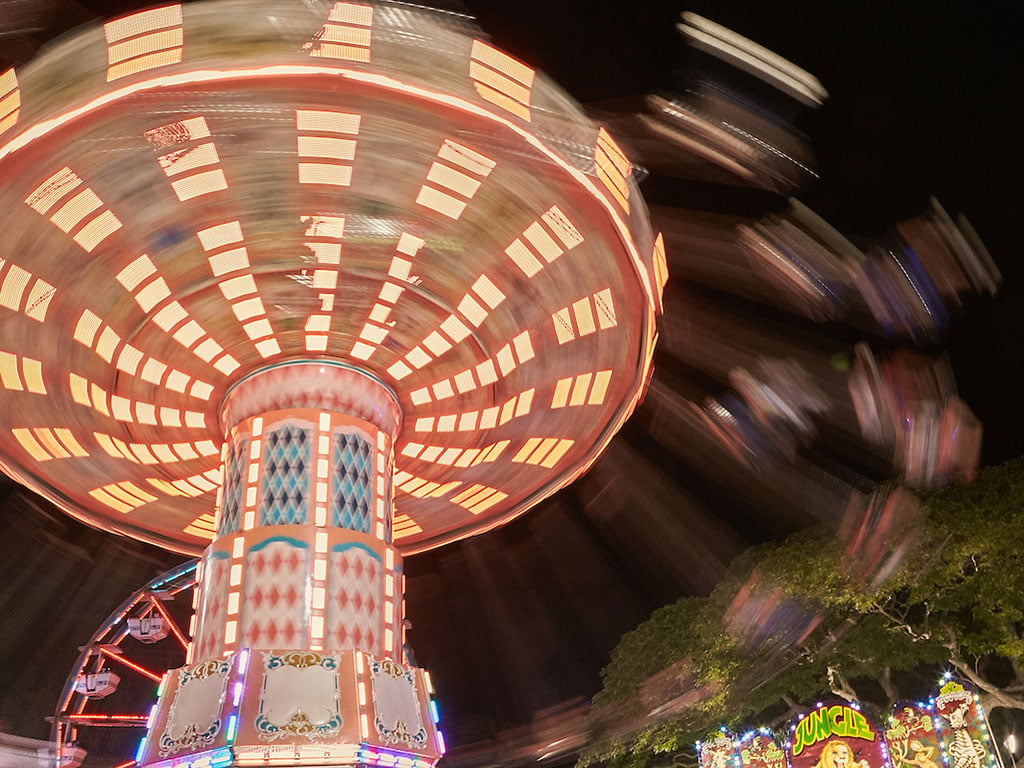 Photo: Aaron K. Yoshino
Punahou Carnival
The Punahou Carnival is on Friday and Saturday on the school's lower campus in Mānoa, featuring food and games, a white-elephant sale, talent show, art gallery and rides. Although credit cards are accepted at some booths, you might want to bring enough cash for smaller purchases, as well. Buy scrip for Punahou-sponsored activities, such as game booths. And purchase a reloadable FunPass to pay for rides operated by E.K. Fernandez. This weekend also calls for cool weather, so have your family dress in layers. With a theme like, "Music Through the Ages: A Chart-Topping Carnival," expect to hear tunes that family members of all generations can recognize. Proceeds from the carnival support financial aid for Punahou students.
---
SEE ALSO: Our Guide to the Punahou Carnival 2020 for the prices of rides and foods, discounts and our tips for this annual festival.
---
Keiki Great Aloha Run
It's not too late to join the Keiki Great Aloha Run—Saturday morning at Ala Moana Beach Park—but you'll need to sign up on the day of the event since online registration has closed. Arrive at the park between 6 and 7 a.m., look for the sponsor table near the start line and pay in cash. Also, don't forget to mention the name of your children's schools because a portion of fees will go to their schools' P.E. and nutrition-education programs. This 1.5-mile fun run takes place on the Diamond Head side of the park between the Magic Island concession stand and McCoy Pavilion. Highlights include pre-race activities for keiki, a finisher's T-shirt for each participant, and snacks and drinks.
HOT Family Day at the Opera
On Saturday morning, Hawaiʻi Opera Theatre offers free backstage tours of Mozart's The Marriage of Figaro. Kids can try on costumes in the concert hall, play with stage props and listen to live performances by HOT's Orvis Opera Studio and radio host Louise King Lanzilotti. Coin-operated parking meters are available on streets near the center (Ward, Kinau, Kapiʻolani and King). Otherwise, you can pay $8 to park in the Blaisdell Center's covered structure. Please note that a cannabis expo is happening in the Blaisdell Exhibition Hall at the same time. All weekend, in fact. Just sayin'.
KidX: Bestie Bash!
KidX—Pearlridge Center's club for children ages 17 and younger—is hosting a Bestie Bash on Saturday. This program includes Valentine's crafts, games and hula performances. To participate in the bash, kids must be members of the club. Joining is super easy and free. Click here to sign up; or register your children on-site.
Music and Stories for Babies and Toddlers
Little ones get their turn, too! Next week, Hawaiʻi public libraries host free events for babies and toddlers—a fun way for caregivers to meet others and form new friendships. Please note that some of the programs are only 30 minutes long. The details:
Keiki Music with Aunty Ilene
Baby Storytime
Tiny Tales for Tiny Tots
Toddler Time
Toddler Storytime
Tiny Tales for Tiny Tots
Preschool Storytime