Your Weekend: The Best Family Events-Feb. 27, 2020
Eat at a food truck festival, celebrate Dr. Seuss' birthday, and visit a marine-life park for free.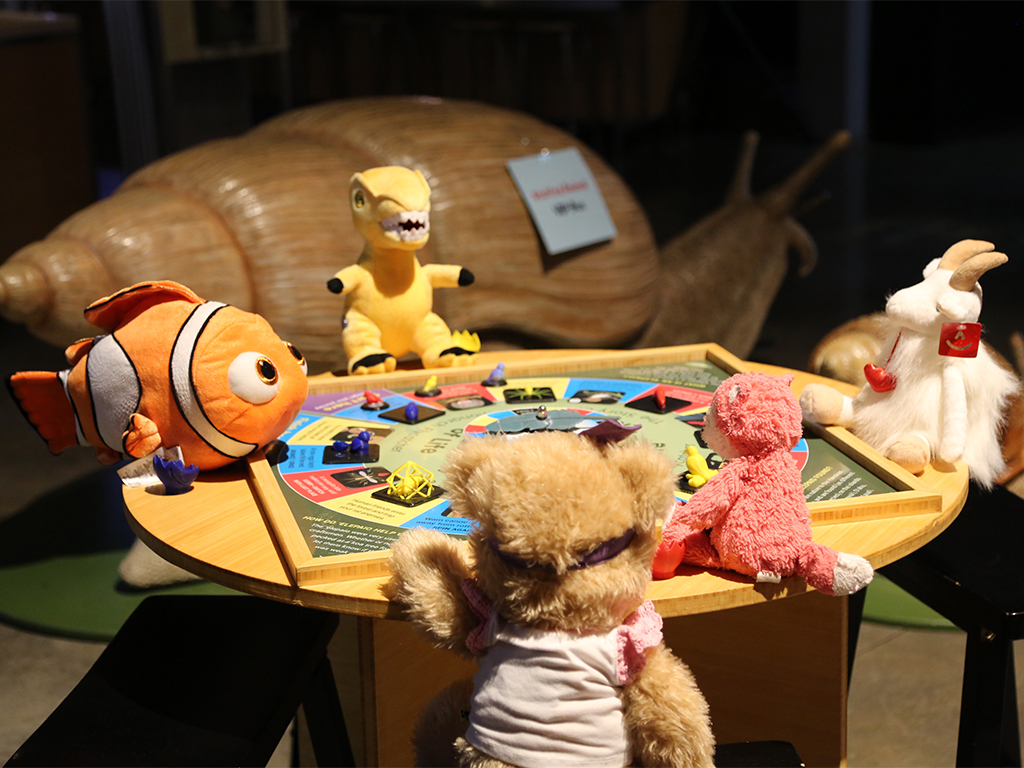 Photo: Courtesy of Bishop Museum
What happens to children's toys when left overnight at Bishop Museum?
Snug as a Bug
If you're reading this before Friday noon, it's not too late to book online reservations for Friday night's keiki pajama party at Bishop Museum. Bring a favorite plush toy or stuffed animal to the museum around 5 p.m., then join other families for bug-themed games and activities before leaving the toy to "sleep" at the museum. (You and your kids go home to slumber in your own beds). On Saturday or Sunday, return to the museum to pick up the toy and receive five entertaining photos of the toy's overnight adventures at the museum.
Rhea Lana's
This twice-yearly consignment sale of high-end toys, clothes and kids' gear is back in Honolulu! Although admission is free for the general public, special dates and rates are reserved for pregnant moms, military members, and shoppers who buy special-privilege tickets. Click here to read the details. Also, don't forget to bring a large bag or cart to the event to haul out your treasures.
Eat the Street
Burgers. Teppanyaki. Curries. Grits. Gelatos. Eat to your heart's content Saturday night at a food truck rally in the parking lot of Kāhala Mall. You can expect kids' activities, live music on two stages, trunk shows and plenty of additional tables and chairs scattered throughout the shopping center. If the mall's parking lots are full, find street parking at Kāhala Elementary School (4559 Kilauea Ave.) and surrounding areas.
Keiki Fun Sunday
Take advantage of free admission for children this Sunday at Sea Life Park—two kids can enter the park for free per one paying adult. Purchase online tickets here. Activities include a keiki rock climbing wall, festival games, live mermaids in the park's shark tank, and narrated presentations with California sea lions and their trainers. Fuel up on frozen treats from Hawaiian Honey Cones, Dole Soft Serve and Dippin' Dots; hot dogs from Pink's Hollywood; and plant-based patties from Beyond Burger. The best part? Sea Life Park only uses plates, cups and utensils that are 100% compostable and made from plants, such as corn and sugarcane.
Dr. Seuss Events For Keiki
Are your children obsessed with Things 1 and 2, the Lorax and Horton? Celebrate book author Theodor Seuss Geisel (aka Dr. Seuss) with seven programs for kids happening between Feb. 29 and March 7 at Barnes & Noble bookstore, public libraries and the Hawaiʻi Children's Discovery Center.
Dr. Seuss' Birthday Celebration
Play wacky games, take home a Dr. Seuss craft and decorate colorful cupcakes (for a $1 donation).
Storytime and Activities Celebrating Dr. Seuss!
Settle down for a free story reading of Dr. Seuss books, plus arts and crafts.
The Science of Doctor Seuss
Have fun with science and crafts, receive a free bookmark, and enter to win a Dr. Seuss backpack filled with surprises.
Dr. Seuss Raps with Mr. Kneel
Be entertained by Mr. Kneel, a professional rapper and hip-hop artist who tells Dr. Seuss stories with creative flair.