Your Weekend: The Best Family Events-Feb. 20, 2020
Watch cartoonists draw your kids, sing along with slugs, and see an Okinawan show for preschoolers.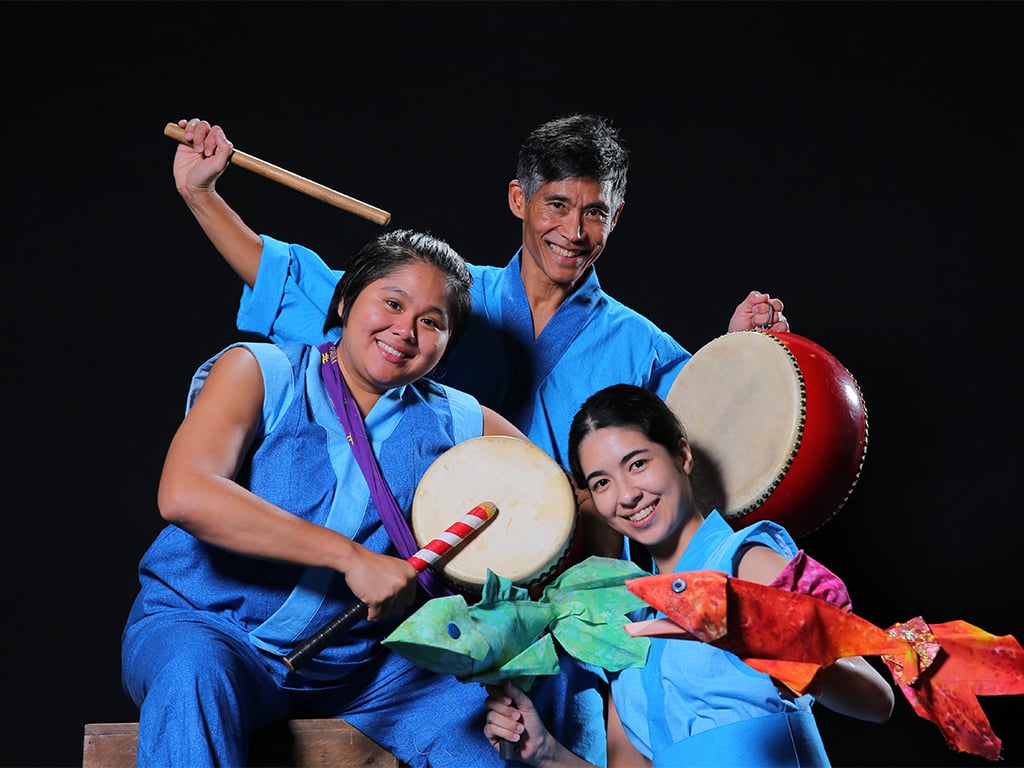 Photo: Courtesy of Honolulu Theatre for Youth/Brad Goda Photography
The Carp Who Would Not Quit and Other Animal Stories begins this weekend at Honolulu Theatre for Youth.
The Carp Who Would Not Quit and other Animal Stories
On Sunday, Honolulu Theatre for Youth introduces a new interactive play, featuring traditional fables from Japan and Okinawa. Its mission is to teach keiki about persistence, respect and kindness through music and language. (The Rolling Musubi is a featured story in the play.) For pre-show discussion points and post-show activities for children, click here for a study guide created by the theater's education department.
Banana Slug String Band
The Banana Slug String Band—an award-winning musical group with an environmental message for kids—performs this Friday in the Salt Lake-Moanalua Public Library. Expect catchy, original songs in genres ranging from reggae and roll 'n' roll, to folk and rap. Arrive early for good seats or bring a beach towel or mat for floor seating.
Amazing! Comic Con Aloha
This uh-ma-zing convention is back in Honolulu for a weekend of cosplay, celebrity meet-and-greets, comic book swaps, and workshops with artists. The most family-friendly programs happen on Sunday. Starting at 10 a.m., artists draw free caricatures of your children; then at 4 p.m., the kids' costume parade begins. For the three-day schedule of events—including an appearance by Jason David Frank of the Mighty Morphin Power Rangers and autographs with Zach Morris (Mark Paul Gosselaar) from the TV series Saved By the Bell—click here.
---
SEE ALSO: HONOLULU Magazine's guide to all comic conventions on O'ahu
---
Super Saturday
A quiet corner of downtown Honolulu comes alive this weekend for Super Saturday, a free monthly program for kids. This month, they can learn to breakdance, weave, draw with chalk, make prints and create wax molds of their own hands. Also, don't forget to visit the I Love Art playroom, take free pictures at the photo booth, and tour the outdoor gallery where the giant Mr. Chickenpants (a hybrid chicken-fox) is on display. Shangri La's live performances run from noon to 2 p.m. on the front lawn, and the cafe (Artizen by MW Restaurant) serves a kid-friendly menu from 10 a.m. to 2 p.m. SEE ALSO: We Tried It: Super Saturday at Hawaiʻi State Art Museum.
Mardi Gras for Children
Colorful beads. Lively music. Masks. Happy keiki. That just about sums up the Mardi Gras celebration happening next Tuesday in the Hawaiʻi Children's Discovery Center. There will be enough beads and masks for everyone—so toddler riots don't break out. After the party, visit the multicultural, Our Rainbow World gallery where keiki can sing karaoke and practice their lion dance moves. The mini café in the center's lobby is a great place to wind down with Spam musubis, veggie sticks, juice boxes, and other family favorites. And don't forget to see the colorful murals outside the center, courtesy of 2020 Pow! Wow! Hawaiʻi artists.