Your Weekend: The Best Family Events-Aug. 8, 2019
Visit the MathAlive! exhibit for free, watch a kimchee-eating contest and see superheroes on the beach.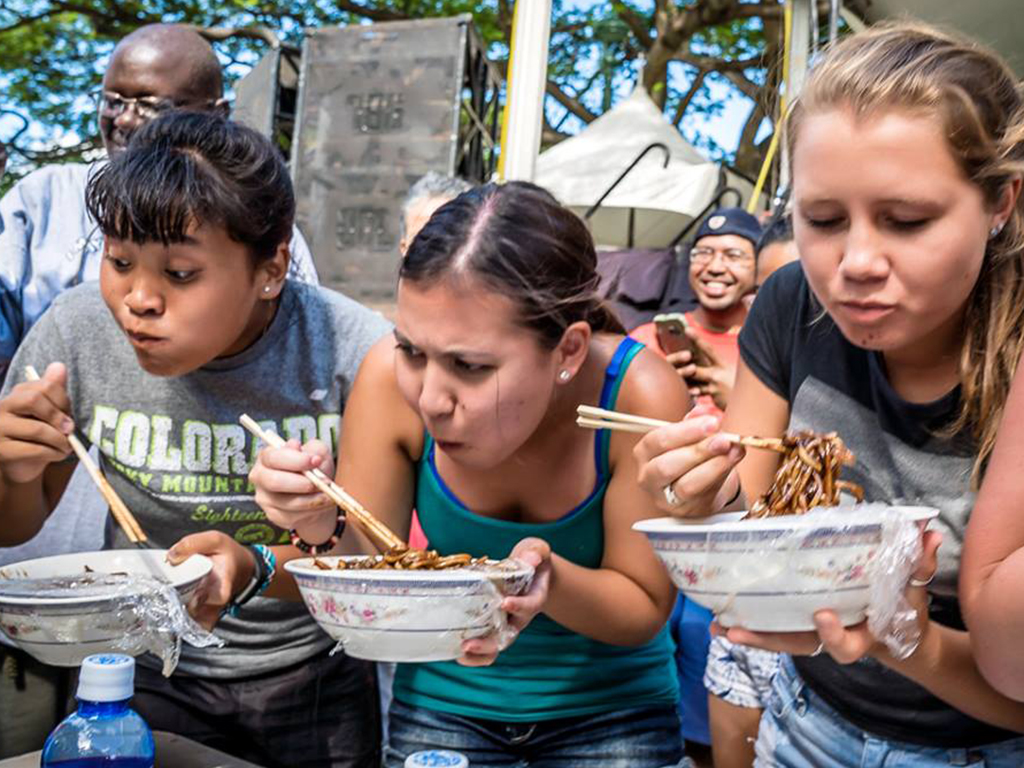 Photo: Courtesy of Korean Festival Hawaii
A contest to see who can eat the most jajamyeon (black bean noodles) at the Korean Festival Hawaiʻi.
Korean Festival Hawaiʻi
After a one-year hiatus, the Korean Festival has come back! This time, it's at Victoria Ward Park—the empty lot next to Ward Theaters—with spicy foods and non-stop entertainment on the agenda once again. Purchase scrip at designated tents and use the tickets to buy Korean sushi rolls from Seoul Mix, LA Kalbi Bowls from Seoul Jung Restaurant, kalbi pork and bao buns from Big City Diner, and more. For frozen treats, look for shave ice from Snow Factory, unique ice creams from Lucy's Lab Creamery, and J-shaped cones from Hawaiian Honey Cones. Other highlights of the festival: Taekwondo demonstrations at 1 p.m., cooking demos at 2 and 4 p.m., a kim chee eating contest at 3 p.m., a karaoke song fest at 5 p.m., a K-pop performance by EsNa! at 7:30 p.m., followed by K-pop girl group Ladies Code. Stay past 8 p.m. if you want to meet the celebs.
---
SEE ALSO: Your Ultimate Guide to the 2019 Korean Festival on honolulumagazine.com
---
Back-to-School Bash
Can you believe it's been nearly eight months since the MathAlive! exhibit opened at Pearl Harbor Aviation Museum? The interactive program for kids leaves Oʻahu for its next host city on Sunday, Aug. 18. If you haven't taken your keiki to see it (or if they want to visit again), this Saturday, Aug. 10, is the day to go. Each child receives free admission with the purchase of one paid general admission ticket. And if you say the phrase, "back to school," to the attendant working the entrance of the Raytheon Pavilion, you receive a school supplies gift pack for free, while supplies last.
---
Your kids can design skateboards and take 360-degree selfies at this interactive exhibit. Learn more at "We Tried It: MathAlive!"
---
Waikīkī Street Jam
What happens when buses, trucks and cars are banned from one of the busiest streets in Waikīkī on a Saturday evening—and only pedestrians are allowed to roam the area? You get Waikīkī Street Jam, a block party featuring some of the city's best food vendors, local artists, kid activities and live entertainers. The next street jam is this Saturday afternoon on Kalākaua Avenue, between Kapahulu and Seaside avenues. Buy a takeout dinner and have a back-to-school picnic across the street at Waikīkī Beach, watch your keiki play in the bounce houses, or purchase handmade gifts from artists' booths (early Christmas shopping, anyone?). A portion of sales from vendors will be donated to the American Diabetes Association.
Cinema in the Park
Yes, we know Wednesday the 14th is a school night for some kids. But it's also the night they can stay up late to watch Spider-Man: Into the Spider-Verse for free at Victoria Ward Park at Ward Village. The 117-minute Marvel adventure movie won the Academy Award for Best Animated Film and is recommended for kids ages 8 and older. If you plan to attend, don't forget to reserve spots online at the website listed below and arrive at the park by 6:30 p.m. or earlier to claim space on the lawn. Beach chairs are not allowed, so bring picnic blankets or big towels for seating. The front of the lawn closest to the screen is reserved for people who show their receipt, dated Aug. 14, from any dining establishment at Ward Village.
---
Peter Ramsey, the co-director of Spider-Man: Into the Spider-Verse will be in town for a free event! For details, visit the calendar listing.
---
Sunset on the Beach
Spend Saturday afternoon playing in Waikīkī, then stick around for an outdoor movie, Coco, shown on a big screen at Queen's Beach. The Disney/Pixar animation is about a Mexican boy who aspires to be a musician and meets his ancestors in the Land of the Dead. The movie starts at 7 p.m. Before then, visit vendor booths to purchase dinner and participate in family-friendly activities. If you can't make this month's movie, the next Sunset on the Beach will feature the movie UP on Sept. 14 and Ralph Breaks the Internet on Oct. 12.