Your Weekend: The Best Family Events-Aug. 29, 2018
Our picks for the weekend's best family events.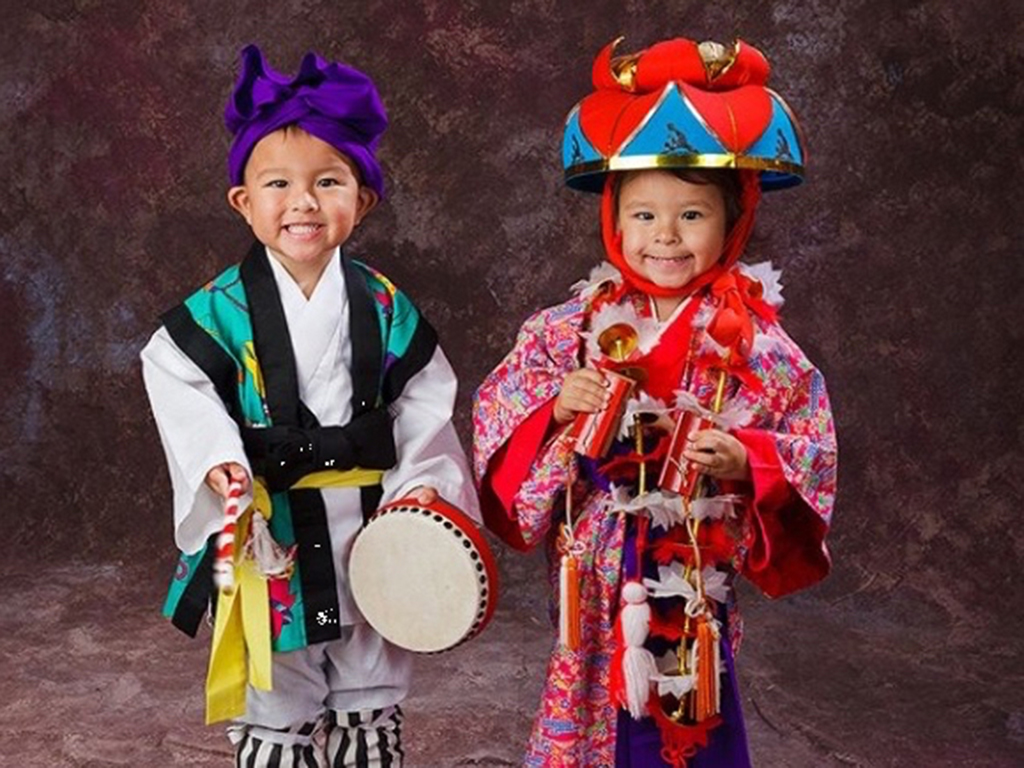 Photo: Courtesy of Okinawan Festival
At the Okinawan Festival this weekend, keiki can take pictures wearing traditional kimono while holding paranku hand drums.
Okinawan Festival
You won't need sunscreen and bug repellant at this year's Okinawan Festival. The popular event has left its former digs at Kapiʻolani Park and relocated to the Hawai'i Convention Center. The sprawling venue will house kids' activities, bon dances, a cultural village, karate demonstrations, musical acts, and traditional Okinawan foods, including andagi (deep-fried donut balls) and champuru (stir-fried veggies and meats). Parking for $10 is available at the convention center, and a shuttle will ferry passengers from McKinley High School for $3 per person roundtrip.
Want more details about the festival? Visit HONOLULU Magazine's "Your Ultimate Guide to the Okinawan Festival."
Waikīkī Aquarium Family Night
Explore "The Living Reef" at Waikīkī Aquarium's Family Night, where keiki can play "larva lottery," make fish wheels and learn to build a coral reef. On display will be special creatures, including the upside-down jellyfish, ʻopihi, sea hares and crabs. Scientists also will be on-hand during the event to educate families about coral reefs and marine life.
Sea Life Park "A Day With The Rays"
The final "Keiki Sunday" of the year at Sea Life Park celebrates the stingray, manta ray and the spotted eagle ray. Kids can make their own felt rays, dance to live music, meet mermaids, run through an obstacle course, search for a hidden golden ray in the park for a chance to win prizes, and watch ray-training demonstrations and feedings. The first 100 keiki to enter the gates (ages 12 and younger) will receive a free plush ray.
For a detailed look at Sea Life Park, visit "Our Guide: Sea Life Park."
"DinoSNORES" At Bishop Museum
Bishop Museum's first-ever family sleepover, "DinoSNORES," happens this Friday, Aug. 31. On the agenda are two planetarium shows, dino-themed activities, a discussion about the science of dinosaurs, and dinner, late-night snacks and breakfast are all included. Keiki can roam the museum in the early morning before doors open. Kid attendees are required to have at least one adult chaperone each. This also is the last weekend for "Expedition: Dinosaur," which ends Monday, Sept. 3. Keiki can get their hands on interactive stations, take pictures with animatronic dinosaurs, and pretend to be paleontologists digging up fossils.
For details about the dino exhibit, read "We Tried It: Expedition Dinosaur."
For tips on navigating Bishop Museum as a family, read "Our Guide: Bishop Museum."
Art Explorium "Cartooning to Da Max"
Do your kids like drawing cartoons? This Sunday, artist Andy Lee, who has worked for Marvel and DC Comics, will teach young students the basics of cartooning through drawing and zen sumi painting. After, the kids will have time to themselves to create their own cartoons on large, paper scrolls. As of Aug. 28, the workshop had nine spaces left. The next cartoon-themed class at Art Explorium, "Create a Comic Strip," will be taught by Nobu Yasuda, founder of the art collective Trinigrafx, and is scheduled for Sunday, Sept. 23.