Your Weekend: The Best Family Events-Aug. 15, 2018
Our picks for the weekend's best family events.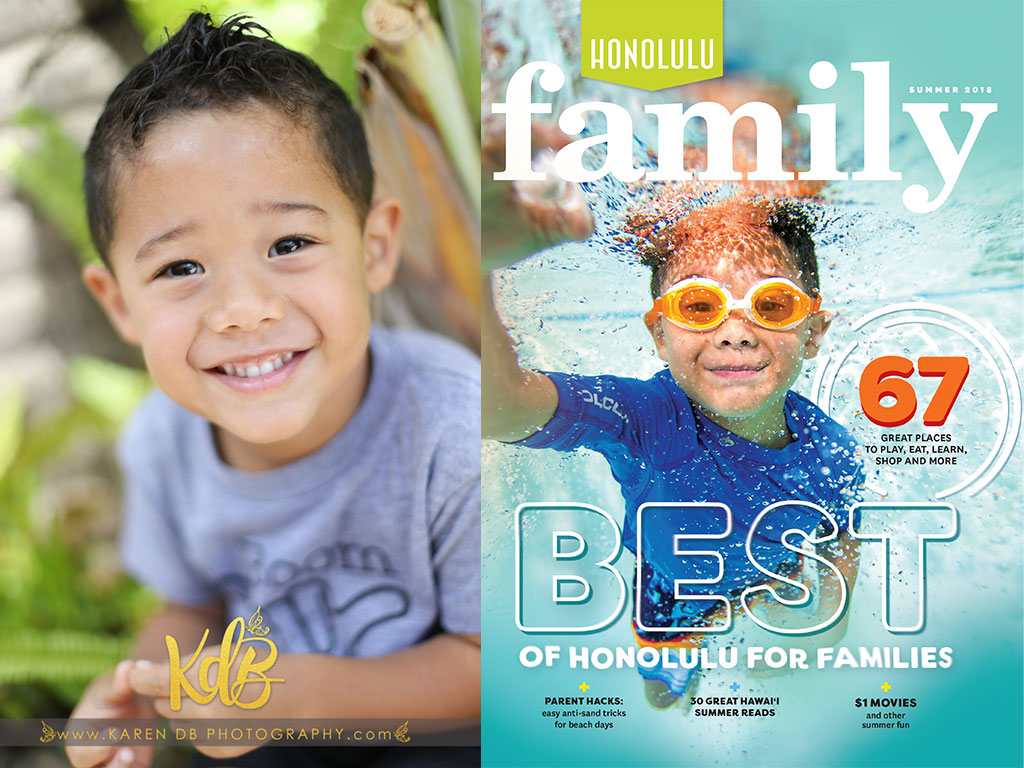 Photo: Karen DB Photography
2018 Cover Kid Kingston's entry photo from the Koko Marina event (left) and cover (right).
2019 Cover Kids Search at Koko Marina Center
We're scouting the east side of Oʻahu this Saturday for local kids to appear on the cover (and inside pages) of HONOLULU Family magazine in 2019. Bring your children to Koko Marina Center's Marina Courtyard to take pictures with Karen DB Photography and your $10 online entry fee will be waived. There will be prize giveaways from Wild Tiki Fun Zone, balloon twisting by Balloon Monsoon, and fun activities from The Keiki Store. In addition, Helping Hands Hawaiʻi will collect emergency-preparedness items for families in need. If possible, please donate batteries, blankets, matches, canned foods and personal-hygiene products.
Duke's OceanFest 2018
Kids and dogs on surfboards will hit the waters of Waikīkī over the next two weekends to compete in the annual Duke's OceanFest, a 10-day-long event honoring legendary surfer Duke Kahanamoku. Keiki-friendly programs to watch out for include the "Going to the Dogs SurFur ComPETition" on Thursday, Aug. 23, and the "Matson Menehune Surf Fest" on Saturday and Sunday, Aug. 18 and Aug. 19.
24th Annual Made in Hawai'i Festival
Bring an empty tote bag to the Made in Hawaiʻi Festival this weekend to fill up with snacks, keiki clothing, plants, jewelry, music, and other items sold at this three-day showcase of locally made products. Weʻre betting the kids favorite part will be all the samples in the food areas, but you can also enjoy live entertainment in the Pikake Room by Henry Kapono, Melvin Leed, Frank DeLima and Josh Tatofi, and others. Then head to the arena to watch chef demonstrations by Ronnie Nasuti of Tiki's Grill & Bar, Sam Choy and others.
Bank of Hawaiʻi Family Sunday: Roy G Biv
This month's "Family Sunday" at the Honolulu Museum of Art explores rainbow colors. Create wind catchers and colorful kaleidoscopes with guest artists, take home a free mini figure from the LEGO Lovefest exhibit and play area, and compete in a drawing contest to win free membership to the art museum. Catch the free shuttle to Spalding House for "Color Me Happy," where kids will make rainbow marbled paper with shaving cream, listen to a professional storyteller, and take pictures of the gardens with disposable cameras. The photos will be used for an art installation in September.
Dive 'n' Movie: Black Panther
The final evening movie event in August at Wet'n' WIld includes a school supplies donation drive. Bring pencils, crayons, binders, backpacks and more valued at $10 or more to donate to nearby elementary schools, and admission to the water park will be $9.99 plus tax. Most rides will run until 9 p.m. with the PG-13-rated movie beginning at dusk.