Your Weekend: The Best Family Events-Aug. 1, 2019
Join a food-truck rally, quench your thirst for gardening, and cool off with your canine.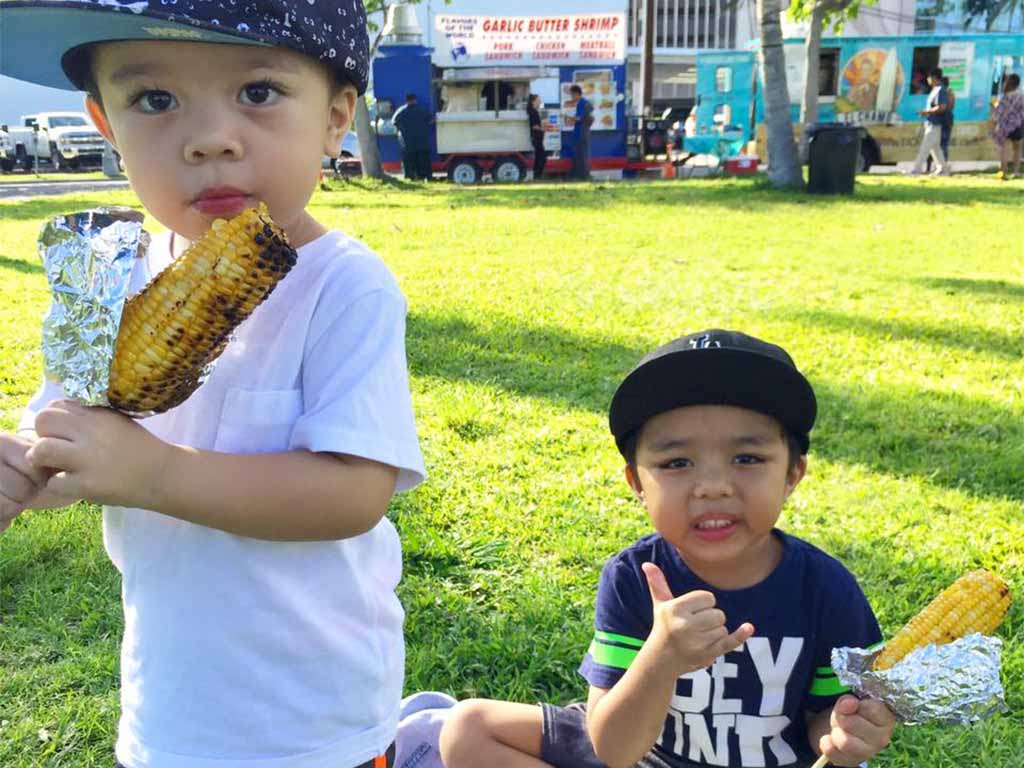 Photo: Courtesy of Eat the Street
Eat the Street brings food trucks and family-friendly vibes to neighborhoods across Oʻahu. This Saturday, Eat the Street comes to Kāhala Mall.
Unthirsty Plant Sale
The catchy name says it all. Not only is this event Oʻahu's biggest sale of plants, but it features the "less-thirsty" ones including peperomia, pregnant onion, rosemary, longevity spinach and other varieties. Xeriscaping (a method that reduces the use of outdoor water through efficient landscaping) is the focus of this year's program. While your keiki make plant-themed crafts, you can browse dozens of booths or attend free workshops from 10:30 to 1:30 p.m. Park on Iwaena or Iwaiwa streets, and catch the free shuttle van that runs along Iwaena from 8:30 a.m. to 3:30 p.m.
Eat the Street Food Truck Festival
If you want a break from family dinner-making this Saturday evening, join the hungry crowd at Kāhala Mall for a rally of more than 20 food trucks and pop-up restaurants. This is the first time Eat the Street is hosting an event at the East Oʻahu mall. Arrive at 2:30 p.m. to receive free Kāhala Mall tote bags created by local artist "Hontas Higa," then purchase dinner from the trucks and pop-ups located along Waiʻalae and Kilauea avenues and outside of Macy's men's department. Event organizers plan to set up additional seats and tables inside the mall, where live music plays on two stages. For the keiki: Arts-and-crafts stations by Art Explorium and Rainbow Art Studio! Find free parking at the mall, on adjacent streets and at Kāhala Elementary School on Kilauea Avenue.
Central Oʻahu Pet Walk
The dog days of summer aren't over yet, so cool off this Saturday at a nighttime walk for pets and their humans. The 1-mile walk itself starts at 7 p.m., but you can arrive as early as 5 p.m. to pose at a photo booth with your pets, compete in K9 games, ask veterinarians questions, and watch your pooches splash in dog baths and water play areas. Along the walking route, local restaurants provide snacks and treats, and there are comfort stations for dogs. You also might want to bring a light source for safer strolling (or to avoid tangling in other dogs' leashes). A headlamp, flashlight, even glare from cell phones, should do the trick!
Home Depot Workshop
New backpacks for new school year? Check. New lunch boxes and water bottles? Check and check. Pencil boxes? Ooops, totally forgot that one. No worries—your kids still have time to make pencil boxes at The Home Depot's monthly workshop for keiki this weekend. Young engineers can construct their own rocket-shaped pencil case, then adorn it with paint and stickers. All workshop attendees receive a free apron and commemorative pin; they also must be accompanied by their adult at all times.
---
Read a local mom and her toddler son's review at "We Tried It! The Home Depot Kids Workshops."
---
Paint For Your Soul
Have you ever wanted to paint a shark? Paint a picture of a shark, that is. The "Paint for your Soul" mobile art studio at Waikīkī Aquarium this Sunday, provides art materials and step-by-step instructions, so you can create a shark-themed masterpiece to hang on a wall or give as a gift. If you miss this weekend's event, you still can sign up for the Aug. 24 class from 10 a.m. to noon to learn how to paint a seahorse; or the Aug. 27 class from 6 to 8 p.m., to learn how to to paint a whale shark. Either way, a portion of your fees are donated to the aquarium's mission.