Your Weekend: The Best Family Events-Aug. 1, 2018
Our picks for the weekend's best family events.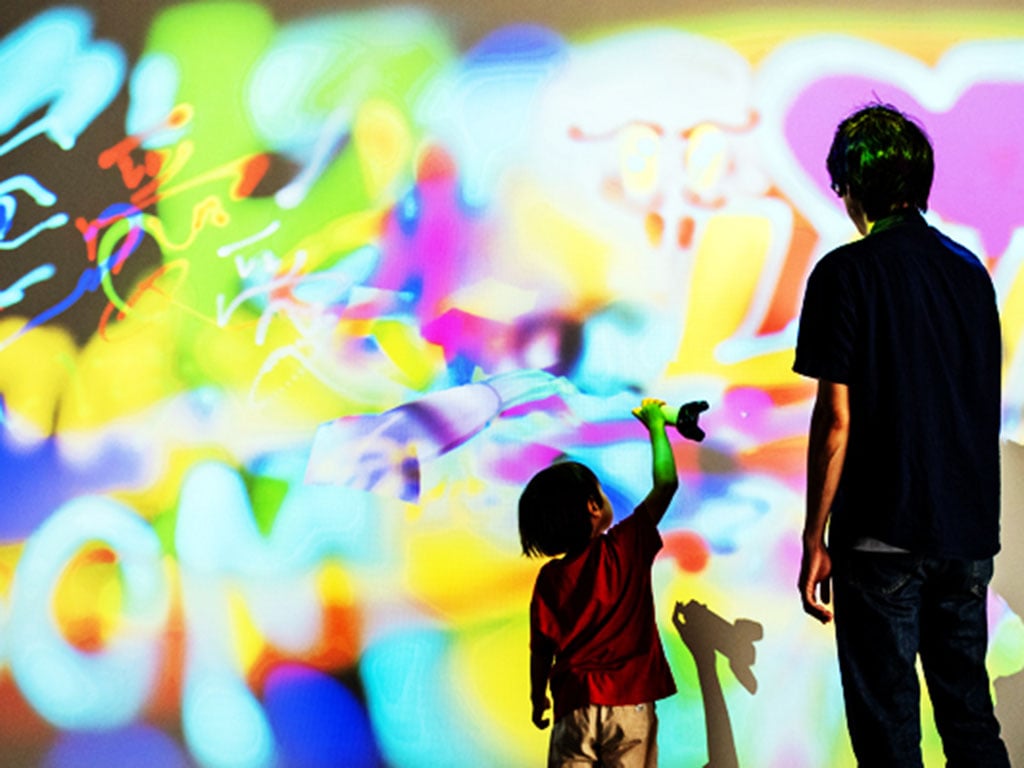 Photo: Courtesy of Little Planet
Tag a wall with virtual cans of spray paint at the "Lea Lea Little Planet Digital Aquarium" exhibit, now through Sept. 30 at the Waikīkī Aquarium.
Lea Lea Little Planet Digital AR Aquarium
From now through Sept. 30, visit a digital play area at Waikīkī Aquarium. Draw on a graffiti wall using virtual cans of spray paint. Play in a futuristic, augmented-reality sandbox called the "Sand Party!" And watch your coloring come alive in a digital aquarium. After you're done, visit the resident monk seals, jellyfish and sea horses at the aquarium, followed by a picnic on the lawn. The Little Planet exhibit was brought to Honolulu by PlaceHolder Inc., a Tokyo-based designer of educational play spaces for kids. Tip: Stop by on Saturday and you can also take advantage of the aquarium's Humpback Whale Sanctuary Day, which offers free activities (with paid admission) including a life-size inflatable humpback whale, talks and a chance to climb inside one of the gentle giants.
All ages
$12 general admission. The Little Planet exhibit requires an additional fee of $8 per adult and $15 per child.
Daily through Sept. 30. Sessions are at 9 a.m., 11 a.m., 1 p.m. and 3 p.m. Aquarium general hours are from 9 a.m. to 4:30 p.m.
Waikīkī Aquarium, 2777 Kalākaua Ave.
Lyon Centennial Hoʻolauleʻa
Lyon Arboretum is 100 years old and the great garden is celebrating with a free party. Take free tours of the garden, watch professional tree climbers (and kids can try a few climbs themselves), play games, listen to live music and pick up plants and lunch from food trucks. The arboretum's parking lot will not be open. A free shuttle will run between the old Treetops Restaurant just down the road, or you can walk to the arboretum from there. Parent tip: Bring a picnic blanket, sunscreen and insect repellent. We tried it! Click here to read our guide to vising the arboretum.
All ages
Free admission
Saturday, Aug. 4, 9 a.m. to 4 p.m.
Lyon Arboretrum, 3600 Mānoa Road
Unthirsty Plant Sale
Bring the family to Hālawa Xeriscape Garden for a day of fun under the sun. There will be a drought-tolerant plant sale and garden-themed activities, including xeriscape workshops, keiki games, educational booths, plant crafts, garden tours, a rain barrel demo, a cactus display, food, live entertainment and more. Park for free on ʻIwaena Street, and a free shuttle will pick up passengers along the street from 8:30 a.m. to 3:30 p.m.
All ages
Free
Saturday, Aug. 4, 9 a.m. to 3 p.m.
Hālawa Xeriscape Garden, 99-1268 ʻIwaena St., 'Aiea
The Compassion Experience
What's it like for children living in poverty overseas? The Compassion Experience has brought to Oʻahu two interactive exhibits depicting real homes and villages in developing countries. Visitors take a 20-minute self-guided tour through the exhibits and listen to stories of two children, Jonathan and Kiwi, who were born into and overcame poverty in the Philippines and Dominican Republic. Headsets and iPhones are provided with the tour. The Compassion Experience will be in multiple locations on Oʻahu through Aug. 27 before returning to the Mainland. Online reservations are recommended, but walk-ins are welcome.
All ages
Free
Aug. 3-6, Anchor Church. 45-815 Poʻokela St.; Aug. 10-13, Calvary Chapel Central Oʻahu. 95-119 Kamehameha Highway #D; Aug. 17-20, Ala Moana Center. 1450 Ala Moana Blvd.; Aug. 24-27, First Presbyterian Honolulu. 45-550 Kiʻonaʻole Road.
The Sleeping Beauty
Kids who are familiar with Disney's version of Sleeping Beauty might enjoy this classical ballet adaptation of the fairy tale set to music by Tchaikovsky. Ballet Hawaiʻi's production of Sleeping Beauty showcases local dancers and international artists from Kansas City Ballet, American Ballet Theatre and Pacific Northwest Ballet.
All ages
$35 to $99
Aug. 3, 7:30 to 9:30 p.m. Aug. 4, 4 to 6 p.m. Aug. 5, 2 to 4 p.m.
Blaisdell Concert Hall, 777 Ward Ave.