Your Weekend: The Best Family Events-April 24, 2019
Our picks for the weekend's best family events.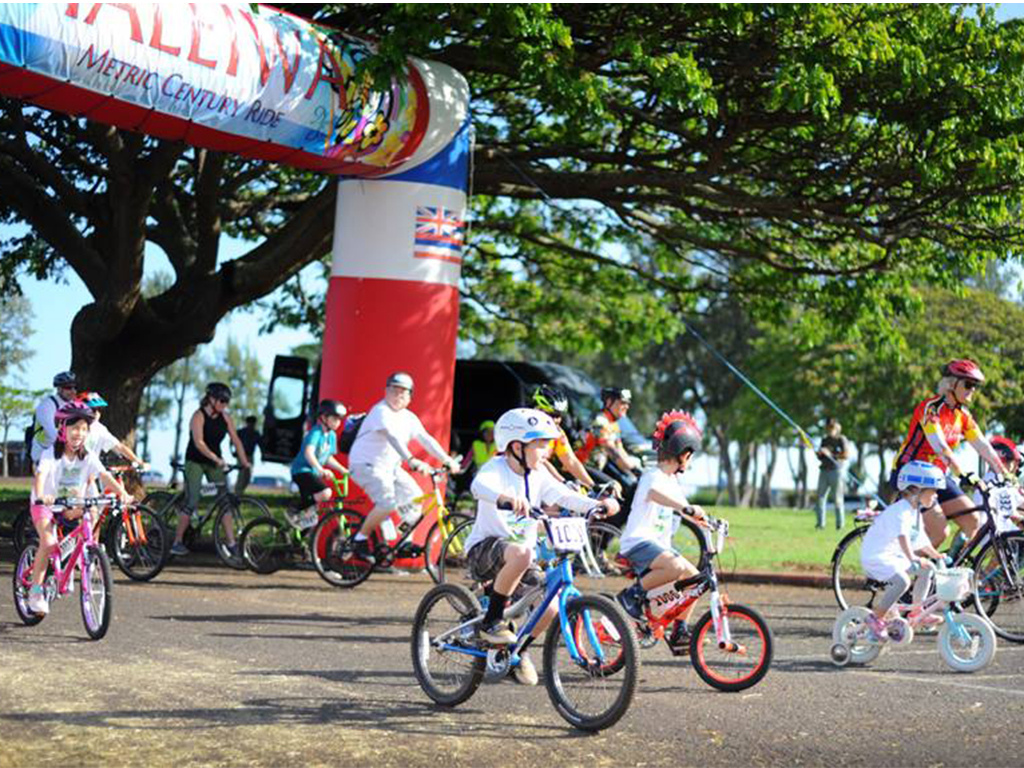 Photo: Courtesy of Hawaiʻi Bicycling League Facebook page
Don your helmets! The kid-friendly Haleʻiwa Aloha Fun Ride is this Sunday on the North Shore.
YMCA Community Birthday Parties
Here's a new vocabulary word for your kids: sesquicentennial. It means "150th anniversary," which the YMCA of Honolulu is celebrating Saturday morning with keiki activities, free food and access to its pools, gyms and classes. Depending on which of the six locations you visit that day, free activities include cooking demos, parent-child fitness classes, face painting, nature tours, carnival games, aqua aerobics classes, jumbo checkers, martial arts, live music and more. If you plan to visit the Nuʻuanu or Windward Y, preregister to save time. Click here to see the full list of activities.
Ellison Onizuka Day of Exploration
The state's largest event featuring STEM and STEAM activities for keiki is this Saturday. Kids of all ages can browse more than 100 booths, hosted by boy scout troops, to build rockets, make slime, create balloon hovercrafts and launch catapults. The scouts and their leaders usually are very helpful when curious little keiki stop by their booths, but be patient—sometimes the younger scouts are a little less clear when it comes to giving directions.
Want more details about this popular event? See our tips in "Inside Look: Ellison Onizuka Day of Exploration."
Ko Olina Children's Festival
A full afternoon of keiki activities are on the agenda this Saturday at this annual fundraiser for Kapi'olani Medical Center for Women & Children. Some highlights that you won't want to miss: storytime with a mermaid, pastry-making demos, an appearance by MMA fighters, cuddle time with a therapy dog, and face painting. Make sure to get there early to claim your spot on the lawn for the movie before joining the keiki activities. The movie begins at 5:30 p.m. with the short film Bao, followed by Incredibles 2. The program is scheduled to end by 8 p.m. The temperature dips at night, so don't forget to bring picnic blankets and jackets for your family. Also recommended are mosquito repellent, sunscreen, refillable water bottles and low-back beach chairs. Kids 14 years and younger must be with adults at all times.
Haleʻiwa Aloha Fun Ride
Does your family have the stamina to pedal bicycles for more than a few blocks? If so, it's not too late to sign up for the Haleʻiwa Aloha Fun Ride, a kid-friendly bike ride this Sunday on the North Shore. Choose from two short routes: 6 kilometers or 10 kilometers (that's 3.7 miles or 6.2 miles). Both routes begin at Kaiaka Bay Beach Park, continue along Waialua Bike Path and Waialua Beach Road with an aid station at Waialua Elementary School. The ride begins at 8:30 a.m., one hour after the Haleʻiwa Metric Century ride. Stick around the park afterward for live music, vendors and food booths. A friendly parent-to-parent tip: If you do participate in this event, please make sure that your family's bicycles and helmets are properly serviced and fitted.
I Love Kailua Town Party
You don't have to hail from Kailua to attend the town's biggest outdoor party of the year featuring food, merchandise, services and artwork by Kailua businesses. Some things to do at this event: buy new plants for your home, check your vitals at a health screening booth, play with your keiki in the family zone, take selfies with a Hawaiian Honey Cone (before devouring it!) and listen to marching tunes by the U.S. Marine Corps Forces, Pacific Band. If you do live in Kailua, party organizers encourage you to walk or ride your bike to the event. Kailua Road—between Hahani Street and Kuʻulei Road—closes from 9 a.m. to 5 p.m.