Your Ultimate Guide to the 13th Hallowbaloo Music & Arts Festival
Everything you need to know about this legendary Halloween street festival happening in Chinatown on Oct. 29.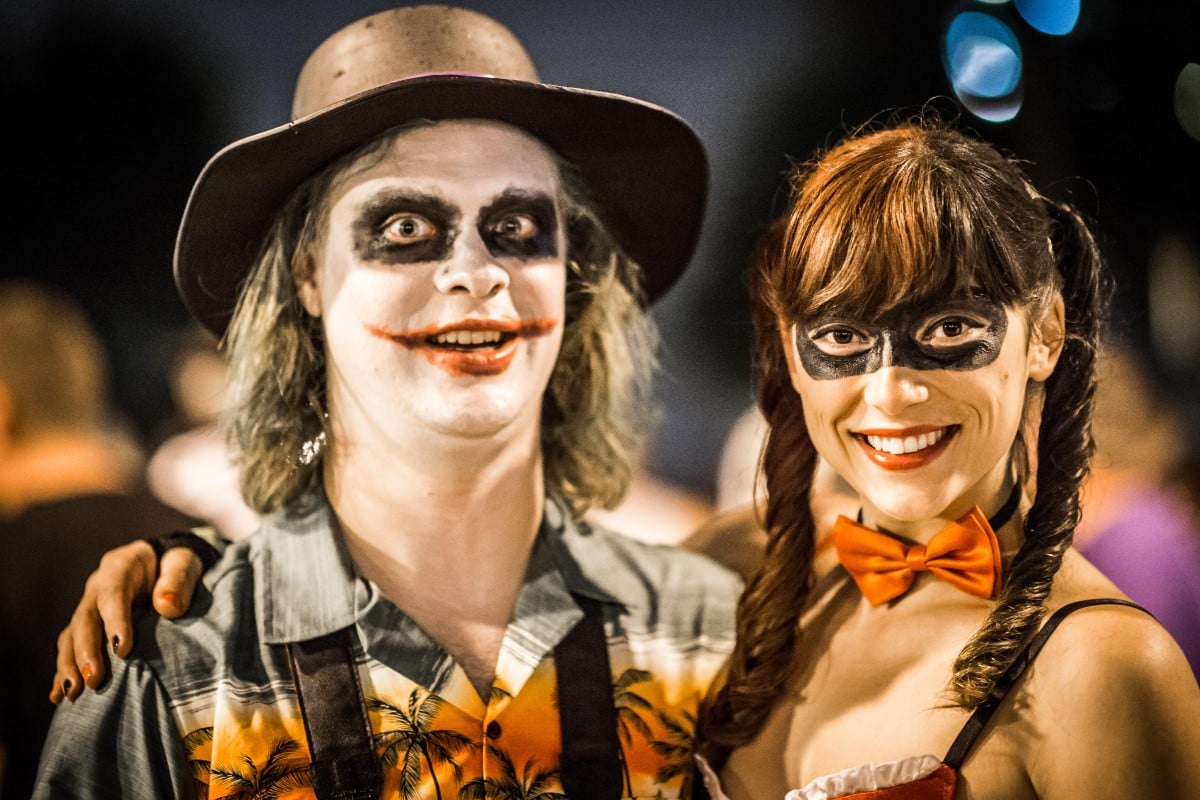 It's back! We all mourned the loss of the legendary Hallowbaloo Music & Arts Festival during the pandemic but, after a two-year hiatus, it finally returns—with one of its biggest and boldest programs ever. Expect more than 5,000 costumed party people, a ton of entertainment, great food and beer, and frightening loads of fun.
Since 2008, the street festival has combined the thrilling spirit of Halloween with Chinatown's artsy vibes. Here's what to watch, where to park, how tickets work and where to party this year.
What It Is
An epic arts and music festival that takes place in Honolulu's Chinatown Arts District with nonstop entertainment throughout the night. Expect an evening with musical performances, 'ono food, craft beer, a costume contest and much more. The event is produced by Hawai'i Halloween LLC with a portion of proceeds benefiting The Arts at Marks Garage and Women Speaking Out.
When and Where
The festival kicks off in Honolulu's Chinatown Arts District at 5 p.m. on Saturday, Oct. 29, and will continue through 2 a.m. at various clubs and bars in the neighborhood.
---
SEE ALSO: Don't Miss These Halloween Events
---
Where to Park
Beretania-Nu'uanu Parking Lot
Cash only
$5 per hour before 5 p.m.; $4 per hour after 5 p.m.
Midnight curfew
Smith-Beretania Garage
Cash only
50 cents per half hour all day Saturday
11:45 p.m. curfew
When exiting, you must turn left onto Pauahi Street. The street will be blocked off on the right.
Marks Garage
Credit card or cash
$8 flat rate all day Saturday
Midnight curfew
To enter the garage, drive up Bethel Street and take a left onto Pauahi Street. Nu'uanu Avenue will be closed.
Chinatown Gateway Plaza
Cash only
50 cents per half hour, $3 per hour all day Saturday
Midnight curfew
Harbor Court Parking Garage
Cash only
50 cents per half hour, $3 flat rate all day Saturday
11:45 p.m. curfew
Marin Tower Garage
Cash only
50 cents per half hour, $3 flat rate all day Saturday
11:45 p.m. curfew
Executive Centre Parking Garage
Cash only
$4 flat rate all day Saturday
11:45 p.m. curfew
Ali'i Place Parking Garage
Cash only
$3 flat rate all day Saturday
10 p.m. curfew
We've noted the two garages that may be affected by street closures and since many parking lots have midnight curfews or earlier, if you're planning to enjoy the Club Hallowbaloo revelries until 2 a.m. we recommend using the festival's designated drop-off and pickup zones at Nu'uanu Avenue/Marin Lane and Bethel/Pauahi streets.
How Much It Costs
While wristbands aren't required for the street festival portion of Hallowbaloo, you do need them to drink alcohol. Here's the breakdown on all the wristband options.
Street Festival Wristband ($15): This gives you access to drinks at the bars located on the streets. The festival begins at 5 p.m. and entertainment ends at 10 p.m.
VIP Street Festival ($30): Want to skip the lines? VIP access grants you early entry into the festival and a faster line at each bar.
Club Hallowbaloo Wristband ($35): If you plan to join the parties happening in the clubs starting from 9 p.m., this is your best bet. You'll receive access to all street festival bars and entry into all Chinatown Club Hallowbaloo venues.
VIP Club Hallowbaloo Wristband ($60): Get priority access to both the street festival and the club haps. This option also gives you five free craft beer tastings at the craft beer area, a souvenir Hallowbaloo beer stein, and priority entry to all Club Hallowbaloo venues subject to capacity limits.
Street Festival + Craft Beer Tasting ($50): Perfect for beer enthusiasts. Enjoy five free craft beer tastings, souvenir Hallowbaloo stein and access to street festival bars.
2-Pack Deal – Club ($65): Save $5 on Club Hallowbaloo wristbands and bring your partner or bestie for this deal that provides admission for two people.
2-Pack Deal – VIP Club ($110): Save $10 on VIP Club Hallowbaloo wristbands by getting a two-pack deal with admission for two people.
What To Eat
This festival won't have any scrips, so bring your credit cards or cash and purchase directly from food vendors. At the time of writing, no menus have been confirmed, but here's the list of participating food vendors:
Flyin' 'Ahi
Olay's Thai-Lao Cuisine
Teppan Legend
Uncle Lani's Poi Mochi
Tacos De Cachetón
Hawai'i Hot Dogs
Dash Of Sazon
The Mochi Bar
T8ste Buds HI
Kamoa's Kitchen
The craft beer festival features more than 25 beverages including:
Boulevard Brewing Co. Tank 7
Golden Road Brewing Guava Cart
Golden Road Brewing Mango Cart Wheat Ale
Mac & Jack's Brewing Co. African Amber
Lanikai Brewing Co. Moku Imperial IPA
Lanikai Brewing Co. Party Wave (Māmaki) Pilsner
Ace Guava Cider
Ace Pineapple Cider
Paradise Cider Killah Dragon
Paradise Cider Guava Lava
What to Watch
Besides checking out fellow revelers decked out in their coolest and creepiest costumes, you can also enjoy performances and entertainment throughout the night at multiple venues. Here are highlights—all of them new this year.
Mui's Herb Shop: Held at Nu'uanu Avenue makai of Hotel Street, this pop-up experience is curated by Kaimera Wanderbeasts. It's a Chinese herb shop that blends storytelling, choreographed dance and audience interplay.
Golden Pineapple Awards: In addition to the annual costume contest that takes place at the DJ stage at Hotel and Smith streets at 8 p.m. and awards a $1,000 grand prize, a character named Miss Catwings will roam the streets with a professional photographer. She'll dole out prizes and snap photos with the most bedazzled revelers. There will be 10 winners, receiving $100 cash and a golden pineapple.
Henry Kapono will perform for the first time at Hallowbaloo, at Nu'uanu Avenue/Hotel Street. Other performers include Taimane, PeniDean, Izik, DJ Mr. Nick, DJ Anit, DJ Osna and the Angry Locals, and Micah Banks.
"The Three Phantoms": Les Misérables, Miss Saigon and The Phantom of The Opera are brought to life by four Broadway stars: Keith Buterbaugh, Gary Mauer, Dan Riddle and Craig Schulman. This event will take place inside Hawai'i Theatre at 7 p.m. You can purchase tickets starting at $30 here.
Beginning at 9 p.m. and continuing through the wee hours until 2 a.m., Club Hallowbaloo will take place across 16 clubs and bars throughout the neighborhood. Take your pick:
How Sweet It Is!: A Jerry Garcia tribute concert featuring The Stephen Inglis Project and special guest Ginai at The Arts at Marks Garage at 10 p.m.
Speakeasy: In celebration of its 100th anniversary, Hawai'i Theatre Center hosts a "speakeasy" with cocktails and music in its Weyand Room followed by a screening of the 1922 silent horror film Häxan. Doors open at 10 p.m.
Rocktober Festival: Three rock 'n' roll bands—7 Pairs of Iron Shoes, Aura Bora and The Granite Saints—perform live at Proof Social Club from 10 p.m.
Other participating locations include Bar 35, NextDoor, The Other Side Diner, The Tchin Tchin! Bar, Encore Saloon, Skull and Crown, Rangoon Burmese Kitchen, J Dolan's, Smith & Kings, Black Shamrock Tavern and Murphy's Bar & Grill.
Tips
Bring the family. Kids will love the early festivities and seeing the costumes. After 8 p.m. though, it can get crowded. For a smooth ghoulish glide, we recommend an early jaunt through Hallowbaloo's street festival and dinner at one of its pop-ups.
On a similar note, don't worry if you're older. There's something for everyone. Even if you don't drink, there are plenty of good eats and performances to watch.
The earlier you arrive, the more fun you'll have, with easy parking and entry, and no lines for food and drinks.
Wear comfy shoes for walking about the neighborhood.
If you plan to drink, plan accordingly with a designated driver or ride-share options.
More information and tickets are available at hallowbaloo.com.
---
SEE ALSO: Prepare for the Fright of your Life at Skeleton Key Hawai'i's Terror Planet
---