Our Guide: Winter Programs in Hawai'i-2018
9 daytime camps to keep your keiki busy during the holidays.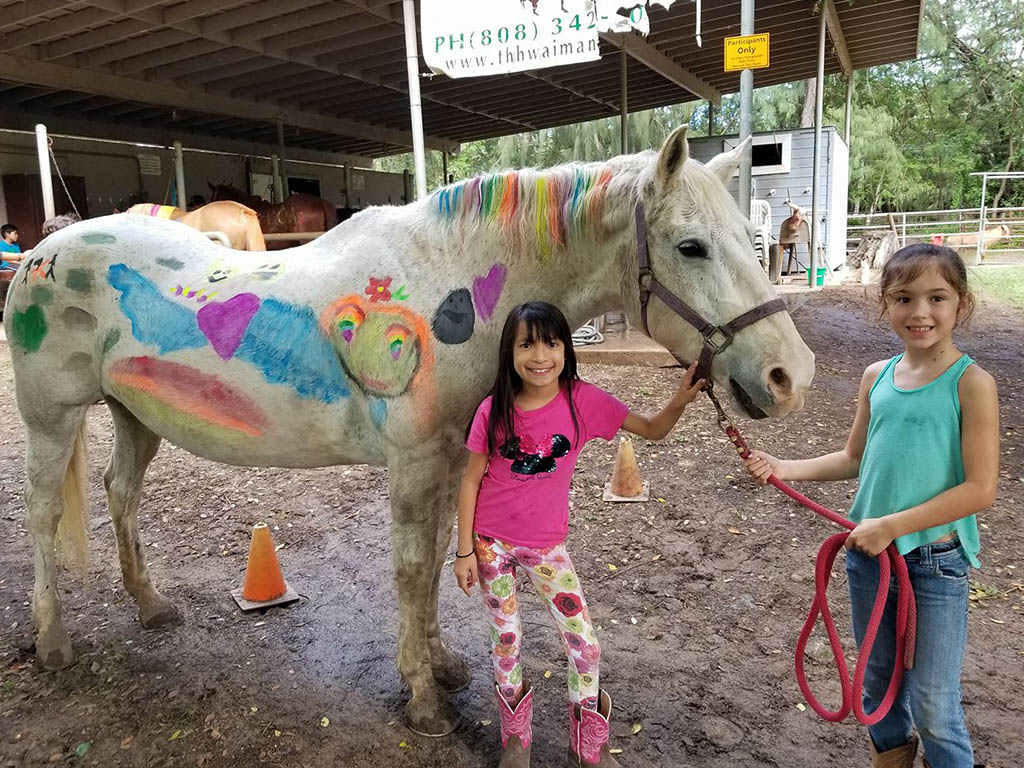 Photo: Courtesy of Therapeutic Horsemanship of Hawaiʻi
Halloween is done! Now, let's think about winter break. If your family will be in town for Christmas and New Year's, consider signing up your keiki for a specialty day camp on Oʻahu. Here are the details on nine you can register for now.
Therapeutic Horsemanship of Hawaiʻi
Located in Waimānalo, this camp is for children of all equestrian levels. Kids ride horses in the morning and learn about horsemanship in the afternoon. Bring water, snacks, lunch and sunscreen. Wear covered shoes and long pants. There are no refunds for weather cancellations.
The Oʻahu Club
This sports-themed camp includes swimming, water polo, tennis, beginner tae kwon do, volleyball and a community-service day at Hāwea Heiau complex. Bring sunscreen, change of clothes, water, snacks and lunch. Register at the pro shop. Enrollment is limited.
Rainbow Art Studio
This art camp incorporates pastels and acrylics, watercolors, 3D objects and other materials to make colorful masterpieces. The first session's theme is "Mondrian Rocks," and the theme for the second session is "Matisse WinterLand." Bring snacks, lunch and water. Childcare is available until 5 p.m. for an additional fee.
Kroc Center Hawai'i
Kroc Center in ʻEwa Beach offers two winter day camps for keiki. "Fun in the Son" is a Bible-based adventure that incorporates arts and crafts, sports, science, swimming, outdoor play and more. "Minecraft Mania-Club Z Camp" has 3D models, cubes, computers, crafting tools and more, to help keiki learn about sustainability. Kids from both camps will come together for field trips and swimming. Dress to play and bring two snacks, a sack lunch, water bottle, sneakers, sunscreen, backpack, change of clothes, bathing suit and towel.
Camp Kama'āina Kids
Located at 11 sites on Oʻahu, this day camp program will have field trips, arts and crafts, cooperative games, science experiments, singing, dancing and more.
Camp Bishop Museum
This daytime program is a partnership between Kama'āina Kids and the camp's location Bishop Museum. Keiki will have daily access to the Science Adventure Center, Hawaiian Hall and current exhibits. The theme for the week is "Extreme Space."
Camp Sea Life Park
This daytime camp is a partnership between Camp Sea Life Park and Kamaʻāina Kids. Keiki will snorkel with stingrays, splash around with dolphins and hang out with birds in the sanctuary. They will also learn tricks of the trade from the animal trainers.
I Got Skills Soccer Camp
The "Hawaii Total Package Soccer Camp" will teach keiki to move the ball, dribble, pass, juggle and shoot. Beginners will work on basics and ball mastery, while elite players will be taught advanced skills training. Wear soccer attire including cleats and shin guards. Bring water, snacks and a sack lunch daily.
Hawai'i Nature Center
Oʻahu Nature Adventure Camp is designed to help keiki understand and appreciate their environment. "Legends of the Landscape" will delve into traditional Hawaiian stories and encourage children to take care of the environment. "Our Blue Planet" will teach kids about the importance of water and will include a visit to Makiki Stream for hands-on activities. Wear closed-toed shoes with good traction and bug repellent; bring morning snacks and a hearty lunch, sunscreen, hat, eye protection, and swimsuit and towel for field trips.
Hawaiʻi Children's Discovery Center
Due to full enrollment, Discovery Center is no longer accepting applicants as of Wednesday, Nov. 7, 2018. Please visit discoverycenterhawaii.org for special events during winter break.
Art Explorium
This little art studio on Koko Head Avenue does not have a winter day camp but will offer workshops and classes for kids ages 2 and up. Keiki can build models out of boxes, incorporate dance moves with art, and find creative uses for recycled art materials. There also are workshops for teens and adults. Visit the online calendar for specific classes. The studio will be closed for Christmas and New Year's.