Who Knew? Zippy's, Home of Local Beef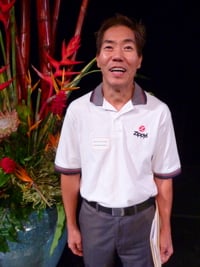 Leeward Community College held a Hawaii Food Forum last Friday. The point? Encouraging Hawaii's food industry to use more local product.
The most inspiring story came from mild-mannered chef Wayne Komamura. Komamura had probably fed more people in Hawaii than all the other chefs in the room combined. He's the research and development chef for Zippy's, with 25 locations on Oahu and Maui.
Komamura was working on Zippy's hamburger. It just didn't taste like he remembered classic Hawaii hamburgers tasting in the '60s, before all chains starting using premade frozen beef patties. "I wanted that handmade taste, made daily, fresh, with a few vegetables in the mix."
At that point, he got an invitation to a beef tasting at Alan Wong's Pineapple Room.
Wong had set out to solve a problem for Hawaii ranchers. The greatest adopters of Hawaii grass-fed beef were restaurants like his, and restaurants like his wanted the middle cuts of beef: filets, tenderloins, rib steaks, strip loins.
But the ranchers couldn't just sell those high-end cuts. They needed to sell the whole cow, the non-middle cuts, primarily as ground beef.
Wong couldn't just tell major retailers and chains to use the more expensive local ground beef. He decided not to tell them anything. He just cooked local and Mainland beef side-by-side and asked everyone to taste the difference.
"The local beef tasted better," says Komamura. It's pasture-fed, with no growth hormones or antibiotics in the feed.
Komamura was immediately converted–although in a chain the size of Zippy's, the change took nine months.
"It was a very visible risk," he said. "We had to work with Michelle Galimba [of Kuahiwi Ranch and the Hawaii Cattlemen's Association] make sure we had a reliable supply. You didn't want to make a change like that and then a couple of months later have to change back."
Zippy's switched to Hawaii beef last September, although with limited fanfare. "We're a local company," says Komamura. "We don't like putting ourselves out there."
But the results are in, Zippy's sells 24,000 pounds a month of Hawaii beef as hamburgers and hamburger steaks. And that doesn't count the spaghetti sauce and chili, which get some local beef as well.
The best part? "The hamburgers taste more like I remember them," says Komamura. "Like they are supposed to."