Who can afford to buy a home?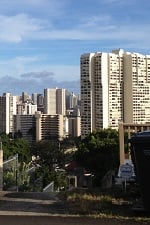 If you're ever wondering about the price of paradise, the Economic Research Organization at the University of Hawaii—UHERO—offers plenty of data. It's got a regularly updated blog that talks about everything from visitor arrivals to the impact of easily available emergency contraception.
One of UHERO's posts recently caught my eye because it addresses the question: "Can the median household afford the median home on Oahu?"
According to the Honolulu Board of Realtors, homes have been selling faster and at higher prices than last year, so properties are moving. But let's look at UHERO's figures to get an idea of who's doing the buying—or rather, who's not.
The post looks at median home prices from May–$630,000 for a single-family home and $315,000 for a condo—and applies a set of simple assumptions: 20 percent for a down payment and an income that would allow no more than 30 percent to go toward housing. It also assumes a mortgage rate of 4 percent.
UHERO calculations find that at the current interest rate, a single-family home buyer needs a $126,000 down payment and an income just over $96,000. That would make monthly payments about $2,400.
For a condo, you'd need to earn $48,000 a year, put $63,000 down, and pay a $1,200 monthly mortgage.
Setting the median household income around $80,000, it concludes: "even in today's environment of relatively low interest rates, the median family income would not be able to afford the median-priced home. Only at rates well below 3 percent does the median home become affordable to the median household."
The post further points out that interest rates and median home prices are likely to rise soon, pushing homes further out of the median income earner's reach.
By contrast, the condo market looks a bit friendlier, which is good news considering all of the new residential development planned for Kakaako.