Where to Watch Football in Hawaii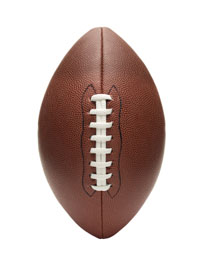 It's that time of the year to sit back, relax and watch the offensive line maneuver their way through the defense line. You don't have to roam the Sears electronics' department for a big view of the action. There are numerous establishments that cater to those that want to hang out, have a drink, eat some pupu and enjoy the company of fellow football enthusiasts.
The Shack in Hawaii Kai feature satellite TVs that will broadcast live all of the Warrior football games. When you catch the games that are televised during happy hour (4 to 6 p.m.) all drinks are $3. Sunday mornings, enjoy NFL drink specials for $3 bloody marys, mimosas and screwdrivers. 377 Keahole St, Hawaii Kai, 396-1919. Other Shack locations: Kailua, Mililani and Waikiki. For more information, visit www.the-shacks.com.
All five Big City Diner restaurants will have regular televised and pay-per-view UH games—not only football, but basketball and volleyball as well—with a $4 Steinlager Pure game day special. If you go to the game, Kailua manager Rich Magby adds, "Bring in your UH game ticket stub and you can get your food order half off, up to four people on one tab. The ticket stub has to be the same day as the game." On Monday nights, Miller Lite is $2.75 and you can enjoy "happy patio" from 3 to 6 p.m. Order two drinks, per person, and your pupus are half off. Multiple locations: Kaimuki, Kailua, Ward, Waipio, and Pearlridge. For more information, visit www.bigcitydinerhawaii.com.
The Yard House is also a favorite place to watch Monday night football and the UH games. Manager Thiago Souza says, "Happy hour starts at the beginning of the game and ends when the game is over." It includes several drink specials and select half-priced appetizers and pizzas. It opens at 11 a.m. so don't plan on watching the early games there. 226 Lewers St., 923-9273. www.yardhouse.com.
The Honolulu Design Center has Monday night football in its Cupola events theater. Kickoff is at 2:30 p.m., so arrive early and enjoy a special $5 menu, featuring steamed edamame, nachos, pepperoni pizza, fries and fried chicken bits. 1250 Kapiolani Blvd. For more information, call 956-1250.
You can even watch the big game at the gym. 24 Hour Fitness has big screen TVs in its workout areas. You need to bring an MP3 player that has access to streamline into radio stations to listen to the game, or just read the closed captioning. A membership is required or ask to pay for a day pass. For more information, visit www.24hourfitness.com.