Where Is Hawai'i's New Bookmobile?
Keiki can check out books for free from this brand-new library on wheels.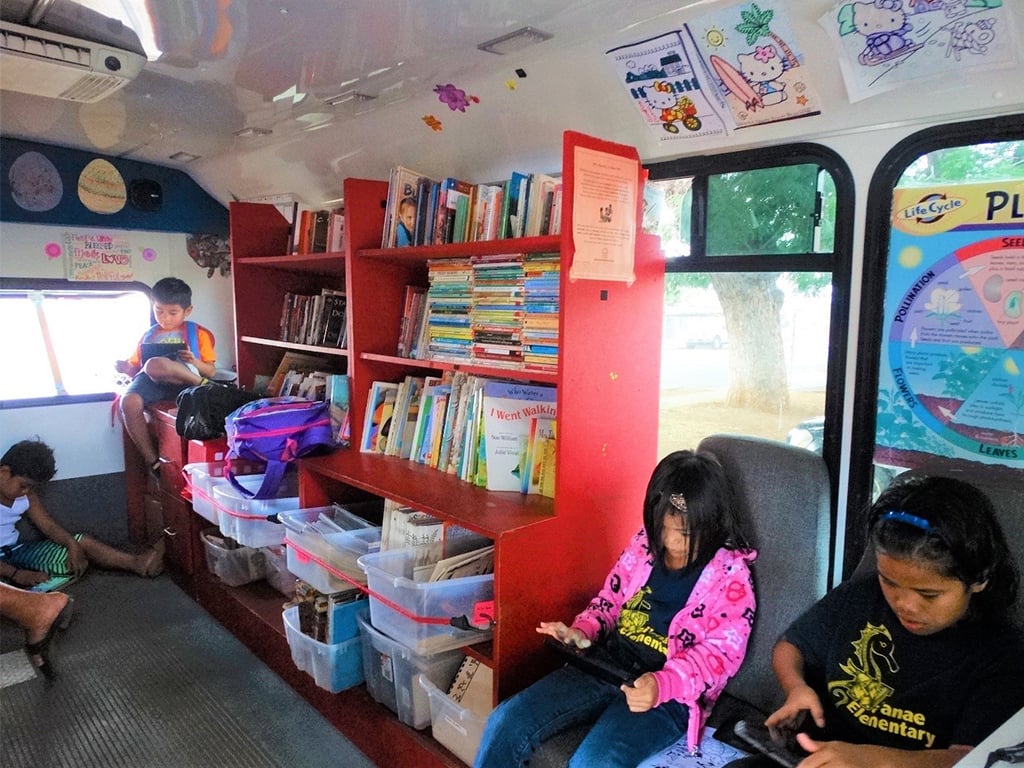 Photo: Courtesy of Hawaiʻi Literacy
The inside of the Bookmobile, where kids can borrow reading materials, play on tablets and spend time with peers.
A brand-new Bookmobile is now rolling across the island of Oʻahu to help more kids develop a love for reading. It will visit at least eight different sites each week, including Kukui Gardens, Kahauiki Village and Papakōlea Community Center, and will serve more 1,000 keiki in the upcoming year.
This is the second Bookmobile by Hawaiʻi Literacy, a local nonprofit that provides free reading programs to adults and children. The first Bookmobile launched 15 years ago and stops at 14 sites along the Leeward coast.
Borrowing books for free—with no overdue fees—isn't the only perk for Bookmobile users. HONOLULU Family spoke with Holly Kamanā, coordinator of the Bookmobile program, to learn about the program:
HONOLULU Family: What kinds of books and services does the new Bookmobile provide?
Holly Kamanā: In addition to book-lending, children can find high-quality chapter books, board books, picture books, and Pacific Island, Hawaiian and local books, plus series like Island Readers, Usborne and Leap Frog books. We also provide literacy activities, storytelling, homework help, access to Kindles and tablets, reading assessments, a peer tutoring program, snacks, a Summer Kindle Giveaway (to encourage kids to continue reading during the summer) and monthly reading challenges where kids earn free school supplies year-round.
HF: Where do the books come from?
Holly: Most books on the Bookmobiles are donations of new or gently used children's books donated by individuals (including parents and families at the sites we visit), companies, civic groups and schools. Each year, Hawaiʻi Literacy also receives donations of gift cards and brand-new books from Barnes & Noble, Usborne representatives and generous local publishers.
HF: Tell us about the first Bookmobile that launched 15 years ago. How's that going?
Holly: The first Bookmobile program serves the Nānākuli and Wai'anae Coast, reaching 2,000 keiki a year, and has been very popular and successful in increasing reading time. It has partnered with Waiʻanae Public Library to include the reading time of keiki visiting the Bookmobile in the Hawaiʻi State Public Library System's summer reading program and distributes hundreds of gifts of books at the Wai'anae Christmas Parade.
Last year, nearly 27,000 books were lent or gifted, and youth logged over 100,000 minutes of reading time just during Bookmobile visits! This success led to many requests for Bookmobile services beyond the Wai'anae Coast. This new Bookmobile will be able to meet this need for communities where keiki can benefit from better access to books and reading help.
HF: How many people staff both Bookmobiles?
Holly: We have five staff and 12 volunteers. More volunteers are always needed to help keiki pick out books and to be 'reading buddies.'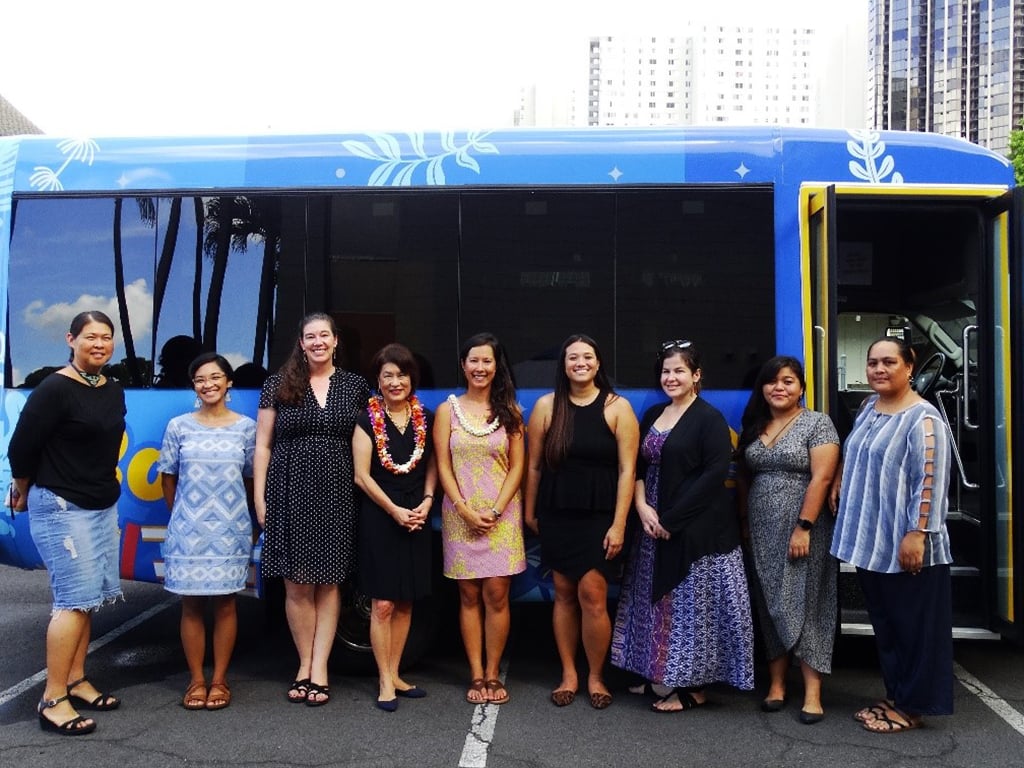 Photo: Courtesy of Hawaiʻi Literacy
Hawaiʻi Literacy's staff and volunteers held a blessing in August for the second Bookmobile on Oʻahu.
HF: How can volunteers help?
Holly: Both Bookmobiles always need caring volunteers to assist one afternoon a week at a site of their choice. Training is offered, and volunteers have the chance to be a 'reading buddy' and read to or with keiki, play educational games or help with homework. Volunteers who can assist once a month at a site to run the school supply store are also needed.
We need donations of school supplies and new or very gently used children's books, especially those that are locally relevant. Healthy, non-perishable snacks or fruit are also highly needed and very appreciated. You can find lists of needed items and drop-off locations under "donate supplies" at hawaiiliteracy.org/donate. To view the current schedule and other ways to help with donations or as a volunteer, visit hawaiiliteracy.org/bookmobile.
---
Hawaiʻi Literacy offers free programs to promote and increase literacy for adults and children in Hawai'i, a critical step in breaking cycles of poverty and under-education. Since 1971, the program has helped thousands of adults get a second chance to learn to read and write to get better jobs, go back to school and help their own children learn. The project helps disadvantaged children become readers and succeed in school, helps immigrants learn English, and trains hundreds of literacy volunteers to teach in our communities. In 2018, the programs of Hawai'i Literacy served 3,000 people, mostly from low-income communities and families. The work is supported by more than 350 volunteers and individual donations. To give or to get help, call (808) 537-6706 or visit hawaiiliteracy.org.