What to Do If You Find a Shearwater Chick
It's breeding season for these federally protected birds in Hawai'i.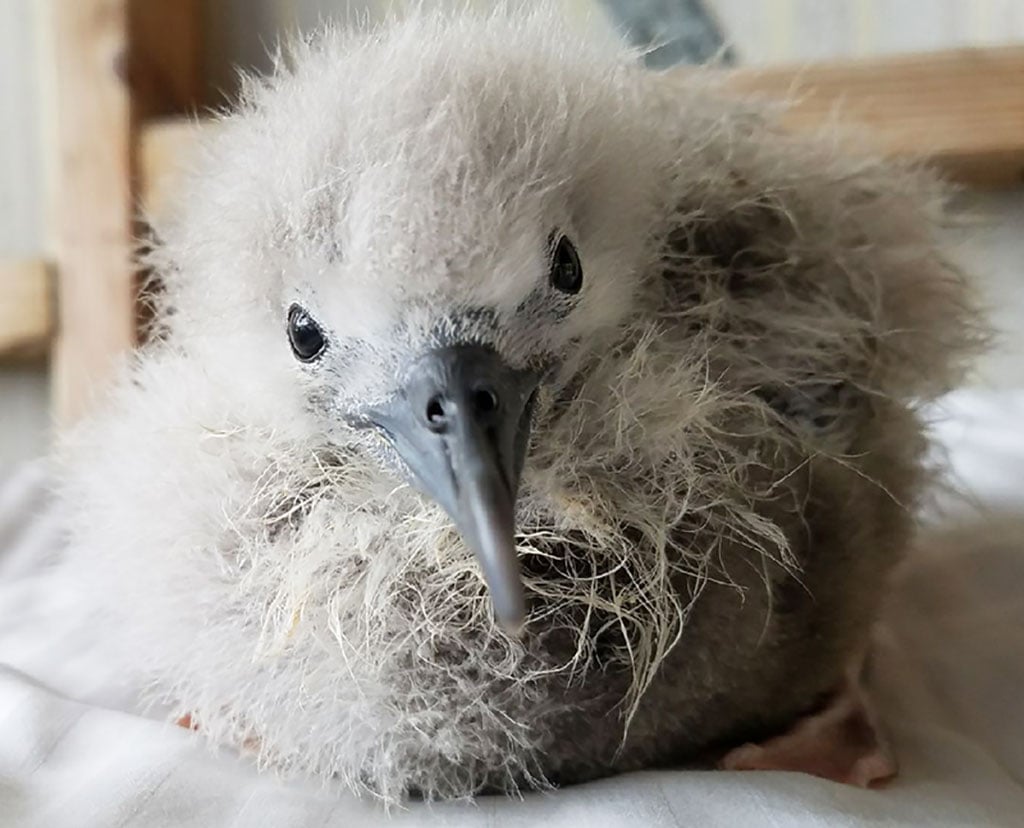 Photo: Courtesy of Sea Life Park
The alert is going out to families across Hawai'i: Watch out for shearwater chicks. The Islands are home to 'a'o, the endangered Newell's shearwater, and 'ua'u kani, wedge-tailed shearwater. Both federally-protected species work in pairs to lay and take care of single eggs in June, which hatch in October or early November. Street and other electric lights can confuse the babies, causing them to fall to the ground or collide with buildings. This is called "fallout". On Kaua'i alone, about 1,500 fledglings are recovered each year after collisions, according to the state Department of Land and Natural Resources. Kaua'i is the main breeding ground for Newell's shearwaters.
On O'ahu, Ka'ena Point Natural Area Reserve is a breeding ground for many wedge-tailed shearwaters. Sea Life Park experts say a large population also breeds in burrows along Kalaniana'ole Highway, from Makapu'u to Kailua. The Sea Life Park Seabird Rehabilitation Facility takes care of injured chicks, 90 percent of which are brought to the Waimānalo facility each year by regular people who stumble upon the young shearwaters. Experts there raise the birds, providing nutrition, exercise and careful monitoring until the birds develop flight feathers and are ready to be released. We asked the Sea Life Park experts what to look for and what to do to help protect these Hawai'i birds.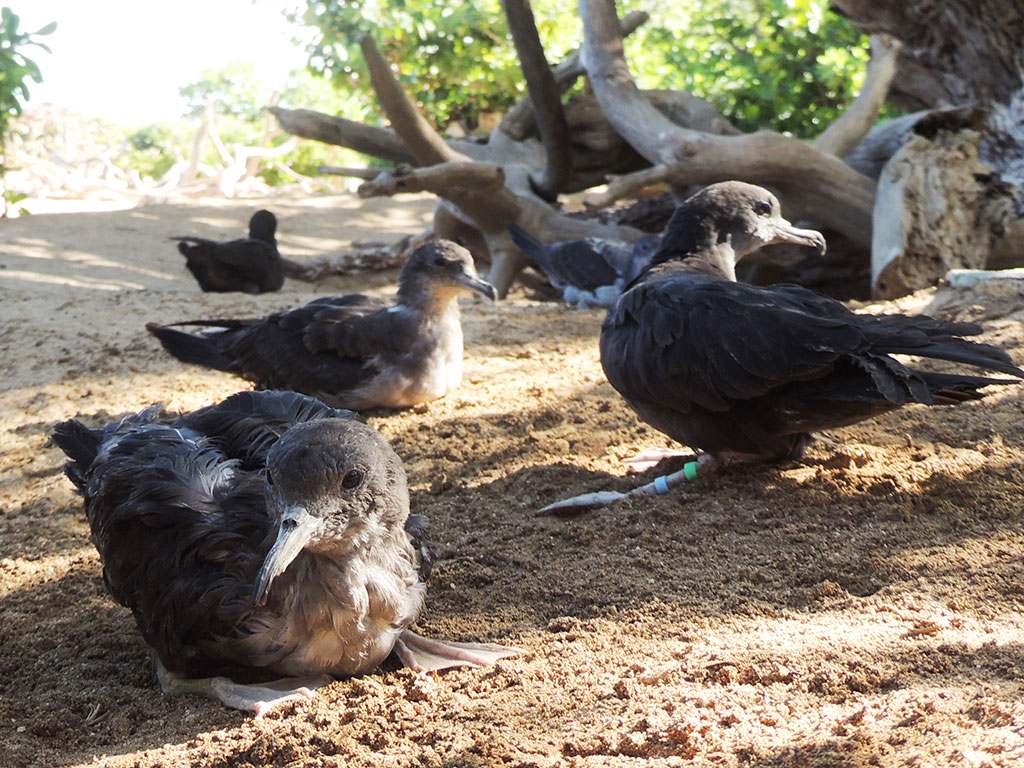 Photo: Courtesy of Sea Life Park
Adult shearwaters.
Look around. Sea Life Park says people tend to find chicks on the beach, near vegetation. Fledglings can be discovered anywhere, including in backyards, at playgrounds, on the street and even in commercial and industrial areas.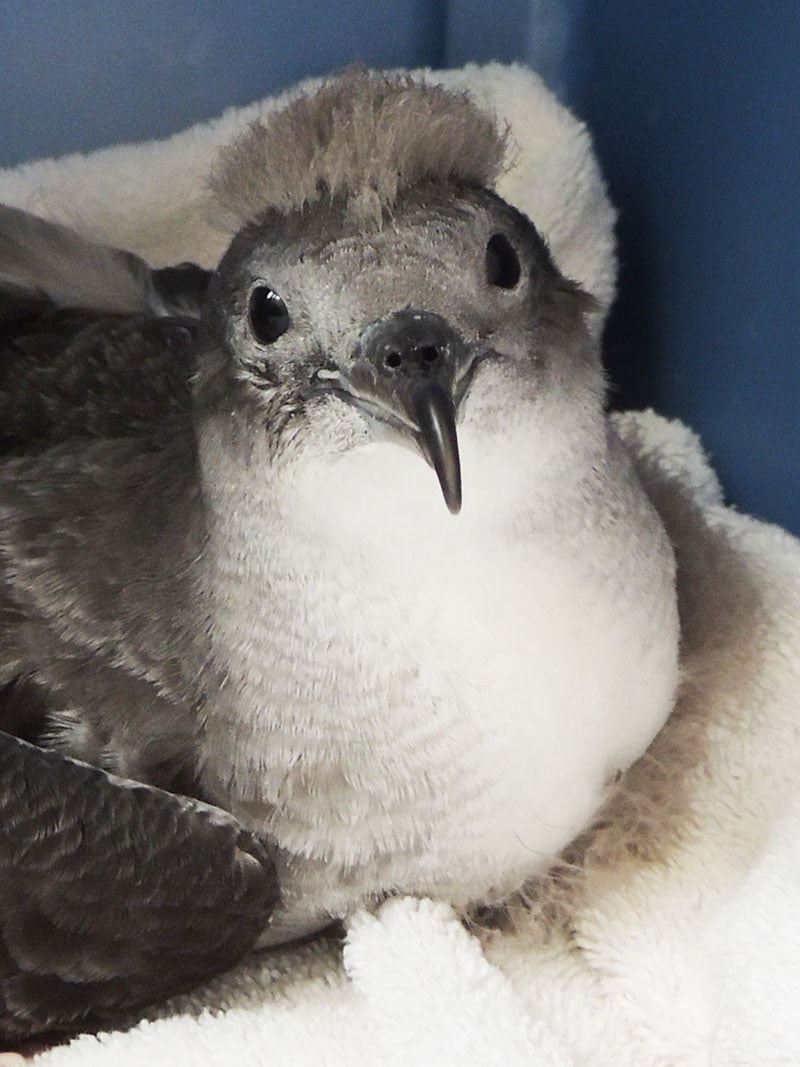 Photo: Courtesy of Sea Life Park
Know the difference between hatchlings, nestlings and fledglings. Hatchlings have no feathers. Nestlings have just a few fuzzy feathers. If you find either one of these and it appears to be uninjured, leave it alone. The mother may be nearby and the bird will probably return to its nest. Fledglings have most of their feathers and may leave the nest to test their wings.
Watch for mothers and predators. No matter the chicks age, experts say if you see the mother nearby, leave it alone. However, if the bird appears to be hurt or predators such as dogs or cats are nearby, you should remove it from danger.
Pick it up correctly. If you need to move a shearwater, grab a cloth and pick it up from behind, wrapping the cloth around its back and wings.
Record where you found it. When you turn in a bird, it is helpful if you can provide the exact location where it was found. This would include a street address, intersection or even a mile marker.
Keep it separated. Put the bird in a medium-size box with a folded towel at the bottom for cushion. Make sure there are enough air holes and keep the box in a warm, quiet place. Do not feed the bird; even a dish of water is unnecessary.
Know where to take the chick. You can drop off birds 24/7 at Sea Life Parkʻs Seabird Rehabilitation Facility at 41-202 Kalaniana'ole Highway in Waimānalo. Four other drop-off stations have varying hours:
Division of Forestry and Wildlife office in Kailua, 743 Ulukahiki St., Kailua. (808) 266-7994.
Feather and Fur Animal Hospital, 25 Kāne'ohe Bay Drive, Kailua. (808) 254-1548.
Hawaiian Humane Society, 2700 Wai'alae Avenue. (808) 356-2285.
James Campbell National Wildlife Refuge, 56-795 Kamehameha Highway, Kahuku. (808) 637-6330.