What $250K Buys You in Waikiki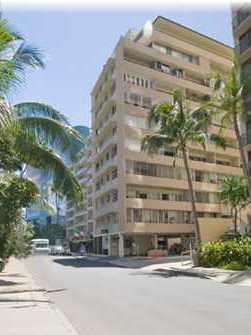 You know when someone tells you, usually in a hushed, conspiratorial whisper, about some too-good-to-be-true deal and you think, 'Yeah, sure, right. As if?' That's pretty much how it went when a friend recently tipped me off that the Niihau Apts. building on Beach Walk Ave. in Waikiki had fee simple condos listed for less than $300,000. And pigs can fly and I own a unicorn, or at least that's what was running through my mind as she told me. But, lo and behold, the Niihau does exist, and there are currently a few active listings for units in the building, all for less than $300,000.
The Niihau is practically hidden in plain sight; a nondescript, beige-ish building located a few doors down from the Embassy Suites-Waikiki Beach Walk and about a three-minute walk from the beach (maybe five if you're taking it easy). The property, which was built in 1960, isn't exactly a shiny, young thing, but what it lacks in gloss it makes up for in value. The one-bedroom, one-bath units are cozy (realtor speak for a little on the small side), around the 480- to 600-sq.-ft. range, with full kitchens, bathrooms and family rooms. Of the current listings, unit 504 (MLS# 1005921) includes a small lanai (about 85-sq.-ft.) with city view (read: neighboring buildings) and could use a little updating, particularly in the kitchen. However, for $265,000 you could definitely afford to upgrade and, says listing agent Rachel Barnette, this fifth-floor condo "has the charm of old Waikiki, with lots of natural sunlight." Unit 302, also listed by Barnette, is currently in escrow, while #802 (MLS #1009997), which is listed at $249,500, also has a smallish lanai and lower monthly maintenance fees (about $260 vs. $280), but could benefit from a decorator's touch.
But there's always a catch (or two), and here they are: A.) There's only one elevator, so prospective buyers may want to inquire about its recent maintenance. B.) There's no parking. As I understand it, monthly parking can be had for about $140 per month at Fort DeRussy, which, given how much you'd be saving on your monthly mortgage payment, isn't too shabby.
For more information: For listings, visit www.hicentral.com.
To inquire about unit 504, pictured here, contact Rachel Barnette, Prudential Advantage Realty. 738-3637, rachelb@pruhi.com.
To inquire about unit 802, contact Tracey Stott Kelley, Stott Real Estate, 254-1515, traceystottkelley@stott.com.