Here's Your Chance to Comment on the New Hawai'i DOE 10-Year Plan
The public can comment on the 2030 Promise Plan until Sept. 20.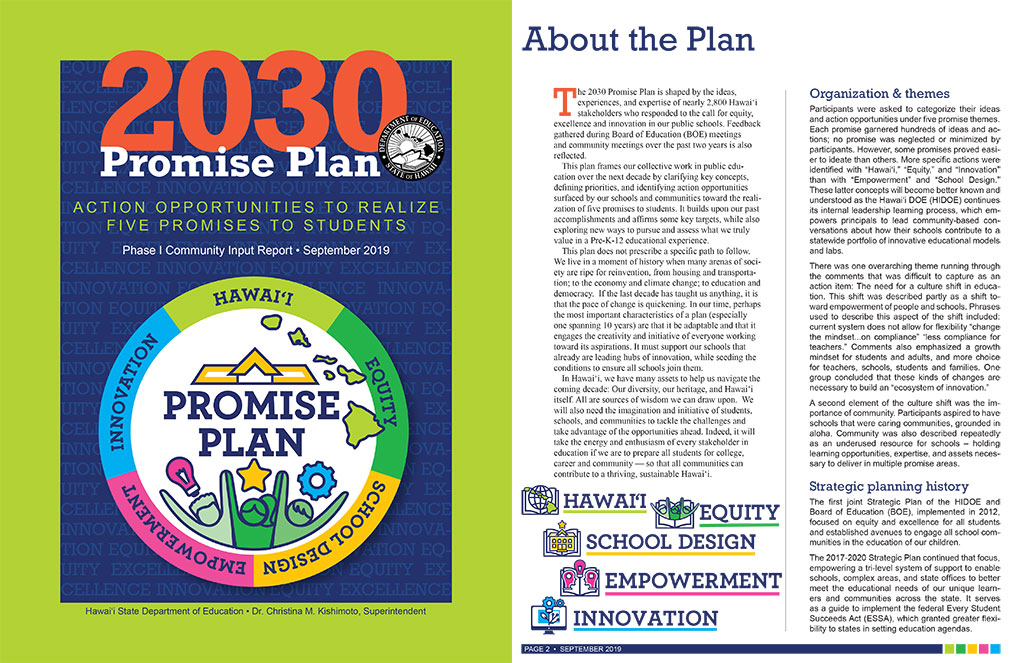 It took two years and input from almost 2,800 people to create the Hawai'i state Department of Education's new 10-year plan. Now the HIDOE is asking the public to add their thoughts about the actions proposed in the "2030 Promise Plan."
The 12-page report focuses on five themes which are called "promises to students": Hawai'i, equity, innovation, empowerment and school design. In the introductory paragraphs, it says "The plan does not prescribe a specific path to follow" noting that today it is essential to be adaptable to change. It also identifies one theme that showed up repeatedly during community meetings and other feedback sessions; "The need for a culture shift in education. This shift was described partly as a shift toward empowerment of people and schools." The HIDOE adds the comments also emphasized more choices for all stakeholders, a growth mindset and the importance of community in schools.
The plan is easy to navigate with each promise presented on one page with a list of "Action Opportunities," which reads like a list of ideas for school leaders in each category. After you review it, you can take two surveys. The first allows people to add comments about the report. The second is enlisting people to help through a "stake in the ground" survey, where you can offer your assistance in various fields to the schools.
Once the public comment period ends on Sept. 20, a final draft will be created.This will include ways to measure success, a plan the HIDOE is still working on right now. The final step, Board of Education approval, is slated for early next year.
Read the 2030 Promise Plan here. Surveys for plan feedback and to volunteer to help are available through surveymonkey.com/r/2030PlanDraft.