Weekend Adventure: Play, Walk and Swim at Waimea Valley
Escape the back-to-school crunch with a quick trip to an often-forgotten, family-friendly swimming hole.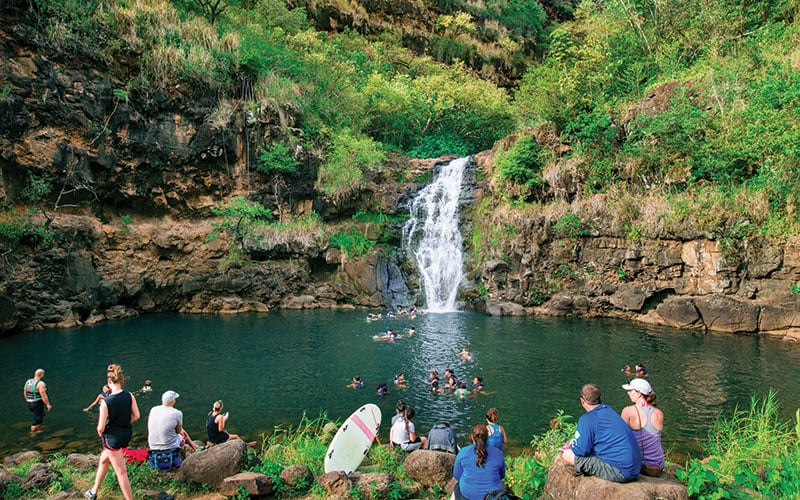 Photos: K
aren DB Photography
If you grew up on Oahu, you've probably been to the lush, green valley behind Waimea Bay. Once, Waimea Valley was a place known for its show featuring cliff divers, who plunged into the deep pool at the base of Waihi Falls, near the valley's head. But, in recent decades, this lush, green ahupuaa has changed management a few times and fallen off Honolulu's radar for family days out. That's too bad, because this almost intact ahupuaa's current incarnation, as a cultural park inside a botanical garden, has become one of our family's favorite stops on our way around the island.
The falls are three-quarters of a mile from the entrance/snack bar/gift shop complex and it's a beautiful walk to get there–over bridges and around ponds where the endangered 'alae 'ula bird nests, via one of two paved paths bordered by manicured green lawns, just right for running around. It's a shady walk with the kind of enormous spreading trees you don't see in Honolulu anymore; that's the park's botanical garden side. The paths meander through colorful gardens themed both botanically (hibiscus, bromeliads, bamboo, heliconia) and culturally (Pacific cultures, especially Hawaii). Expect to do a lot of enthusiastic pointing out of plants the kids are only mildly interested in, followed by a lot of stopping and playing in unexpected places, such as on the stone steps of the Ogasawara collection, around the ponds and on the native Hawaiian agricultural terraces.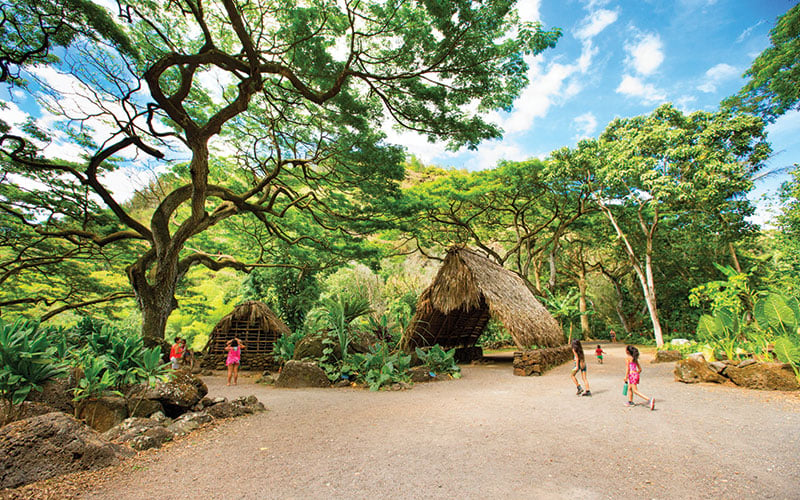 Trails branch off the main path everywhere, leading to the kauhale (a traditional Hawaiian living site, with several buildings), agricultural terraces and the Hawaiian games site, where you can try your hand at outdoor games of skill and chance. Depending on the day, you might also stumble across cultural demonstrations of music and dance, more often on weekends. With only an occasional park shuttle to watch out for, a flexible itinerary and 1,875 acres to explore, we can let the kids run a little bit free. Every time we visit, we see something different.
No matter what you encounter along the way, at the end of the trail, there's Waihi Falls, the waterfall and large swimming hole at the head of Waimea Valley. Since it passes only through undeveloped areas, its waters are said to be some of the cleanest on the island. Use common sense, of course, and talk to the lifeguards about safety precautions before getting in.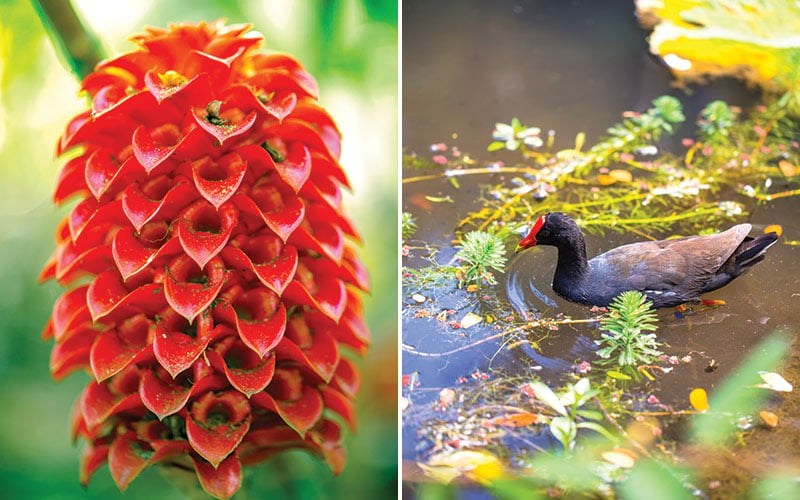 There are plenty of shallow areas where supervised little ones can cool their feet and watch crayfish. But, at up to 30 feet deep, this is a true swimming hole, not a splash pool. For a family, it's just the right mix of wild and civilized, with a changing room and a large concrete area above the pool dotted with benches where parents of older kids can hang out and watch the fun. Lifeguards on duty hand out life jackets in a range of sizes for no additional charge. Sometimes we just sun ourselves on a rock and dabble our toes, and sometimes we plunge in. But we always have a good time.
The Details
Get there: 59-864 Kamehameha Highway, Haleiwa
Rates: Kamaaina rates range from $10 for adults to $6 for kids ages 4 to 12 years old
Parking: Free and on site
Hours: 9 a.m.-5 p.m. daily
Phone : 638-7766
Our Top 6 Tips
1. Bring: Mosquito repellant, a bathing suit and a towel.
2. Eat: There's a snack bar near the park's entrance and a shave ice stand near the falls. They're not gourmet, but both serve decent food for decent prices.
3. Walk one way: The path straight from the entrance to the falls is about three-quarters of a mile, but there are so many opportunities to explore side paths and run around along the way that your actual walk can be much longer. If you have little ones, we recommend walking up to the falls but taking the shuttle back down ($6 round-trip, $4 one way).
4. Swim: If you have your heart set on a waterfall swim, call before you go. It doesn't happen often, but the falls can be closed to swimming when the water flow is unusually low. There's a changing room near the falls.
5. Don't bring Fido: Endangered species call this valley home, so no pets are allowed, except service animals.
6. Go on Family Day: Admission rates for kamaaina and military are cut in half on the third Sunday of every month. That's not all: Family Day also features a beefed-up activity roster, with artisans, cultural demonstrations, a scavenger hunt and more. Park employees say that, currently, family days are not more crowded than other days—the valley is enormous so that means it's not crowded at all.