Wednesday, March 23 – More Packages Arrive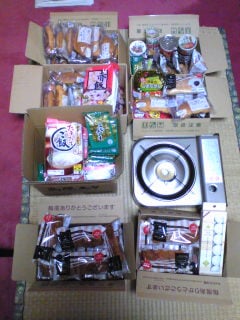 This morning, I woke to this picture and message from Yasue:
Text From Yasue 11:23 p.m. yesterday: Wow!
One word pretty much says it all. By the subject line of her text, I can tell the package was a gift from her Tokyo friends, Kel and Aikiko. The box contained packaged foods, can goods, a bottle-gas burner and more. These will all be a welcome addition to the growing stock Yasue has for herself, her mom, the other 3 patients in the room and undoubtedly some neighbors.
Earlier in the day, she had sent a picture of the bread she purchased at a neighborhood bakery by converting the tickets she got yesterday. The weather is still cold with a mix of light rain and snow. The daytime high is about 40F and the low about 30F. So, in near freezing weather, people waited in line one day to get their tickets and then a second day to get their bread. Yasue got one loaf of white bread and a small raisin pastry.
Her text about the bread was just as succinct and just as joy-filled.
Text, 5:12 p.m.: Got bread this a.m. !!!
Yasue also welcomed some return guests last night. The Stars and Stripes reporting crew is back in Sendai and will be staying with her for a night. All the area hotels are filled with relatives coming to Sendai to help their family members and with it snowing outside, the shelters will be filled as well.