Tips for making healthy kids' meals
Kathy's Simple Handroll
"My kids enjoy this easy-to-prepare snack," says nutritionist Kathy Price, R.D.
Note: Amount and proportions can be adjusted to suit individual taste.
Ingredients:
• Cooked rice "I use Gen Ji Mai rice, which is a lightly polished rice that retains most of the nutrients brown rice does," says Price.
• Sushi wrappers (nori), seasoned or unseasoned
• Salmon, canned or fresh (cooked). Add a little mayo or wasabi mayo if desired.
• Cucumber, sliced into sticks
• Avocado, sliced
*Other suggested fillings: Chicken, tofu, canned tuna or other veggies such as lettuce or tomatoes
Directions:
1. Place the sushi wrapper (nori) on a plate.
2. Add the rice, salmon, cucumber and avocado onto the wrapper. Distribute evenly.
3. Roll and enjoy!
*Note: Buy organic foods made without genetically modified ingredients when availability and budget allow.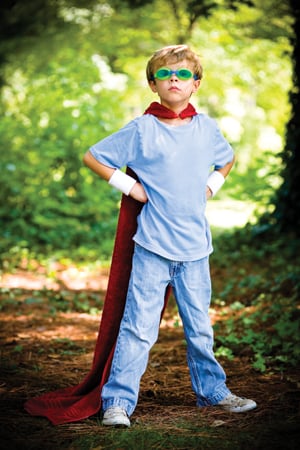 "As a working 'single' mom of two young girls (my husband has been working abroad for over a year), it's a challenge to make and serve healthy meals my kids will eat when I'm low on energy and time," says Kathy Price, R.D. Here are some helpful tips:
1. Chop, chop. Wash and cut veggies and fruits at the beginning of the week and keep them in separate containers for salads, snacks and side dishes.
2. Every meal, every day. Always serve fruits and veggies at mealtime (even if the kids won't eat them at first). "My girls' favorite food is macaroni and cheese, so I admit I do serve it about once a week, especially on a night when we come home late from an activity. But I always include a vegetable and a fruit to balance it out," says Price.
3. Timing is key. Make sure your school-aged kids eat breakfast, advises Dr. Melinda Ashton, M.D., of the Pediatric Group of Honolulu. And "realize that a four-year-old's dinner might need to be a lot earlier [than yours]. So instead of a snack, offer real food when they're hungry," she says. Later in the evening, "the four-year-old can still sit at the table and have their dinnertime experience with you."
4. Satisfy hunger with real food. "Kids will eat almost anything when they're hungry, so offer fruits and veggies at those times," says Price.
5. Offer alternatives in moderation. Appetite reduction and increased pickiness are common, and temporary, at certain stages in a child's development, according to Ashton. "Usually, by 15 to 18 months, the appetite really decreases in many kids," she says. Often, as the appetite falls off, so does a child's preference for particular foods they used to like. If your child's appetite falls, or if he stops enjoying some of the healthy foods he used to, don't offer junk to get him to eat, says Ashton. Kids and adults alike will eat junk food, even when they're not hungry, and that just results in consuming excess calories. What's more, "You're teaching your child to ignore their appetite," says Ashton. What to do instead? "If you're offering something that you're not sure that the child likes, it's OK to have an old [healthy] favorite on-hand. But don't cater any more than that. You're not running a cafeteria." Continue to offer the food the child avoids and chances are, in time, he'll try it again.
6. Bring your own. "We attend family events offered on the weekends to the public," says Price. If I don't pack a lunch to take, I'll at least pack a cup of fruit in a thermos. And I always have water so I don't have to buy sweetened beverages."
7. Allow for treats. "I'm not overly strict at birthday parties and I let my girls have juice boxes, cake, hot dogs and other typical kid birthday food," says Price. "I just try to make sure that the other meals and snacks that day are more nutrient-dense and low in sugar, sodium and saturated / trans fats."
8. Connect online. "I belong to a private group on Facebook that focuses on clean, healthy eating and I get many healthy snack ideas from other moms in the group who post ideas and pictures," says Price. In addition, choose a couple of go-to recipe and nutrition sites geared toward parents with kids. Price recommends weelicious.com, superkidsnutrition.com and kidseatright.org.
9. Avoid the broccoli battle. Don't stage a standoff over one particular food. "The more parents get worried about a child eating a specific food, the more neurotic a child can become about the whole thing, and the more power the child has over the parent," says Ashton. If you're offering a variety of healthy choices daily and your child is eating most of them happily, he or she is probably a well-rounded eater. One or two aversions are OK.
10. Say goodbye to calorie-laden drinks. "It's really easy for a busy 15 to 18-month old to just carry around a sippy cup or bottle with milk or juice in it. If they're drinking three, four or five 8-ounce bottles of milk per day, that's a lot of calories. It reduces an already small appetite," says Ashton. Natural fruit juice in small amounts is OK for older kids, but avoid sodas, large amounts of fruit juice and sports drinks for all kids. Encourage your child to drink water, instead, to avoid the dehydration that often comes with long school or beach days followed by sports and other strenuous activities.
11. Make sure it's real. "Popular snack items that sound or look healthy but are usually loaded with sugar, artificial colors and preservatives include breakfast bars, granola bars, fruit snacks, fruit drinks and sports drinks," says Price. "Make sure that both the fruit snacks and fruit drinks are made with 100 percent juice and no added sugar or food coloring."