Web Exclusive: Bassoonist Makes Most of Honolulu Symphony Crisis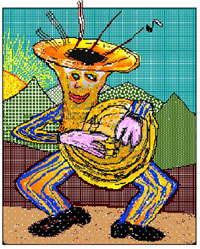 The Honolulu Symphony filed Chapter 11 bankruptcy last Friday. Its last performance was on October 24 and it had cancelled all scheduled performances for 2009, putting 64 full-time orchestra members out of work. With an unreliable income, many musicians have tried to find other work.
Paul Barrett, the Symphony's principal bassoonist since 1977, found a creative approach to dealing with the situation by creating greeting cards that are inspired by doodles that were made on sheet music during Symphony rehearsals.

An early doodle from the early '70s depicting the late Les Petrere, conducting the Nutcracker.
Courtesy: Paul Barrett
Grin-n-Barrett greeting cards are available to order online at grin-n-barrettcards.com or to pick up at Pillbox Pharmacy, Music Center of Hawaii and at CK Violins. There are a variety of Christmas card choices, but you can also order Hawaiian, musical, Valentine's Day, holidays, humorous and angel themed cards.