We Tried It: UH Institute for Astronomy Open House
Our six tips for a "Fire Walk," making comets, shooting rockets and more keiki science activities.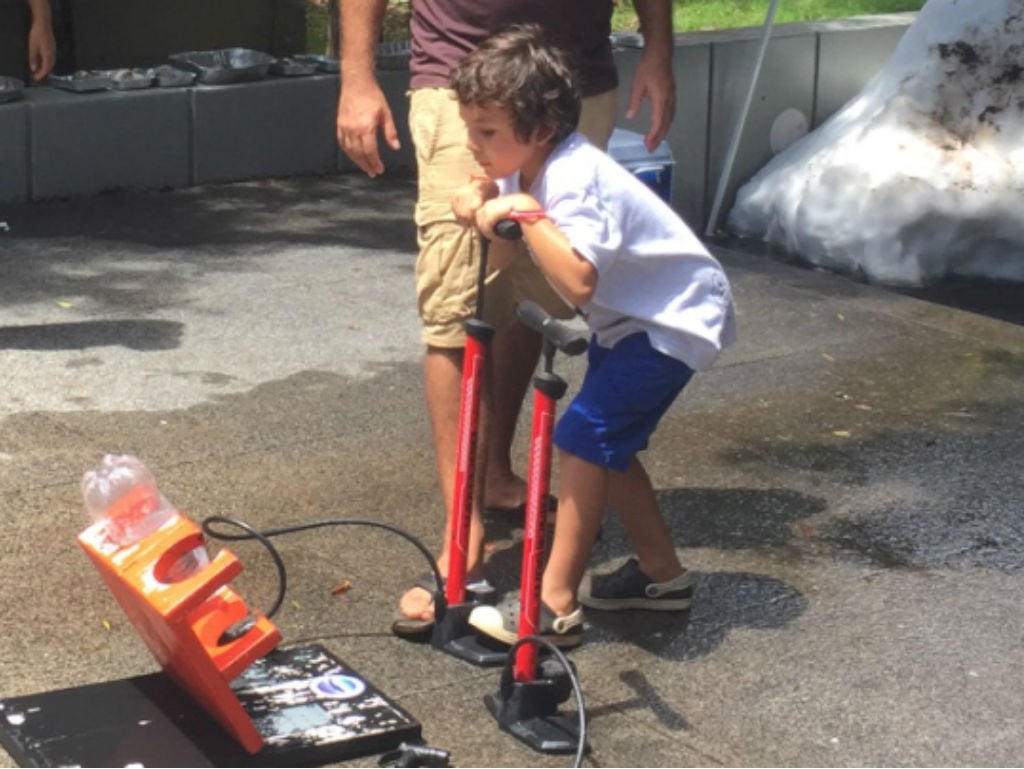 Photo: Jennifer Carlile Dalgamouni
What: Institute for Astronomy Open House
Where: UH Institute for Astronomy in Mānoa, 2680 Woodlawn Drive.
When: 1 to 3 p.m. at last year's event in 2017.
Who: Mom, Dad, 4- and 6-year-old boys, joined by two other families with 2- and 4-year old boys and 3- and 5-year-old girls.
My boys love rockets and experiments and we live in Mānoa, so when I heard about the Institute for Astronomy's Open House down the road from us, it seemed like a no-brainer. We met up with friends who also have two boys and ran into another friend and her two daughters and had a fun afternoon of learning.
As we arrived at the event, we saw a scale model of the universe on the lawn outside and kid-made cardboard and paper rockets being launched skyward. We walked into the courtyard, which was a great spot to view and take part in lots of different scientific activities. It was cool, contained and the perfect size. It felt neither crowded nor so big you could lose your keiki.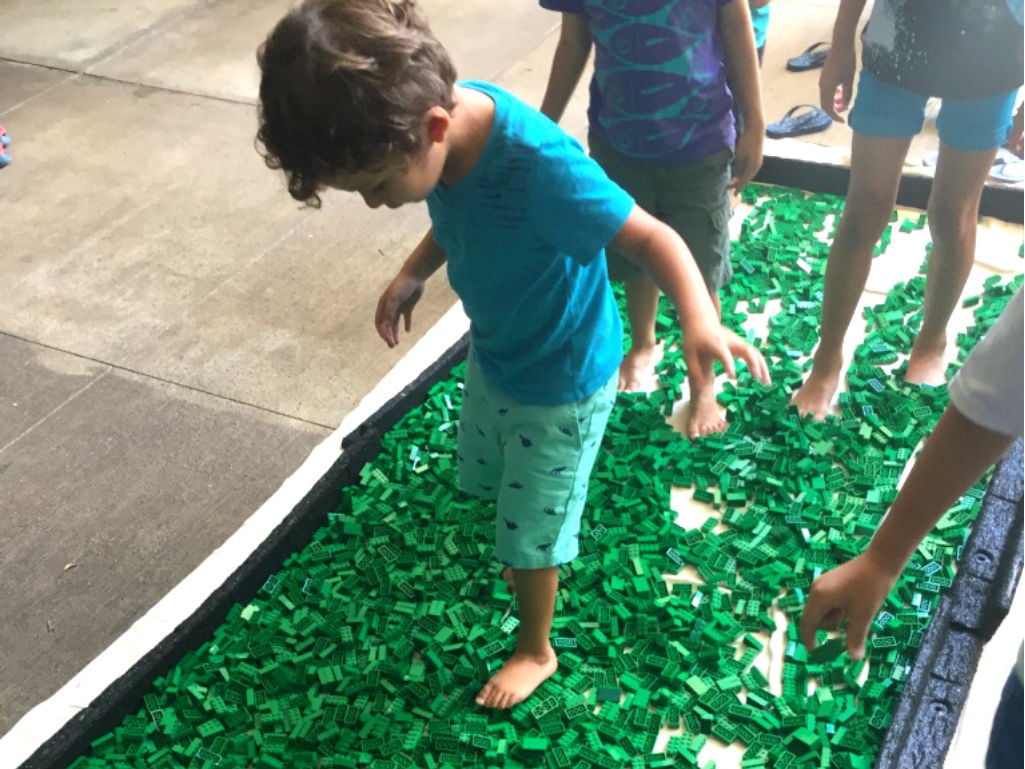 Photo: Jennifer Carlile Dalgamouni
The "Fire Walk" will hopefully teach our boys to pick up their loose LEGO.
First, the kids tried a pretend "Fire Walk." They took off their Crocs and stepped into a long container filled with green LEGOs they had to walk across. They started gingerly, then moved with more speed, laughing and racing each other. I'm not too sure what they were supposed to learn from this other than not to leave LEGO on the ground because it can hurt your feet, but they had a lot of fun. They marveled at an intricate LEGO model of a telescope and were each given plastic sandwich bags with colorful bricks to take home.
Next, we saw a metal tube with flames coming out of tiny holes and moving to the music. My husband explained to our 6-year-old how sound waves work and bounce off surfaces. Our son liked watching the flames but got even more excited about making a bracelet with beads that change color in the sun.
A huge pile of shave ice-type snow in the center of the courtyard was used as a visual to show kids how comets are formed. Each boy received an aluminum tray and made a snowball out of the snow, dirt and small rocks, similar to the composition of comets. Volunteers then put bits of dry ice in each of their trays and told the kids that when comets travel too close to the sun their ice instantly turns into gas just like dry ice.
The highlight of the event for most kids is the bottle rockets station. We used bicycle air pumps to create pressure in 2-liter soda bottles partly filled with water. When the pressure was too great, the bottles exploded off their bases. Even when the kids were done, many stuck around to keep watching others send their rockets hurtling through the air.
All of our kids got face tattoos of rockets and planets. The wait was long, but those LEGO packets kept them busy.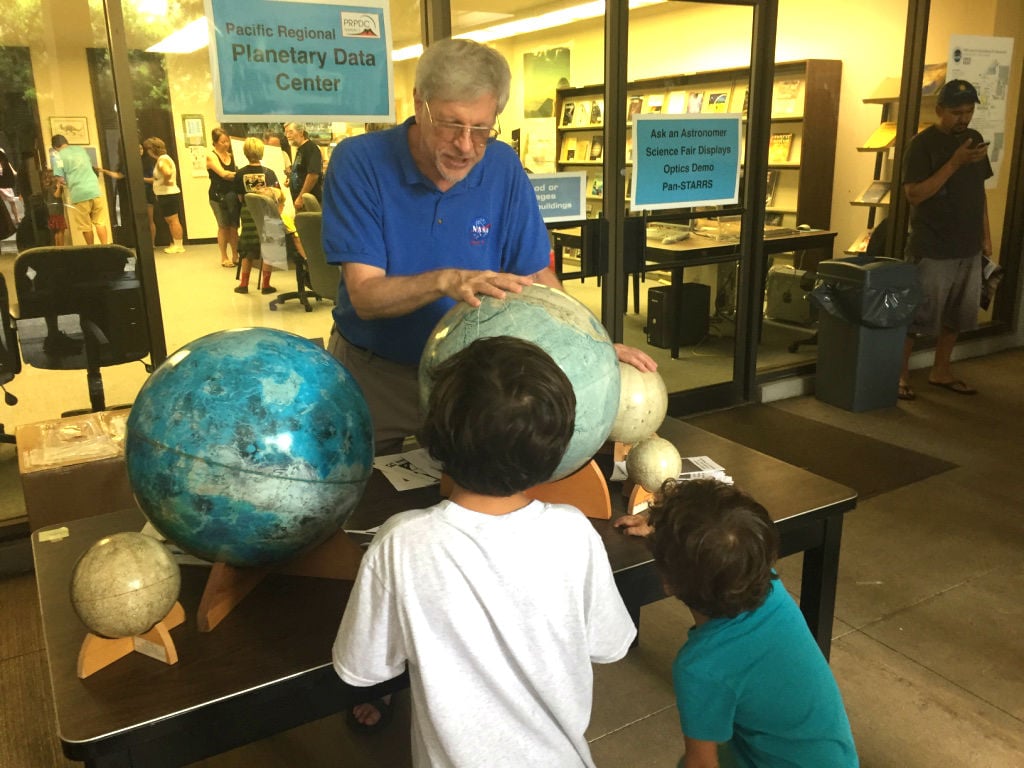 Photo: Jennifer Carlile Dalgamouni
We looked at models of the planets and went inside to see displays on how light travels and magnets work. Our 6-year-old was very interested in this area but our 4-year-old kept getting the laser pointers too close to his brother's eyes.
Finally, our older son got to make a rocket on the front lawn out of a long, thick cardboard tube with a cone-nose and four tailfins. We waited about a half hour in line and it took another 15 minutes to create. But watching a volunteer shoot his air-powered rocket off for him made his day. He did it twice and begged to stay longer but we had to get going.
Our Six Tips
Park for free at Noelani Elementary School. It's directly across the street from the event.
Study the exhibit list as soon as you arrive. We were given a flyer with a map as we entered the courtyard but didn't stop to look at it as our boys rushed to try the activities. After we left, I realized we'd missed Planetarium shows and Oceanit's virtual reality sandbox!
Divide and conquer. Our boys are only two years apart but have very different interests and skill levels. The more adults you have with you, the more easily you can split up for different activities.
If the air-powered rockets return this year, keep an eye on the line. If it's not too crowded, do it early so your keiki can shoot it off multiple times. It takes a long time to make, so you want to use it as many times as possible.
Plan a picnic between the planets. The front lawn is a good place to eat and play. There was a food truck there last year and Mānoa Marketplace and Waipuna Sushi are each a very short walk away. (My husband walked to Waipuna Sushi with our 4-year-old while I watched our older boy make the air-powered rocket.)
Don't worry about bathrooms. They're clean and right inside the courtyard.
The UH Institute for Astronomy Open House will be on Sunday, April 22 from 11 a.m. to 4 p.m. at 2680 Woodlawn Drive, Mānoa. ifa.hawaii.edu.