We Tried It: Star of Honolulu Whale Watch Cruise
Our 15 tips for when to go, how to get the best deals, spotting wildlife, eating and keeping the kids occupied at sea.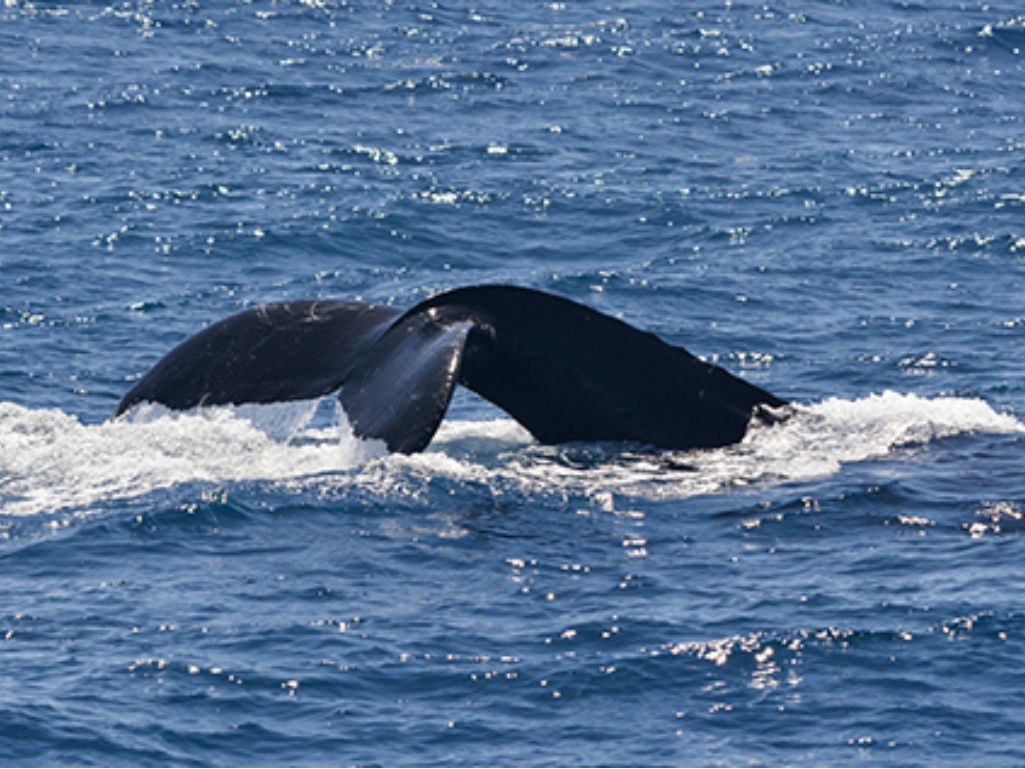 Photo: Star of Honolulu Cruises and Events
What: Star of Honolulu Premier Whale Watch and Lunch Cruise
Where: Departs from Aloha Tower Marketplace, Pier 8
Who: Mom, Dad, Uncle, 5-year-old and 7-year-old boys
When: Sunday, the cruise departed at noon and returned at 2:30 p.m.
Humpback whales come to Hawai'i every winter to breed and give birth. It's fun to see the huge, majestic creatures breaching offshore, but I usually think of whale watching cruises as a "tourist" thing rather than something for local families. Our 'ohana was recently invited on the Star of Honolulu and decided to give it a try. Here's what we saw, our tips and how to get the best kama'āina deals.
Our family went on the "Premier Whale Watch and Lunch Cruise." We parked at Aloha Tower, spotted the large ship and Star of Honolulu shopfront, checked in around 11:30 a.m. and went on board. The captain warmly welcomed our boys as they saluted him. He asked my oldest if he knew the difference between a ship and a boat and my Titanic-obsessed boy checked on the lifeboat situation. We took photos and went inside the air-conditioned first floor.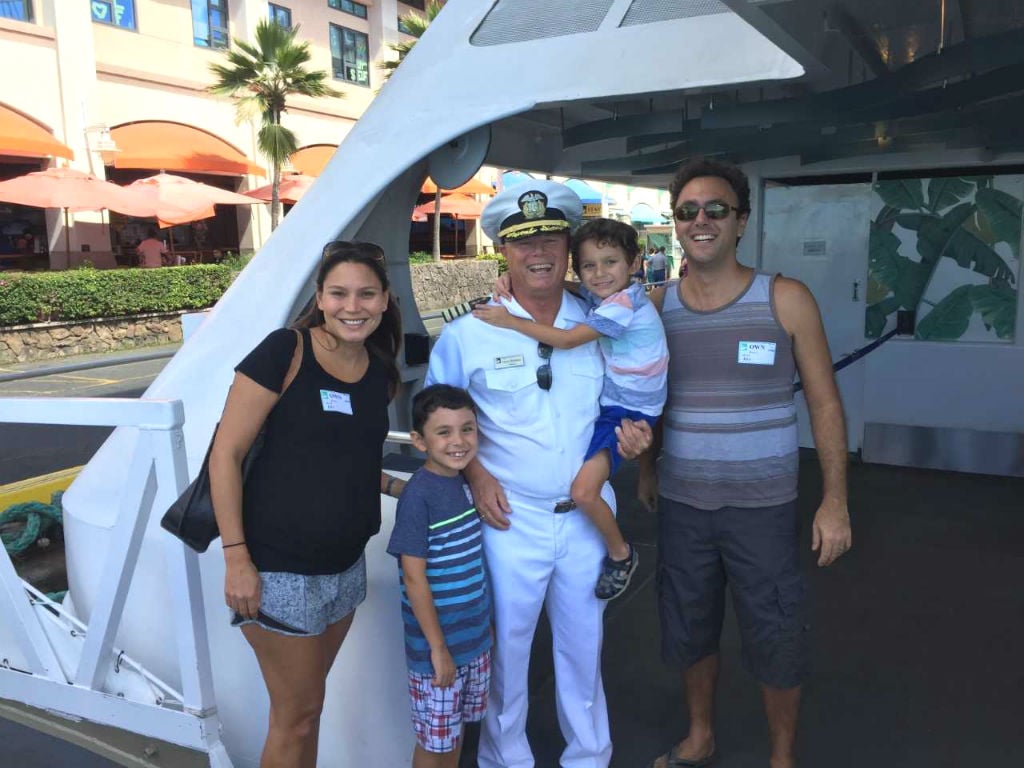 Photo: Jennifer Carlile Dalgamouni
Our family photo with the Star of Honolulu's captain.
We found a table with a good view outside and the boys ran over to another table with small whale replicas and marine life information. After a safety briefing, the ship slowly reversed out of port. As we headed away from shore, the ship's naturalists told us about the humpbacks and called for volunteers. Our boys jumped up along with a handful of other children and adults and were given a long string marked with the length of various whales: Newborn calves are 15 feet long, adult males are 42 feet long and adult females are 45 feet long. Each foot represents about 2,000 pounds of weight.
We headed down the Waikīkī coastline to look for the massive creatures. Each cruise may take a different path depending on where whales have been sighted or are thought to be on that day. We climbed to the top deck of the four-story ship, snapping photos of each other and Diamond Head along the way.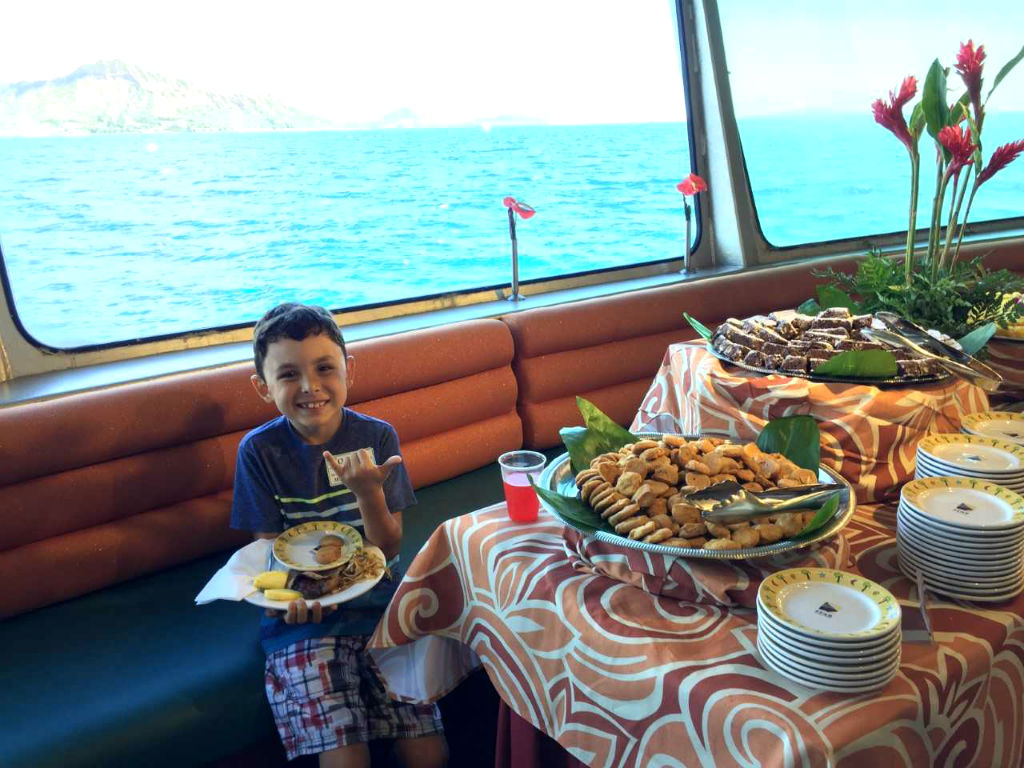 Photo: Jennifer Carlile Dalgamouni
I had a hard time tearing my boys away from the dessert table and fruit punch pitchers!
Lunch was served about half-an-hour into our trip. The buffet had a mix of Hawaiian, Asian and American flavors. The adults in our group liked the citrus-miso-glazed white fish, lomi lomi salmon and roast beef, while our boys mostly ate teriyaki chicken, Big Island sweet potatoes, furikake rice, chow mein noodles and rolls. Of course, the highlight for the kids was the dessert which included brownies, coconut cake and macadamia nut chocolate chip cookies. Water, fruit punch, tea and coffee are included while soft drinks and alcohol can be purchased from the bar.
As soon as we were done eating, the naturalists announced that whales were spotted up ahead. We were so excited to see them that in our rush, our group split up. Three of us saw a couple whales surface, spout and flick their tails from the third-floor deck.
Photo: Jennifer Carlile Dalgamouni
We saw two whales surfacing and spouting water.
We met up with the other two on the very top of the ship–on the tower lookout observation area–just as we sailed near Maunalua. The crowd at the front of the ship yelled whenever someone saw a whale. The whales would surface roughly every three minutes, appearing a couple hundred feet from their last position. Our boys kept scanning the ocean and squealing when they saw them again. We were hoping they'd breach but mostly we snapped photos of their backs and distinctive tails as well as a few flying fish.
Having lived on Oʻahu for a long time, it was also fun to see Koko Head, Hanauma Bay and Diamond Head from a different perspective. On the return trip, the boys and I tried to spot beaches we've been to along the Kāhala Coast and by Doris Duke's estate as well as Kaimana Beach, the lagoon by Hilton Hawaiian Village and Magic Island.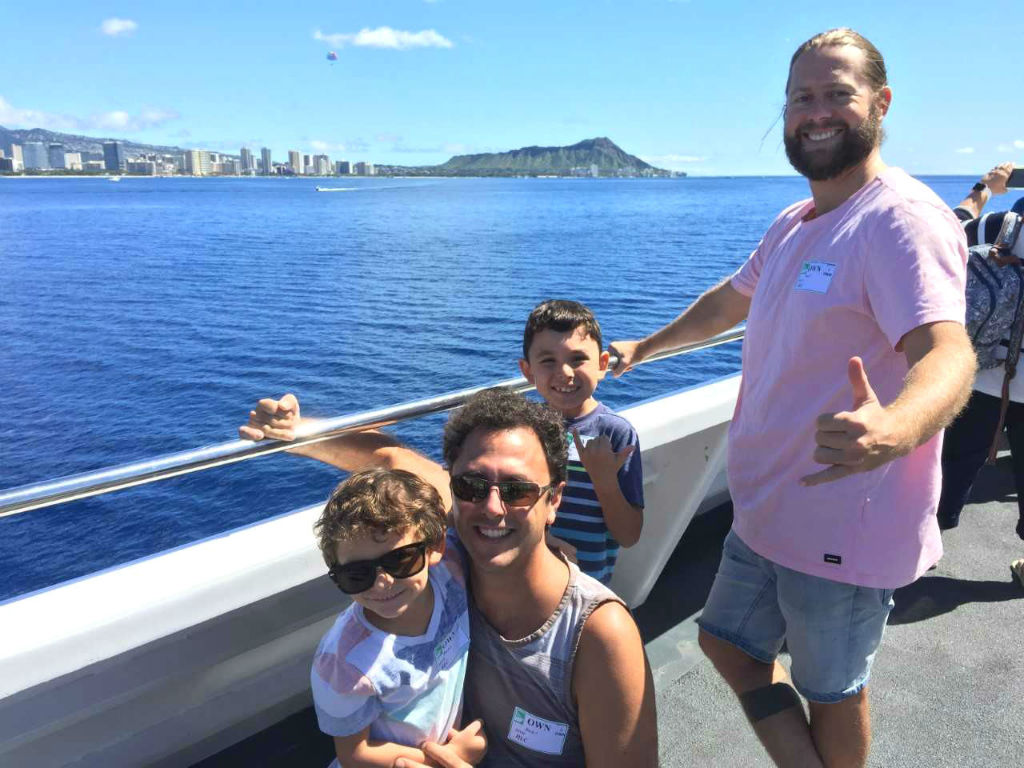 Photo: Jennifer Carlile Dalgamouni
My husband and boys pose with their godfather who is visiting from London. You can see Diamond Head in the background.
We were sad when the ship turned around. But, the ship's staff led cultural activities to keep everyone entertained. The ship pulled into the dock around 2:30 p.m. When I asked the boys what they thought of the cruise, the youngest said "I loved seeing the whales" and the oldest said he enjoyed "everything the best."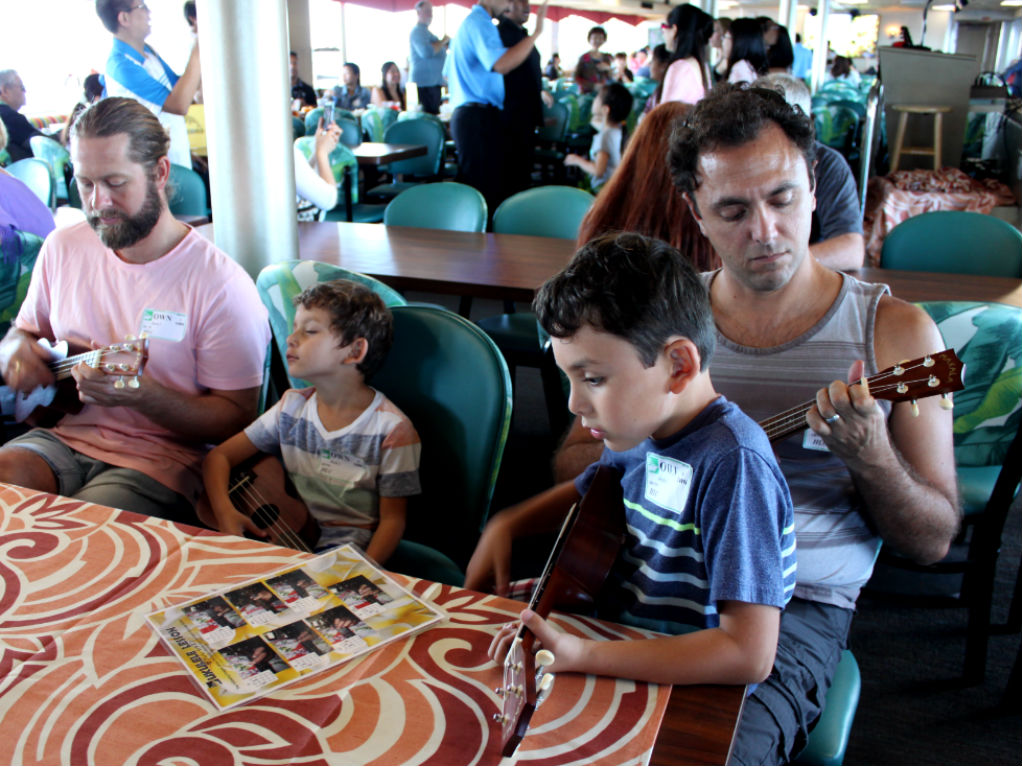 Photo: Jennifer Carlile Dalgamouni
Our boys got really engaged in the ʻukulele class while many of the women and girls on board danced hula and make haku lei.
Our Tips:
Decide if this ship is the right fit for your 'ohana. Star of Honolulu is Hawai'i's largest tour vessel and can hold up to 1,500 people. If you're looking for an intimate sail, this is not it. But, with size comes more areas for keiki to explore, more activities and it keeps the costs down. The staff we spoke to said the ship was more full than usual. I estimated there were about 200 people on board and it didn't feel crowded.
Get the best price. Kama'āina deals are not listed online but when we checked the discount was about 18 percent. Call (808) 983-7827 for the latest prices. All children 3 to 11 years old were free, one per paying adult, however their meals are not included. Children under 3 are always free.
Know when to go. The cruise season typically runs from just before Christmas to the beginning of April, but you will see the most whales between mid-January and mid-March.
Spot a whale or ask for a free return trip. If you're taking visiting family or friends, be sure to go early in their vacation. If the naturalists fail to spot a whale during your cruise, you will receive a "whale check" to go again for free. Take note that the free return trip does not include transportation or meal costs.
Know the pros and cons of the ticket options. Star of Honolulu also offers a shorter, cheaper early morning cruise with an optional breakfast. But, you may have a better chance of seeing whales on the later cruise if the crew spotted whales earlier and know where to go. You can also save money by skipping the meal. Take note that you can't take outside food on board. See ticket options here.
Manage expectations. Get your kids (and grownups) excited about the whole cruise, not just the whales. Talk about the ship, sailing and the onboard activities. Let them know they'll be looking for whales but make sure your keiki aren't expecting the creatures to jump over the ship. They're wild animals so it's impossible to know how many you'll see or how close they'll come.
Bring a camera with a good zoom lens. You'll need it for good photos. My zoom was not up to speed.
Have fun learning. Be sure to pick up a "Keiki Whale Tale" booklet on the marine life table on the first floor. Keiki can do the activities later, you will want to work on the "Marine Life Scavenger Hunt" on the cruise. Spot a Hawaiian Spinner Dolphin or a sea turtle and then mark where you saw them on the map.
Talk to the naturalists. It can be difficult to hear the announcements, but the naturalists are around to explain what you missed. We learned why humpback whales don't eat while they're in Hawai'i, why females are larger than males and why it's easier to spot them on a summertime tour in Alaska than on winter cruises here in Hawai'i.
Head to the buffet early avoid the crowd. Find out when lunch will start and arrive a few minutes early to get the freshest food without the wait. Also, that way you won't be stuck standing in line if whales are spotted.
Try the cultural activities. Make a haku lei, don a grass skirt and dance hula and play the 'ukulele. Unless there are lots of whales on the return trip, you should take advantage of all the ship offers.
Explore the ship and find shade, seats and sun. The first three floors have open-air but shaded walk-around decks while the top floor, which is open to the elements, has a few lounge chairs and access to the highest observation deck available. Our boys had a lot of fun just walking around the ship, pretending to be pirates and playing around.
Know where the bathrooms are. There are a few stalls on the third and fourth floors but the main multi-stall restrooms are downstairs from the first floor deck.
Ask for ginger capsules if you feel seasick. The ship has herbal medicine on board for keiki and adults so ask before you feel worse.
Get your parking ticket validated first. Do this when you check in for your cruise, not afterward.
Star of Honolulu offers two whale watching cruises daily through April 5, 2018, departing from Aloha Tower Marketplace, Pier 8. The Premier Whale Watch is $53 for adults and is free for children 11 years and younger with a paying adult. The Premier Whale Watch with Lunch costs $71 for adults and $10 for children. Early Bird Whale Watch prices start at $37. Call (808) 983-7827 for the latest kamaʻāina discounts and to reserve free child tickets. starofhonolulu.com/whale-watching-cruises-oahu-hawaii/
HONOLULU Family received free tickets for the cruise.