We Tried It: Okage Sama De in the Japanese Cultural Center of Hawaiʻi
An exhibit that triggers all kinds of emotions. Fear, joy, sadness, surprise, you name it.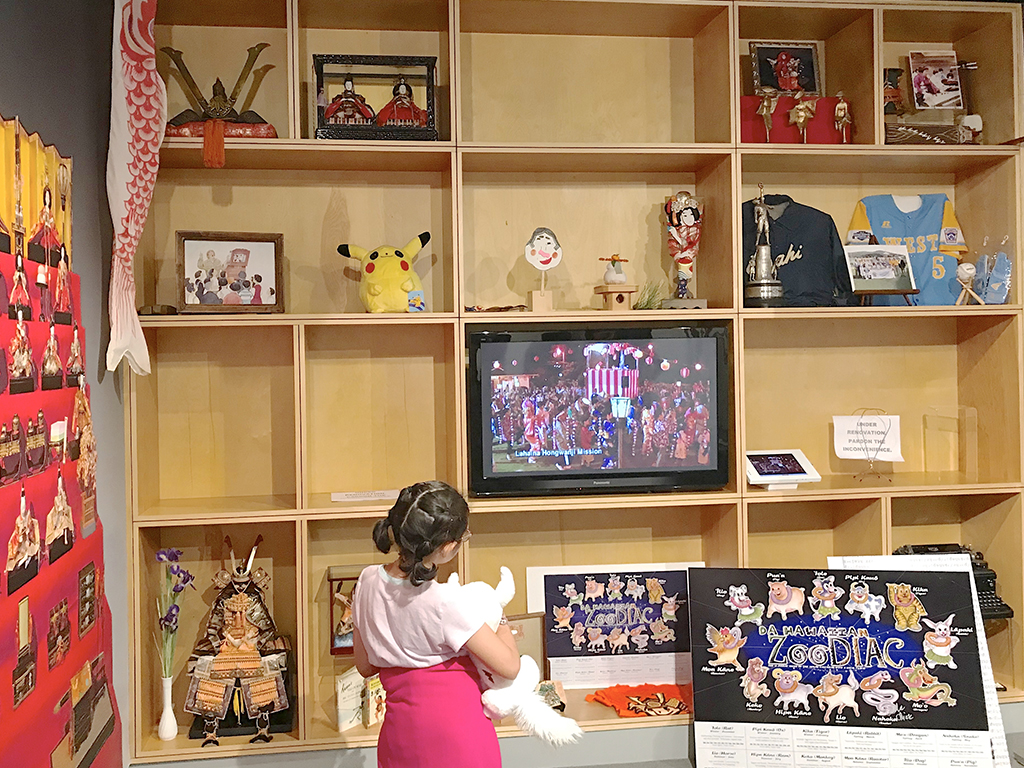 To learn about Japanese culture and festivals, kids can select videos from a touchscreen TV.
What: Okage Sama De historical gallery in the Japanese Cultural Center of Hawai'i.
Who: Two parents and their 8-year-old daughter.
When: 90 minutes on a weekday afternoon.
Have you ever felt dozens of different emotions in just a short amount of time? Fear. Delight. Sadness. Hope. Nostalgia. Confusion. Silliness. And everything in between.
That's what happened when my daughter, husband and I visited the exhibit, Okage Sama De: I am what I am because of you, inside the Japanese Cultural Center of Hawaiʻi on South Beretania Street.
Okage Sama De traces the history of Japanese immigrants to Hawai'i in the 1800s and leads up to the present day.
The concept might sound boring to kids—but boring it is not.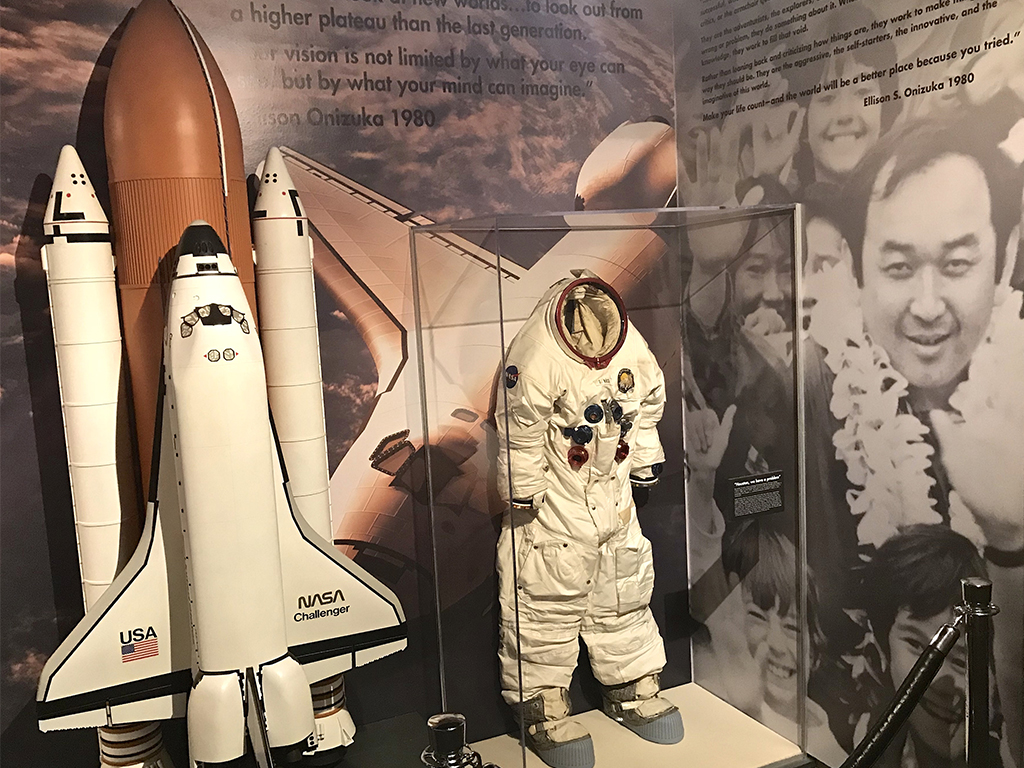 A corner of the gallery honors Ellison Onizuka, the first person of Japanese ancestry to become a U.S. astronaut and travel to space.
As keiki walk through the galleries, they'll see a NASA spacesuit and replica of a space shuttle, a thousand origami cranes strung together, colorful toys, a touch-screen TV with cultural videos, a replica of an old schoolhouse, a mini theater showing short films, and many more surprises.
I was raised in Tokyo and am part-Japanese, so I'm always excited to share the culture with my daughter and husband, originally from the Midwest. Here are some of our reactions and emotions as we walked through Okage Sama De.
Delight. My daughter loved the maneki neko, which are white cat figurines that businesses and homes display for good luck. They're located in the "Multicultural Hawai'i" section. The surfboard-toting feline was her favorite. She also stood in front of the TV monitor in this room for 10 minutes, selecting and watching cultural videos. Also located in the same room are traditional Japanese toys, a mini yagura platform for bon dances and a doll display for Girls' Day. My tip for grownups? Read the signage in this room and talk to your kids about foreign cultures.
Respect. My husband and I were blown away by the accounts of Japanese immigrants who came to Hawai'i in 1868. The gallery in the "Departure Scene" is filled with old photos and vintage items collected over the decades. The women, in particular, touched me. Not only did they toil in plantations, but they also cooked, cleaned and raised their children at home. Without modern technology! If you have older kids, maybe talk to them about the role of women and men in society and how that has changed over the century.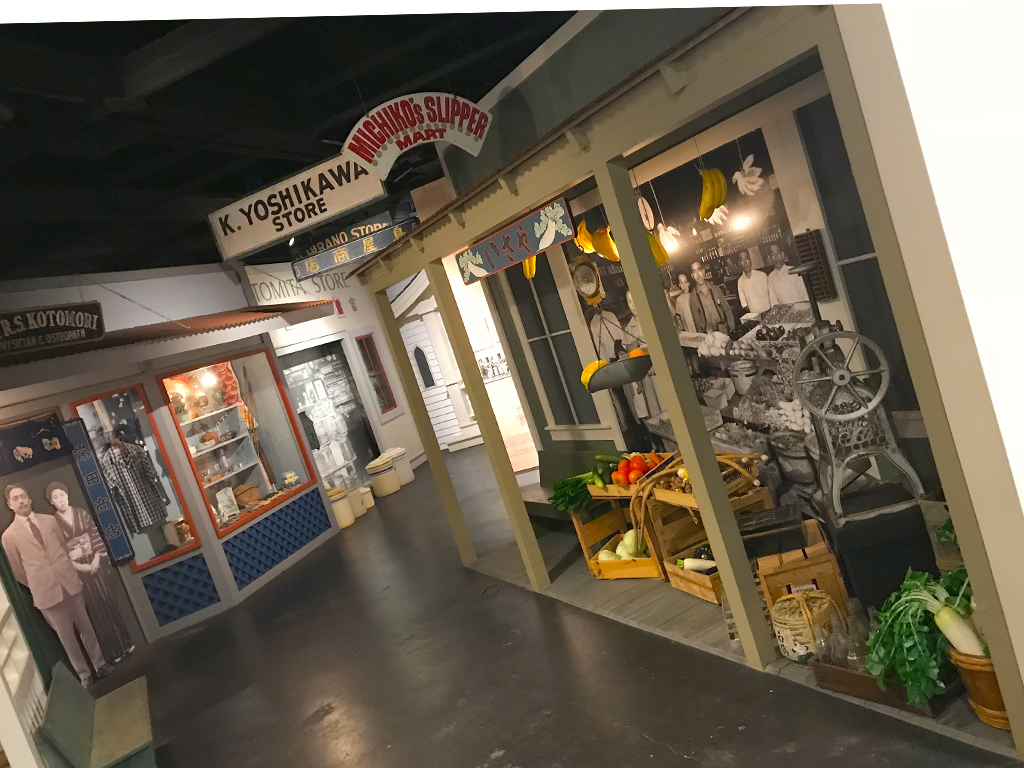 Can you spot the daikon radish? Okage Sama De includes a streetfront and neighborhood, such as these.
Curiosity. The replica of an old schoolhouse was another point of interest for my daughter in the "Plantation Scene" gallery. She sat at a desk, flipped through old books and asked lots of questions. "Did they use fountain pens back then?" "Where did the kids eat lunch?" "Who are Dick and Jane, and what's their dog's name?" Across from the schoolhouse is a replica of an old kitchen. In it are kitchen supplies, including a kettle and water canister—similar to what my own Obachang used as a child.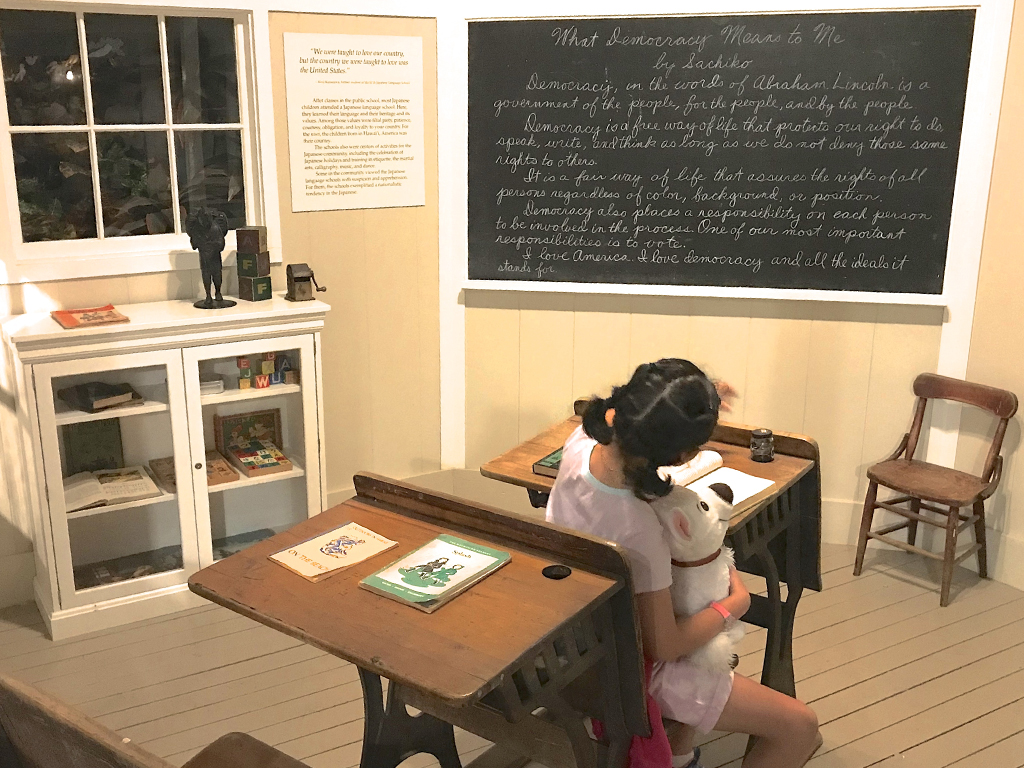 This schoolhouse rocks! Grandparents can introduce their grandkids to the books and toys of their youth.
Sadness. Okage Sama De includes a gallery dedicated to individuals sent to Honouliuli Internment Camp during World War II. The old photos and letters depict one of the ugliest periods in human history. As a kid growing up in Japan, I spent many overnight school trips in Hiroshima, site of the atomic bomb that ended World War II. I feel sick to my stomach whenever I recall the gruesome relics in the Hiroshima Peace Memorial Museum. Today, it haunts me to see the "other side" of Japanese war history here in Hawaiʻi.
Confusion. I grappled with how to explain internment camps to my kid. So, I broke it down for her: "When World War II happened, some people became suspicious of Japanese people, so they forced Japanese people to go to prison camps. Even little kids your age were sent to these camps." I don't know if she truly understood, but she did stare at the black-and-white photos on the wall and look at the artwork by former prisoners.
Playfulness. My girl has an eye for the littlest details. In the "Multicultural Room," she spotted a yellow Pikachu plush toy on the shelf. In the plantation kitchen, she picked up an otedama bean bag toy and giggled, "Look at the pandas! They're eating hamburgers!" She was right.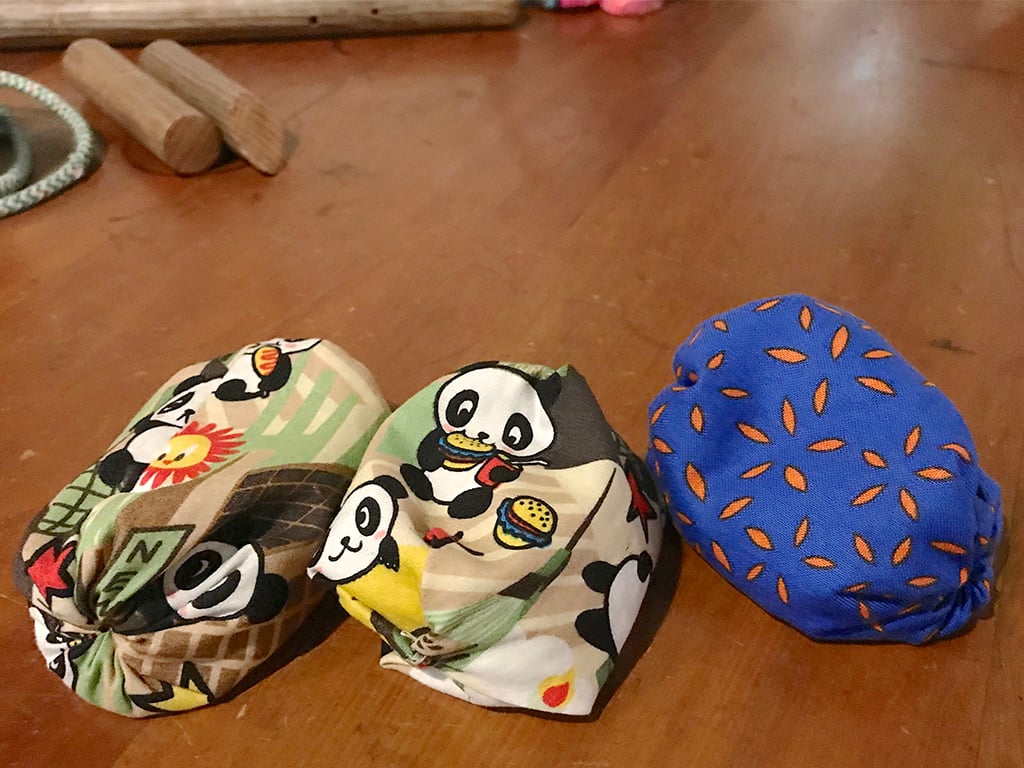 Otedama bean bags for kids.
OUR 5 TIPS
Allot an hour. If you're with short-attention-spanned kids, plan to stay for at least 30 minutes. This will give enough time for you to read the signs and introduce concepts to children. Younger kids might want to linger in front of the TV screen to watch short videos, while tweens and teens watch films inside the World War II Theatre.
Be ready to answer hard questions. Or not. It depends on a child's curiosity level, of course. Deep thinkers might ask you questions about xenophobia. Playful kids might notice the cool-looking moon rock next to the NASA space suit. My parent-to-parent advice? View the exhibit through your children's eyes.
Save your money. The center offers free admission on the second Saturday of each month and on special days including the New Year's ʻOhana Festival every January. If you plan to visit more than once, you also might want to consider membership, which is $50 for two adults and two children. Members receive free admission to the exhibit for one year, plus other perks including discounts to airlines and gyms.
Visit the gift shop. Located behind the desk where admission tickets are sold, the museum's gift shop sells books on Japanese culture, maneki neko figurines, kimonos, lacquerware and fancy gifts. If your kids are energetic, you might want to steer them away from the ceramic pottery and fragile dishes.
Don't go hungry. The center doesn't have a snack shop or café. Bring your own and eat in the courtyard, where there are a few benches and trash cans. Restaurants within walking distance of the center are Teddy's Bigger Burgers, Domino's Pizza and bento shop Kokoro-Tei. For plate lunches and poke, Yamas Fishmarket is around the corner on Young Street.
---
Okage Sama De is in the Japanese Cultural Center of Hawaiʻi, 2454 S. Beretania St., Honolulu. Hours are from 10 a.m. to 1 p.m. Monday; from 10 a.m. to 4 p.m., Tuesday to Friday; and from 9 a.m. to 2 p.m., Saturday. Admission is free on the second Saturday of each month. Regular admission is $7 for adults 18 and older, $5 for youth ages 6 to 17 and for seniors 70 and older, and free for children ages 5 and younger. $5 for active-duty military with valid I.D. Membership to the cultural center is $50 per year for two adults and two children and includes free one-year admission to the exhibit, plus various discounts. (808) 945-7633. jcch.com