We Tried It: MathAlive! Exhibit at Pearl Harbor Aviation Museum
Ride a snowboard, design a skateboard and capture your own 360-degree image in this new interactive exhibit on Ford Island.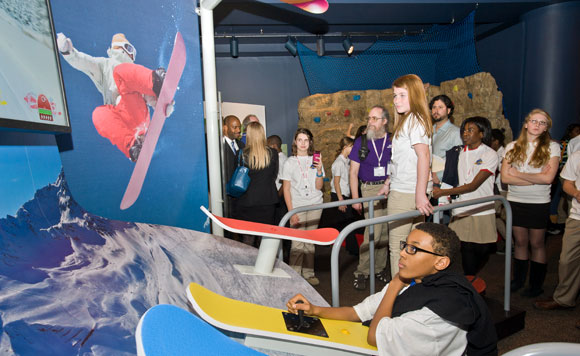 Photo: MathAlive!
Editor's Note: We updated the blog after another visit to MathAlive! in July.
What: MathAlive! is an interactive exhibit which teaches kids math through some of the things they love most–video games, sports, fashion, music, robotics, and more.
Who: One adult with two kids, ages 9 and 11.
When: 10 a.m. on a media preview day.
Where: Pearl Harbor Aviation Museum
Mention the word "math" in my household and both children make a beeline to their bedrooms. As a homeschooling mom to tweens, one of my greatest homework challenges is getting my children to love math. They don't see the value in adding and subtracting numbers, after all, isn't that why calculators were made in the first place?
So, when we were invited to preview the new exhibit at the Pearl Harbor Aviation Museum called MathAlive!, I didn't really want to let them know where we were heading that morning. I told them we were going to the aviation museum (which we did visit afterwards) then crossed my fingers and hoped for the best.
MathAlive! is designed to show children the direct connection between math and our physical world. Geared toward 7- to 14-year-olds, the traveling exhibit, is designed to show kids how math integrates with video games, sports, fashion and more through STEM (Science Technology Engineering and Math) experiences.
The 5,000-square-foot pop-up exhibition is located just outside of the aviation museum in its own air-conditioned tent next to a fleet of historic helicopters from Pearl Harbor. My son was not so thrilled when he read the sign. "Are we taking some kind of math exam in there?" he asked. After several nudges, and a promise there would be no tests, we entered the exhibition.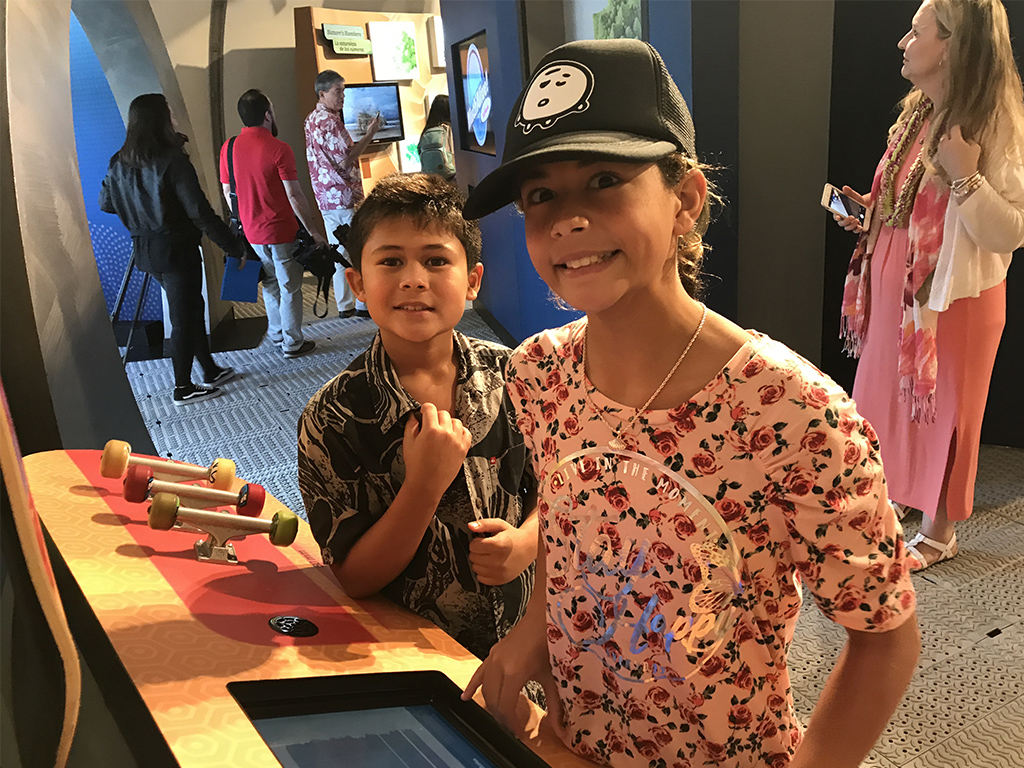 Photo: by Wendy Awai-Dakroub
The entire space was bustling with excitement and awe. As we scanned the room and began making our way through the 40 interactive exhibits, my son was drawn to a design-a-skateboard activity. An avid skateboarder, he imediately began using the touch screen to make a custom skateboard that performed different tricks. I had to pull him away from it after 15 minutes to move on.
At the center of the room is an area where you can capture a 360-degree selfie. Both kids tried several times to get an "action jump shot" but failed miserably and with the lines getting longer Jaf settled for a side pose instead. A minute later, you see a 360-view image that you can email to yourself. Pretty cool! One tip the person working the selfie station gave us was to try tossing something in the air. You do have to pay close attention to the countdown, but it was fun to see a water bottle hovering above us from all angles.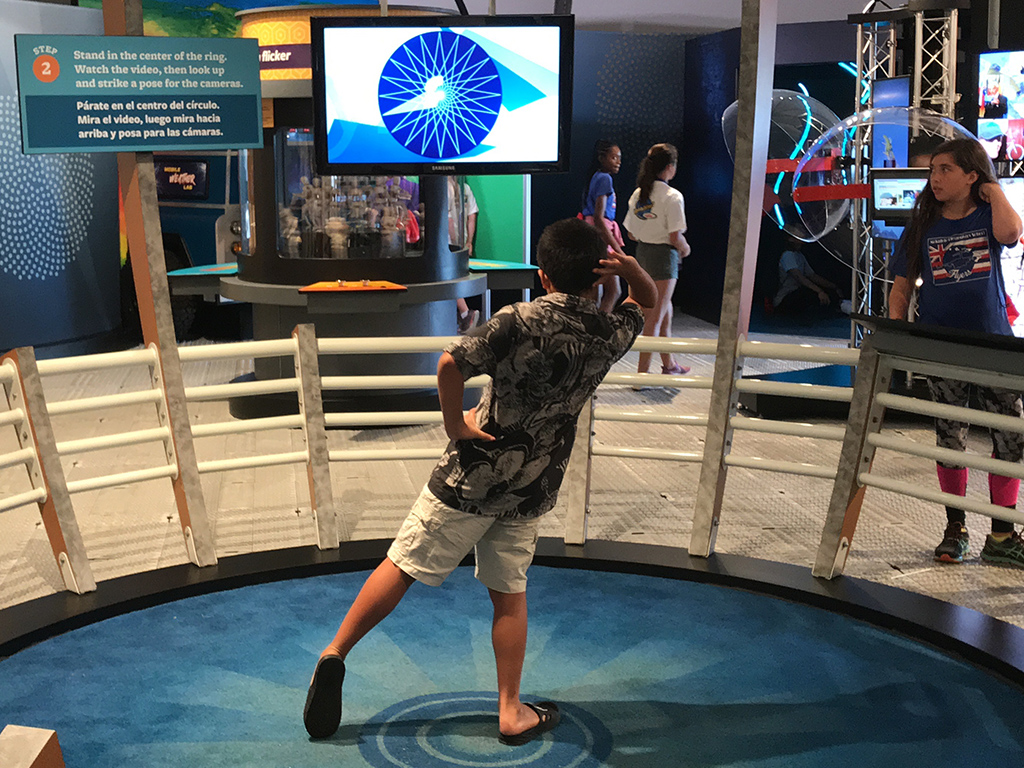 Photo: by Wendy Awai-Dakroub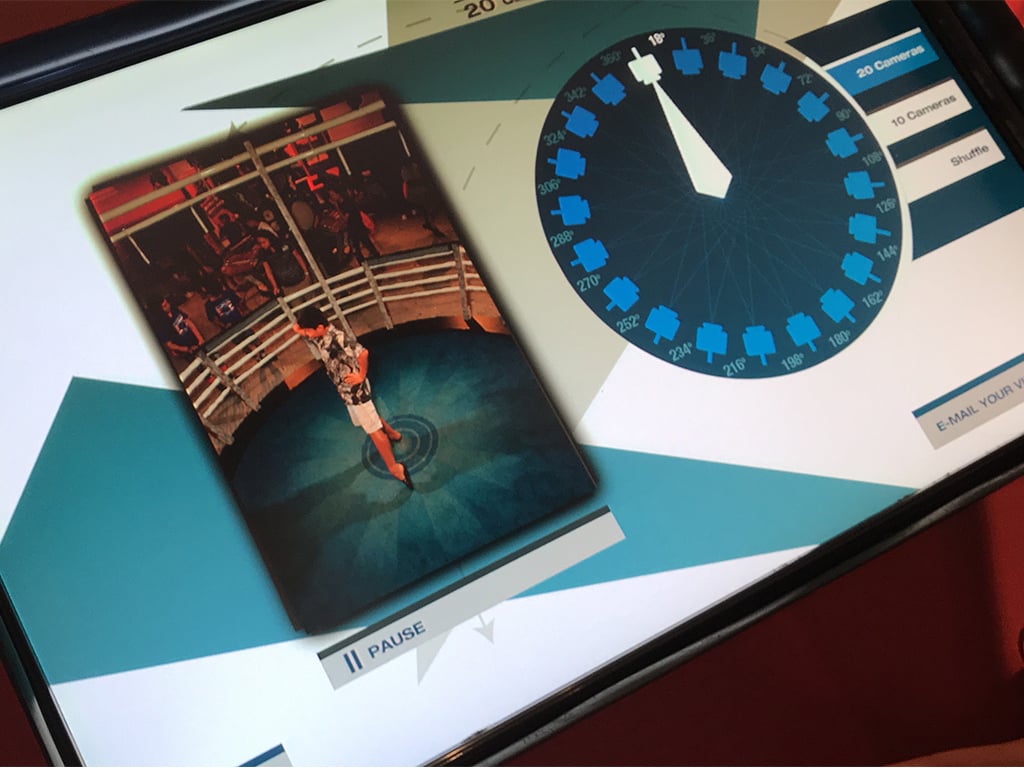 Photo: By Wendy Awai-Dakroub
Next, my 9-year-old son and I spent some time perfecting our engineering and city-planning skills by designing a roller coaster, skyscraper and sustainable city infrastructure. The step-by-step process can be tricky so parents may need to help younger kids. Watching the buildings we designed go through a series of wind and earthquake tests were pretty fascinating and once you got the "approval" on your building safety, you can watch it being built on screen in a video clip you can email to yourself.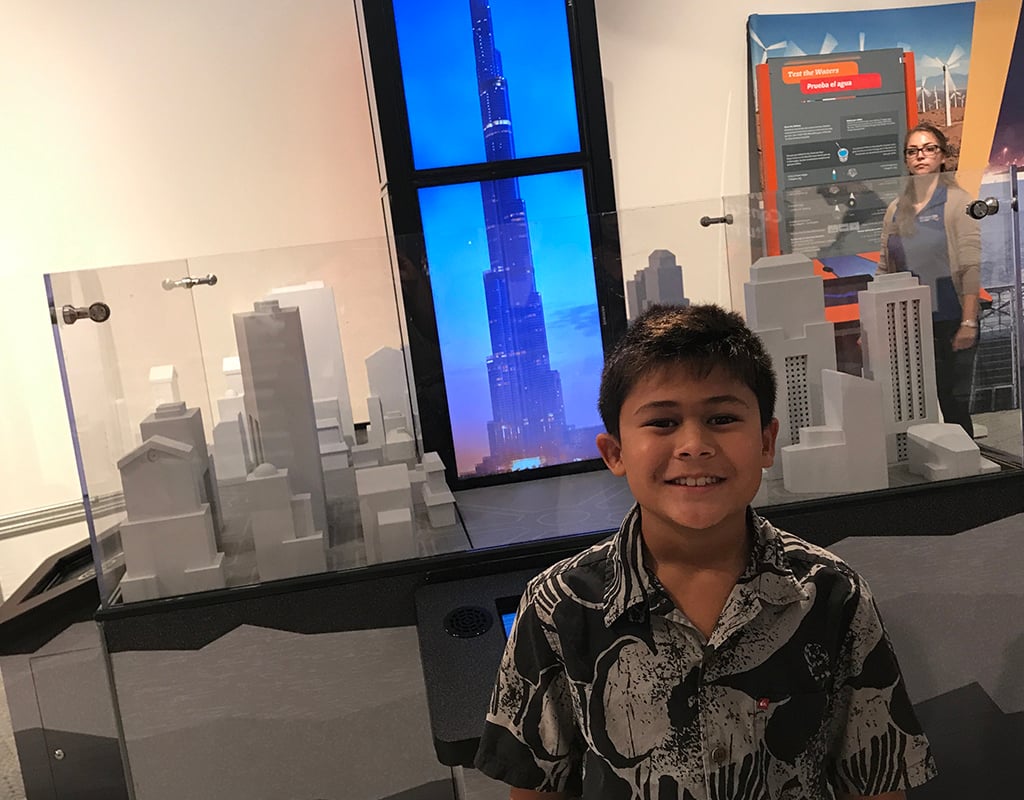 Photo: Wendy Awai-Dakroub
My 11-year-old daughter loves to compose music and spent time creating a soundtrack on a giant instrument that was in the center of the room. She learned how rhythm makes music flow and move. Kids also learn about fractions through different notes. "Wow, Mom! I had no idea math and music go hand in hand," she said. She even asked me to take her keyboard out of storage and put in back into her bedroom.
There are a few other popular exhibits we should mention: The 3D snowboard experience teaches kids precision as they learn how to use the best angles to ride the slope first. The Fractal Dance Party in the back left corner of the room and the Mobile Weather Lab—where you can select extreme weather patterns and then make your own extreme weather video in front of a green screen—was a hit with all of the kids, although the lines were long.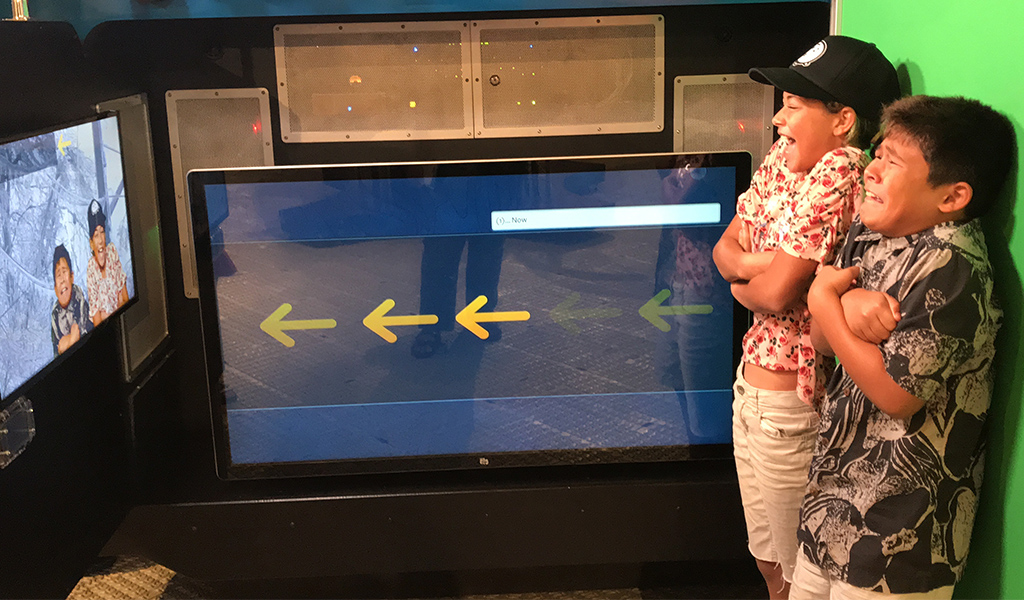 Photo: by Wendy Awai-Dakroub
In Test the Waters, players view a photo of water and determine if it is safe or unsafe. My daughter loved this—even if it didn't look so exciting. The Tessellations was a busy exhibit. Most kids didn't understand how to build them, so they quickly gave up. I suggest kids spend time at this exhibit with a grownup, who can help arrange the shapes in a repeated pattern. My 8-year-old enjoyed it!
Both children also spent a significant amount of time collecting rock samples and operating simulations with Curiosity, a car-sized NASA rover designed to explore Gale Crater on Mars. They are now much more interested in learning how to code.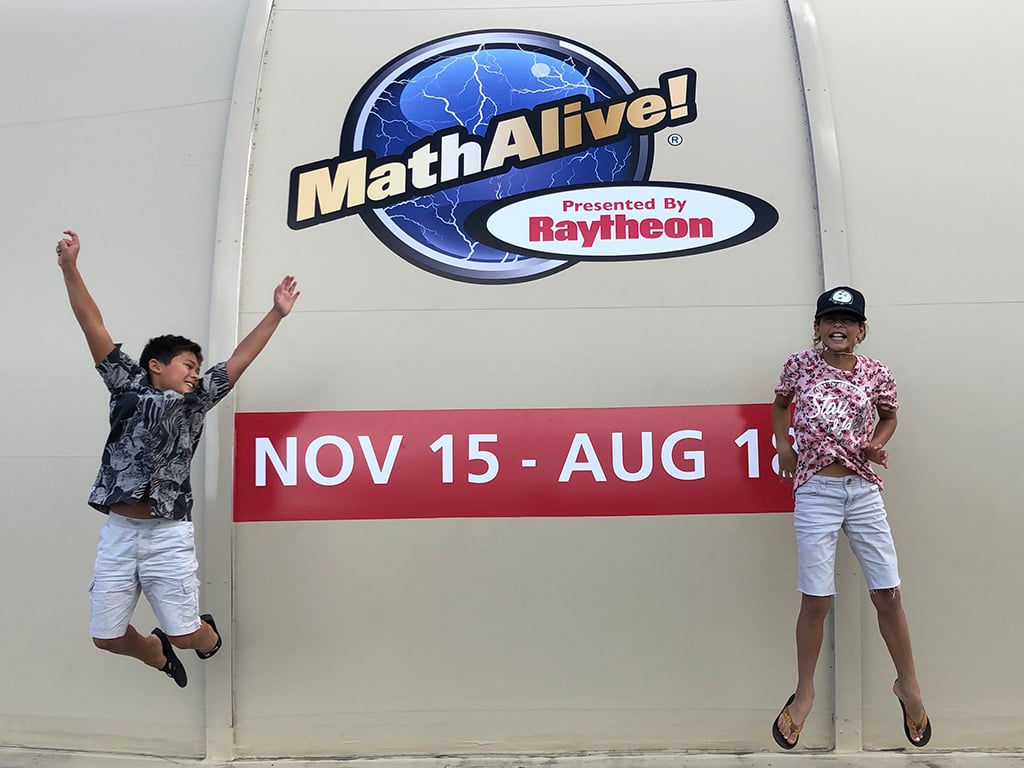 Photo: by Wendy Awai-Dakroub
We spent almost two hours at MathAlive! My children quickly made the connection between each activity and the math concepts related to it. We had such a blast that I had to drag them out of the exhibit.. They didn't want to leave. But, then again, neither did I.
It was like having a math class without the drama!
Our 8 Tips
1. Plan to spend the day visiting both the museum and MathAlive! We suggest heading out to the museum early at 8:30am to be the first into the exhibit at 9. After that you can explore the museum at your leisure.
2. Start with the larger exhibits. The 360-degree selfie, 3D Snowboard, Build Your World and Curiosity Rover are the exhibits with the longest lines so get to those first especially if the place is empty so you can spend as much time possible at the exhibit.
3. July update: Get your camera ready at the weather station. We loved the weather station where kids could deliver a report in front of a green screen. But multiple times, the process that was supposed to email the video to you broke. The person working there that day told us it happened all the time. On the left of the station, there is a TV screen where you can watch the video playback just a few minutes after recording. Just wait there with your camera and video tape the playback to make sure you don't lose it.
4. July update: Steer toddlers toward the left side of the room. On a return visit with a 3-year-old, several of the exhibits were a bit too advanced to keep her attention. But she loved building patterns with tiles in the Fibonacci Series station and we had to pull her away from the colorful shapes and patterns she created with movement in the Fractal Dance Party.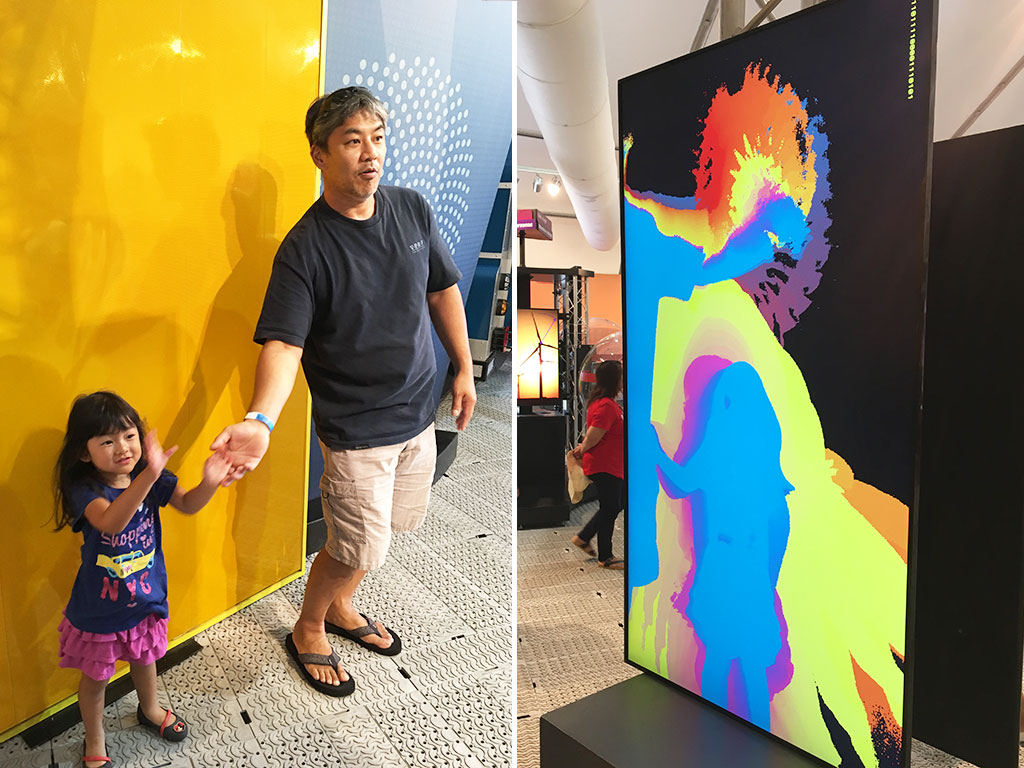 Photo: Christi Young
In the Fractal Dance Party kids and parents' movements (left) ware translated into colorful images (right) on a screen.
5. Maximize your child's visit by asking questions. Ask your child to make the connection between how math plays a role in the task or exhibit to maximize their learning experience. It took my children some time to think it through, but they made the connections and learned some new things.
6. Visit each station, if possible. My son would have just snowboarded the entire time if I didn't push him to check out the smaller exhibits. He would have missed out on some really cool things. These were some of those unassuming things; Supertall (build your own building), Test the Waters and Tessellations.
7. Have lunch at Laniākea Cafe. We bought food at the café, which is decorated with a World War II theme and seats around 30 diners. The Hangar Burger ($11.75) can be shared with young children. Menu prices range from $5 for garlic fries to $7.50 for the grilled cheese sandwich. The children's menu (for ages 10 and younger) includes peanut butter and jelly sandwiches ($6.50) or chicken nuggets ($7), both served with potato chips. The café is open daily from 10 a.m. to 3 p.m.
8. Buy your tickets online for a discount. Avoid the lines at the visitor center by purchasing your tickets online for additional discounts, including kama'āina rates ranging from $8 to $20. Visitors must show their Hawaiʻi state IDs at the entrance. You can buy tickets at pearlharboraviationmuseum.org/buytickets.
---
MathAlive! is open daily from 9 a.m. to 5 p.m. through Aug. 18, 2019, in Pearl Harbor Aviation Museum, 319 Lexington Blvd. Tickets at the on-site ticket office are $30 per adult, $10 per child ages 4 to 12 and free for keiki ages 3 and younger. The math exhibit is free with general admission to the aviation museum. See "Our Tips" above for online and kamaʻāina discounts. The shuttle bus from Pearl Harbor Visitor Center to Ford Island runs daily from 8 a.m. to 4 p.m. mathalive.com