We Tried It: Madre Chocolate's Farm-to-Factory Tour
Madre Chocolate offers a kid-friendly farm-to-factory chocolate tour.
Editor's Note: Madre Chocolate closed its shop on Pauahi Street, and chocolate-making classes are held in various locations. Contact the company for details.
Q: What happens when you bring eight kids to a cacao farm to learn about agriculture and make and eat chocolate treats?
A: The kids gain an appreciation for local farming—and become extremely hyperactive from caffeine and sugar consumed over four hours.
That just about summed up my family's experience when we joined a dozen adults and their children on a "Cacao Farm to Chocolate Factory Tour" by Madre Chocolate, a bean-to-bar chocolatier based on O'ahu. Madre Chocolate's organic, fair-trade products have won local, national and global awards over the years and rank among the world's best chocolates. After participating in the farm-to-factory tour, it's easy to see (and taste) why.
If you want to know whether this three-hour tour is right for your kids, here's a play-by-play of our experience.
---
SEE ALSO: 🍫 The Everything Guide to Local Chocolate
---
1:05 p.m.
A half-dozen cars, including my family's, pull up in front of a farmhouse in Waialua, where the tour starts. Out jump a gaggle of kids—ready to use the bathroom. The farm's outdoor restrooms are inoperable this day, so the kids use the facility inside the farmhouse. They take awhile, delaying our tour's start time by 20 minutes. Thank goodness, the childless adults in our group are patient.
---
1:30 p.m.
Nat Bletter, our tour guide and owner of Madre Chocolate, invites everyone to gather around a picnic table under a tree and introduces us to the wonderful world of cacao. He delves into the history of the plant, explains harvesting and fermentation in kid-friendly lingo and encourages everyone to taste cacao fruit pulp sweetened with cane sugar. The concoction tastes like a smoothie. The older kids love it. The younger kids? Not as much. Bletter then cracks open a Nine Fine Mynahs Estates chocolate bar and passes it around, along with cacao nibs. All of the kids, except the 18-month-old, appreciate the familiar taste of the confection, which is velvety and bittersweet.
---
1:45 p.m.
The walking tour of the farm begins. The kids walk in a group, enjoying the views and breeze. Bletter, an ethnobotanist by profession, can't hide his enthusiasm for cacao and rallies up the kids with excitement. "Hawai'i is the only state where you can see chocolate made from tree to bar," he explains. "Cacao pods are unique. They hang from tree trunks the way your kids might hang off you when you're tired." The parents glance around the farm and notice yellow, orange, purple and green pods clinging to tree trunks.
---
SEE ALSO: 🚜 We Tried It: Our Family Guide to Kahuku Farms Café in Hawaiʻi
---
2:00 p.m.
The kids are ready to pull ripened cacao pods off trunks—but first, Bletter teaches them how to scratch a pod with a fingernail to determine if it's ready. Green residue means the pod is not ripe. To remember the rule, he teaches the kids a catchy song: "If there's any green in the scratch, leave it for the next batch. If it's yellow, orange or brown, take the cacao pod down."
---
2:05 p.m.
For the next 20 minutes, the kids scurry from tree to tree, scraping pods with their fingernails like kittens destroying brand-new furniture. When a kid finds a ripened pod, he or she yells out, and a designated adult with garden shears snips the pod off the trunk and tosses it into a plastic crate. It's like an Easter egg hunt with prizes the size of mini footballs. As I watch the kids run around the farm, giggling and helping one another find pods, it strikes me that this keiki group is diverse: Five are from a Mililani suburb; two girls live next to each other on a Waialua farm; then there's my Kaka'ako condo kid. Clearly, Madre Chocolate's farm-to-factory tour excites all children. When Bletter announces that time is up, nearly 20 ripe pods fill up the plastic crate.
---
2:30 p.m.
The group hikes around the farm with Bletter as he points out plant varieties. The kids like the "ice cream bean," a foot-long pod filled with fluffy white seeds that taste like cotton candy. There's a bit of friendly competition to see who can eat the most. Even the youngest chews on an ice cream bean and requests more. Bletter cracks open another species of cacao, nicknamed the "jaguar," which smells like durian—the spiky tropical fruit with a notoriously pungent smell. The jaguar sends the kids backing away for better-smelling air. Whew.
---
2:50 p.m.
After the older kids haul the pod-filled crate back to the picnic table, Bletter briefs everyone about the chocolate-making part of the tour in the Madre Chocolate factory. We have a 40-minute window to leave the Waialua farm in our own cars and drive to the factory.
---
2:55 to 3:30 p.m.
En route to the factory, a few cars break away from the caravan for a pit stop at Pa'ala'a Kai Bakery, five minutes away from the cacao farm. When in Waialua, you gotta get Snow Puffies—the bakery's signature chocolate-filled pastry dusted with powdered sugar.
---
3:35 p.m.
We enter the factory's front door to the scent of chocolate in the air. The kids explore the retail shop's chocolate-themed gifts and sample chocolate bars. The "Kona 70 Percent" gives them a  jolt of caffeine.
---
3:40 p.m.
Bletter leads the group out the back door to a 2,000-square-foot, gated garden wedged between a building and parking lot and introduces the kids to coffee trees, vanilla plants, sugar cane and Native Hawaiian cotton resembling fluffy white rabbit tails. The 6- and 8-year-old find stray cotton on the ground and play catch-and-toss with it.
---
3:50 p.m.
Back inside, everyone sits at a long table with spice bottles, frozen peeled bananas on sticks and a chocolate tempering machine "to make the chocolate shiny," Bletter explains. The kids are restless, eager to make chocolate treats. Bletter invites one kid at a time to choose a banana stick and coat the fruit with melted chocolate. The little gourmands top theirs with cinnamon, peppercorn and sea salt, while some opt for plain chocolate.
---
4:15 p.m.
The tour officially is done. The 5-year-olds polish off their bananas. The 18-month-old shares his with parents, and the older kids devour theirs. While the adults chat in the kitchen, the younger kids run to the front of the store for an impromptu party: sampling more chocolate, crawling under the tables, laughing and bonding over their shared afternoon. They may be hyperactive from sugar and caffeine—but they now appreciate local farming and chocolate-making. Clearly, this farm-to-factory tour is worth everyone's time.
---
Our 7 Tips
1. Reserve spots early
The "Cacao Farm to Chocolate Factory Tour" happens only once a month, so plan ahead. To reserve space, visit madrechocolate.com.
2. Be realistic
Kids will enjoy the tour if they're old enough to follow directions and stay close to a group. Even better if they're willing to try new foods. This is a walking tour, so little ones might need to be in a baby carrier.
3. Cover up
To avoid bites and burns, wear long pants, close-toed shoes, sunscreen, sunglasses, hats and repellent. The farm provides enough shade from trees, but there are times when you stand directly under the sun.
4. Clean up
Bring hand wipes and hand sanitizers to clean up after the tour, or at least have them in your car.
5. Bring provisions
After the one-hour farm tour in Waialua, everyone drives separately and regroups at Madre Chocolate's factory. The 30-minute car ride is an ideal time to feed kids snacks, or sneak in a quick nap.
6. Ask about allergies
The kids in our group who were allergic to mango and peanuts were advised not to eat the ice-cream bean and not to sprinkle peppercorn on their chocolate-covered bananas. No one had an allergic reaction.
7. Explore options
If the farm-to-factory tour is not an option for your family, Madre Chocolate does sometimes offer classes for kids 5 years and older.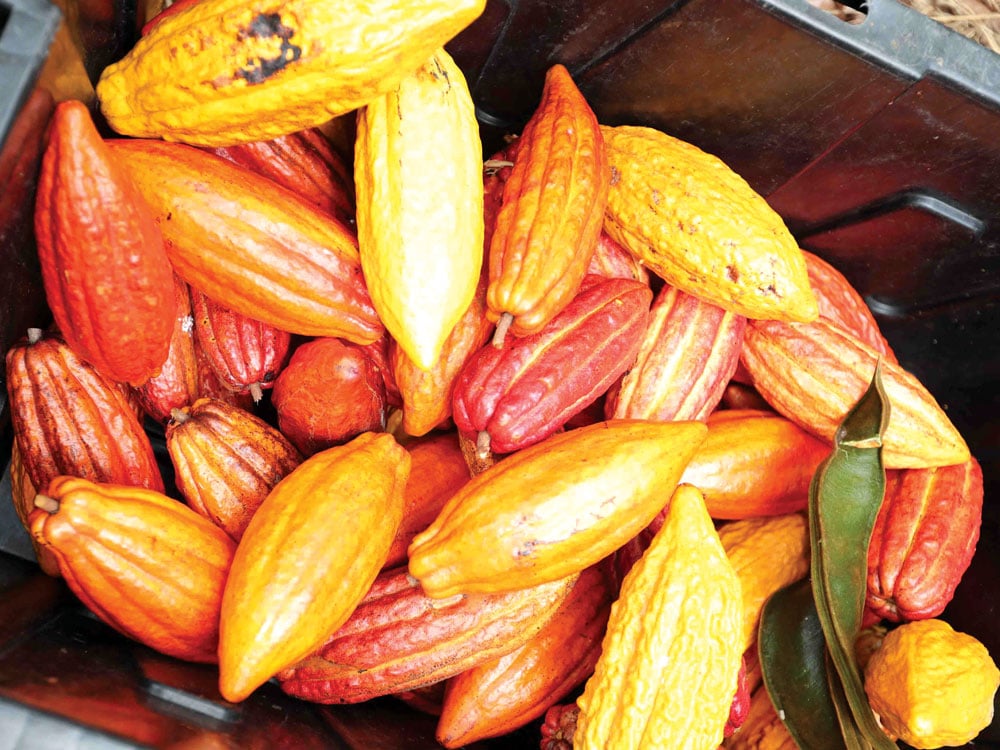 The Details
Get there
Nine Fine Mynah Cacao Farms in Waialua. Madre Chocolate will send driving instructions as soon as you register.
Rates 
$50 general admission, $25 for kids 5 to 12, kids 4 and younger are free.
Phone 
(808) 377-6440
Website