We Tried It: Living Art Marine Center Reef Walk
Is your family ready for a knee-deep sea adventure at a beach?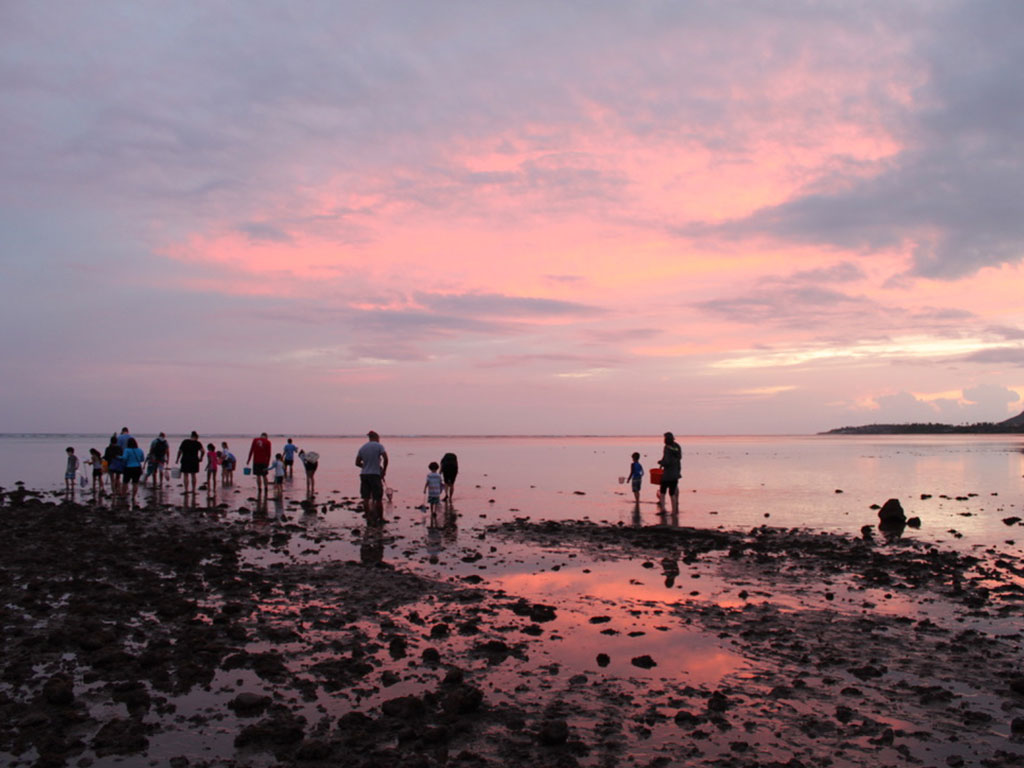 Photo: Jennifer Carlile Dalgamouni
Who: Mom, Dad, Uncle and 5- and 7-year-old boys
What: Living Art Marine Center Night Reef Walk
Where: Shoreline near Kāhala
When: Saturday, 6 to 7:45 p.m.
Our family had gone on a few daytime reef walks with our sons' preschool and even caught a large humuhumunukunukuāpuaʻa one year. Our boys loved the treasure hunt-like atmosphere. What kid doesn't enjoy being in water and sand? We'd never tried a night reef walk, so we signed up for one organized by the Living Art Marine Center. Our boys were excited to use flashlights and hoped to catch pretty much anything. Secretly, I was hoping to net an octopus.
Living Art Marine Center offers its reef walks at three different locations. We chose one near Kāhala. A few days prior to the event, we received an email directing us to the meeting spot.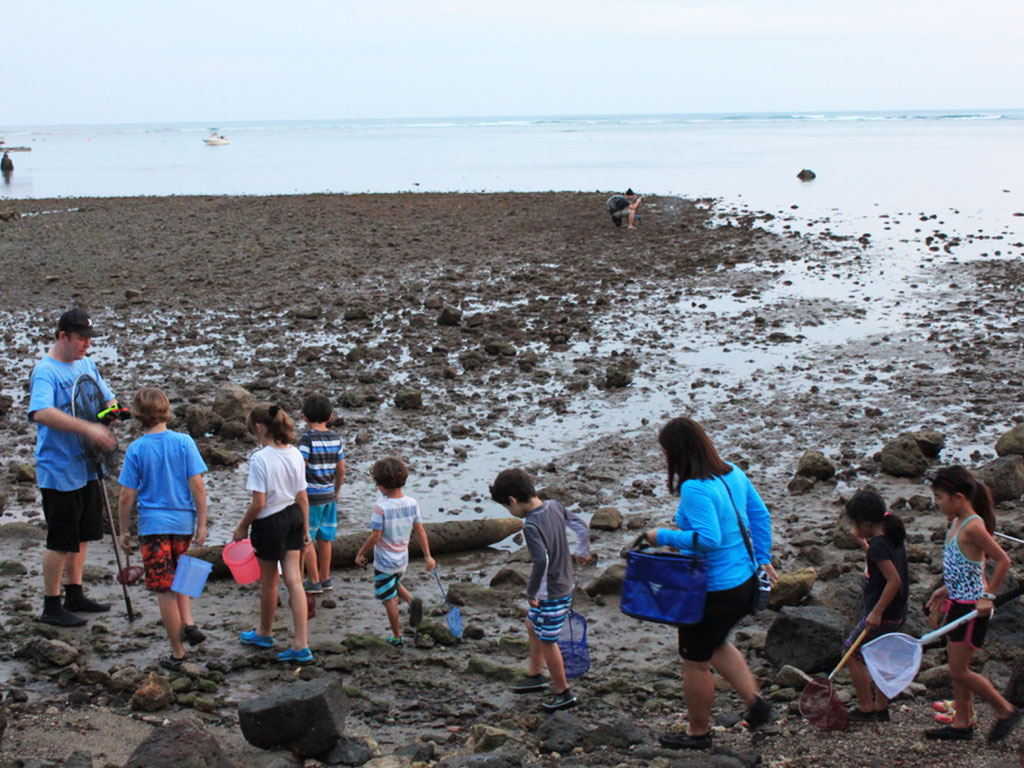 Photo: Jennifer Carlile Dalgamouni
We arrived about 20 minutes early and easily found the group. There were two guides, Vince and Chris, and about 25 adults and children. They gathered us together, with the kids in the front, and showed photographs of the different sea creatures we might find. The guides were good at keeping the keikis' attention by asking the kids questions and teaching them how to handle the animals with care. One key piece of information was: If you're not sure if an animal is venomous, ask before touching it.
As the sun fell behind Diamond Head and lit the ocean in a pink glow, we walked on the sand, exposed rocks and shallow reef with our nets, buckets and flashlights in hand. Right away, my 5-year-old and a little girl found a hermit crab. They were both very excited and called us over to see it. I was surprised to learn that hermit crabs can't breathe out of water. We left that one alone and continued to walk out farther until our boys were knee-deep in water.
Our friend caught a soft-bodied translucent sea slug and put it in our bucket. Our guide Chris told us it was a nudibranch. I caught a few tiny, shallow-water blenny fish. By this point, it was getting very dark, and I really wished I'd bought better flashlights. Ours gave off a dim orange glow that barely penetrated the surface of the water. To see better, we walked near the guides or other families with better lights. At least, we got a good look at what everyone else caught.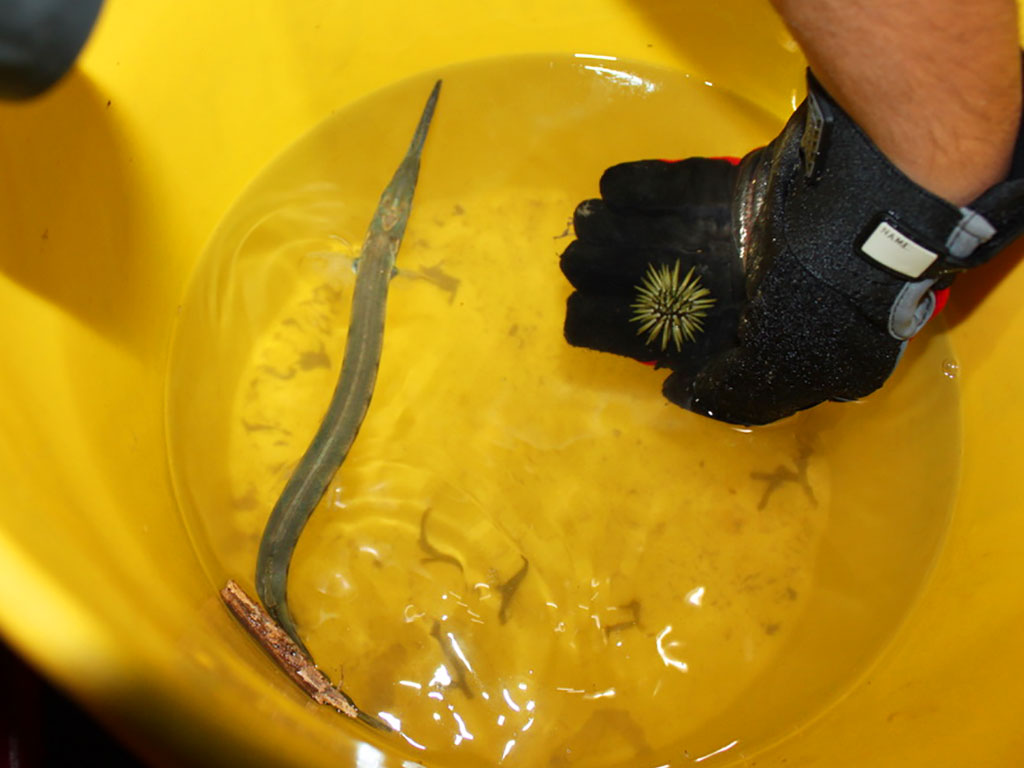 Photo: Jennifer Carlile Dalgamouni
Every few minutes, the group huddled around a bucket to see someone's fresh catch. We saw orange- and white-striped banded coral shrimp, a trumpet fish that looked like a stick with a beak, and a devil scorpion fish with a red pectoral fin. When someone caught a Moorish idol, the kids exclaimed that it looked like the character Scar from Finding Nemo.
We walked under a couple of piers where we found electric blue shrimp with bright pink eyes. There was a drop-off along the nearby reef where you could see quite a few fluorescent shrimp eyes glaring back at you. Around that area, I found a huge, black sea cucumber that most of the kids wanted to stroke.
A highlight of the evening was getting to touch a Medusa worm. It's a large, clear sea cucumber with bumps and is extremely sticky. We'd never seen anything like it, and the boys had to be reminded to be careful with it as they enjoyed touching it so much.
Photo: Jennifer Carlile Dalgamouni
We saw rock-boring sea urchins, which, the guides explained, use their green spikes to enlarge holes in rocks to hide in; pink- and white-swollen bubble snails; sturgeon fish; convict tangs; little red squirrelfish; and a several types of crabs. We walked back to shore in complete darkness, rinsed off our legs and gear and thanked our guides.
We all had a really fun evening, and I was surprised how many unusual creatures we caught. I never did catch that octopus. But the guides told me where and when it's most likely to be spotted. I guess we'll just have to go again to try to catch that octopus.
Our 11 Tips
Choose a reef walk, or multiple walks, by location and date. Living Art Marine Center's does both day and night reef walks during different seasons. Daytime walks are held March through August. The event shifts to nights November through February. All are held at locations near Ala Moana, Kāhala or Wai'anae. Registration begins one month before each walk. Find dates and times at livingartmarinecenter.com/reefwalk.htm.
Decide what kind of marine life you want to see. During the day, you are more likely to see lots of varieties of reef fish as well as sea turtles. You may also find a monk seal in the daytime at the Waiʻanae location. At night, pufferfish, cowfish, porcupine fish and eels come out. Kāhala has more trumpet fish, shrimp and bobtail squid, while Ala Moana has more sea stars, sea cucumbers and those illusive octopi.
Arrive at least 15 minutes early. Parking can fill up at some locations so consider car pooling. You will also need some time to gather your gear and find the group.
Plan your packing. You do need some equipment including a large bucket, medium or large nets, swimwear or clothes that can get wet, good flashlights or headlamps for night walks, sunscreen and hats or visors for day walks. You will also need reefwalkers, we found a large selection at Target Ala Moana for $12 each, or closed-toe shoes that you don't mind getting wet and sandy. Slippers are not allowed.
Rather rent gear? Let the center know ahead of time. You can rent reefwalking shoes and flashlights for $5 per set, but you will need to email the Living Art Marine Center at least two days in advance. The staff does not bring extra items to the walk.
Make other plans for your toddlers. Kids under 4 will not be allowed to participate for safety reasons.
Use the public restrooms when you arrive. You won't have another opportunity once the walk begins.
Listen to the guides' talk. Try to get your little ones to pay attention, so you can find out what you'll see, what you can and cannot handle, and how to stroke creatures safely. Remember, some animals are venomous!
Walk slowly and carefully. If you charge through the water, you'll stir up the sand and no one will be able to see anything.
Stick together and see what other people catch. Check out other families' buckets. Listen to the guides' explanations of what they've found.
If you want to take a group, make reservations early. Dates for groups and parties fill up quickly. Click here for more information.
Living Art Marine Center's Reef Walks are open to participants 4 years and older. Kamaʻāina rates are $10 for adults and $15 for children 4 to 12 years old. Make a reservation request online, livingartmarinecenter.com/rwres.htm, or by calling (808) 841-8080, and you will be contacted to pay by credit card over the phone prior to the event.
Note: HONOLULU Family received free admission to Living Art Marine Center's Kāhala reef walk for this blog.