We Tried It: KōBō Glass Studio
Our tips for making glass art with children.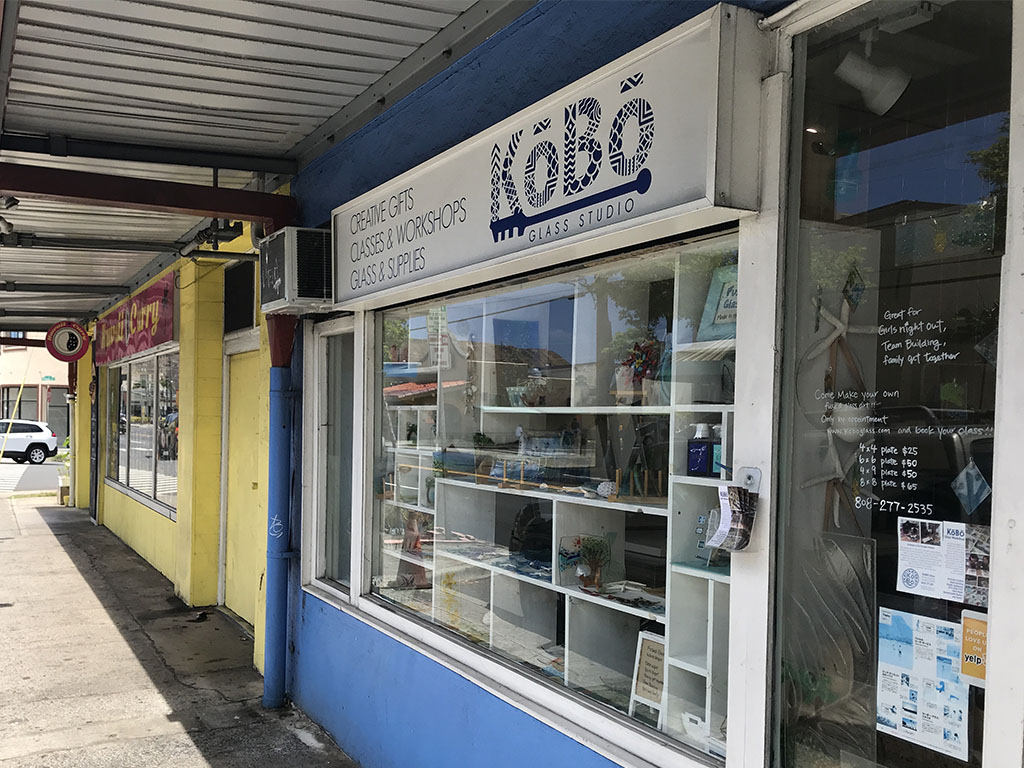 Photo: Wendy Awai-Dakroub
The exterior of KōBō Glass, located on busy Kapahulu Avenue.
Where: KōBō Glass Studio, 777 Kapahulu Ave.
Who: A mom; daughter, 10; and son, 8
When: Tuesday morning at 10 a.m., by appointment only.
When I heard about a family-friendly "glass-making" class in Honolulu, I was instantly intrigued. How could working with glass possibly be safe for kids?
On its website, KōBō Glass Studio boasts a variety of fused-glass workshops for adults and children, so I decided to book the "Beginner Basics – Glass 201" class for myself and children to see if, indeed, it was fun as marketed to be.
The two-hour session required no prior experience. When we arrived on a Tuesday morning, we were well prepared to learn a lot. We were welcomed by the owner and fused-glass artist, Brenda Prevost, our instructor for the day. Prevost started working with fused glass eight years ago after her husband, Lionel, a professional glass artist, got her hooked.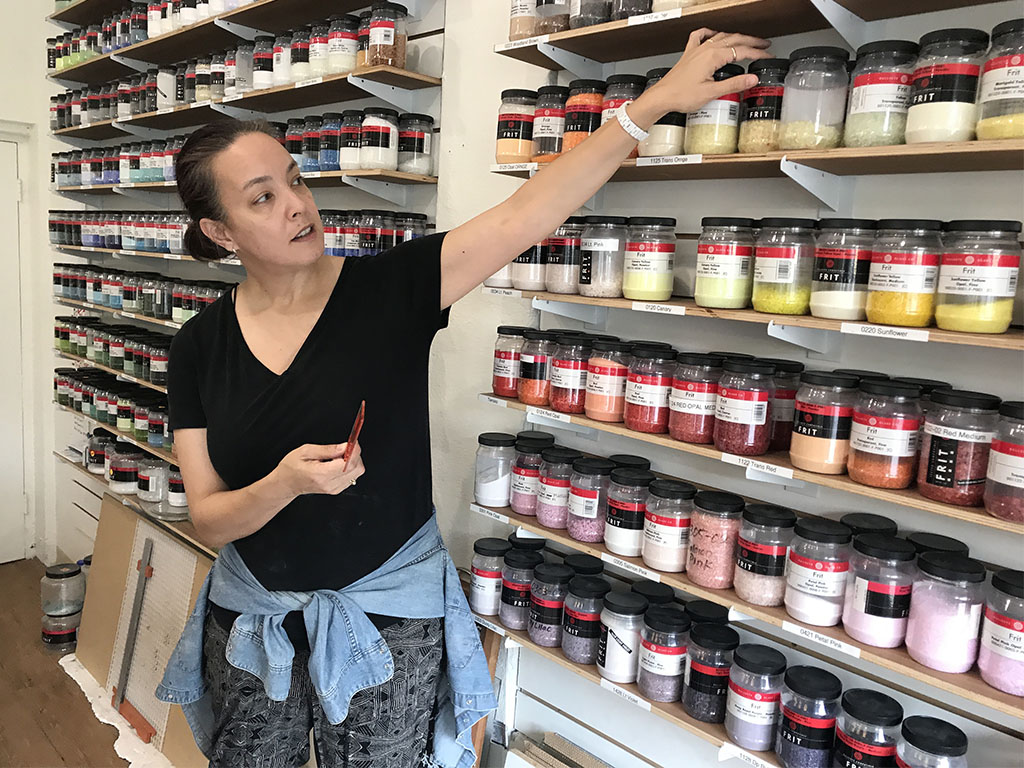 Photo by: Wendy Awai-Dakroub
Brenda Prevost, owner of KōBō Glass, explains safety procedures prior to our glass-making class.
The class began with each of us receiving a 6-inch by 6-inch clear sheet of glass with a piece of drawing paper, pencil and glue. The hardest part of the class was deciding what artwork or design we wanted to create.
You can choose from a selection of images, such as a pineapple or rainbow, or go abstract and let your creativity loose. Prevost was extremely patient with the kids and helped guide them through the process of putting together a beautiful plate. The task quickly progressed once a design was drawn on paper and the kids carefully placed colored glass shards onto clear sheets of glass.
Using tweezers, the process is similar to building your own pizza. Except you don't put it into the oven. They do.
The glass shards come in different colors, shapes and sizes. Students are encouraged to choose from a variety of broken shards or glass "frits" (a mixture of silica and fluxes that are fused at high temperature to make glass) from their library of colorful jars, stacked nicely on the back wall. The two hours flew by as we all were laser-focused on our art pieces.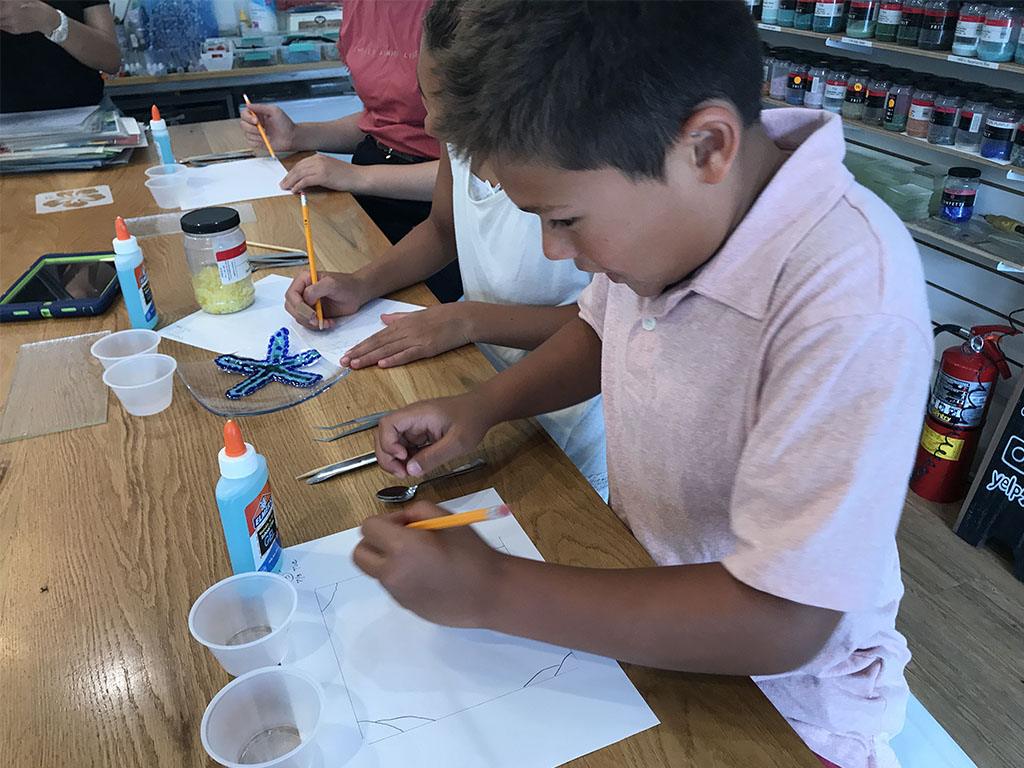 Photo: Wendy Awai-Dakroub
Kids draw their own designs using paper and pencil.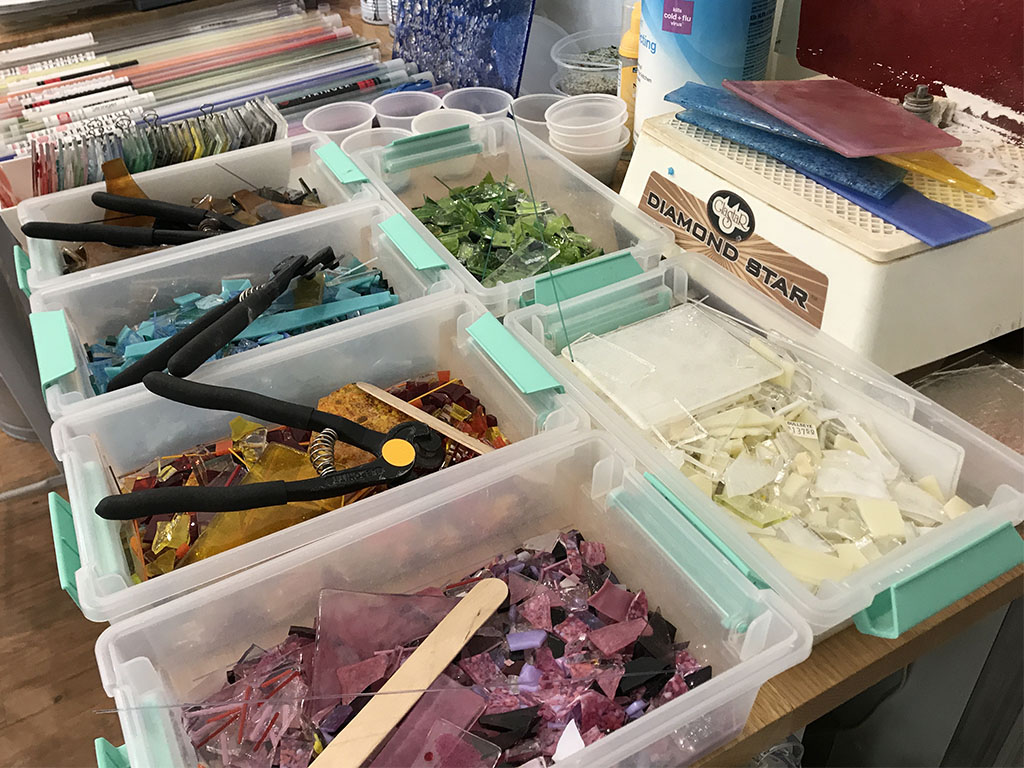 Photo: Wendy Awai-Dakroub
For safety, kids are encouraged to use large cuts of glass, such as these.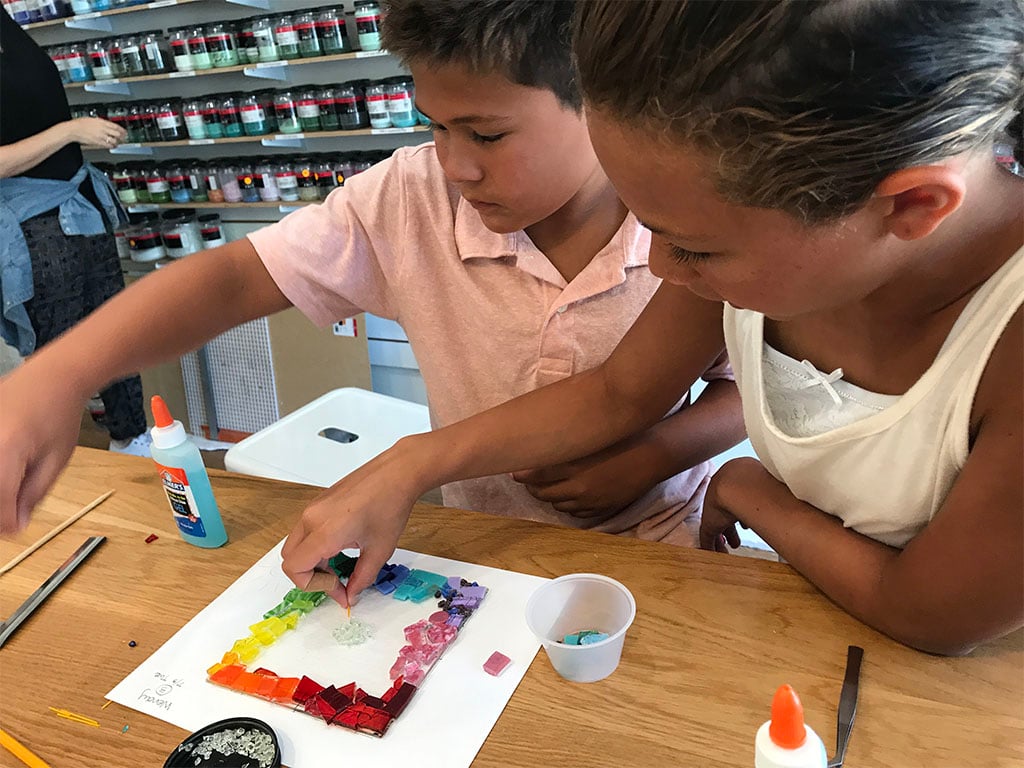 Photo: Wendy Awai-Dakroub
Our 8- and 10-year-old kids had fun creating art pieces at KōBō Glass.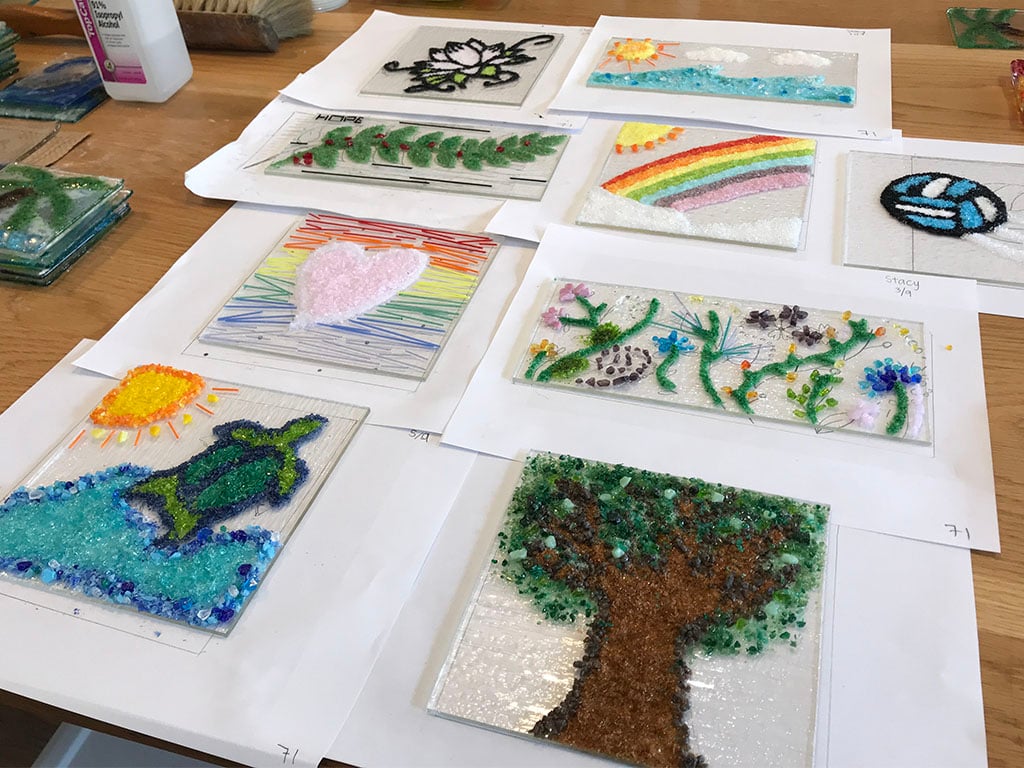 Photo: Wendy Awai-Dakroub
Finished masterpieces wait to be picked up at KōBō Glass.
Once we were done, Prevost placed our masterpieces in the oven. Pieces take up to two weeks to fire and can be picked up anytime during business hours.
Thankfully, we all left the studio unscathed and completely addicted to making glass art. Prevost assured us that they have never had an incident where someone was severely cut by glass. This is why she goes through all the safety procedures in the beginning and encourages children to use larger pieces of glass or glass frits to design their plates.
Our experience at KōBō Glass was incredibly fun, and as a mom who loves to create beautiful pieces of artwork for our home, I was excited to book another class with friends to create larger pieces of glass artwork.
Definitely, you should add this to your bucket list of things to do with your family.
Our 4 Tips
1. Consider your keiki's age. The studio allows children ages 5 and up, with a supervised adult, to participate in classes. If a child is unsupervised, we suggest that the child be at least 8 years old. Those who are 7 years and younger definitely need adult supervision during classes.
2. Enjoy the splurge. Classes are priced differently depending on the items you choose to create. The $52 class with the 6-inch plate per student was perfect for my children. The plates were large enough for them to complete in a timely fashion and easy to work with.
3. Check online for discounts. KōBō Glass offers different introductory classes ranging from $50 to $750 with frequent, special offers on Groupon.
4. Book parties at least a month in advance. KōBō Glass can accommodate up to eight children per birthday party. Due to its popularity, we suggest booking early. Reservations are made the website.
KōBō Glass is located at 744 Kapahulu Ave. and is by appointment only. Groups of up to eight students are welcome. Reservations for classes are booked through the website. 808-277-2535. koboglass.com