We Tried It: Keiki Yoga on the Lawn
Find your zany zen at this free weekly class in Kapolei.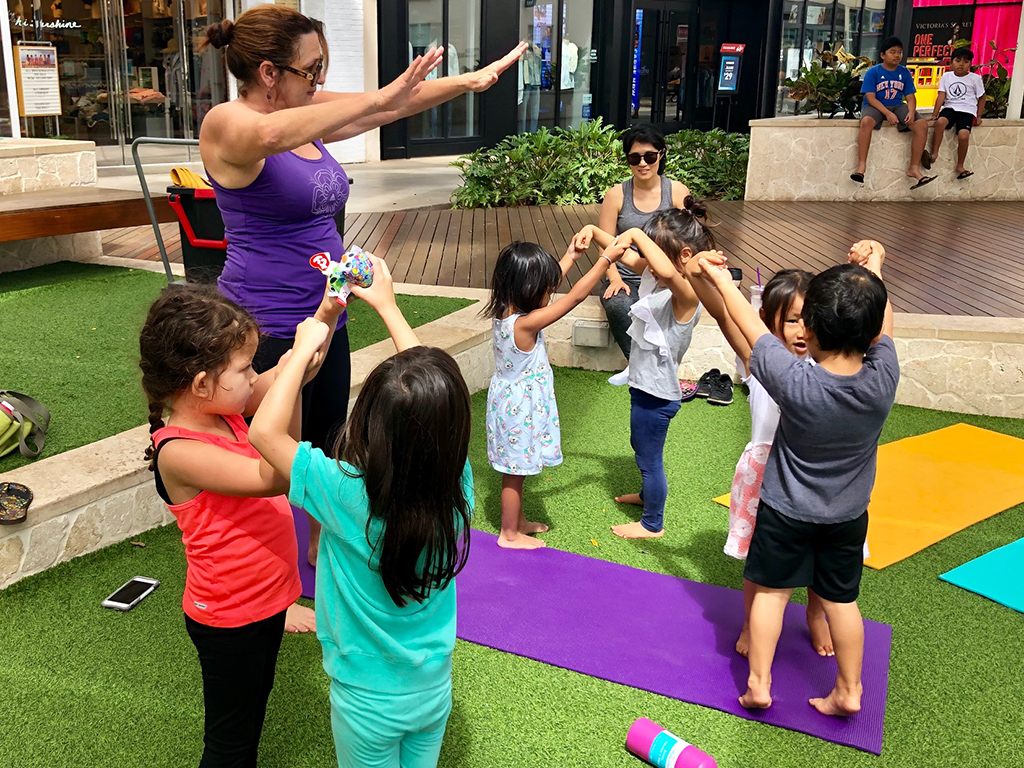 Photo: By Laura Dornbush
Where: Center Court Lawn, Ka Makana Ali'i
Who: A mom and her 2-year-old son.
When: Thursday at 10 a.m.
I dread getting in the car with my son, Duke. Each time there is a power struggle, negotiating with toys or bribing with snacks to get him to buckle up in his rear-facing car seat. It takes so much energy. Living in Kaka'ako, we walk wherever we can.
However, I have been wanting to check out the new shops and restaurants at Ka Makana Ali'i in Kapolei since it opened. When I heard about Keiki Yoga on the Lawn, I knew it was time to make the trek, knowing that we could stretch and shake our wiggles out when we arrived. Duke loves active classes like MyGym, and I take yoga classes at CorePower Yoga whenever I get a chance, so I thought this would be a fun activity for us to enjoy together.
The drive from town was actually very smooth and faster than I expected since we didn't have to battle morning traffic. The car seat bribe this particular morning was an applesauce pouch. (Note to self: This was a bad idea because the applesauce ended up all over Duke, the car seat and the window.)
Thank goodness for wipes!
We arrived at Ka Makana Ali'i early, around 9:30 a.m. The shops don't open until 10 a.m. so we did some window shopping. At 10 a.m. we made our way to the Center Court Lawn, which is covered in kid-friendly artificial grass. We were greeted by our friendly yoga instructor whom the all the keiki called Aunty. She directed us to choose a yoga mat. Duke was excited to pick from the bright-colored options.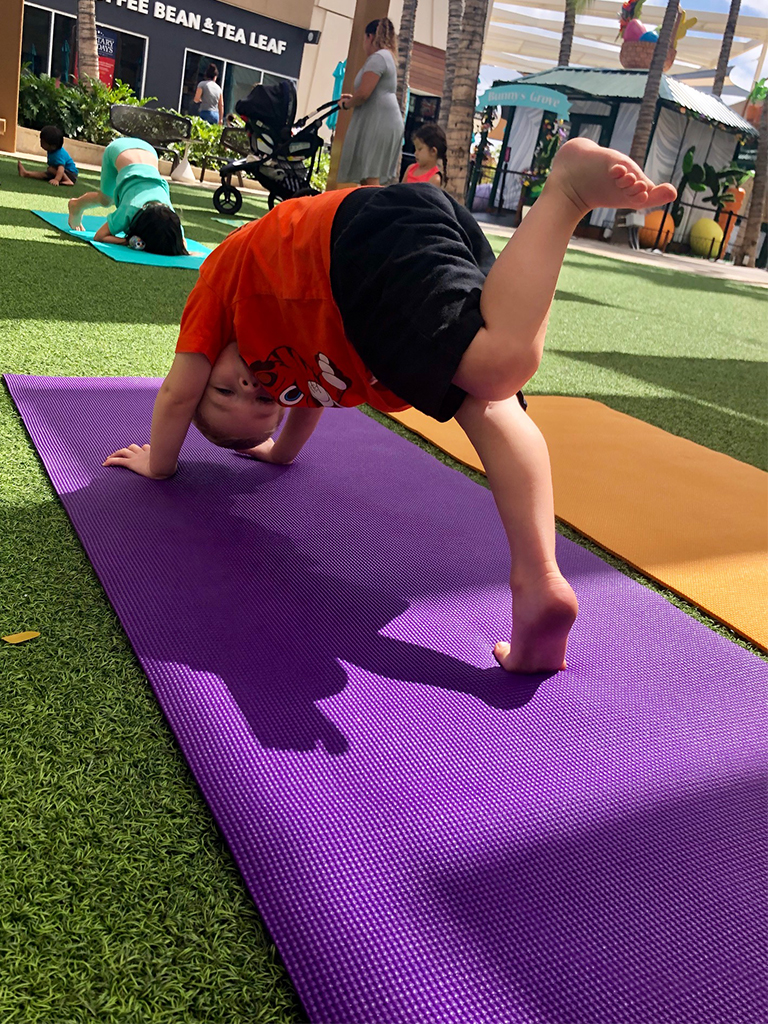 Photo: By Laura Dornbush
The instructor guided us through 10 preschool-appropriate yoga songs, such as a fish song and an animal song, where the toddlers moved and made sounds like various creatures. Duke's favorite part was pretending to be a cow on all fours while 'moo-ing.' In between each song on the soundtrack, we took a 'bubble break' where the kids got to run around the lawn and pop bubbles.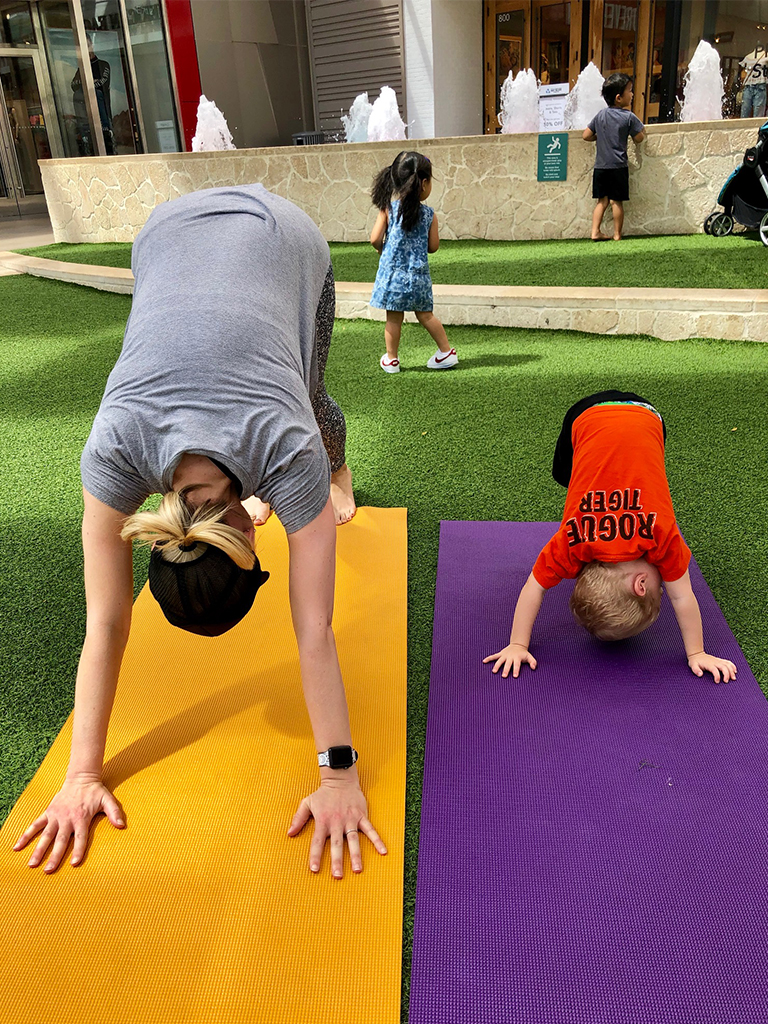 Photo: Laura Dornbush
Back on our mats, we paired up for a partner song and did stretches together. The last song, and the most challenging for the keiki, was the Namaste song where they were instructed to lay still in Savasana pose (where you lay flat on your back with your palms up). So many wiggles!
Halfway through the class, Duke needed to use the restroom. He is newly potty-trained, so I was thankful that the restrooms are close to Center Court and that there is a spacious family bathroom.
The class lasted 40 minutes. I was impressed by how attentive Duke was and how he genuinely tried to follow the instructor. He lost focus a couple times and ran over to watch the fountains but always returned to his mat. There were about 14 keiki in the class ranging in age from 2 to 5 years old. I noticed that, in general, the kids whose parents were participating too, were more engaged than those whose parents were just observing.
Our 5 Tips
1. Fuel up before class. Grab breakfast at The Coffee Bean & Tea Leaf adjacent to Center Court. It opens at 8 a.m. before the other shops and restaurants.
2. Wipe it down. If you are a germaphobe like me, bring wipes to clean the provided yoga mats.
3. Slather on sunscreen. The Center Court Lawn is partially covered with a patchwork canopy, but a good amount of sun still shines through.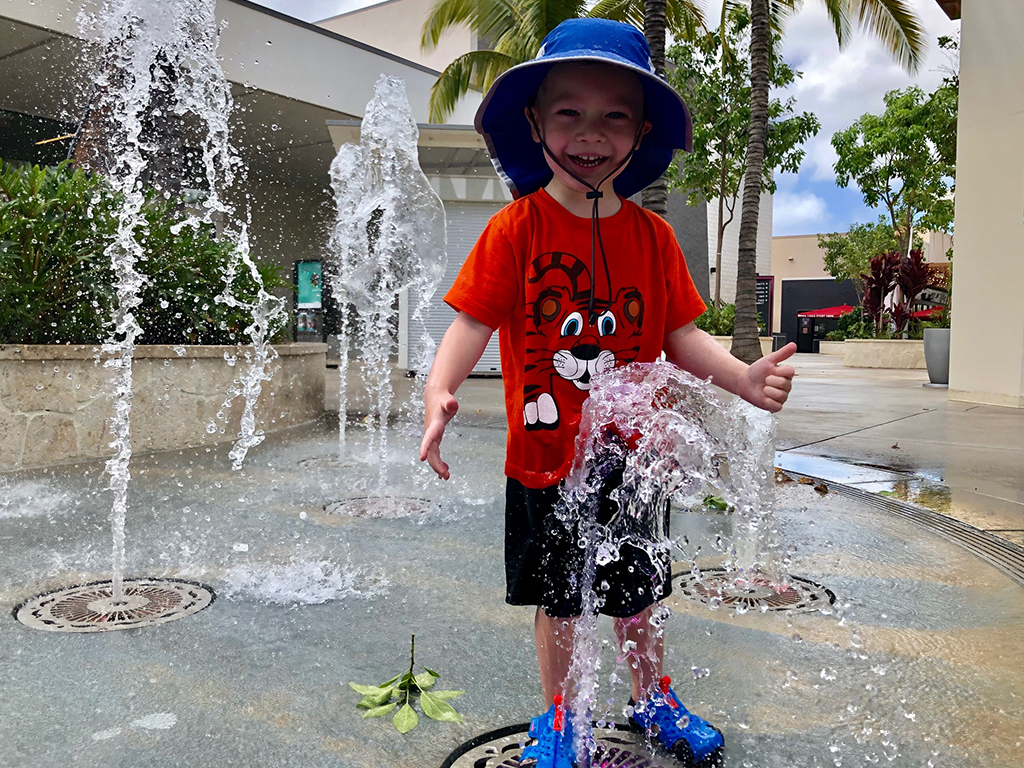 Photo: By Laura Dornbush
4. Join the fun. While parents can sit on the side to observe (parent supervision is required), why not join in and have a good stretch and laugh with your child!
5. Cool off after class. Catch the jumping water in the Keiki Water Play fountain outside the movie theater.
Keiki Yoga on the Lawn is held every Thursday at 10 a.m. and is free. Ka Makana Ali'i, 91-5431 Kapolei Parkway, Kapolei. (808) 628-4800. kamakanaalii.com