We Tried It: Keiki Swap Meet
15 tips for the Hawai'i Children's Discovery Center event.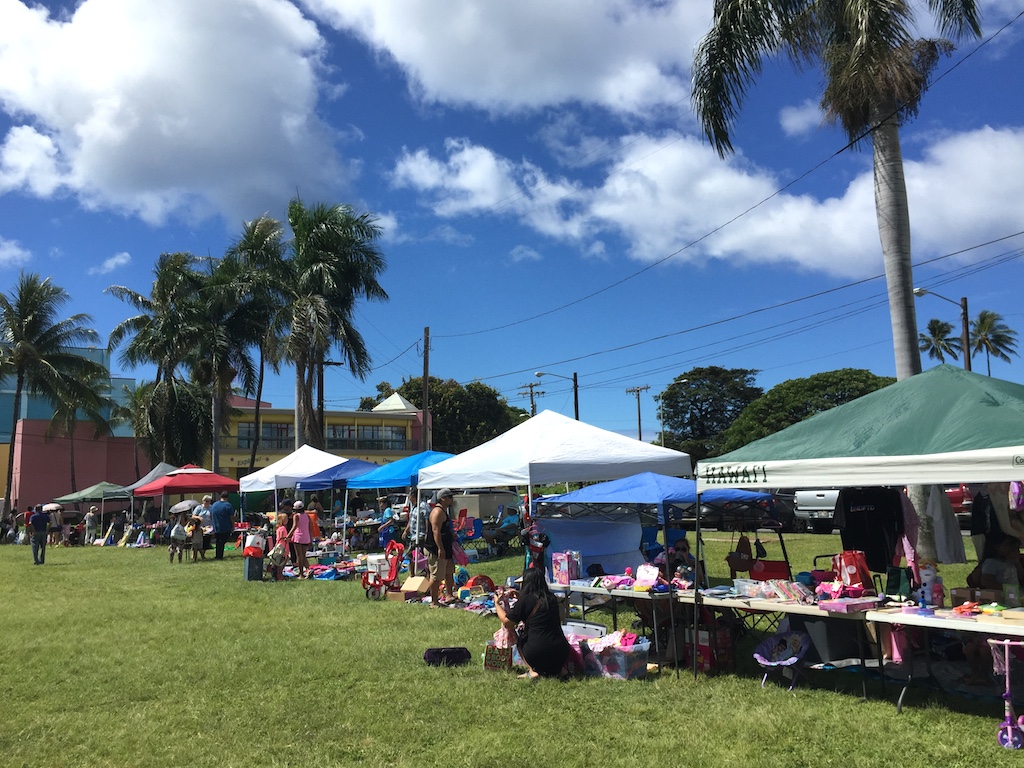 Photo: Jennifer Carlile Dalgamouni
Families sell their gently used kids' items at the Keiki Swap Meet with the Hawai'i Children's Discovery Center in the background.
Editor's note: The swap meet has been canceled in 2020 because of new City and County of Honolulu rules. (Read more about it here.) We'll let you know if it relaunches.
Where: Kaka'ako Gateway Park, adjacent to Hawai'i Children's Discovery Center
Who: 6-year-old boy salesman accompanied by mom, dad and 4-year-old brother
When: Saturday, 9 a.m. set up, 10 a.m. to 1 p.m. sale
The Hawai'i Children's Discovery Center's Keiki Swap Meet pops up on our calendar three times a year. We'd heard that it was a great place to make a little money off of old toys, books and other kids' items while helping children learn about economics and entrepreneurship. So, we decided to try it out.
We paid the $3 registration fee and got started. Our 6-year-old son eagerly gathered up no-longer-used LEGO bricks, mechanical toys, puzzles, games, soft toys and more. I helped him clean and pack them up.
With a trunk full of items to sell, a couple of blankets, a cash box, sign and labels for prices, we arrived at the Children's Discovery Center at 9:15 a.m. for the 10 a.m. swap meet.
The sale takes place at Kaka'ako Gateway Park next to the center. The perimeter of the lawn was already full of booths when we arrived. Many of the stands had tables, chairs, tents and awnings.
Our 6-year-old took his job seriously immediately, welcoming families to his store and showing off various items. Each time he made a sale, he opened up his cash box and counted out change with the help of his dad.
Staff said the sale was a little slower than usual, with about 100 keiki signed up to sell items. The most they've ever had was 200.
All in all, our son earned $38 and spent $4.25 buying items from other kids' stands. Of course, we also paid the $3 registration fee and spent more than $30 on the cash box, labels, pens and signboards. So, was it a great money maker? No. But, our son had a lot of fun, learned how to carry out cash transactions and can't wait for the next sale. And, after seeing that other kids were selling homemade slime, he now wants to create his own items to sell. With a little strategic planning, I'm sure we could also bump up his sales figures the next time around.
The Keiki Swap Meet is held around November, April and June each year. The event was scheduled for Dec. 2, but news the park will still be closed for renovations canceled it. The next swap meet is Saturday, March 17, 2018. Visit discoverycenterhawaii.org to sign up.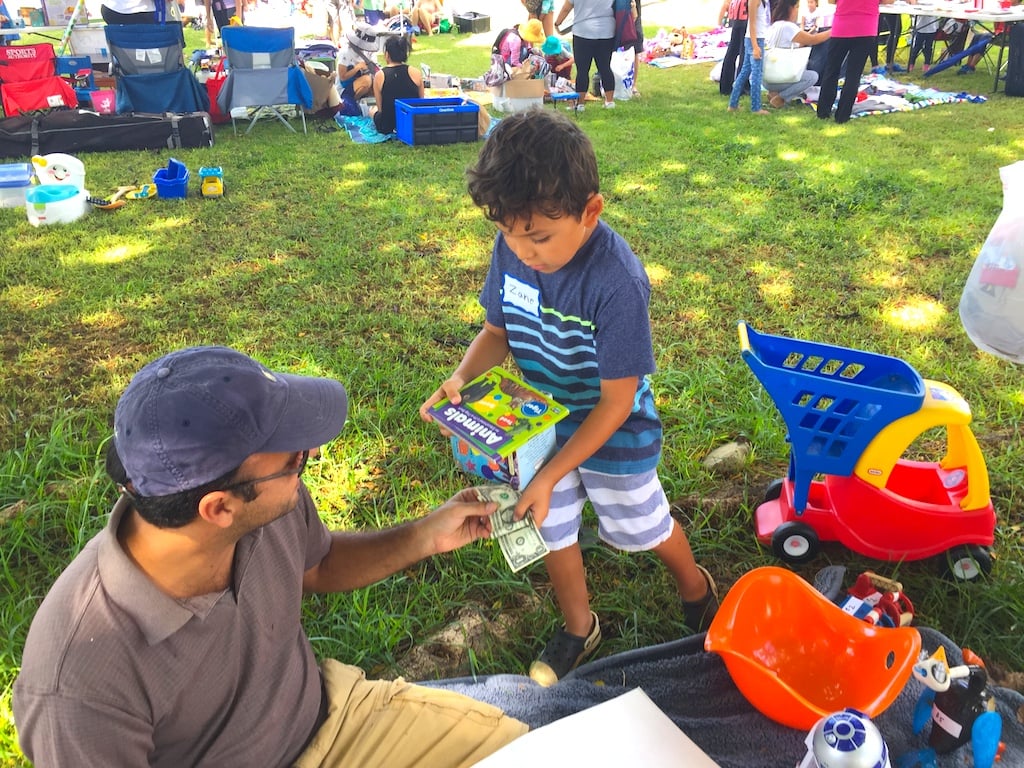 Photo: Jennifer Carlile Dalgamouni
Dad helps count change for our son's first sale of the day.
Our Tips
1. Buy a cash box and stock it with change. We had $10 in quarters, $50 in $1 bills and $20 in $5 bills. It was enough for the day. We also suggest bringing a calculator.
2. Practice at home. Carry out pretend sales with your child and have them count out change so they feel confident that day.
3. Test toys at home. Make sure they work, are clean and change the batteries if necessary. If you're selling a lot of battery-operated toys, consider bringing a screwdriver and extra batteries.
4. Consider making items to sell. We saw a girl selling homemade slime. Workers say a girl sold charms she made out of Femo modeling clay at a previous sale. Keiki cannot sell food or drinks but non-edible items are fine.
5. Think of all of your keiki. If your little entrepreneur has younger siblings, decide if they'll be OK seeing family toys being sold. If not, consider leaving them aunty or uncle or, bring a toy and snacks to divert their attention.
6. Bring supplies. Bring sunscreen, lots of water and snacks for your family. We also suggest paper or plastic bags for customers.
7. Price items ahead of time. Buyers may try to purchase items before you've finished setting up, so pricing items at home will help.
8. Choose your location carefully. Most customers hit the booths near the parking lot first. So you'll get more traffic and newer, more eager buyers in the area.
9. Bring a tent or awning or find shade. It gets very hot in the sun. So, bring shade so you can set up closer to the parking lot. Or, go early to claim one of the few good spaces under a tree.
10. Eye up the competition. If other stands are selling similar items at lower prices, you may want to change your prices.
11. Shop around. If you're buying items, check all the stands as many sell similar items at different prices.
12. Group items together. Put items that cost the same amount on one blanket or mat with a sign stating the price. You can also change the price easily that way.
13. Get kids to play with your toys. Have your child show other kids how the toys work. If they fall in love with a toy, it's a lot harder for the parent or caregiver to say no.
14. Share. If it gets to the end of the sale and you still have items left, consider giving them to child shoppers, kids at stands near yours or take them to a donation box.
15. Know where the bathroom is located. You can use the bathroom inside the Hawai'i Children's Discovery Center. It opens at 10 a.m. on Saturdays.
Keiki Swap Meets are held three times at year by the Hawai'i Childrenʻs Discovery Center, 111 Ohe St. Registration forms are due about one week before the event to avoid the late registration fee. Download the form and read more about the guidelines on discoveryhawaiicenter.org.