We Tried It: Kapi'olani Community College Farmers Market
A Dad and daughter's early-morning adventure at the largest farmers market on Oʻahu.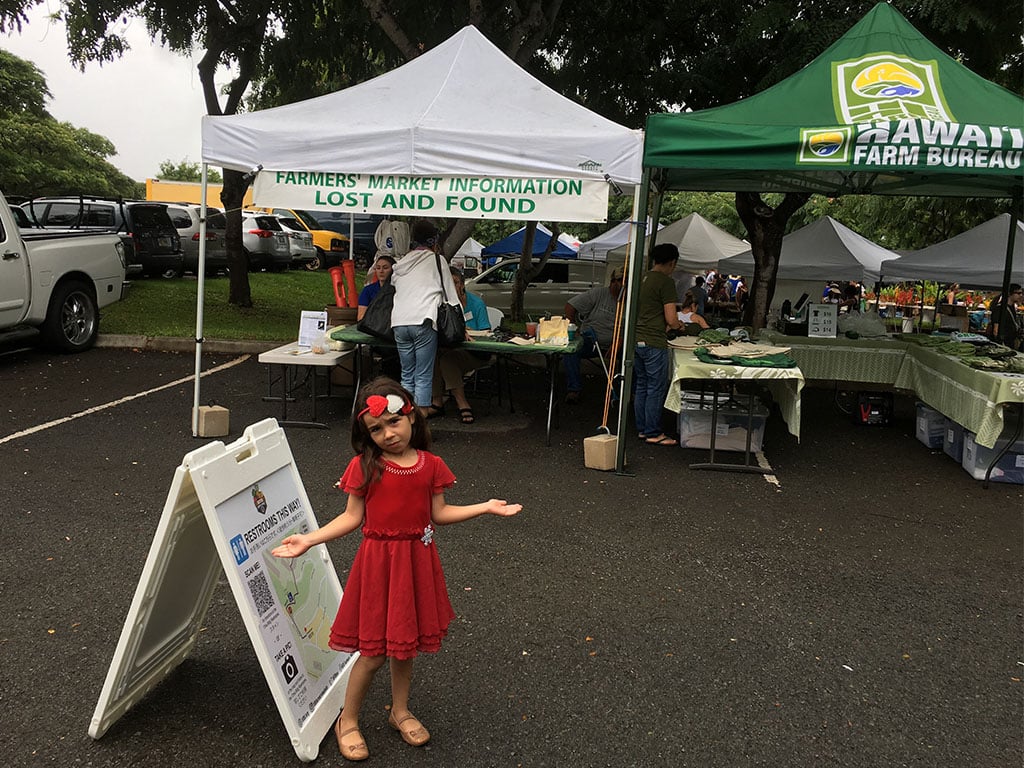 Photo: Chris Damitio
You're taking me to a farmers market? On a Saturday morning?
Where: KCC Farmers Market
Who: A 7-year-old girl and her father.
When: Saturday from 7 to 10:30 a.m.
My wife works hard all week and sometimes on Saturday mornings, it's nice to give her a little "me time"—without me and without our 7-year-old daughter, Sophia. A few weekends ago, I decided we would scramble early to Kapiʻolani Community College for the weekly farmers market.
Sophia wasn't happy to hear that's where we were heading! I'm not sure what she thought happens at a farmers market, but once we got there, she was glad we went. It was crazy, crowded and fun!
The Hawaiʻi Farm Bureau sponsors the weekly event which opens at 7:30 a.m. Members can enter the gates half-an-hour early. Anyone can apply for membership, which is $90 per year.
We had to wait for about 10 minutes for the non-HFB-member entrance to open. Fortunately, we brought an umbrella because sudden showers popped up a few times that morning.
The main entrance to the farmer's market is located to the right of where drivers turn off of Diamond Head Road. It is clearly marked with a barrier. We saw people walking into the market from all sides and ignoring the signage—but that's not what I am teaching my daughter to do.
Like most markets, the vendors change from time to time, but you can find plenty of produce for reasonable prices, lots of baked treats and several food stalls serving everything from crepes to jumbo wild shrimp. Sophia's personal favorite was All Hawaiian Honey. The vendors were happy to let her sample each of their flavors. Her favorite was the Christmas Berry Blend. I found that one a little too sweet and preferred the Kāneʻohe blend.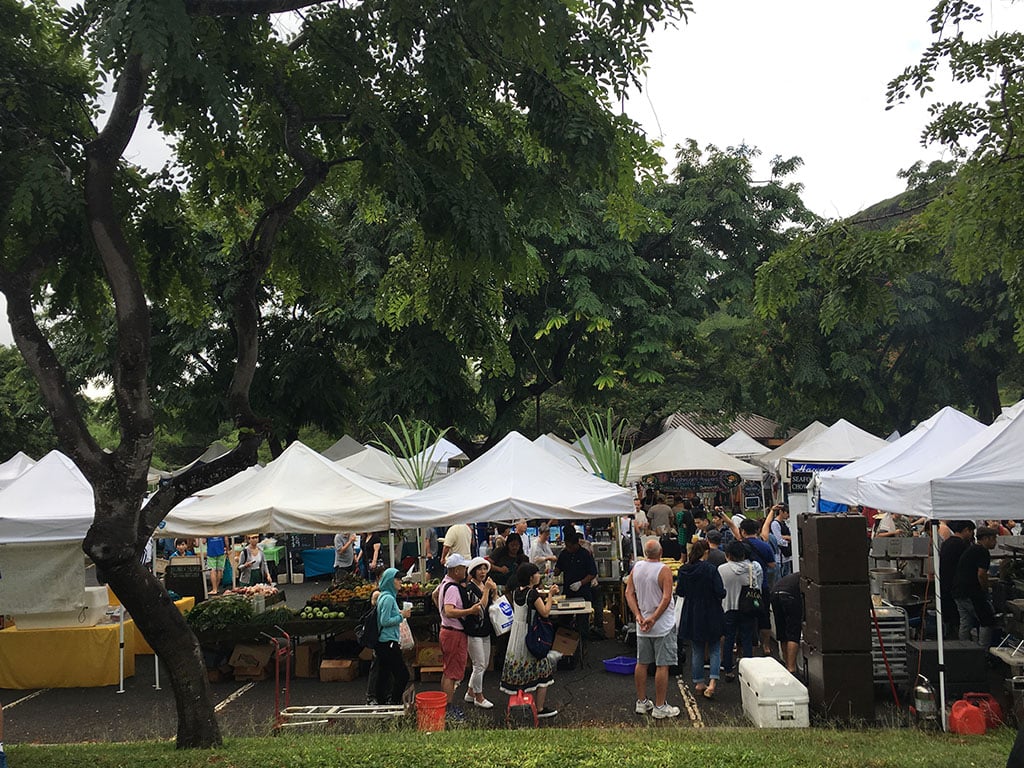 Photo: By Chris Damitio
The KCC Farmers Market is an exciting place to watch people and sample new foods.
Next, she had a mango smoothie from Hawaiian Crown, located at the back side of the market, while I got a nice cup of Oʻahu coffee right next to where we had entered. She loved the smoothie, and my vanilla latté was perfect.
For the next hour, we strolled through the market, watching people and looking at all the treats. Some of Oʻahu's best restaurants have gotten their start in this farmer's market. And one is still a regular—The Pig and the Lady. If you want to know why this restaurant wins so many awards, sampling it at the KCC Farmer's Market on a Saturday is a great idea. The Banh-mi (Vietnamese sandwiches) are made-to-order and one of the tastiest things I've eaten on Oʻahu. I wholeheartedly recommend this take on a beef-dip sandwich. I recommend just about everything The Pig and the Lady serves.
I thought the coffee and smoothie were going to be our breakfast. Somehow, I let Sophia convince me to order a breakfast hamburger from North Shore Cattle Catering. It was a beef patty, shredded beef, egg and sauce all served atop a huge bun. It was seriously 'ono! We were only able to eat one-fourth of it, so we saved the rest for later.
Sophia also enjoyed sampling the papaya soft-serve from Otsuji Farms Papaya Frozen Yogurt, but she didn't like that the shrimp came with their heads on from Ama-Ebi-Wild Hawaiian Caught Shrimp. I didn't mind the heads, although I found them to be sort of bland.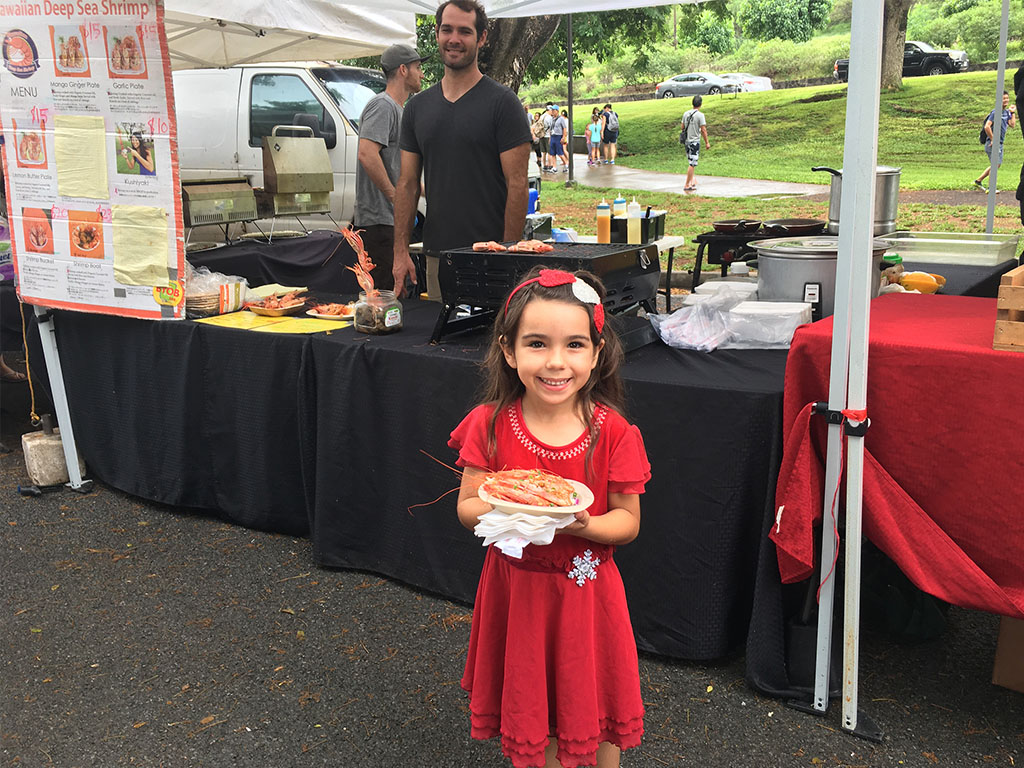 Photo: Chris Damitio
A tasty bowl of crustaceans from Ama-Ebi-Wild Hawaiian Caught Shrimp. Heads and all.
Local musicians kept the crowd entertained, but it was more fun for me to watch Japanese visitors marveling at how inexpensive our fruit is.
The farmer's market had three aisles of culinary treats. The vendors did a great job of showing the diversity and agricultural strength of Oʻahu to visitors of all ages, including my daughter. Our island is a perfect place to grow food—but for whatever reason, we grow golf courses and high-rises, instead.
As we admired the fruit and vegetable vendor stalls, Sophia looked at me with wide eyes, "Daddy, does all this food grow here?" I told her that much of what is sold at farmers markets on Oʻahu is grown or produced in Hawai'i.
We spent about three hours wandering, exploring and tasting. Unless your child is a serious foodie, that's probably the most time you'll want to spend.
Our 6 Tips
1. Keep track of time. If you arrive earlier than 7:30 a.m., you have to wait for the members-only half hour to end. I noticed that the crowds got significantly thicker after 9:15 a.m. The optimal time to arrive is between 8 and 9:15 a.m. If you enjoy people watching in the crowds, come between 9:15 and 11 a.m.
2. Bring cash. Many of the vendors don't accept plastic, so bring between $10 and $20 per person. We spent $40 for the breakfast burger, shrimp, coffee, smoothie and a bear-shaped bottle of honey. We were on a tasting tour and didn't buy any produce.
3. Bring cleaning supplies. Some of the food can be messy, as well as delicious. Bring a package of wet wipes, napkins or towels for your kids.
4. Choose your transportation. Parking can be hit-or-miss, like most places on Oʻahu. There are taxi and bus services, or you can take an Uber or Lyft from Waikīkī or the Kāhala Mall. The Bus stops right in front of the market's entrance. There are usually police officers in front to direct traffic and keep things orderly. Parking can get crowded after 9 a.m. If you're patient, a spot will open up!
5. Use the bathroom before you go. There are city park restrooms located at the southern end of the parking lot, but even the most frequently maintained restrooms can get messy when there are crowds like this. There was a sizeable line of ladies waiting for their turn. We didn't brave the lines.
6. Be ready to shop in the rain. Bring an umbrella to stay dry, and reusable shopping bags to carry your purchases. These came in handy when as walked around the market.
The KCC Farmers Market is from 7:30 to 11:30 a.m., Saturdays, in the Parking Lot C of Kapiʻolani Community College, 4303 Diamond Head Road. This is a free event, and there is no entrance fee. kapiolani.hawaii.edu/project/farmers-market
---
Christopher "Vago" Damitio lives in Honolulu and is an author, father, husband, tour guide and full-time geek. Find him at vagobond.com