We Tried It: Ice Monster and Totti Candy Factory
We test out giant cotton candy and all-fruit shave ice stand.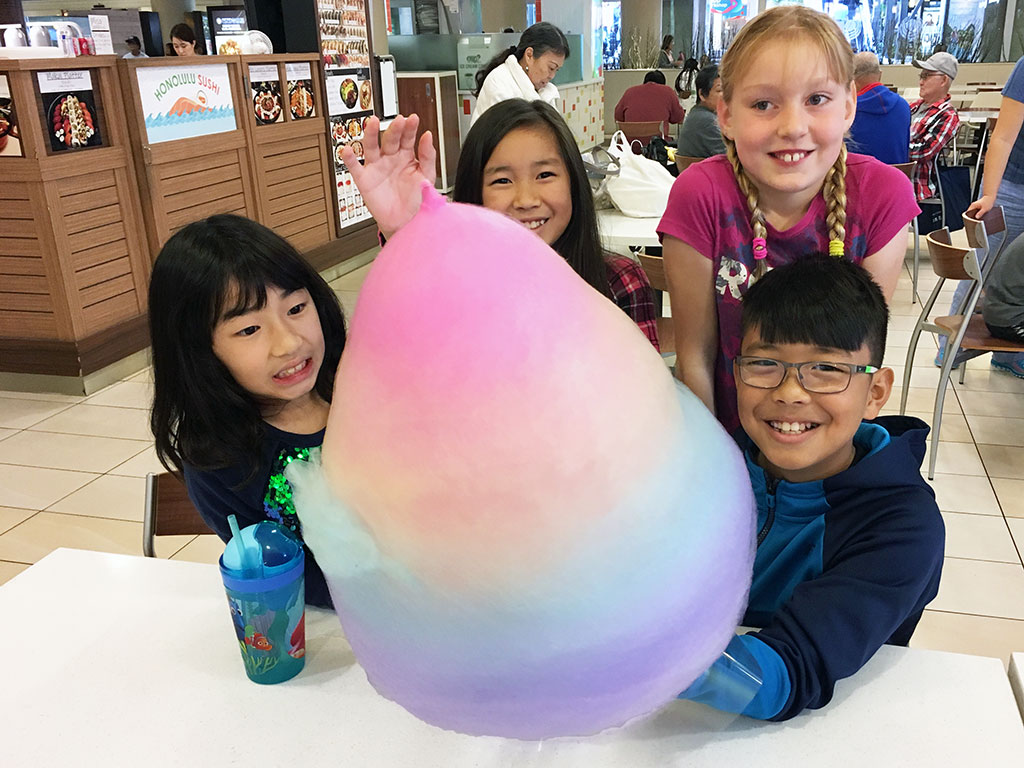 Photo: Christi Young
Candy is big again. Really big. As much as we still love the classic gummy bears and chocolate bars, new dessert stops are offering even more photo-op-friendly treats.
We took some eager keiki to try three new places with unique desserts that will have kids buzzing and spinning and running just in time for Valentine's Day.
Totti Candy Factory
Sugar Level: 12 out of 10
Kid-Mess Level: 5 out of 10. Though for some kids, it was more like an 8.
The name Totti Candy Factory is a bit of a misnomer. The actual candy part is just 14 bins (two of which were empty when we stopped by) of standard sweets in the back of the narrow shop in Ala Moana Center's food court. The real star of this store is on full display in the front—the cotton candy. Totti Candy Factory is famous in the Harajuku district of Japan. Here, it has made a name for itself with the giant cotton candy. For $9, you get a freshly spun dome of the delicate sugar in a rainbow hue of four flavors: strawberry, grapefruit, Blue Hawai'i and grape.
It takes about five to six minutes to make—usually in front of a curious crowd. It took my crew of four 8- and 10-year-old kids two minutes to polish off. I timed them twice. (Yes, I bought it twice.) What I could tell from the little pieces I was able to snatch in between the quickly moving kiddie hands, each color does have its own taste, but in this format, the flavors run together. There is one bonus of eating this with a crowd: The 135 calories in the rainbow cotton candy are divided four ways. Plus, you have all of Ala Moana Center for the kids to run around until the sugar rush wears off.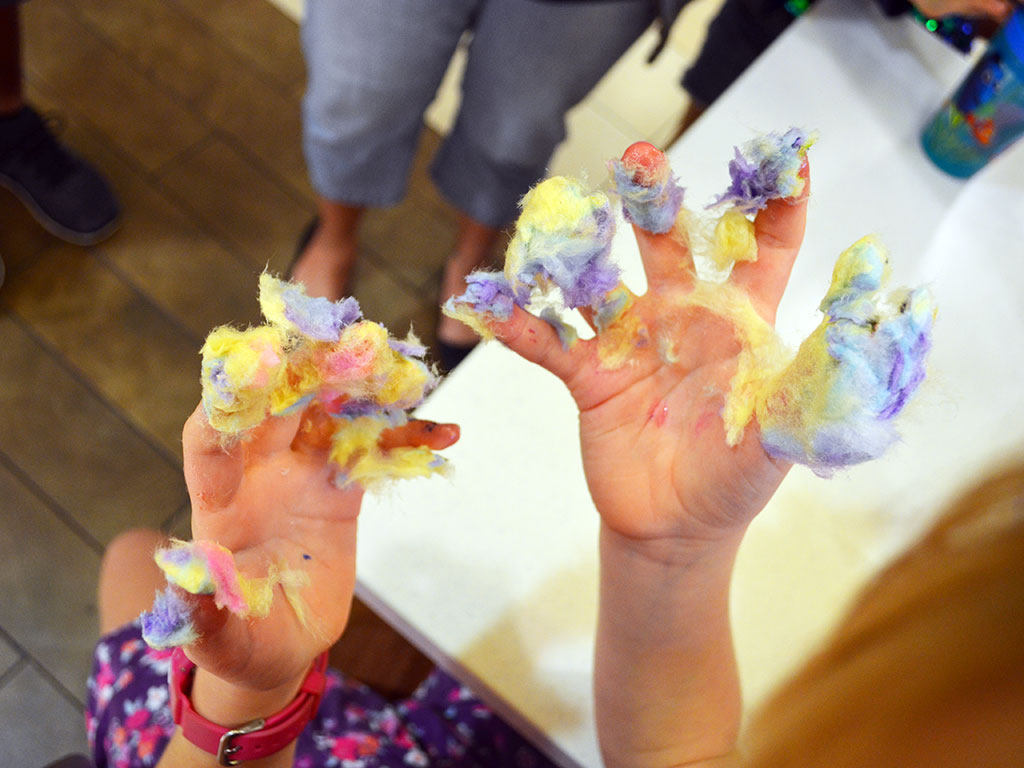 Photo: Christi Young
You might want to ask the kids to pinch off pieces of cotton with just two fingers.
Our 5 Tips:
Bring wipes. Napkins just won't do. We had to run the sticky fingers across the food court to the bathroom in the corner. Water would also be helpful to wash it down.
Be ready to wait. There is only one person working the cotton candy machine. So if there are several rainbow orders ahead of you, it could take awhile.
Want to really taste the flavors? Get a smaller version. if you're not going for the Instagram (or to draw attention from people of all ages asking about the unusual dessert), get one flavor for $4.50 so you can truly taste the melon, grapefruit or plain.
Get a bucket. Resealable three-color cotton candy buckets are also available for $6.50.
Or, even better, spend the money on Beard Papa's Cream Puffs, which reopened in Hawai'i in the small space with Totti Candy Factory. The puffs are filled to order with white peach, chocolate or vanilla crème so the pastry stays crisp around the cream. The cream puffs run $3.20 to $3.60 each. Go for the large size; the small amount of cream in the mini cream puffs ($6 for five) is not as satisfying.
Open during mall hours. Totti Candy Factory/Beard Papa's Cream Puffs, Makai Food Court, Ala Moana Center, beardpapa.co
Ice Monster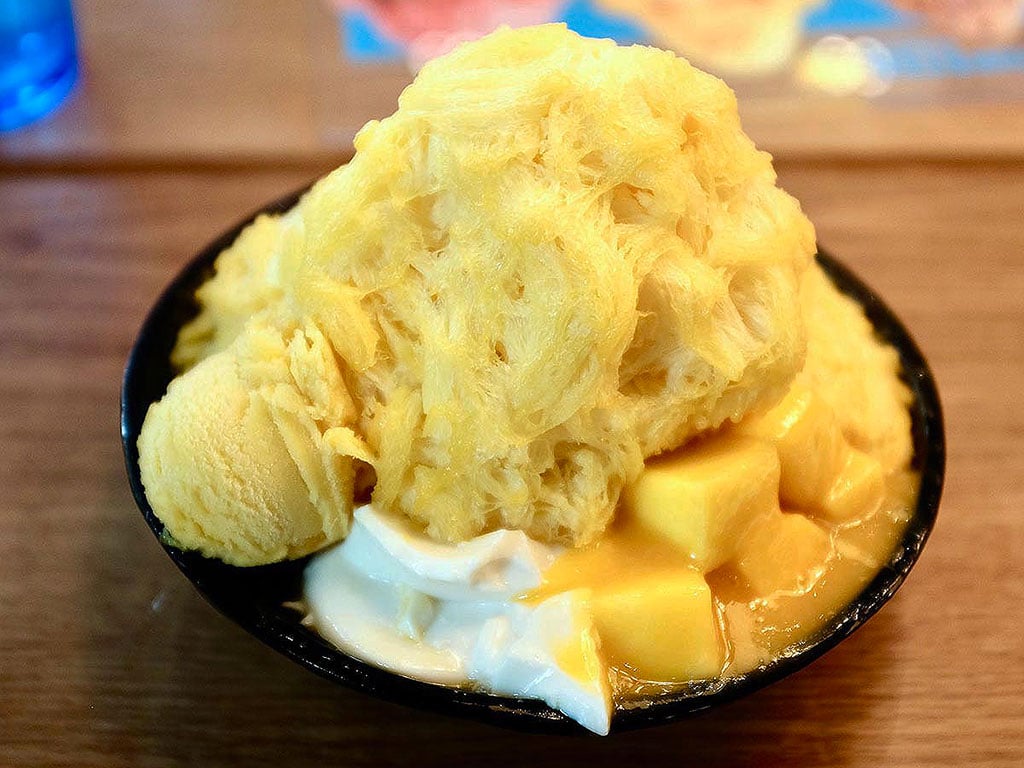 Photo: Martha Cheng
The original Ice Monster recipe, mango shave ice, comes with the fluffy mango ice, fresh mango, mango sorbet and panna cotta.
Sugar Level: 5 out of 10
Kid-Mess Level: 6 out of 10, depending on the child's shave ice-eating skills.
This isn't your small-kid time shave ice, where you stood near benches on the sidewalk, trying to keep the mound of ice from toppling to the ground. People wait in epic lines to try Taiwan's Ice Monster. Hawai'i is the first location outside of Japan, China and Taiwan to try the creamier treat.
The trick here is that instead of topping finely shaved ice with flavored syrups, founder Frank Lo mixes fresh fruit into the ice to create a not-so-sweet treat that tastes like actual fruit. The wide ribbons of ice are light instead of heavy, creating a sensation like cold cotton candy. In Hawai'i you can get mango, papaya, matcha, coffee, strawberry and bubble milk tea. The flavors come with pairings such as panna cotta, warm boba and ice cream.
Our 3 Tips:
Ask for the kama'āina rate. Ice Monster bowls are not cheap, starting at $13. Kama'āina get 20 percent off.
Keep an eye on the sides. Black sesame ice cream is amazing for adult palates, but kids may not like that intense flavor with matcha.
Don't want to look for parking in Waikīkī? Ice Monster is located in the Hyatt Centric Waikīkī Beach hotel but validated parking is not available. So you will need to find somewhere else to go. An Ice Monster truck at the Don Quijote near Ala Moana offers a small size for $7. You will be eating in a parking lot, but that's nothing new for shave ice lovers.
Open 11 a.m. to 10 p.m. daily. 2255 Kūhiō Ave., in the Hyatt Centric Waikīkī Beach hotel, (808) 762-3192, ice-monster-hi.com