We Tried It: Honolulu Theatre For Youth OnStage Workshop
Our 10 tips for getting the most out of this production-based class on acting, costumes, music, props and more.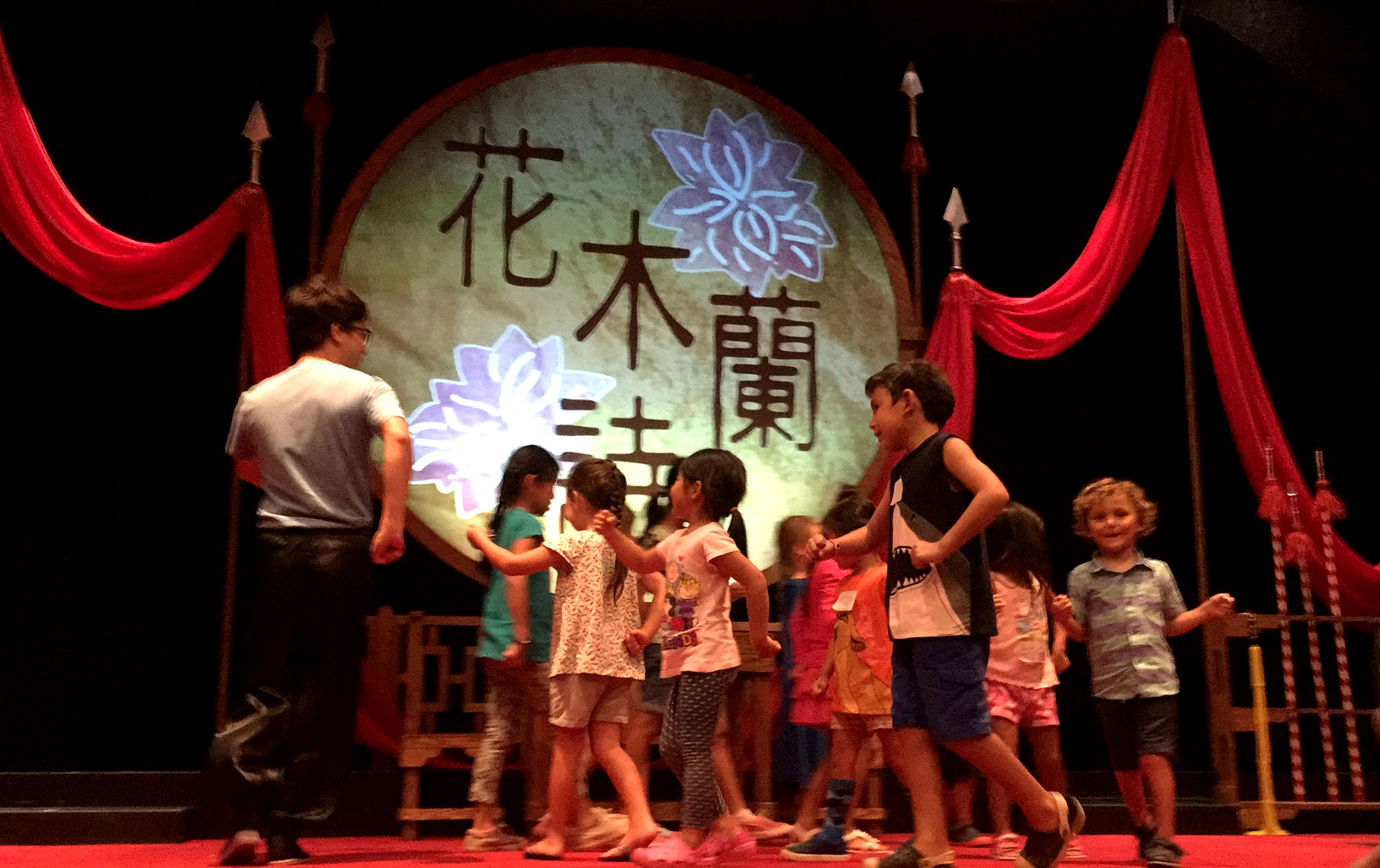 Photo: Jennifer Carlile Dalgamouni
Editor's Note: The next Onstage workshop will be Saturday, Feb. 25, for the production Rainbow. Click here for details.
What: Honolulu Theatre For Youth's Onstage workshop for The Ballad of Mulan
Where: Tenney Theatre
Who: 5- and 7-year-old boys accompanied by Mom. Dad joined the group for the show that followed.
When: A Saturday afternoon, 2:30 to 3:30 p.m.
Do your kids like seeing plays? Do you they try to climb on the stage or act out scenes afterward? If so, they might enjoy a Honolulu Theatre for Youth Onstage workshop. Or, if they're shy or quiet, it might just bring them out of their shell. Our family has seen and enjoyed several performances at HTY's Tenney Theatre. I'd heard about the workshops. We decided to try one out to see if my kids would enjoy drama.
HTY usually offers the one-hour Onstage workshop for each of its plays that are recommended for keiki 5 years and older. Each is thematically linked to the production. We attended the workshop for The Ballad of Mulan, an original take on the classic Chinese legend about a girl who dresses up as a boy to take her father's place in the army.
Inside Tenney Theatre, the play's director asked the kids questions and explained a little about the play's theme. He then split us up into four groups, sorting kids and parents by the children's ages. Each group then visited four different stations led by the play's actors and musicians.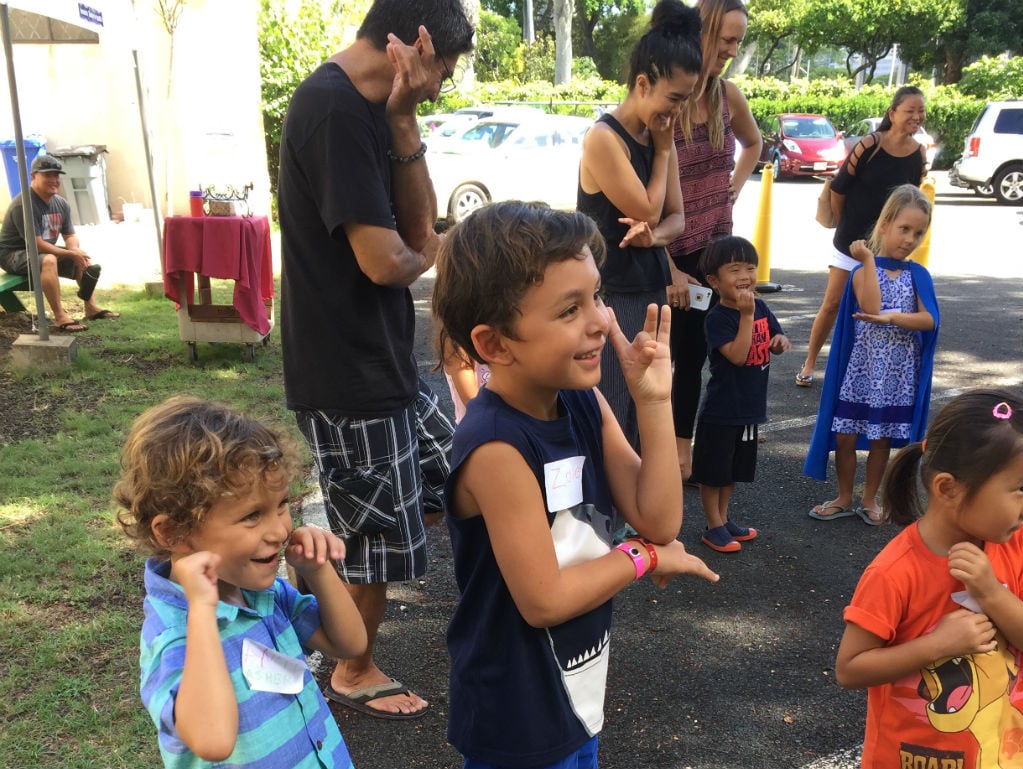 Photo: Jennifer Carlile Dalgamouni
Children and their parents try out feminine gestures.
Our first station focused on movement. It was outside so there was plenty of space for little ones to move. The kids touched and held a sword, spear and whip, which were all used in the play. They learned male and female hand gestures and postures. My boys started giggling as they did their best to look feminine. Then, they acted out riding a horse and tried martial arts kicks. Months later, theyʻre still doing it at home.
Our second station was on stage. The kids were taught how to do an exaggerated walk with their elbows bent and chests thrust forward. My oldest son asked: "Does everyone in China really walk like that?" which drew a lot of laughs from the actor and parents. The kids learned how the stage lights, music and drums work and had a lot of fun pretending to be warriors, rushing from one side of the stage to the other.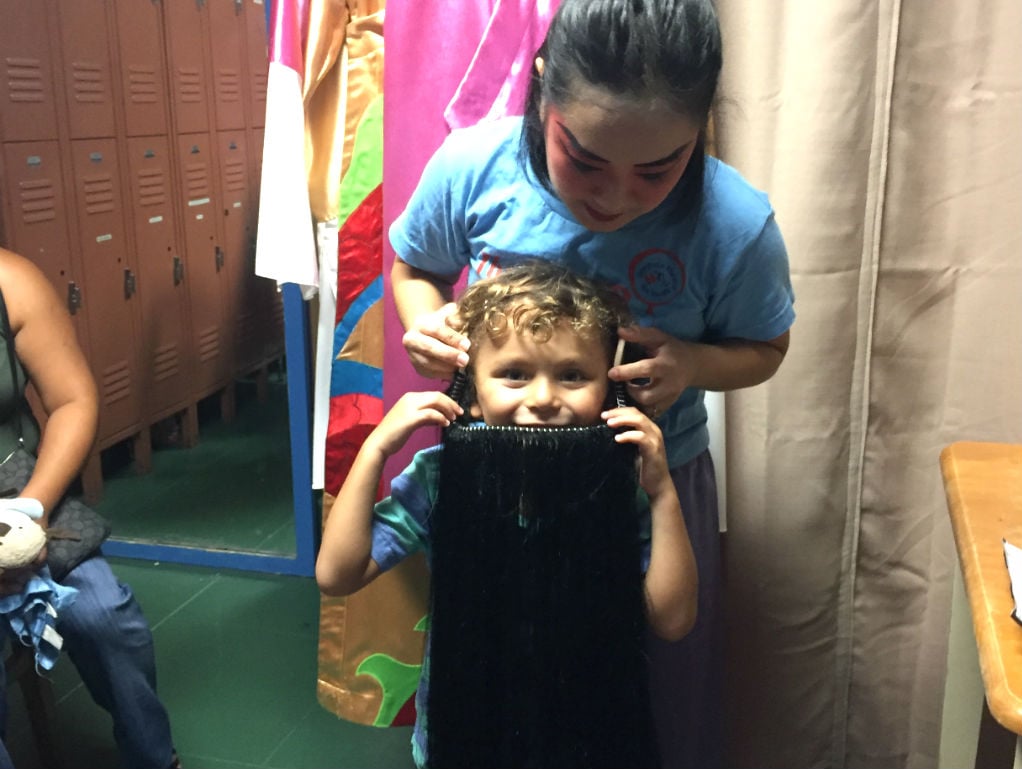 Photo: Jennifer Carlile Dalgamouni
The actress who plays Mulan helps my youngest son try on a long Chinese beard.
The third station was backstage where the actress who played Mulan taught the kids about makeup and costumes. My boys also recognized her from a previous HTY play, Thumbelina. The kids tried on huge, beautiful Chinese costumes and found out how the long sleeves are used to accentuate movements. My 4-year-old also put on a long beard and both boys were given a mark to show that they are male. A red powder was applied in a line from the top of the nose to the forehead. Meanwhile, the girls used it as blush for their cheeks.
At the fourth and final station, they learned about xiangqi, Chinese chess. My oldest son enjoys playing chess so he liked learning about this version. The game plays a role in the production as a metaphor for Mulan and her group's battles. My younger son was a little bored but the older kids enjoyed it.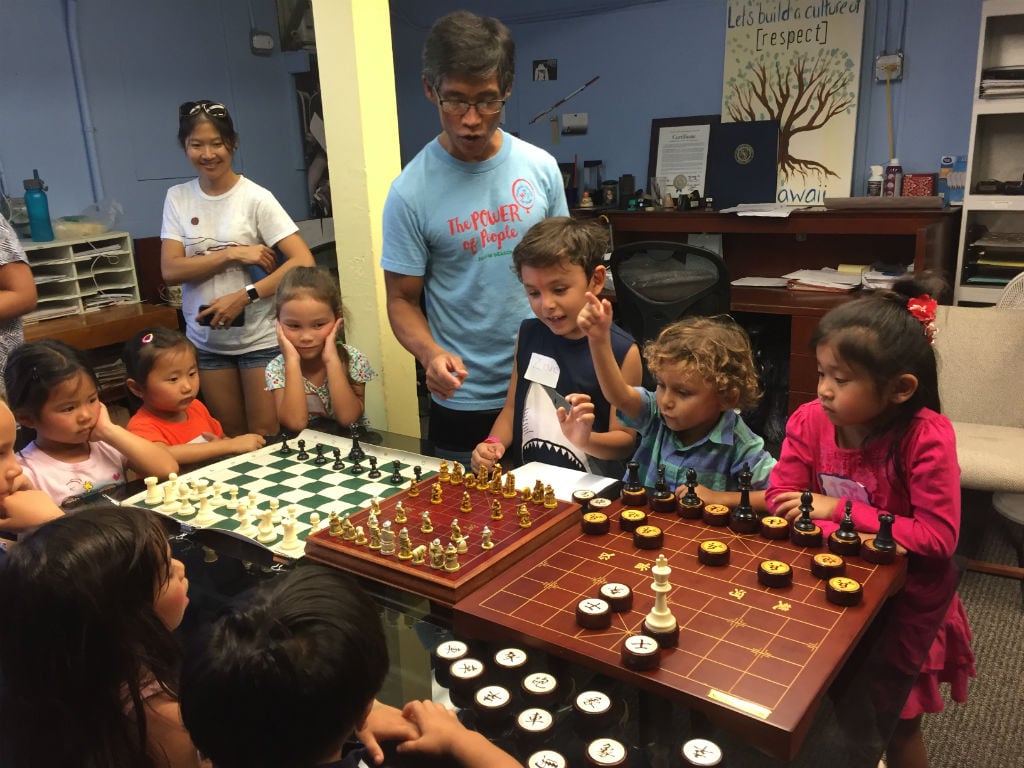 Photo: Jennifer Carlile Dalgamouni
The kids learn to play Chinese chess.
Once the workshop was done, it was time for the show. I noticed my kids paid close attention to the play, now that they knew more about it. Both said they had a great time and wanted to do it again.
Our Tips
Decide if you want to do the Onstage workshop before or after you see the play. Tickets are purchased separately so you can choose. Doing both on the same day is usually easier for families and the workshop gets kids excited to see the play. But watching the production the week before will mean the kids may have more in-depth questions for the performers. My oldest son likes getting his programs signed, so if your keiki is star-struck, he or she might enjoy doing the workshop after watching the actors on the big stage. (If you are doing the workshop on the same day, make sure to see tips 9 and 10 below.)
Consider your child's age. Onstage workshops are recommended for children 5 to 12 years old, but HTY says it understands that families with multiple children will want to sign younger siblings up to take part too. Read about the play's themes, think about your child's maturity and what they will get out of the experience. Then, be ready to stage manage any meltdowns!
Buy tickets early. Workshops are limited to 75 kids. HTY has come close to selling out in the past. Tickets for Onstage and for shows can be purchased online here.
Don't be late. During each one-hour workshop, keiki go through a circuit of three to five stations. If you're late, you could miss whole sections.
Bring a camera or a fully charged phone. You're allowed to follow your child and see all the action too. We bet you will want to snap photos of the costumes, makeup and on-stage theatrics.
Use the bathroom before AND right after the workshop. There is no outside access to the bathrooms. So once you leave the workshop, you won't be able to go until the theater opens half-an-hour later.
Don't worry if your kids don't behave perfectly, but, do keep them safe and try not to let them take away from the other children's experience. When all the other kids were acting out horseback riding, my 4-year-old son decided to be a chicken. When they were supposed to be warriors, he hopped like a frog. The actors joked that he was getting into his own character and that was fine. But, when he ran and jumped on the edge of the stage, I had to step in to make sure he didn't fall or inspire other kids to follow him.
Don't forget to pick up the free snack. All kids who attend the workshop can get a treat from the snack table in front of the theater. Since we attended the workshop for The Ballad of Mulan, their goody bag had Chinese crackers and candies in it.
Make sure to stand in the correct line for the performance. After the workshop, everyone needs to leave the theater so the artists can get ready. Outside, two lines form. Head to the Chinatown entrance, for regular ticket-holders. The entrance on the Diamond Head side is for people with season passes.
Bring snacks or a small activity to keep kids occupied. The workshop ends at 3:30 p.m. but the theater doors don't open until 4 p.m. The show starts half-an-hour later. Our boys got very restless, so I dug through my purse and found plastic scorpions and spiders, a container of slime and two bags of Pirate Booty. The theater provides free water and you can purchase bags of chips or candies.
Workshops are $10 per child or $5 per child for annual ticket-holders. They are usually held on a Saturday from 2:30 to 3:30 p.m. Honolulu Theatre for Youth's Tenney Theatre, 229 Queen Emma Square, (808) 839-9885, htyweb.org.