We Tried It: "Expedition: Dinosaur"
Our 11 tips for exploring, learning, playing and snapping selfies at Bishop Museum's new exhibit.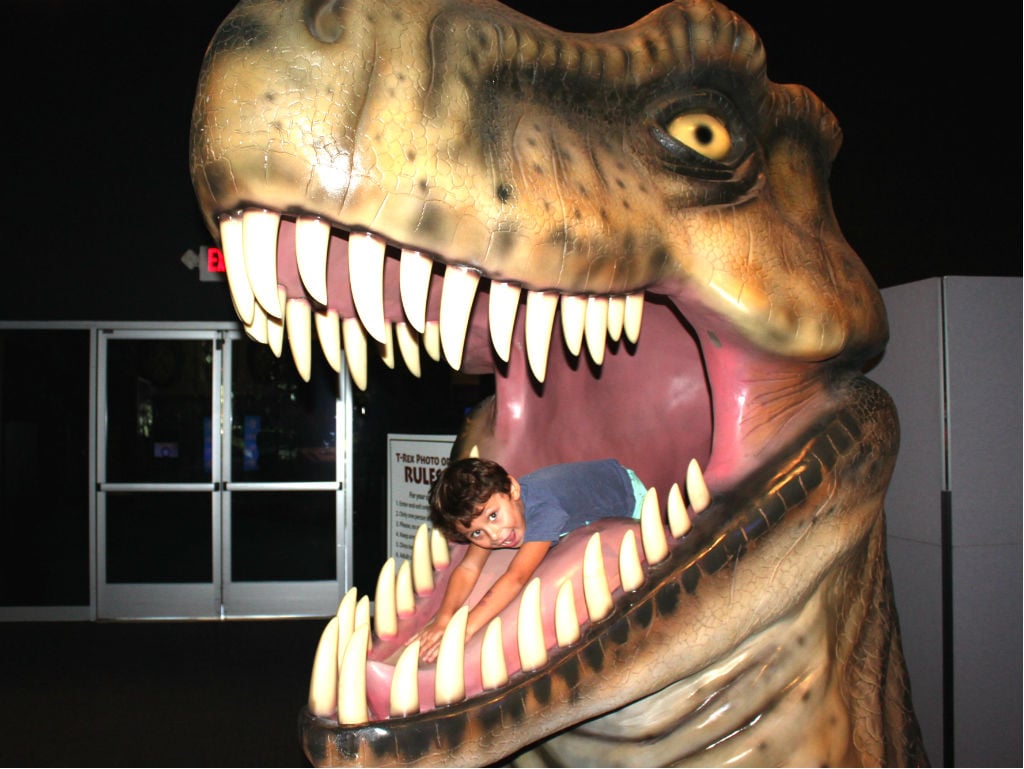 Photo: Jennifer Carlile Dalgamouni
Climb inside a T-rex's mouth at Bishop Museum's new exhibit.
What: Expedition: Dinosaur
Where: Bishop Museum, 1525 Bernice St.
Who: Two adults, 7-year-old and 5-year-old boys and a 10-year-old girl
When: Friday evening, 4 to 6:30 p.m., before and during the museum's member's preview night.
My 5-year-old son is obsessed with dinosaurs and my 7-year-old boy likes hands-on science activities. So, we had to try out the Bishop Museum's new exhibit: Expedition: Dinosaur. We also brought along a friend and a 10-year-old girl, who is not dinosaur crazy, to get their opinions too.
First, this is not the same exhibit that Bishop Museum hosted about three years ago. Second, it's fun. There's information on the excavation of fossils, famous paleontologists and how prehistoric beasts evolved. But, the highlight of Expedition: Dinosaur is the many and varied interactive activities. There are a dozen life-size animatronic dinosaurs, four of which keiki can control themselves, opening mouths, swinging tails and even making them growl. Add to that digging, coloring and rubbing activities, puzzles, games, mix-n-match dinosaur bodies, a microscope, a robotic claw that picks up dinosaur eggs, a selfie station, video screen quizzes, a sand box, and a T-rex mouth to climb into. Whew! With so many hands-on activities, there was almost no wait for any of the displays even when the exhibit was very crowded.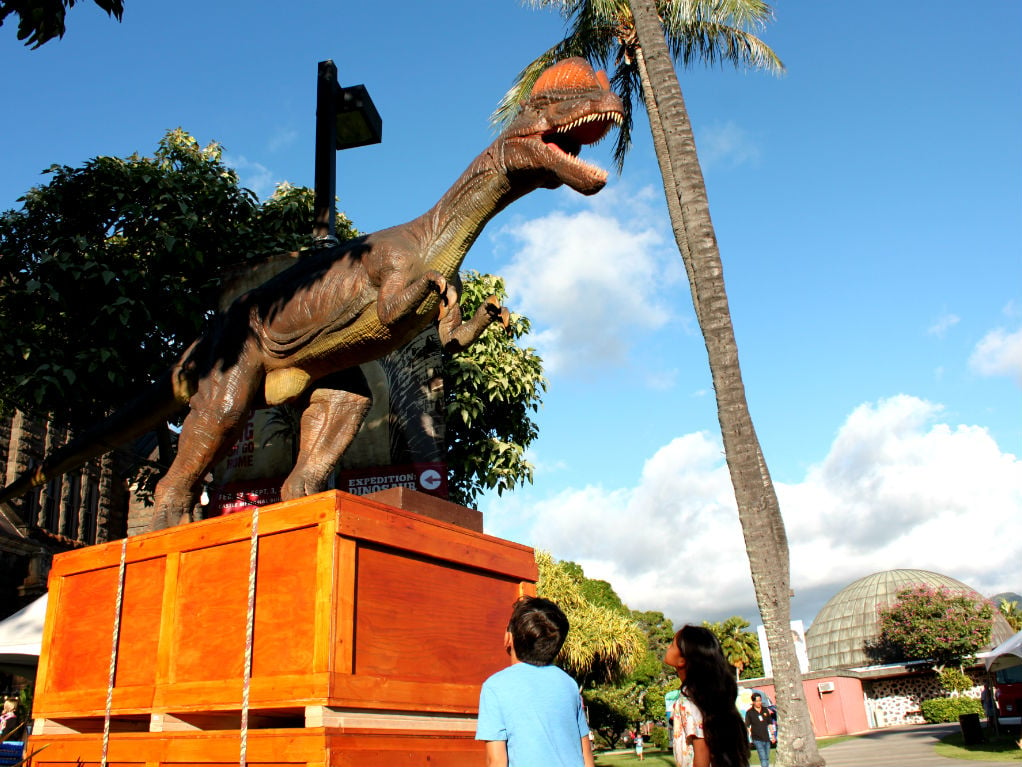 Photo: Jennifer Carlile Dalgamouni
Kids check out a Dilophosaurus outside the exhibit.
First, we want to note a change. There is an extra fee if you want to visit this special exhibit, $4.95 on top of the usual museum admission. See our first tip, below, to find out how to make the most of your money with this new structure.
Expedition: Dinosaur is spread out over the three large rooms of Castle Memorial Building. When you enter, you'll see an animatronic Kentrosaurus. In this first room, you can control the movements of a baby Amargasaurus, dig into wood chips to uncover fossils, take a look at a tent that shows how paleontologists work in the field and feel a replica of a dinosaur stomach. My 7-year-old son enjoyed piecing together a puzzle of Pangea and both boys squealed and laughed as they played "Excavate T-rex," a very large, dinosaur version of the game "Operation." Players try to remove the fossil bones without touching the sides. If the buzzer goes off, they've damaged the specimen. The goals is to earn the title of "expert paleontologist."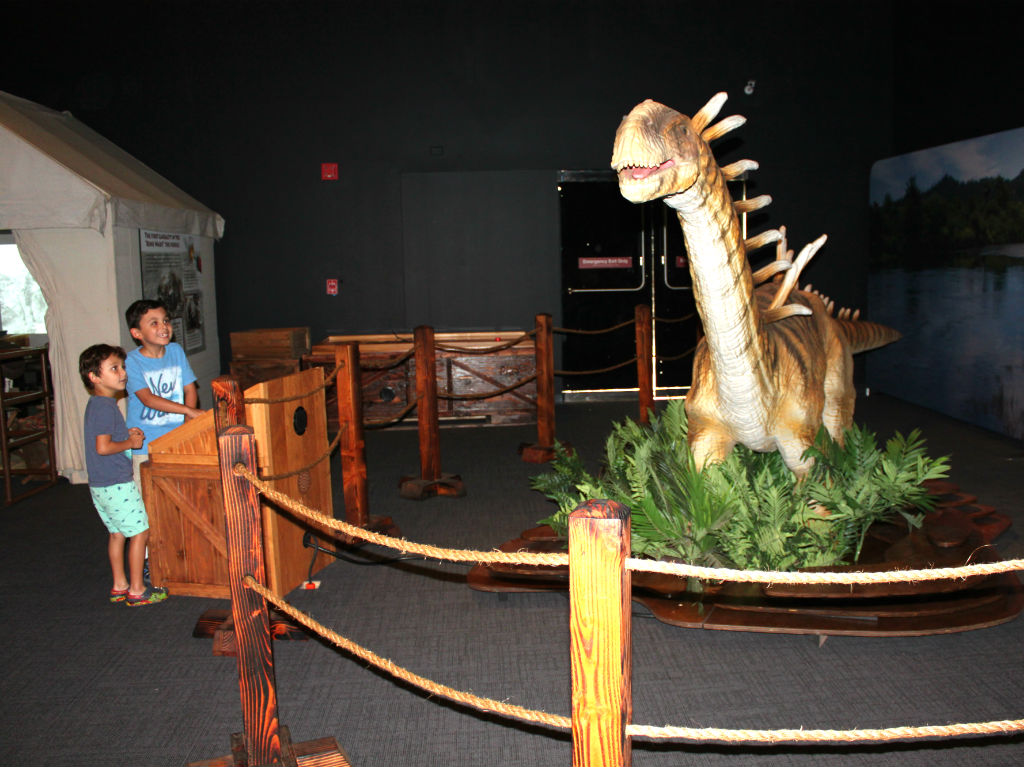 Photo: Jennifer Carlile Dalgamouni
My boys swing the tail of a baby Amargasaurus.
The second room, which is large and at the back of the building, features a selfie station with velociraptors, a huge Albertosaurus, two Pachycephalosaurs' that are ready to head-butt each other and a Stegosaurus that you can control. There's a coloring area and several different types of puzzles. One is like a giant flip book where you can mix-and-match body parts from different species of dinosaurs. The 10-year-old girl's favorite activity was in this room. "It's like the claw machine" she said as she expertly maneuvered a robotic hand to pick up and move eggs in the "Dinosaur Hatchery." This was the only display where a line formed, but the wait wasn't more than 5 minutes. My 7-year-old liked looking at slides of dinosaur bones through a microscope. This area also has information on "A Real-life Indiana Jones," "Beelzebufo: The Dinosaur-eating frog," dinosaur DNA, CT-scans of fossils and meat versus plant eaters.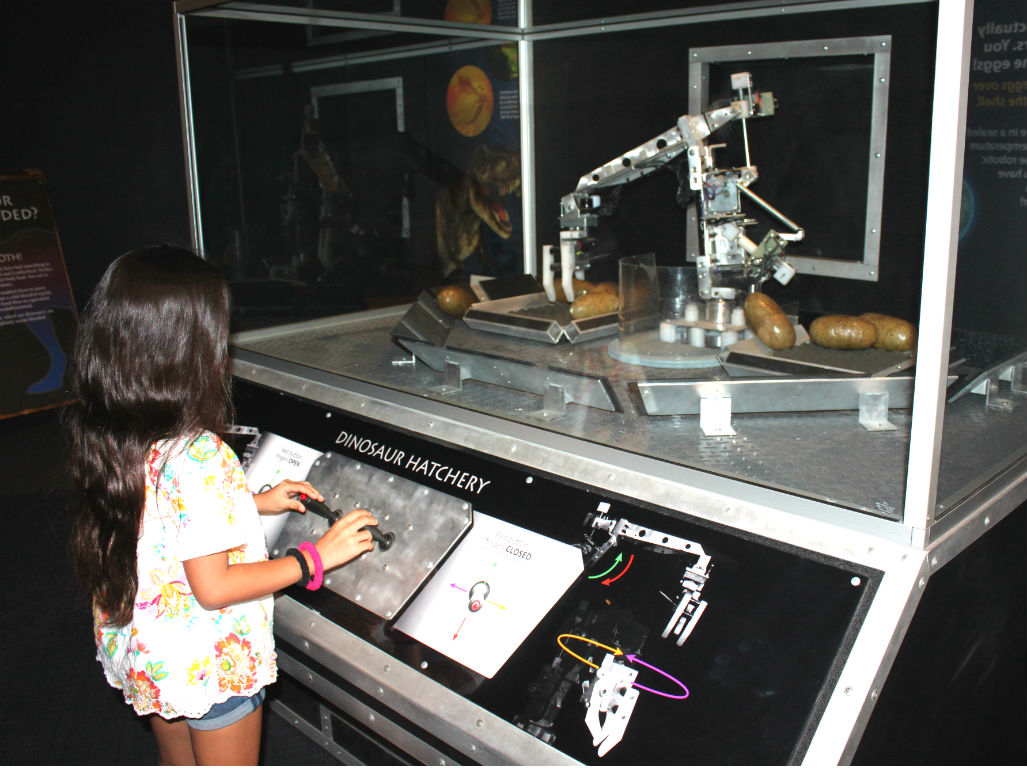 Photo: Jennifer Carlile Dalgamouoni
The 10-year-old girl with us enjoyed picking up and moving dinosaur eggs with a robotic claw.
The last room housed both of my boys' favorite activities. My 5-year-old continuously climbed into a large T-rex head and posed inside its mouth for photographs while my 7-year-old wouldn't leave a sand box activity alone. An overhead projector shows the different elevations in the sand and is designed to teach keiki about erosion and how continents move. This area also has life-like a controllable Carnotaurus and a Triceratops, information on scientists, including the first female paleontologist, Mary Anning (1799-1847), and a video screen "Dino-Quiz." At the back is the gift shop.
Our Tips
1. Get the best deal. Bishop Museum is now charging an additional $4.95 per person for "blockbuster" exhibits, including Expedition: Dinosaur. Save money by purchasing an "All Access One Day Pass." For kamaʻāina and military, it costs $19.95 for adults and $14.95 for children 4 to 17 years old. The pass includes entry to the museum (normally $14.95 for kamaʻāina and military adults and $10.95 for their kids), entry to Expedition: Dinosaur and unlimited Planetarium shows (normally $2.95 per person per show). Members also receive discounts. See all price options here.
2. Choose a less-crowded time to visit. If you or a grandparent can take the keiki during spring break or summer vacation, Mondays and Tuesdays are usually the least crowded days. School groups visit between 9:30 a.m. and noon, so afternoons will be even emptier.
3. Bring a camera with flash. It'll be especially useful for selfies with Velociraptors and photos inside the T-rex's mouth. But, before you're tempted to pose with your keiki, take note that no one over 12 years old is allowed inside the mouth.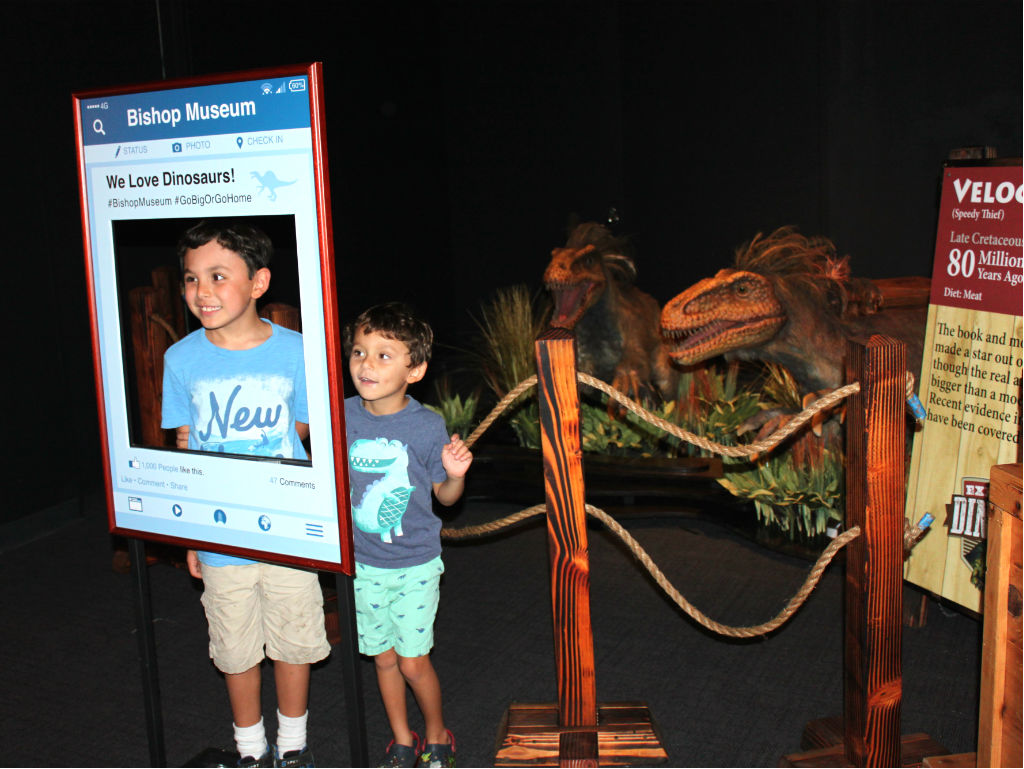 Photo: Jennifer Carlile Dalgamouni
My boys pose for a friend taking a selfie of them with Velociraptors in the background.
4. Take a look at everything, then focus on your favorite activities. With so many hands-on displays to choose from, you can steer your child toward activities they're likely to enjoy given their age and interests.
5. Slow down, read aloud, ask questions. It's easy to run around and have fun at this exhibit, but it's harder to get children to focus and learn. Younger children will also need help reading the more in-depth displays and video quizzes.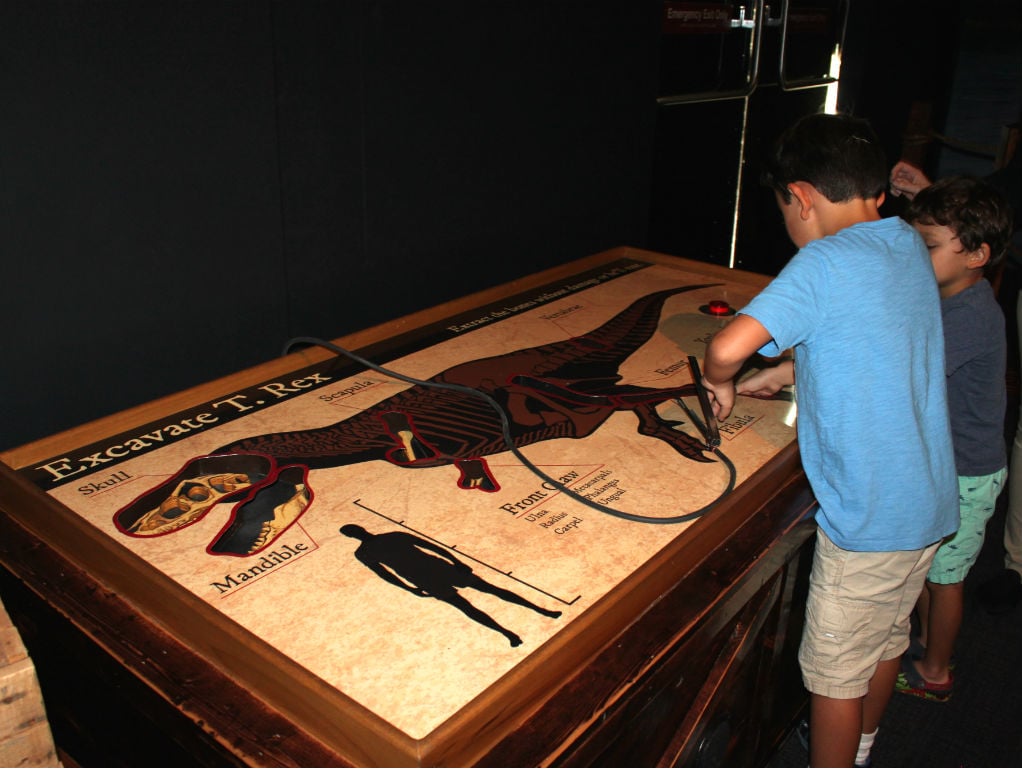 Photo: Jennifer Carlile Dalgamouni
An "Operation"-style game teaches kids about excavating dinosaur bones with care.
6. Know where to find a second sand box. A display called "Earth's Ever-Changing Landscape" consists of a large sand box with a projector. Keiki can build mountains and valleys and the projector shows the rings of elevation and how the land erodes. This is a very crowded and popular area in the last room of the exhibit. There's an almost-identical display in the waiting area for the Planetarium. Play there instead and you'll already be in line for the next show.
7. Relax in the "Hominid Hangout." If you have very little ones or want to take a break, there's a family quiet area to the right of the entrance to the exhibit. It has seats, cushions, books and toddler puzzles.
8. Know where to buy dino gear (or how to avoid it). The gift shop is at the back of the final room of the exhibit, behind the large T-rex head. Here you'll find decently-priced dinosaur toys (plush, plastic, squishy etc.), gems and rocks, fossil toys, binoculars, T-shirts and more.
9. Don't miss the new Planetarium show Dinosaur Prophecy. The film, which is shown on a dome screen, visits dinosaur graveyards from the United States to China. You'll get to see how scientists piece together how the prehistoric beasts lived and died from their bones. As you look up at the screen, it feels like you're on the ground with dinosaurs stomping and flying above you. The film is suggested for children 6 years and older but there were many younger children at the film's preview and none of them sounded scared.
10. Get good seats. The Planetarium seats with the best view have black headrests.
11. Find the closest bathrooms. Exit the exhibit from the final room by the T-rex head, cross the path to the Hawaiian Hall and the restrooms are inside. There are also restrooms in the basement of the Planetarium. Note: There are stairs but no elevator to those restrooms.
Expedition: Dinosaur will run through September 3 in the Castle Memorial Building. Bishop Museum, 1525 Bernice St., (808) 847-3511, bishopmuseum.org/expedition-dinosaur/