We Tried It: 2018 Butterfly Conservatory at Pearlridge Center
Our seven tips for stepping into this pop-up butterfly garden.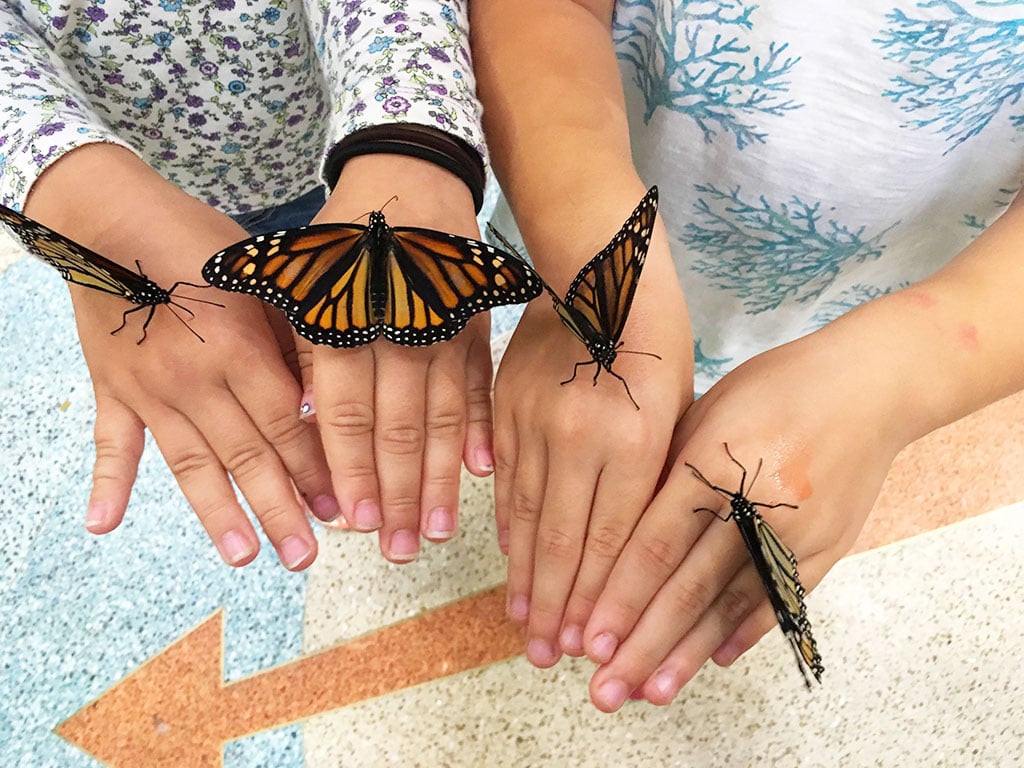 Photo: Lavonne Leong
Who: Two moms and two kids, 6 and 7
What: Butterfly Conservatory at Pearlridge Center, Uptown Center Court
When: Friday afternoon. It got busy around 2:30 p.m.
Butterflies! They're just about the only bug that doesn't look out of place in the same scene as unicorns and rainbows—but they're also a great opportunity for life sciences education. Every year since 2013, Pearlridge Center has hosted a butterfly conservatory in its Uptown Center Court, just in time for spring. Up to 20 guests at a time can spread out in the little conservatory and watch up to 200 locally grown monarch butterflies do their thing.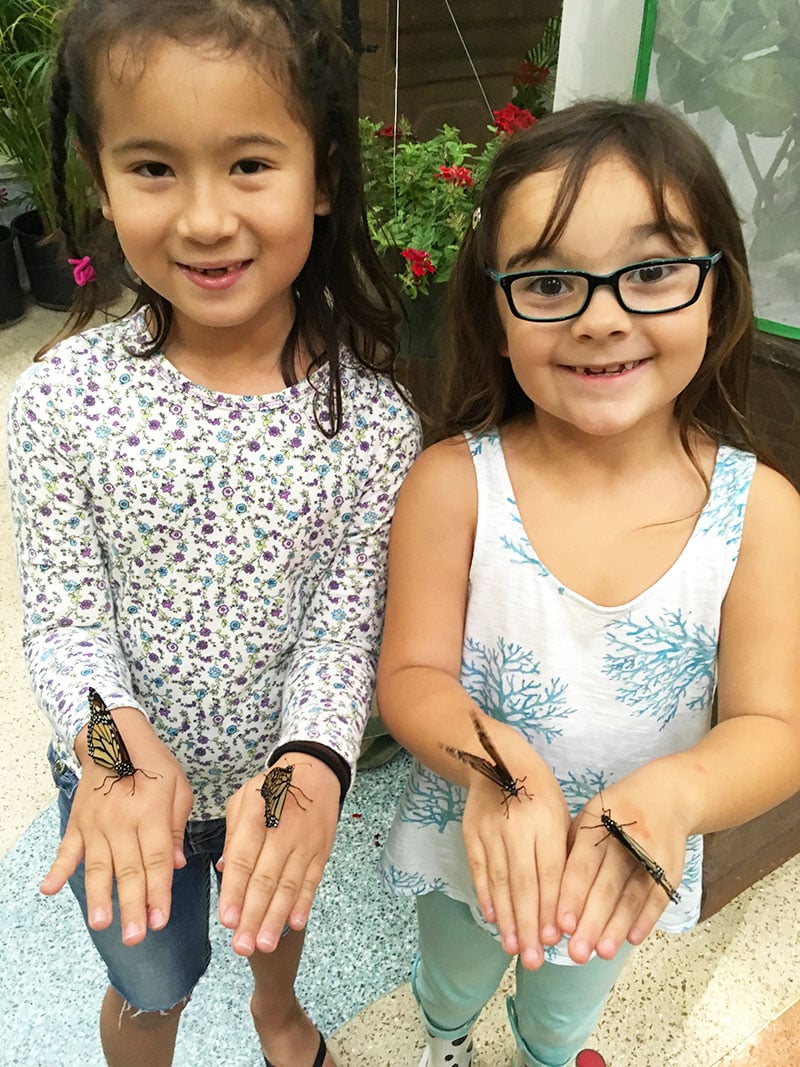 Photo: Lavonne Leong
Even better, butterfly docents (the ones wearing the red and yellow T-shirts) pass out long, cotton-tipped sticks drenched in sugary nectar that butterflies love to drink. Kids and grownups can feed them on the sticks, or rub a bit on the back of a hand (or, as happened with us, all over their forehead) in hopes that a butterfly spots a sweet landing place.
But it's not just butterflies. At the conservatory, you'll get the whole life cycle, from near-microscopic eggs kids can hunt for in the plants, to wee caterpillars (yes, they're "very hungry") to mysterious green and gold chrysalises waiting to hatch. When we visited, we were lucky enough to witness the dramatic moment when a caterpillar turned into a chrysalis.
But no matter what you see at the Pearlridge Butterfly Conservatory, the docents are friendly and oh-so-knowledgeable, and the atmosphere is cheery, clean, and full of flowers. Things will be learned. Fun will be had. By the end of the period, our kids could spot the difference between male and female butterflies. It's not easy!
When they're done with the conservatory itself, or while they're waiting their turn to go in, kids can browse the little butterfly-themed shop, build a butterfly craft, assemble giant butterfly-themed educational puzzles, or have fun with the interactive EyePlay table.
Photo: Lavonne Leong
The pop-up conservatory and gift store is right in the center of Uptown at Pearlridge Center.
Our Tips:
Dress for warm weather. The butterfly conservatory is several degrees warmer than the rest of the mall, so the monarchs can flourish.
Wear red or yellow if you want winged visitors. Butterflies are much more likely to land on and investigate common flower colors.
Mornings are most active. We arrived at 4 p.m., when the butterflies had expended most of the day's energy—and it was still great. The docents did tell us that they're even more active in the morning.
Come to learn. You will see things you didn't expect. Once a butterfly hatches, its single purpose is to reproduce, so they spend their active time eating or courting. One of the kids' big highlights was when they saw butterflies "getting married."
The conservatory will change over time. Right now, the conservatory has about 150 butterflies. Butterfly educator Andrea Heartsock hopes that number will rise to 200 or more as butterflies lay eggs, which turn into caterpillars, which turn into more butterflies, which lay eggs, and so on.
Be gentle. Butterflies are delicate creatures. Kids should be old enough to refrain from grabbing and crushing.
Logistics? No problem. It's in a mall, so we love that the basic kid logistics questions—like, "Will there be a clean bathroom nearby? And what about a place to eat?"—have already been answered.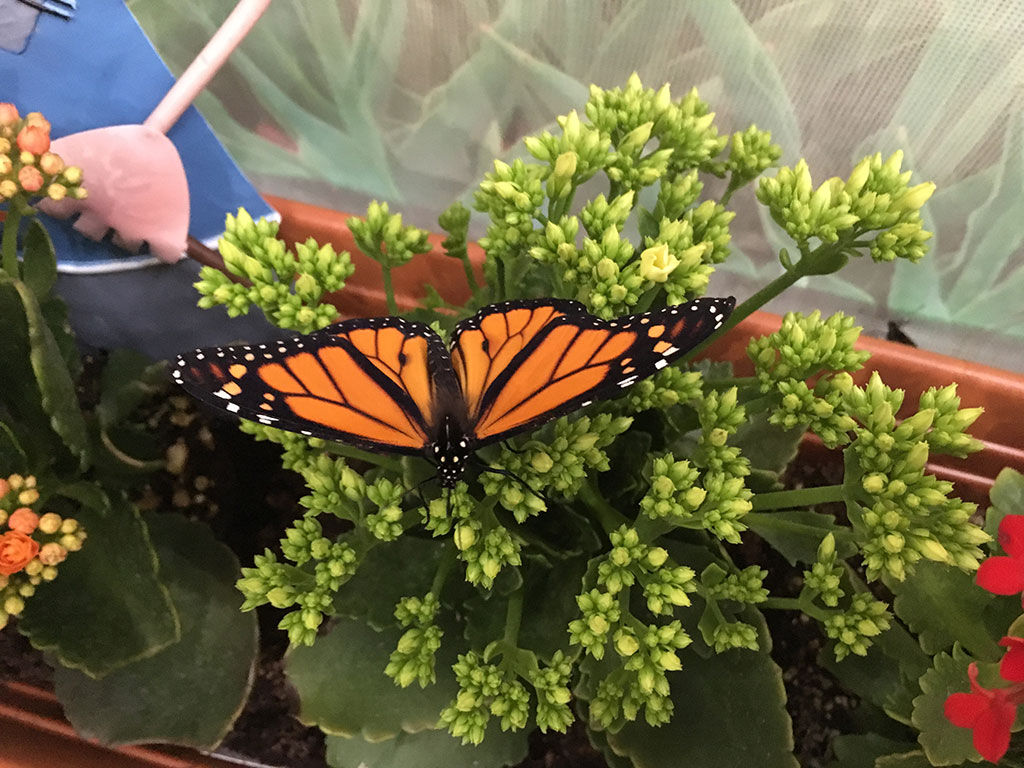 Photo: Lavonne Leong
The Butterfly Conservatory will be open through Sunday, April 8 at Pearlridge Center, 98-1005 Moanalua Road, 'Aiea. Hours: Monday through Saturday, 10 a.m. to 9 p.m.; Sunday, 10 a.m. to 6 p.m. Closed on Easter Sunday. Admission is $4.50 per person; keiki 2 years and younger are free with a paying adult. Reservations recommended at adoptabutterfly.com/events/Pearlridge/. For more information, call (808) 488-0981.