We Tried It: Atlantis Submarines
Our nine tips and details on a great kama'āina deal for an underwater tour many Hawai'i locals havenʻt tried.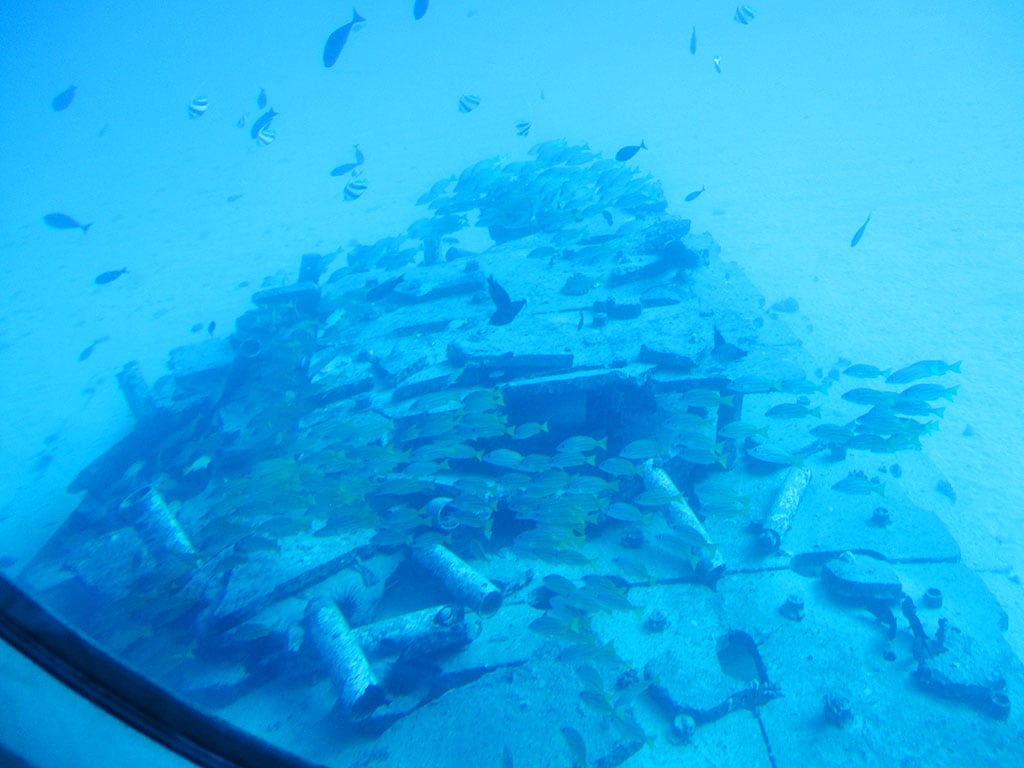 Photo: Lavonne Leong
The view underwater.
Who: Four parents and four kids, ages 4 through 10.
What: Atlantis Submarine Premium Tour, Waikīkī
When: A weekend morning, 9 a.m.
When you go to the beach, do you ever wonder what's way out there under the waves?
Our 4-year-old had been asking to "go under the sea like a mermaid" for at least a year, since she caught sight of an ad for the Atlantis Submarine tour that leaves from the pier at Waikīkī's Hilton Hawaiian Village. But we, like other parents we'd talked to, were intimidated by the prices we saw on their website: $125 for an adult and $55 for children. That's a lot of dough for a family, even with a standard kama'āina discount of 10-20 percent factored in.
But then we decided to call, just to see. Though it's not advertised anywhere on the web site, it turns out that Atlantis offers one of the steepest kama'āina discounts we've encountered: more than 50 percent off rack rates for both adults and kids. Bingo!
Though the experience is just 90 minutes from start to finish, with a family (read: moving slowly) it was the centerpiece to a morning of fun. We arrived at the Hilton at check-in time, 30 minutes before departure, and had some time to wander the resort's lush, beachy grounds. Points for the koi ponds, waterfalls, and other kid-friendly diversions. More points for clean, convenient bathrooms and friendly, helpful staff.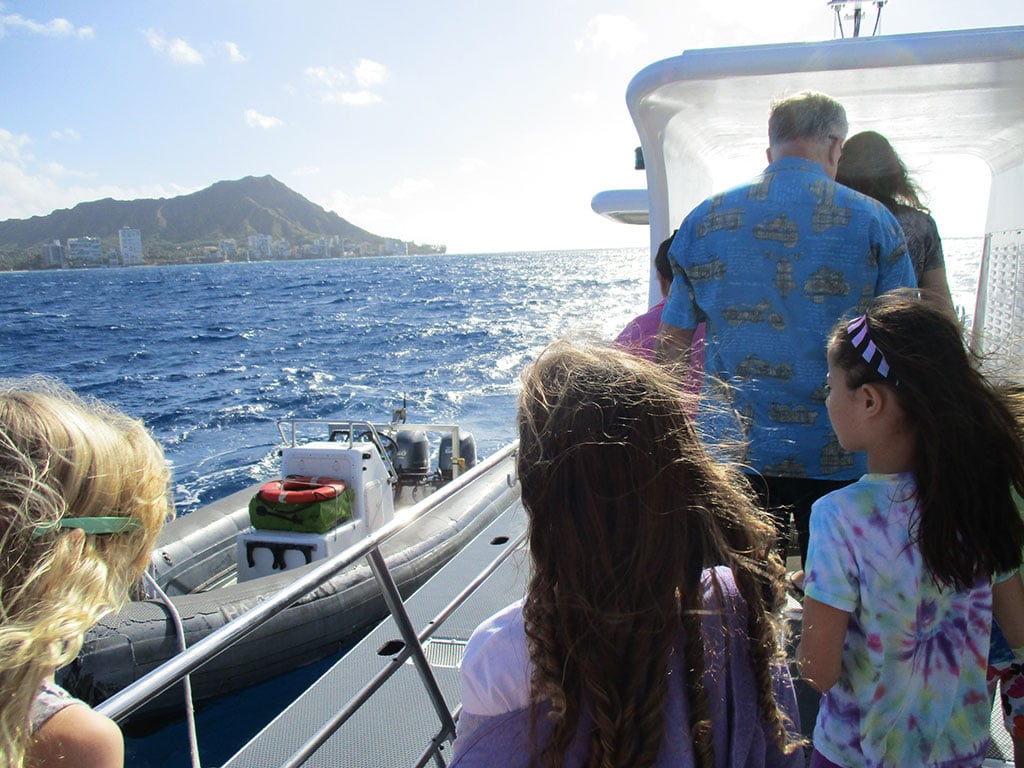 Photo: Lavonne Leong
Then we boarded the boat to the sub. This is another thing that's not on the website, though some of us landlubbers had been forewarned by online reviews, and were forearmed with Dramamine. After a choppy but sunny and very scenic ride out to the "dive site" near Diamond Head (in winter, sometimes the boat ride turns into a mini-whale-watching cruise), we pulled up at the sleek white sub, and one by one, descended the ladder.
Thankfully, seasickness is not a problem inside a submarine. On the premium sub, the seats were comfy and the windows almost two feet wide, which meant that kids could share without jostling. Then the submarine dive alarm sounded and our adventure began. It was part science class, part Captain Nemo, part visit to the aquarium…and part sit-down dance party. More on that later.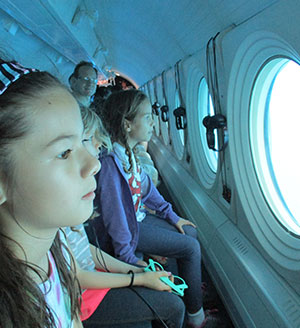 Photo: Lavonne Leong
First, as we descended, the colors transformed one by one as they were filtered out by the sea depth: red became black. Then G noticed that her nails, painted pink, had turned a deep purple. M took digital photographs at varying depths, planning to check later to see whether the camera would preserve the color changes we saw. B, the youngest, was just there for the fish. And we weren't disappointed.
Atlantis gives every tour member a "Dive Log" with information about the sub and a pictorial checklist of 30 marine species you might encounter. I don't know whether we were there on a good day or at a good time (Atlantis cancels tours when visibility is very low, but a small minority of online reviews say things like "Didn't see anything"), but we encountered thousands of creatures, from wana (sea urchins) the size of cabbages to spotted eagle rays and moray eels. Clouds of butterflyfish, tang, and Moorish idols drifted around the artificial reefs. Huge, curious ulua escorted the sub and peered in the windows. We saw a white reef shark resting in the shade of a sunken plane wing, a flash of barracuda, and a green sea turtle swimming by in the distance. It's the most "in the wild" a child can get without learning to scuba dive, or at least snorkel.
The live narration was cheesy, but informative and fun, pointing out marine life viewers might otherwise miss and offering a continuous stream of history, science, and silliness (when we reached 106 feet, the low point of the descent: "These may be the deepest thoughts you ever have.") The local staff seemed like they were having a good time, and there were many other children aboard.
Our HONOLULU Family test group of under-10s made a special point of asking me to tell you that if the narration gets too much, you can put on the headphones provided at each seat on the premium sub and have your choice of music, from "We All Live in a Yellow Submarine." to the theme from Titanic. Halfway through the ride, all the kids in our party donned their headphones and started bopping around in unison. They didn't stop until we returned to the boat.
Once ashore, we debriefed at Pronto Pickle, a Hilton café steps from the beach (more points for food available nearby, although you're allowed to bring snacks onto the sub). We all agreed that 90 minutes, although it sounds short, was the perfect length of time for a family voyage deep into the ocean blue—without getting wet.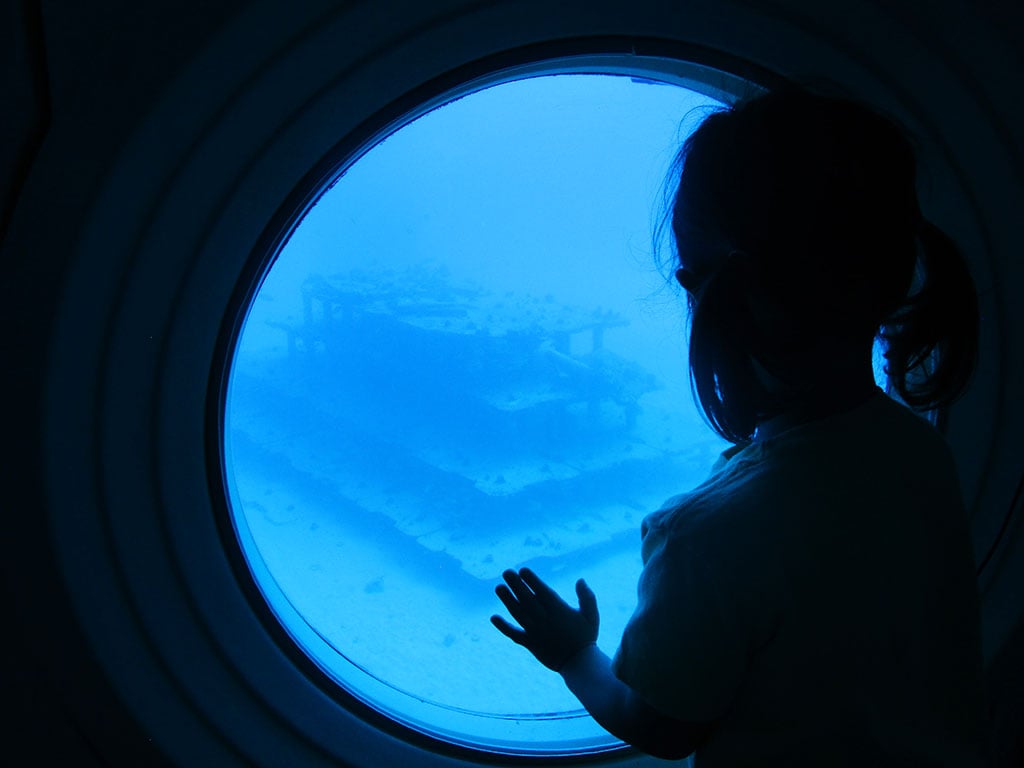 Photo: Lavonne Leong
Our Tips
1. Book the big sub, if you can. We took the premium tour, and appreciated the larger seats and wider windows. But the standard sub, for a lower price, still gets you to the same places.
2. Bring the Dramamine. There's a scenic ten-minute boat trip out to the sub and back. This can be one of the highlights of the morning—but if you're sensitive to motion, take precautions.
3. Rise and shine. Though staff wouldn't say it, the morning, when fish are more active, is widely known as a good time to see sea life. We booked a morning trip and weren't disappointed.
4. Get there early. Kids will want to wander the Hilton's attractive grounds. And a bathroom break on the way to the boat is not a bad idea. There's a tiny bathroom on the boat, and none on the sub.
5. Sunscreen can be useful, even if you're not exposed for very long.
6. Expect the color change. Deep underwater, everything shifts toward blue. You won't end up with Technicolor pictures, but it's a great opportunity to talk science.
7. Go for the sea life, not the coral. Marine life needs a place to hide, and the sub's cruising area off Waikīkī has a mostly sand bottom. You'll see lovely sculptural forms, two sunken boats, and a downed plane, all put there by Atlantis to attract fish, turtles, sharks, and other creatures. There will be some coral, but not a lot.
8. Expect to be tired afterward. Maybe it was the sea air, maybe it was the excitement, but even though this isn't a strenuous experience, we all, even the grownups, needed an after-lunch nap.
9. Time it for your priorities. Summer seas tend to be calmer. Winter trips sometimes see humpback whales, which migrate to Hawai'i from December through March. Recent trips have even seen an orca (!) and a pilot whale.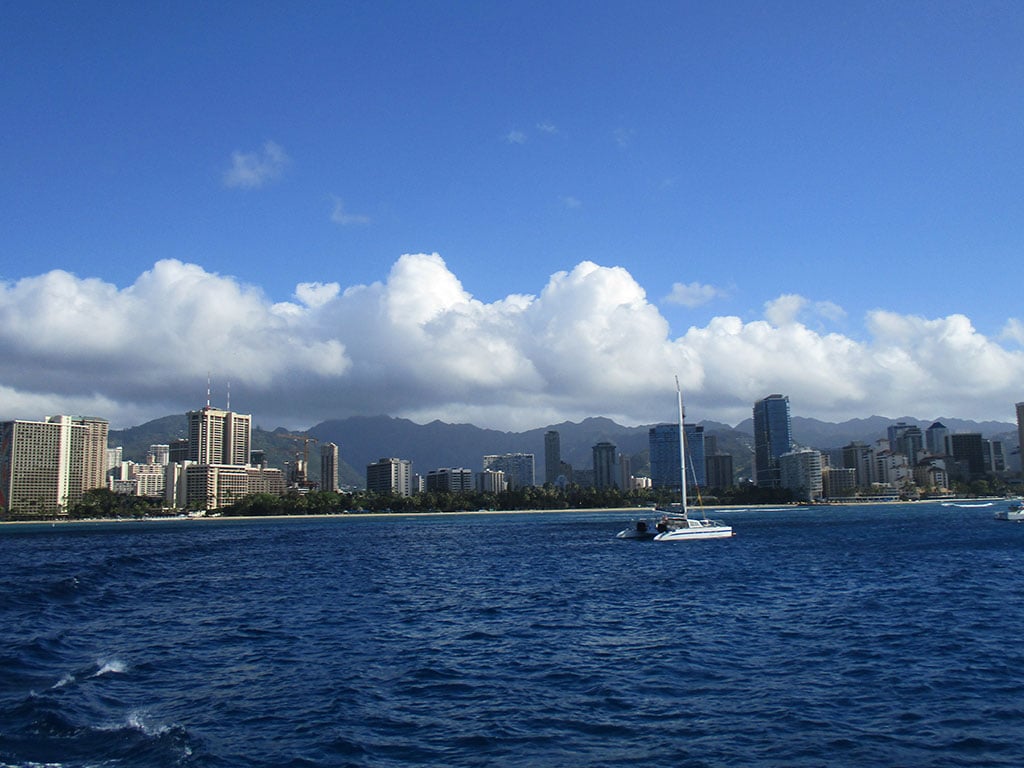 Photo: Lavonne Leong
The trip out to the submarine can be a little rocky, depending on the ocean conditions.
Atlantis Submarine Tours
252 Paoa Place, Honolulu, Hawai'i, 96815.
1-800-381-0237
Hours: 9 a.m. to 4 p.m. daily. The last tour goes at 3 p.m.
Kama'āina rates: Premium tour: $67 adult; $30 per child up to 12 years old. Standard tour: $61 adult; $25 per child up to 12 years old.
Must be 36 inches or taller to ride. Our 4-year-old barely cleared the bar, at 37 inches.