We Tried It: "Aqueous" Art Installation at Kapolei Commons
Our 5 tips for running around this cool interactive light-up art display.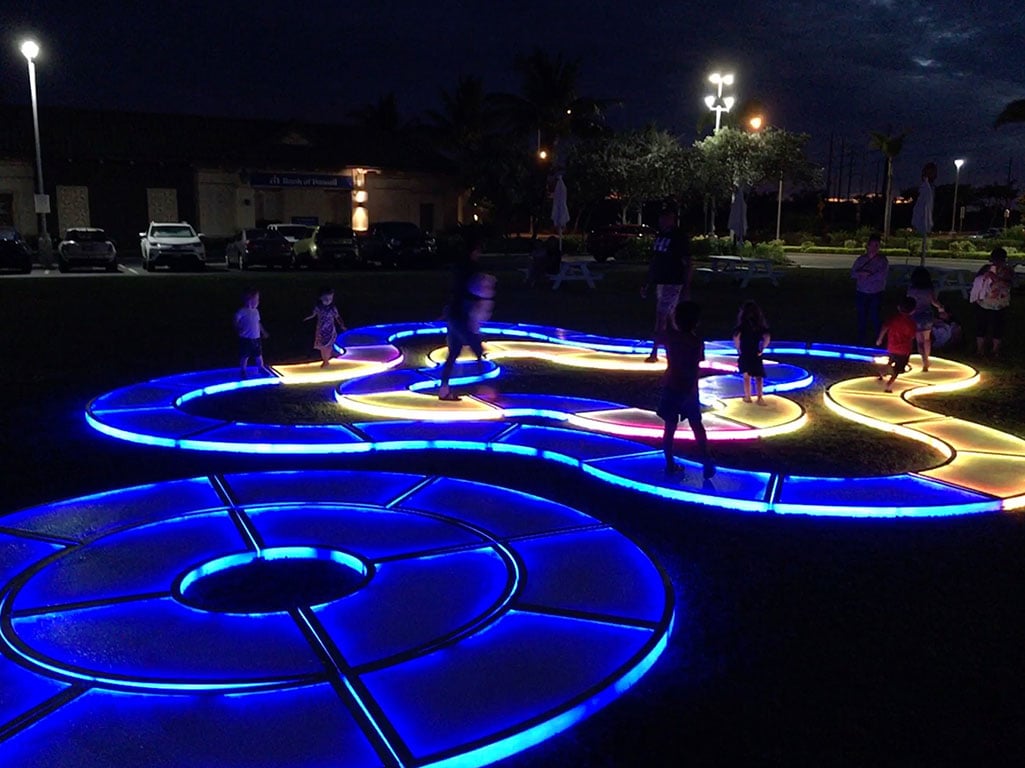 Photos: Christi Young
The closest parking for "Aqueous" after dark is in the Bank of Hawai'i parking lot or the parallel parking spaces in the driveway leading toward the theaters.
Anything that glows in the dark is usually a universal kid pleaser. So, when it was announced that Kapolei Commons was bringing in an art installation that promised to "flow and glow in full illuminated interactivity," according to the press release, I was definitely intrigued. So I packed up my 3- and 8-year-olds to try it out.
"Aqueous" is the work of Kula Elementary, Kalama Intermediate and Punahou School alum Jen Lewin. The now New York-based artist built the curving plastic-paneled pieces containing LED lights in her Brooklyn studio. She built about 320 in total in time for the installation's debut at Burning Man in Nevada. The pieces allow for flexible configurations, meaning that "Aqueous" can look different depending on the size and landscape of the space its in. The game-board-like layout at Kapolei Commons contains about 52 panels.
The lights are triggered when you step on platforms, which are powered up through underground wiring. Because they are LEDs, they do not consume that much electricity. And, I was reassured, the pieces have proven strong enough (it was at Burning Man after all) to take the weight of hordes of people.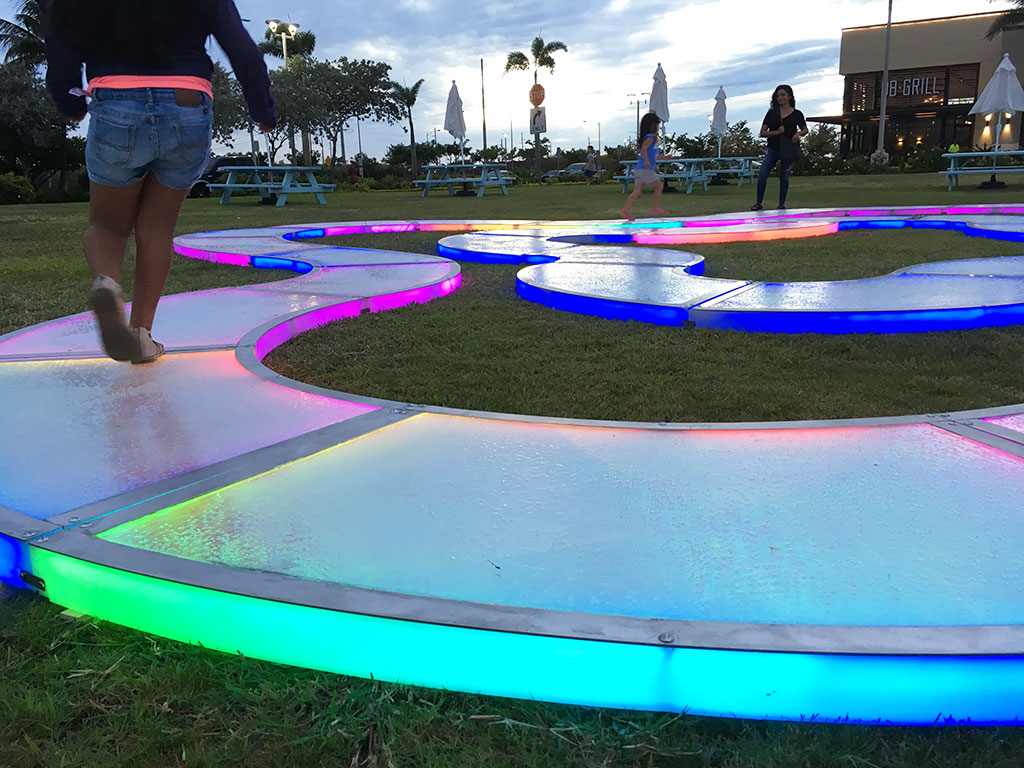 My kids didn't care about any of that. The moment we hit the ground, they were off and running. They each chose a path and darted down it, watching the colors under their feet. It was about 5:30 p.m. and during a media preview, so they only had to share their space with about three other kids. Frankly, while the sun was still up, they just had fun chasing each other down the path. Only I could really see the rainbow of colors change on the sides of the panels. It changed from yellow to green to blue and purple.
Once the sun set, that's when things changed. At night, the colors are much more dynamic, showing through the top panel for an almost neon effect. That's when the kids really started watching the floor glow under their feet. Even my toddler, who had declared she was done running, dove back into the group.
As a parent, it is just cool. I'm betting that the adults who want to try it (including several of my coworkers at HONOLULU who are planning a field trip) will have a challenge trying to find a spot to test it out when the kids are racing around. Fortunately, the installation will be open until 10 p.m. nightly so they can get in some playtime themselves after many of the little ones have headed off to bed.
Our 5 Tips
1. Wear shoes with traction. The top of the panels are textured acrylic. But both of my girls wiped out within the first half-hour of play. To be fair, neither are very physically adept and they were the only kids who fell during that entire time. It didn't help that my 8-year-old was wearing slick plastic slippers, not mommy approved. Still, most kids hit the installation at a full run so having some grip on the bottom will help prevent spills. I'd also make sure you have a bandage in the car in case of banged-up knees.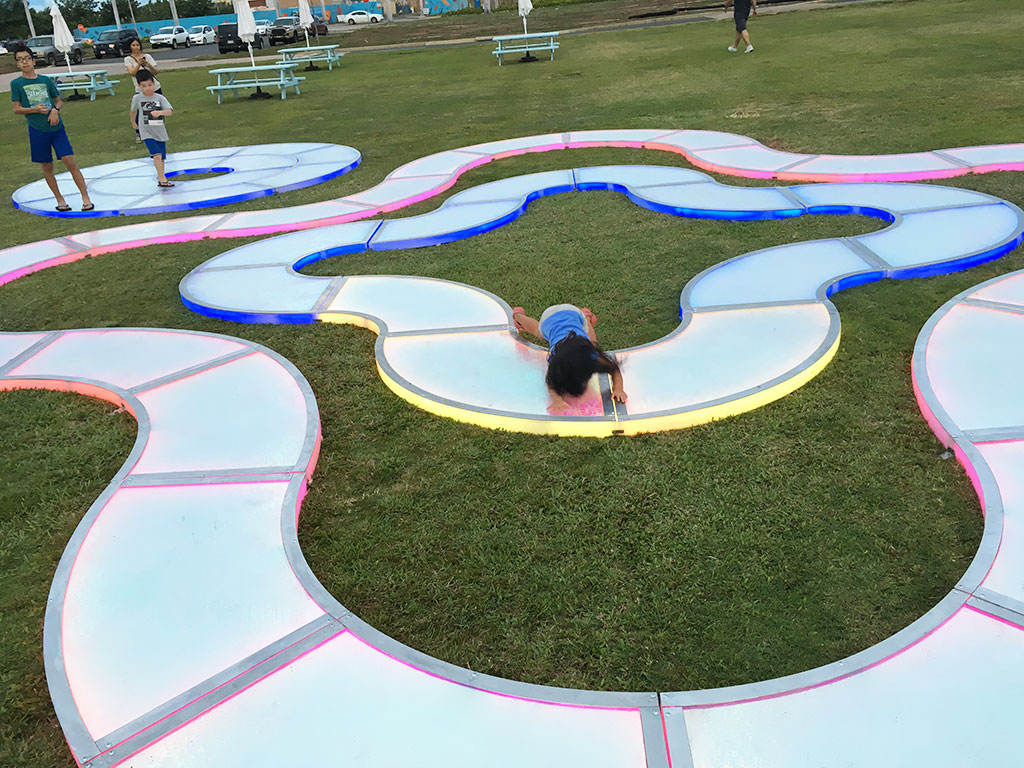 Mommy note: No children were seriously hurt in this photo. Both my kids slipped and fell but were back up and running in a few minutes.
2. Visit around dusk. During the day, the dichromic tops shimmer but the main colors can only be seen from the side. However, if you only go after the sun sets, your photos will feature a dramatically bright LED path with only dark blobs or blurs representing your kids on top. At dusk, the natural lighting gives you just enough to capture both with your camera.
3. Bring glow sticks. Aqueous is cool to look at after dark but the rest of the area is not well-lit. Glow sticks or flashlights will help you keep track of everything. The press release mentions souvenir vendors will be on site at night, which I'm assuming means your kids will be begging for glowing toys if you don't bring your own.
4. Secure a picnic bench early. The installation is surrounded by several well-kept picnic benches. Also, food trucks will arrive nightly from 5 to 9 p.m. Of course, Kapolei Commons also has Eating House 1849, La Tour Cafe, DB Grill, Aloha Salads, Denny's, Ruby Tuesday and a wealth of other places to grab take out.
5. Be prepared for a crowd. The lawn is pretty big but, to be expected, most kids will gravitate to the panels that are just a few feet wide. When its crowded, we're sure the LED path will resemble a traffic corridor. So keep an eye on toddlers because the older kids can't help but bound from step to step in the dark.
Aqueous is open daily from 6 a.m. to 10 p.m. through Dec. 31, 2018 at Kapolei Commons, 4450 Kapolei Parkway, Kapolei. thekapoleicommons.com.