We Tried It: Animation Academy at Bishop Museum
Play with stop-motion, jump around in front of a white screen, play with blocks or enjoy a walk through your own childhood cartoons at the new exhibit.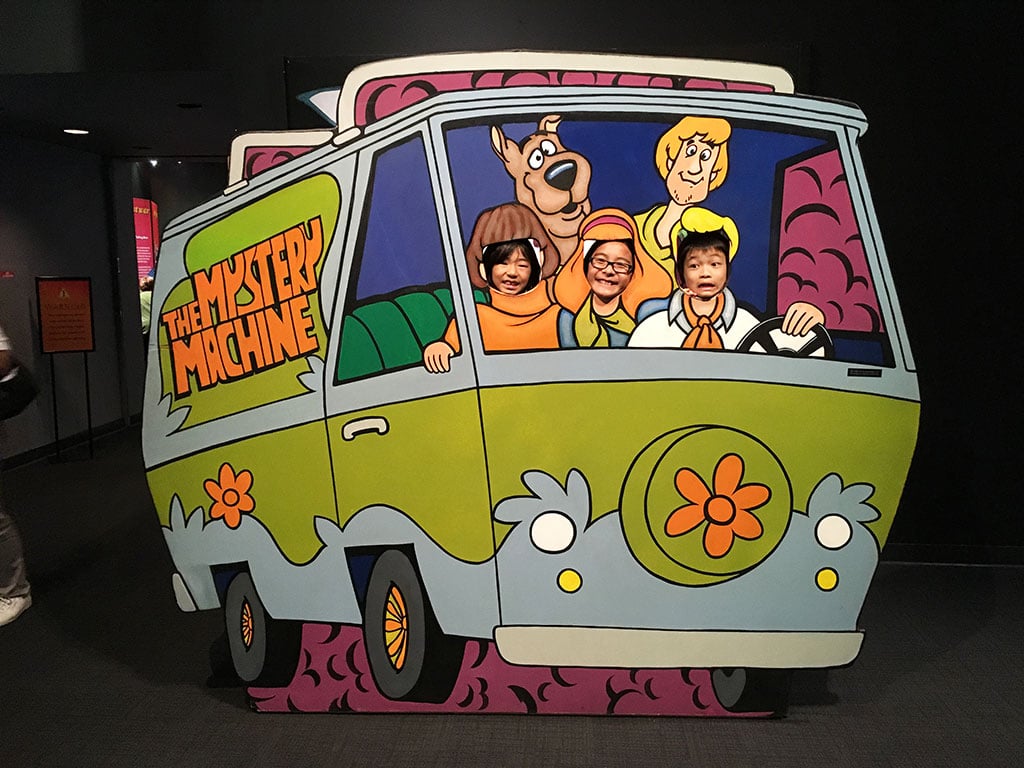 Photo: Christi Young
One of six fun photo ops. The others were Sponge Bob Square Pants, Kung Fu Panda, a giant Gumby, the Looney Tunes Circle and a cartoonish living room set.
Who: One adult, three kids, ages 7, 8 (almost 9) and 13.
What: Animation Academy: From Pencils to Pixels exhibit at Bishop Museum. experience
When: Saturday afternoon around 2 p.m.
You can still make me laugh by just saying, "Duck Season. Wabbit Season." And, as the mother of two young girls, the only movies I see in the theaters are animated. So, the Bishop Museum's new exhibit Animation Academy: From Pencils to Pixels sounded like it was just my speed.
The experience was designed to teach people about the art of animation, from storyboards and hand drawn cells to 3D printers and sculpting. Animation Academy was created in partnership with the Chuck Jones Center for Creativity and Joe Clokey, the son of Gumby creator Art Clokey. So, Warner Brothers cartoons, Gumby and Pokey are prominently featured. If you search, you can find sketches of Captain America, Toy Story mentions and other modern elements sprinkled throughout the exhibit. You can find more detailed looks at each section in the photo gallery below.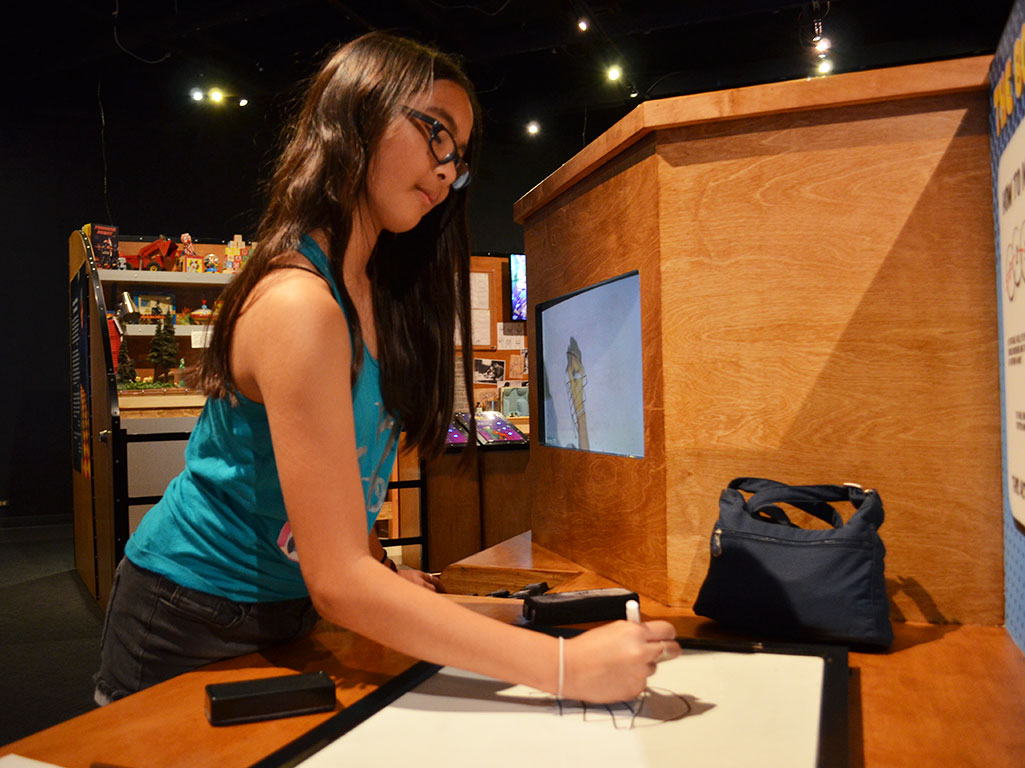 Photo: Christi Young
The drawing stop-motion station.
When you first walk in to the Castle Memorial Building, you find two stations where kids can trace characters and shapes on light boards, a display on the magic of Saturday morning cartoons, complete with retro Frosted Flakes and Rice Krispies breakfast dishes, and interactive displays on voice character acting and technological advances such as 3D printing. I loved this walk through my childhood. The three kids, however, were ready to move on in about 10 minutes.
The real creative magic is in the back room. Four stations allow kids to create their own stop-motion movies. On the left back wall, visitors can take photos in front of Warner Brothers backgrounds (think Wile E. Coyote's desert scene) as a demonstration of the "green screen". In the center, America's largest zoetrope brings figures of The Simpsons, the Pink Panther, Felix the Cat and Mr. Bill to animated life. Draw with your arms using motion detector while a KEVA-plank castle sat in the middle of three building areas that kept toddlers busy.
The kids made a beeline to the first stop-motion animation area. There, they used Expo markers, a white board and overhead camera to capture a drawing frame by frame, then watched it play back. The 7 and 8-year-old drew a few things, watched their eight- or nine-frame clip, then lost interest. My 13-year-old niece had taken a class on animation and spent several minutes doodling a more detailed movie.
The stop-motion station with figures was more engaging for all three, including the non-artists in the group. The first attempt by the two younger kids was just a blur of hands and moving figures that they couldn't watch without laughing hysterically. But soon, all three were focused and working in teams; one positioning figures while another hit the camera button. Each made two or three movies and would have kept going if others weren't waiting for their turn.
The white screen was another big hit. They formed human pyramids, did cartwheels, jumped on each other's backs, goofed around and loved seeing their photos set in cartoon scenery. The KEVA planks were a surprise. The kids battled to build the largest tower and were only dragged away by the zoetrope show, ooing and ahhing as the still figures seemed to come to life.
Walking out of the back room, we stopped to see the Chuck Jones Studio. The kids spun a ball to make a video of an animator sketching a character play at record speeds. Then, we all tried to put a 32-panel story about Daffy Duck into the right order (and failed), before taking one last photo op in a cartoon living room.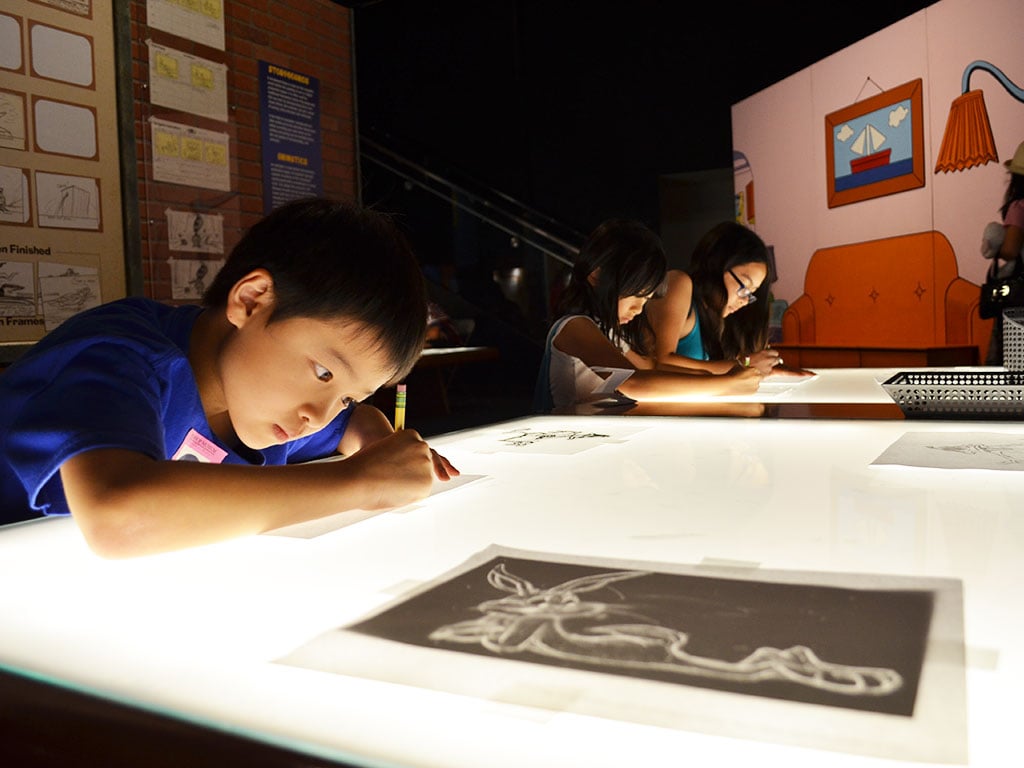 Photo: Christi Young
In general, Animation Academy will be the most engaging for kids who like to draw and older kids who are interested in reading about how cartoons are made. Other keiki will probably be more interested in the photo booth, pushing the buttons on the interactive displays and burning off energy in the Sponge Bob Squarepants, Kung Fu Panda, Looney Tunes and other photo ops.
Our Tips
Visit during not-so-busy hours or be prepared to wait. Creating a stop-motion movie takes some time. Late Saturday afternoon's smaller crowds meant each child could do several at both the drawing and figure stop-motion stations. That wouldn't have happened if the museum was packed. The white screen area also allows people to keep taking pictures until they are done, meaning you may just have to wait.
Watch some retro cartoons before you come. My nieces and nephews recently went through a Warner Brothers love fest and have loved Scooby Doo for years, so they enjoyed posing in the Mystery Machine and running through Marvin the Martianʻs territory. Even then, it was a challenge explaining Gumby. I overheard several parents trying to do the same!
While the kids are busy, read ahead. It was almost impossible to get any of the kids, even the older ones, to stop to read any of the information. Bishop Museum has laid out the area well, so while your little ones are spellbound by the zoetrope, you can read the biographies of pioneers in animation. When they jump into the photo booth area, you can read about green screens. Then you can share what you learned with them while they engage in more hands-on activities.
Prescreen the zoetrope. This spinning wheel and strobe light creates a really cool animation effect every half hour. The audio introduction just before the action was difficult to hear. I was glad I listened to it twice so I could relay the information to the kids. Also, the movement cause motion sickness, so those with sensitive stomachs may consider watching from a few steps back.
Shorter keiki may need help in the drawing in motion station. The sensors could not find the younger two kids. It worked when an adult or taller child stood behind them, holding up a left hand to activate the activity.
Allow about two hours to explore. That was a good length for us on a slower day. When there is a bigger crowd, you may need more time to allow for the lines to the stations.
Park on the street to save money. We found ample parking right next to the entrance on Pauahi Street. Parking is available in the lot for $5.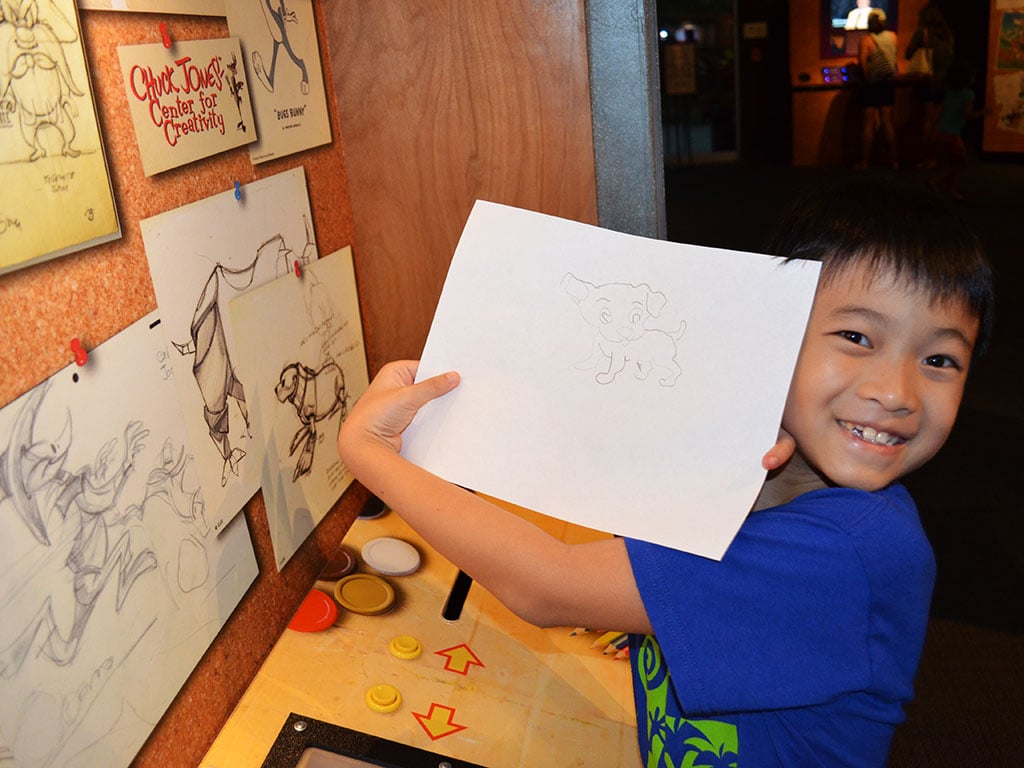 Photo: Christi Young
The tracing area uses lights to help kids trace characters.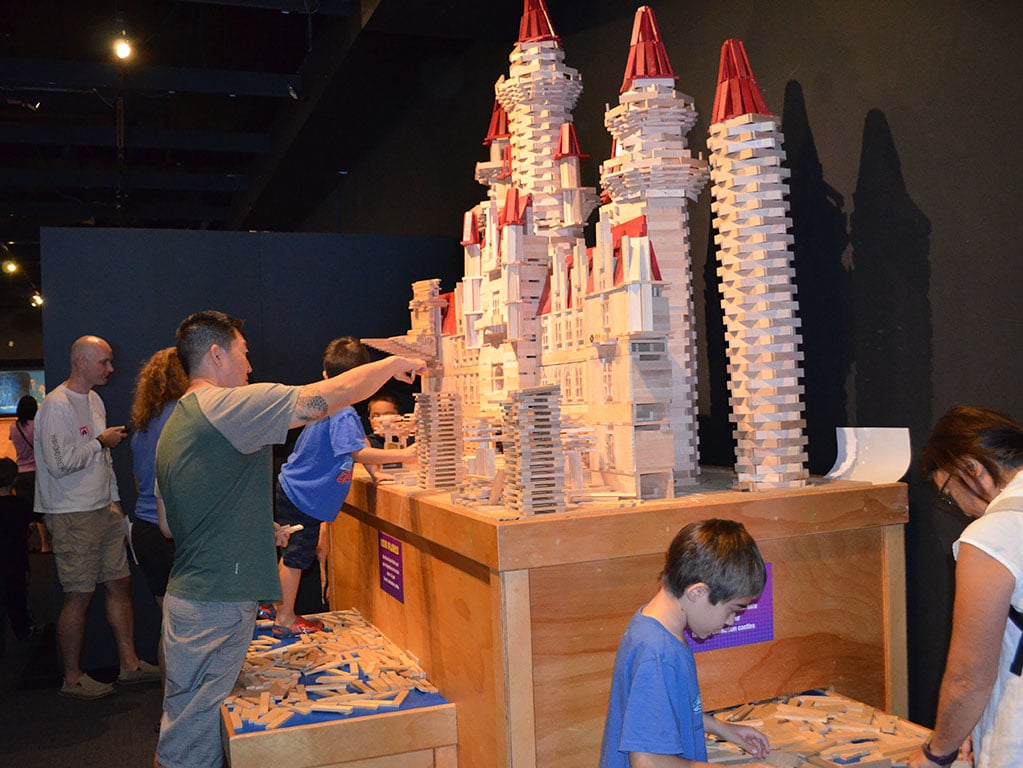 Photo: Christi Young
Three building stations were never empty. Even toddlers had fun building their own little castles.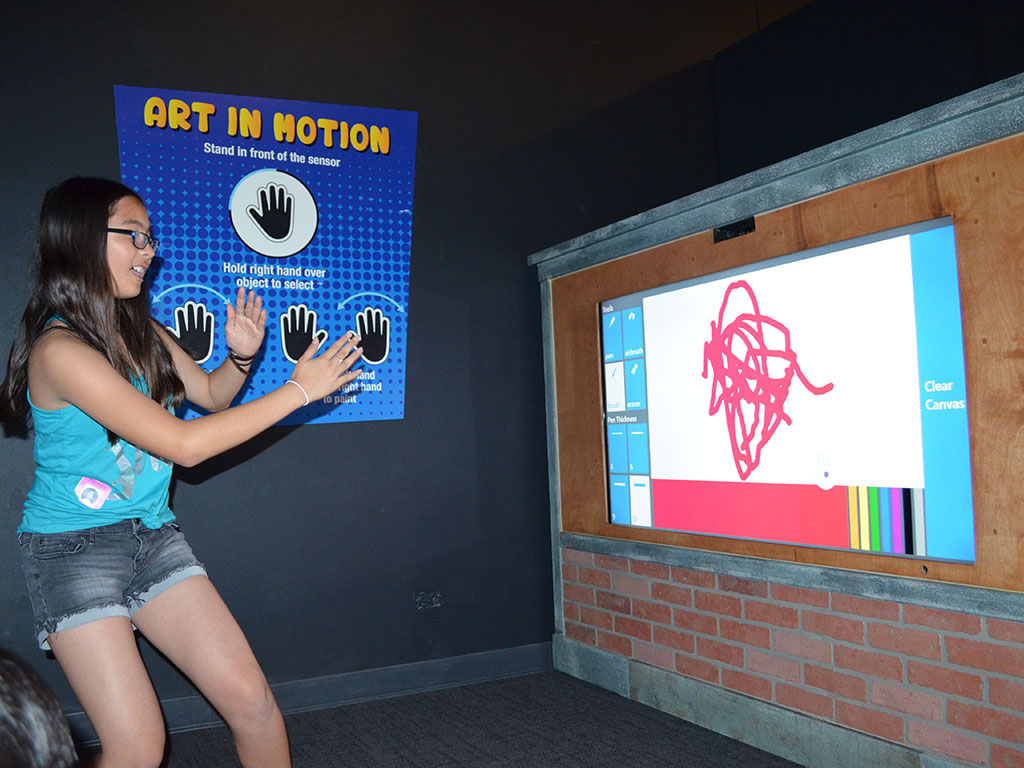 Photo: Christi Young
Drawing in the air was tricky. Make sure to keep your left hand up and steady. Shorter artists may need help from taller partners.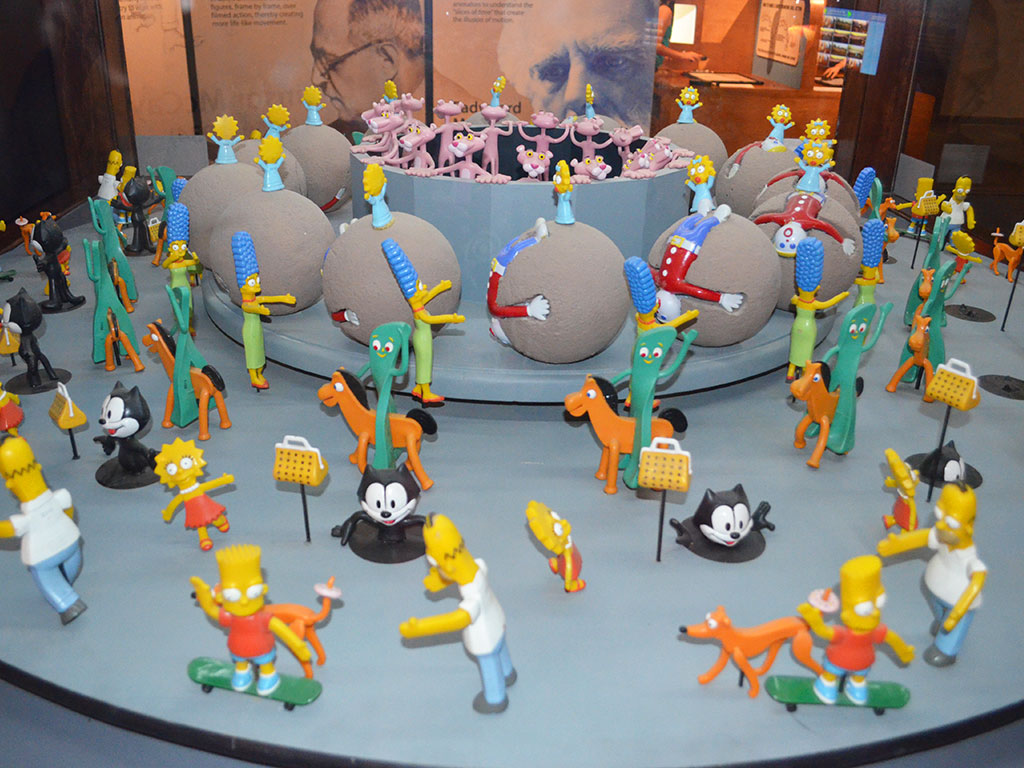 Photo: Christi Young
If you're hoping to capture its spinning animation with your phone, lights and speed left our video with black spots.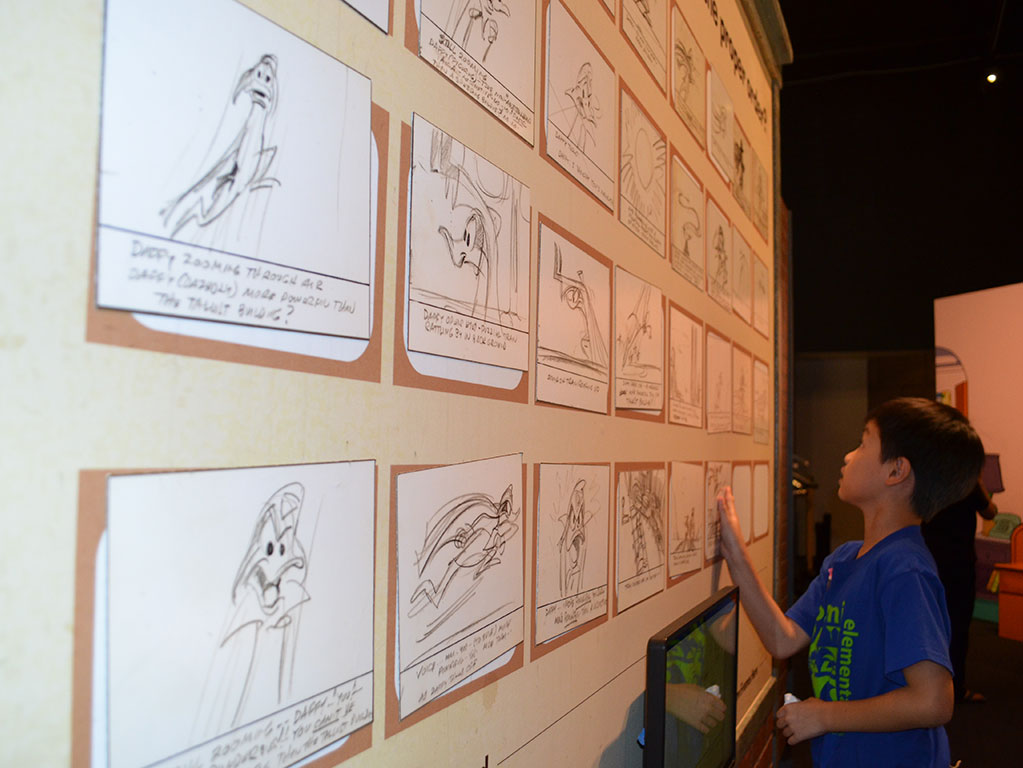 Photo: Christi Young
Putting 32 magnetic panels in the right order was challenging.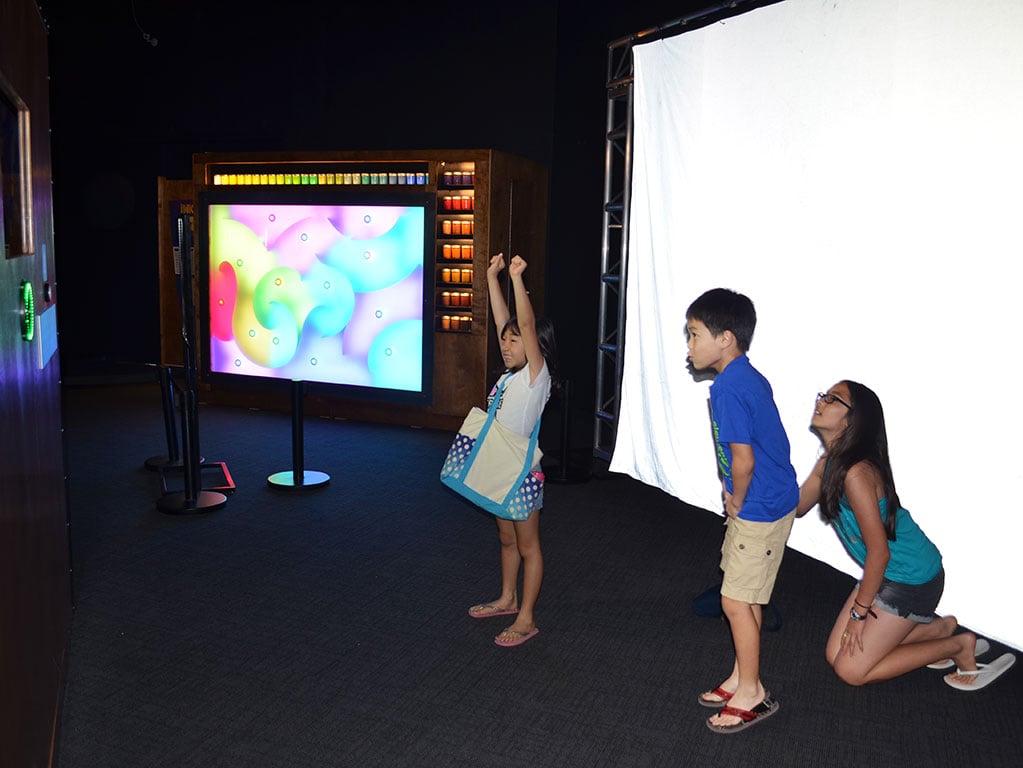 Photo: Christi Young
The kids spent a good 10 minutes playing in front of the camera.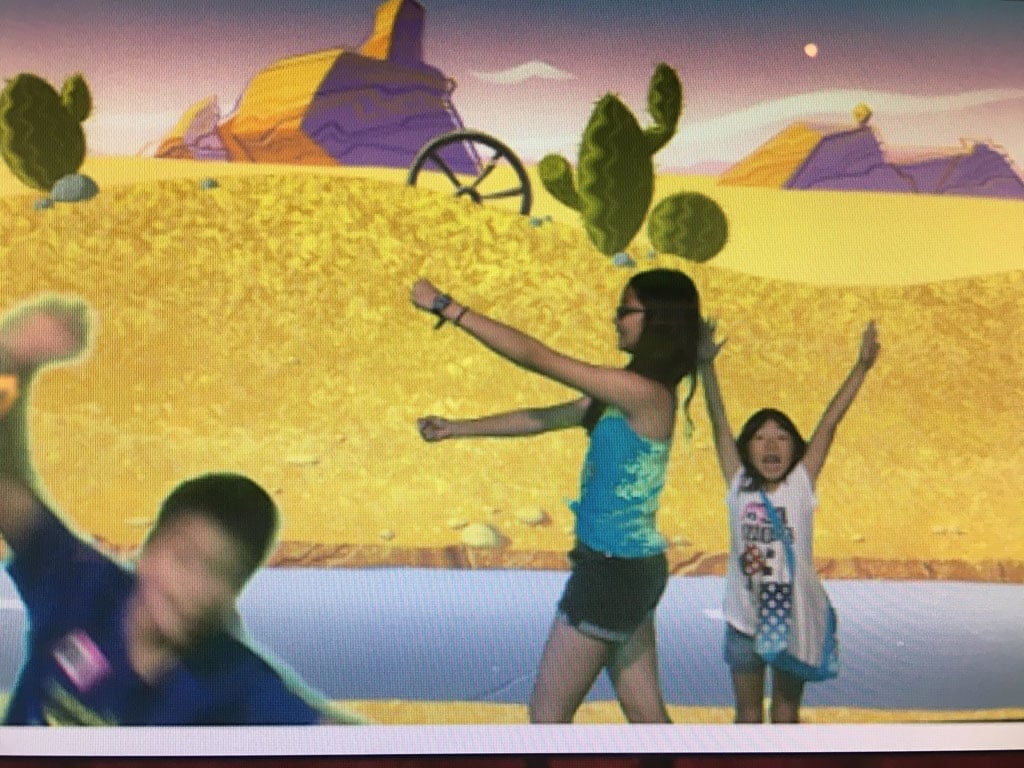 Photo: Christi Young
You can share your snapshots on Facebook.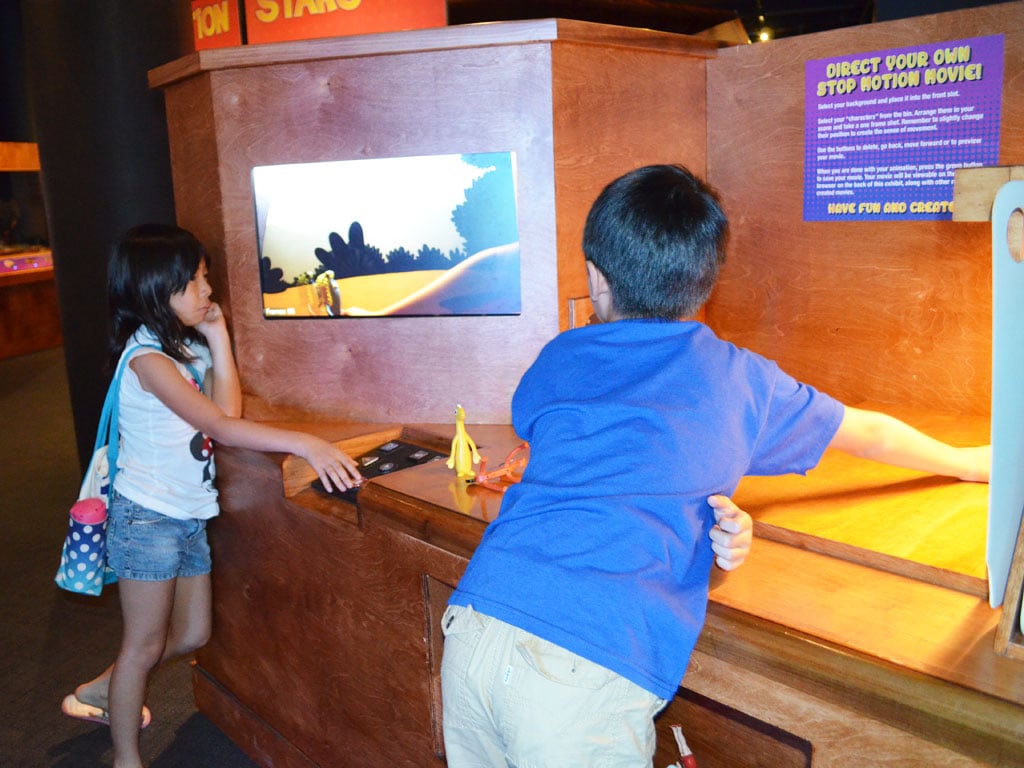 Photo: Christi Young
Gumby figurines made it simple for even kids who don't like drawing to create a movie.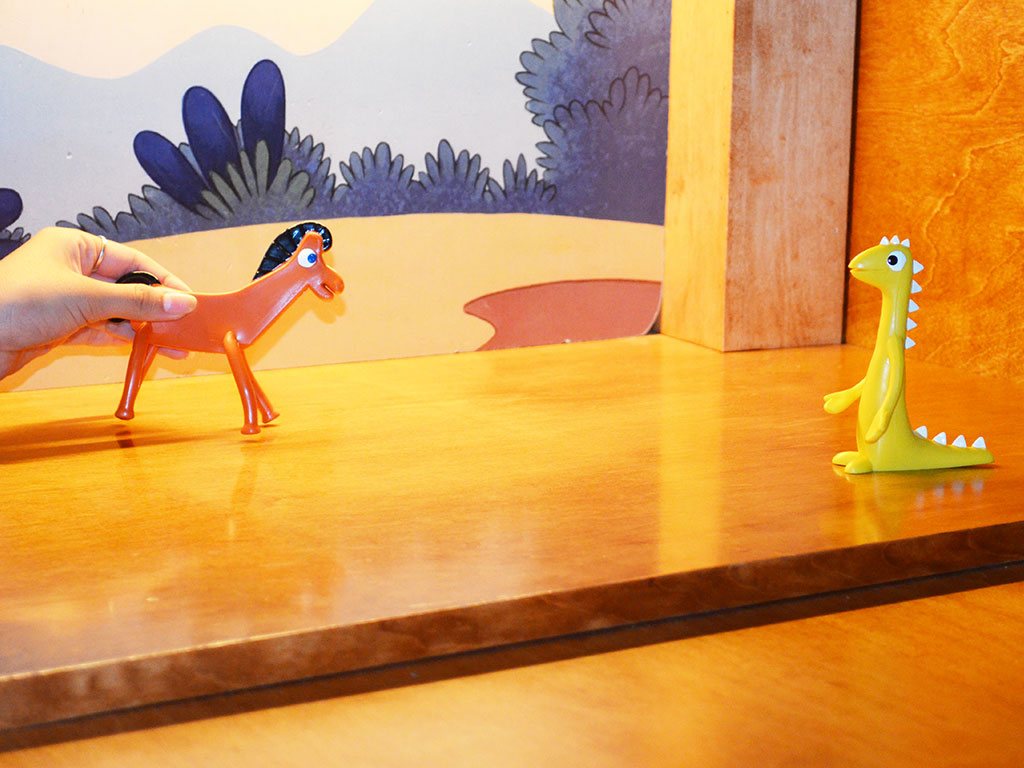 Photo: Christi Young
Animation Academy: From Pencils to Pixels runs until Jan. 14, 2018. Bishop Museum, 1525 Bernice St. The museum is open daily, 9 a.m. to 5 p.m. (808) 847-3511, bishopmuseum.org