Watermelon Berry Slush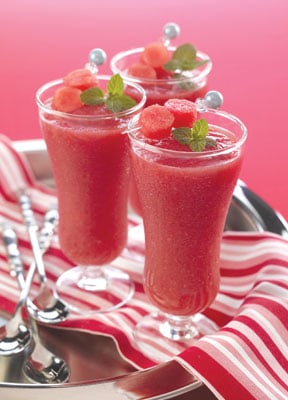 Watermelon Berry Slush
Try these kid-approved, healthy slushes.
Ingredients:
4 c (Cup) cubed, seeded watermelon
10 oz (Ounce) frozen raspberries
12 oz (Ounce) sparkling mineral water
Instructions:
1. Place watermelon in a single layer     in shallow pan; freeze until firm.2. Remove from freezer and let stand     5 minutes.3. Drop watermelon through food     chute of a food processor or blender     with the motor running.4. Add frozen raspberries alternately with     mineral water, processing until smooth.
Preptime: 20
Source: National Watermelon Promotion Board
Ready time: 5 minutes