Watch Award-Winning Musician Josh Tatofi Streaming on PBS Hawai'i
The Nā Mele concert will be PBS Hawai'i's first live pledge event since 2016.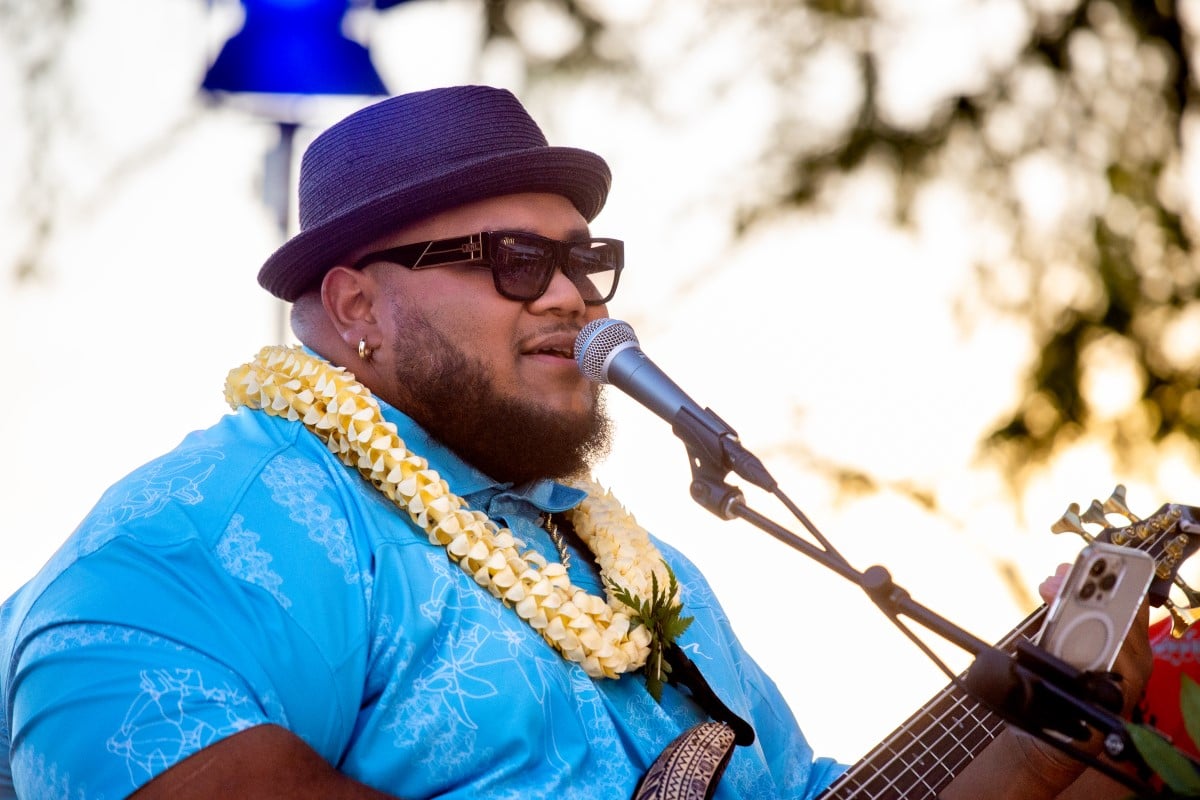 On Monday, June 13, award-winning musician Josh Tatofi makes his return to PBS Hawaiʻi with Nā Mele: Josh Tatofi at Halekulani's House Without A Key. The 90-minute performance, recorded at sunset before a live outdoor audience at Halekulani's House Without A Key, is a follow-up to Tatofi's popular 2019 Nā Mele special, which remains one of PBS Hawai'i's most-streamed programs. The soothing sounds of Tatofi and band float through the Waikīkī evening air as he revisits his soulful rendition of the Louis Moon Kauakahi-penned classic "Kaleohano," and performs a few of his crowd-favorite original compositions, including "Perfect to Me" and "Kāne'ohe."
Tatofi, son of Kapena founding member Tivaini Tatofi, consistently and rightfully draws comparisons to mainland R&B/soul greats such as Luther Vandross, yet his style and sound are unmistakably rooted in the Islands. In 2020, Tatofi won four Nā Hōkū Hanohano awards including Album of the Year, Favorite Entertainer of the Year, and Male Vocalist of the Year, and in 2018, Tatofi received a Grammy nomination for his album Pua Kiele.
Nā Mele: Josh Tatofi at Halekulani's House Without A Key is presented as part of PBS Hawaiʻi's first live pledge event since moving to the Clarence T.C. Ching Campus in Kalihi in 2016. During the event, the station will be asking the community for support in donations to continue delivering quality cultural and educational content.
PBS Hawaiʻi is the only locally owned, statewide television station in Hawaiʻi that receives support mainly through the gifts and donations of individuals, families, businesses and charitable foundations. Since 1965, it has shared the stories of our Islands through classic programs like Spectrum Hawaiʻi to today with its newest program, Home is Here, which was launched this past February and continues this tradition as its spiritual successor. PBS Hawaiʻi's first podcast, What School You Went?, hosted weekly by President and CEO Ron Mizutani, explores the traditions and stories that make up the modern-day culture of Hawaiʻi.
PBS maintains its commitment to culture and the arts through programs like Nā Mele, and shares the unique voices of local filmmakers through their works on PBS Hawaiʻi Presents. The station also fosters important conversations within our communities through live public affairs programs like Kākou: Hawaiʻi's Town Hall and Insights, and proudly displays the promise of the generations who shape our future through programs like Hiki Nō.
Support local programming through this broadcast live from the Harry and Jeannette Weinberg Studio on Monday, June 13 at 7:30 p.m.
Nā Mele: Josh Tatofi at Halekulani's House Without A Key
Monday, June 13, 7:30 p.m.
Facebook Live, YouTube Live, livestream on pbshawaii.org, broadcast
---
Every month, HONOLULU publishes a blog written by the folks at PBS Hawai'i. Visit pbshawaii.org to learn more about exceptional, locally produced shows and the most prominent provider of educational and national programming. Explore music and the arts. Discover in-depth documentaries. Learn what makes Hawaiʻi so special. Open your mind to the cultures of our people near and far. Expand your knowledge about community issues. Share your voice. Follow PBS Hawai'i on all platforms: @pbshawaii